Baked or fried? Yeast or cake? Filled or ring? However you like them, we've got 'em! Our guide to the best doughnuts in Hamilton and Burlington, as voted on by our readers.
Never would I have guessed our community would be so passionate about the question "Who makes the best donuts in Hamilton and Burlington?". We asked and they answered! Here is our list of where to find the best doughnuts, in order of popular vote by the Active Parents online community.
Keep reading:
What goes perfectly with doughnuts? How about the best French fries in Hamilton and Burlington?
Couple your donuts with a visit to one of these epic playgrounds so the kids can run off their treats.
Grandad's Donuts – Voted best donuts in hamilton
574 James St N #1, Hamilton
This was a huge front-runner for our Facebook community. Grandad's was voted the best donuts in Hhamilton. Clearly, our readers are smitten with the nostalgia that comes along with every order at Grandad's. It's got that ol' orange and brown decor that reminds you of the 80's, and the doughnuts are biggies. They've been around since 2007, and have served up the classics and even some special treats like the Justin Trudeau-NUT.
The Sunshine Doughnut Company – Voted Best Doughnuts in Burlington
439 Brock Avenue, Burlington
You can't miss the Sunshine Donuts building because they have a massive pink-iced doughnut on top of their white brick building. It's made many an appearance on Instagram! Brought to you by the same team who brings you Son of a Peach Pizzeria, this doughnut shop brings you the best donuts in Burlington! Boasting flavour combos like pink champagne, Peanut Butter Banana Pie, and of course Birthday Cake, Sunshine has solidified itself as a staple in Burlington's Downtown. Right now, while openings are still in the initial phases, you can order in advance and pick them up at the store. Be warned, they always sell out!
Bloomer's
1401 Plains Rd E, unit 11, Burlington, ON L7R 0C2
Rotating flavors of vegan donuts. Pick from fritters, ring donuts and filled donuts, and from among chocolate and maple, fruit and tea blend flavours. Think peach crumble fritter, coconut cream filled, raspberry lime, rose pistachio and tiramisu.
Donut Monster
246 Locke Street South, Hamilton
Donut Monster's yeast-risen dough is soft with a light chew. They were neck and neck for the title of best donuts in Hamilton. They create unique seasonal glazes and garnishes in combinations you may have never seen on a doughnut before. My favourite flavours are the cheesecake brownie and of course their classic apple fritter (it's massive!) Their doughnut menu is ever-evolving and they offer both vegan and traditional options. You can order ahead and pick up a box of your faves, plus some coffee and even milkshakes!
Duck Donuts
5010 Pinedale Ave., Burlington, ON, L7L 0G3
Donuts are made while you wait and served fresh and warm. They serve up unique flavors like Bacon in the Sun and Blueberry Lemonade – there's something for every donut lover.
Darling Donuts
Baked in Binbrook, Darling Donuts is the new kid on the block, and the baker, Alyssa, is bringing sweet treats in bite sizes to everyone – even those living the gluten-free and vegan life! Flavours like Nutella Churro and Cinnamon Toast Crunch make these little darlings something to write home about. Pre-order by the dozen, and choose up to 4 different flavours.
Momoco Donuts
2 Catharine St N, Hamilton, ON L8R 1H8
Delicious, fresh, uniquely flavoured and chewy donuts. Mochi donuts are a cross between donuts and Japanese mochi. Anyone craving a Pistachio – Mochi, Churro – Mochi, Mango Passion Fruit – Mochi, or Double Almond – Mochi Donut? This might just be your new favorite style of donut.
Lady Glaze
586 Concession Street, Hamilton
Lady Glaze has seasonal favorites made fresh daily including gluten free and sugar free. Sample flavours are Belmont Cream, Vanilla Bean Sprinkle, Butter Tart and Cinnamon Toast Crunch. What are you waiting for?
Kelly's Bake Shoppe
401 Brant Street, Burlington
Kelly's is your go-to bakery when you're looking for 100% plant-based, gluten-free, peanut-free peeps you love. The bakery is a staple for many, including the downtown Burlington community it calls home. Our audience ranked them the best donuts in Burlington for allergy-friendly eaters. You can order online now for curbside pickup and delivery within the GTA.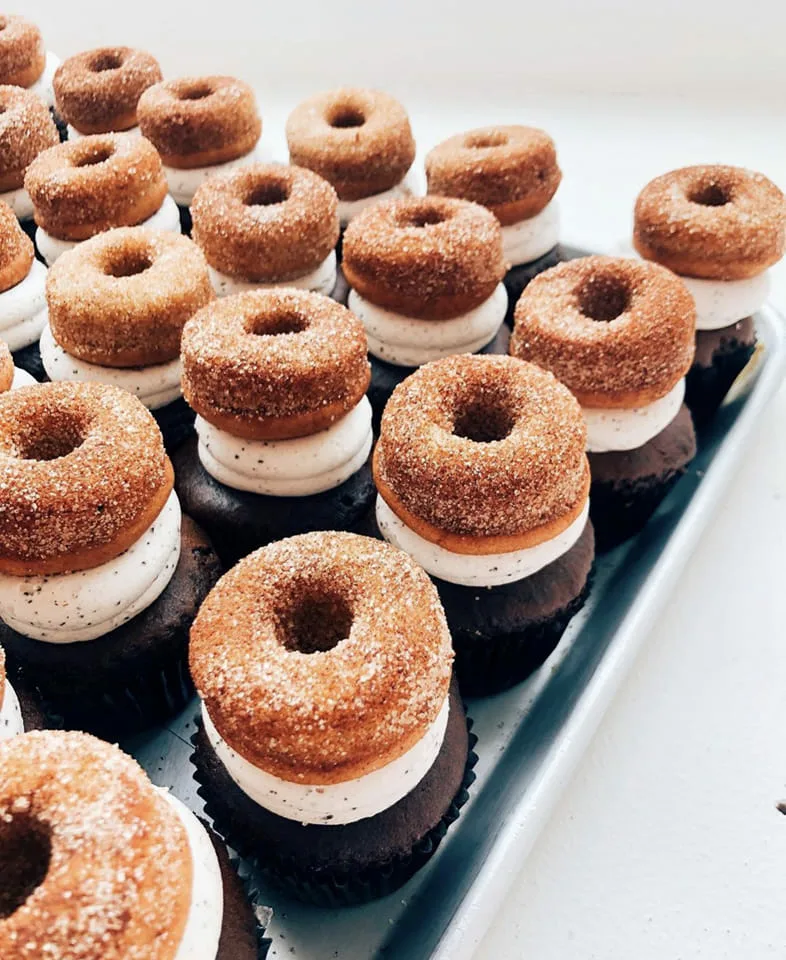 The Donut Stop on Parkdale
617 Parkdale Ave N, Hamilton
Looking for that classic doughnut and coffee shop? The Donut Stop is it. Located at Parkdale Ave. and Brampton St., this fan fave for best donuts in Hamilton bakes up all of your traditional treats like a Boston Cream and chocolate dip, with a big side of nostalgia! The red vinyl barstools will remind you of your childhood doughnut shop visits, and the coffee is pretty great we're told!
Sweet Paradise
419 Dundas Street East, Waterdown and 630 Stonechurch Road West, Hamilton
Sweet Paradise has been baking delicious desserts and savoury treats for over 30 years. This bakery does more than just whip up some of the best doughnuts in Hamilton, it's a full-service bakery and deli. Our readers suggest adding cannolis to your doughnut order. Because why not!?
Planted in Hamilton
211 Locke St. S., Hamilton, ON L8P 4B6
Planted in Hamilton has a vegan, gluten-free and kosher bakery and that bakery makes donuts. Pick from Cake Donuts, Apple Fritters and French Crullers.
Cafe Baffico
1375 King Street East
Hamilton, Ontario L8M1H6
Check Instagram for the current menu of mouthwatering flavors. You'll find options like Honey Dipper, Matcha, Mango Coconut, Hamilton C.R.E.A.M and apple and rhubarb fritter.
Debronik's
1096 Wilson St., West., Ancaster
A menu of fresh donuts that includes Vanilla Bean Glazed, Pink Sparkle, Blue Unicorn, Oreo, Strawberry Rhubarb, PB & J and Cherry Cheescake. Multiple locations for your snacking pleasure.
Take a Drive to Get Great Doughnuts!
Daddy O Doughnuts
589 N Service Rd., Mississauga, ON L5A 1B2
Beechwood Doughnuts
165 St Paul St, St. Catharines
Located in St. Catharines, Beechwood Doughnuts was a top recommendation from those who are willing to drive for their doughnuts.
Bennett's Apples and Cider
944 Garner Road East, Ancaster, Ontario
Honourable mention goes to Bennett's Apples and Cider, they were a write-in vote for their apple cider doughnuts. A fall favourite, so make sure to visit them in September!
Paris Bakery
81 Grand River Street, Paris, Ontario
Boxcar Donuts
478 Richmond St., London, Ontario, N6A 3E4 (and 2 other locations)
Lady Glaze Doughnuts
46 Quebec Street, Guelph, Ontario
More Yummy Reads You're Sure To Enjoy
Now that you've had the best donuts in Hamilton and Burlington, treat yourself to some more yummy reads!