If you follow our adventures on Facebook and Instagram, you'll know that we love mini-golf! But when the unsavoury weather rolls in and the outdoor courses close for the season, you can still play an awesome round at Putting Edge mini golf course in Oakville.
Putting Edge offers glow-in-the-dark indoor mini-golf! Located in Oakville on the border of Mississauga, we think it's worth the trip to cross this fun experience off of your family's bucket list.
Indoor fun is our speciality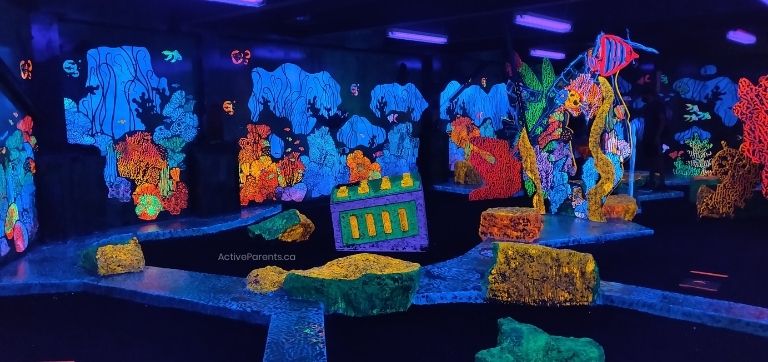 Glow In The Dark Indoor Mini Golf in Oakville
It's not easy to find things to do with teens so when my daughter suggested Putting Edge I was thrilled. I hadn't been in years and knew we would have a blast.
Pre-book your tee time by securing a reservation online the day before you plan to golf. You can call Putting Edge directly if you want to book a same-day tee time. And if you love being surprised, you can also drop into the facility and hope to be next in line. We booked online to be sure we wouldn't add any waiting time to our day.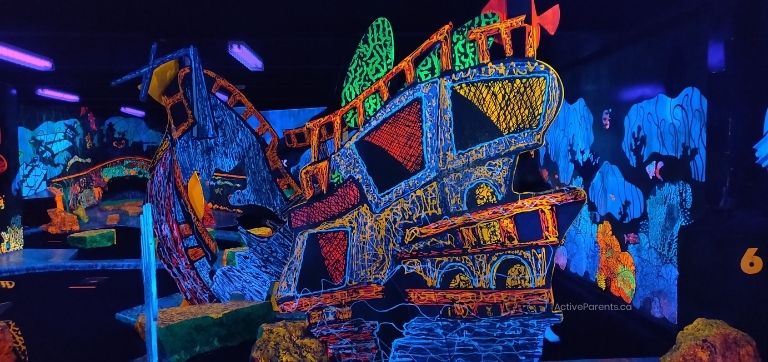 About Putting Edge Indoor Golf Oakville
This Oakville mini golf course is 18 holes of black light glow-in-the-dark golf. As you putt your way through this indoor golf course, you will see pirate scenes, underwater ocean views, outer space and more – all glowing under black lights!
Tip: Wear clothing that is bright or white and you will also glow under the lights.
The indoor golf course is a blend of challenging and fun. You can hone some of your short-game skills but they also have holes with those crazy twists and turns that you might as well putt with your eyes closed! When you least expect it, you just may sink a hole-in-one like I did!
Much like professional golf, you can play indoor mini putt in teams of fours during your tee time. On this visit, just my teenage daughter and I golfed, so our round of 18 holes took the two of us about an hour. Expect the time to take longer if you add more players to your team.
A visit to Putting Edge Oakville mini putt course was a fun way to spend some time with my teenager. It would also make a great date night idea or a rainy-day solution to cabin fever.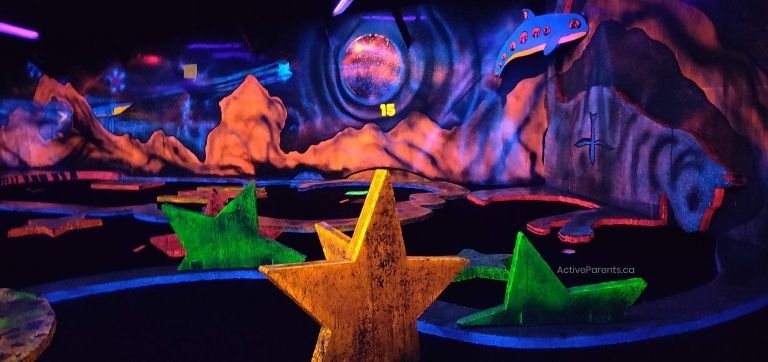 How Much Is Putting Edge Indoor Mini Golf?
Each player is $14 plus HST.
Where Is Putting Edge Located?
Putting Edge Glow in the Dark Mini Golf is located at 2085 Winston Park Drive in Oakville, Ontario. They also have other locations. Click here for more info.
More Ideas For Family Fun
We've been to so many cool places, and we've made it our mission to share all the fabulous locations we find with you. Whether you're planning a day trip or looking for the best playgrounds, we've got your back. We are all about discovering the most amazing indoor play areas, farms and animal experiences, and a whole bunch of other visit-worthy local attractions. Check out our latest blog posts below to make sure you have an absolutely epic weekend!