Discover the best date night ideas in southern Ontario. Our curated list of day dates, free dates, outdoor dates and more grows all the time to provide couples with more inspiration to spend one-on-one time together.
Read more…
Discover the best date night ideas for couples in Halton, Hamilton, Niagara and Waterloo
Parents need a break from family life to recharge and rekindle. It's so important to take time away and rediscover who you are when you're not changing diapers or driving to practice. We are sharing some fun date night ideas that are even closer to home. Whether you are looking for quiet or exciting, we've got you covered.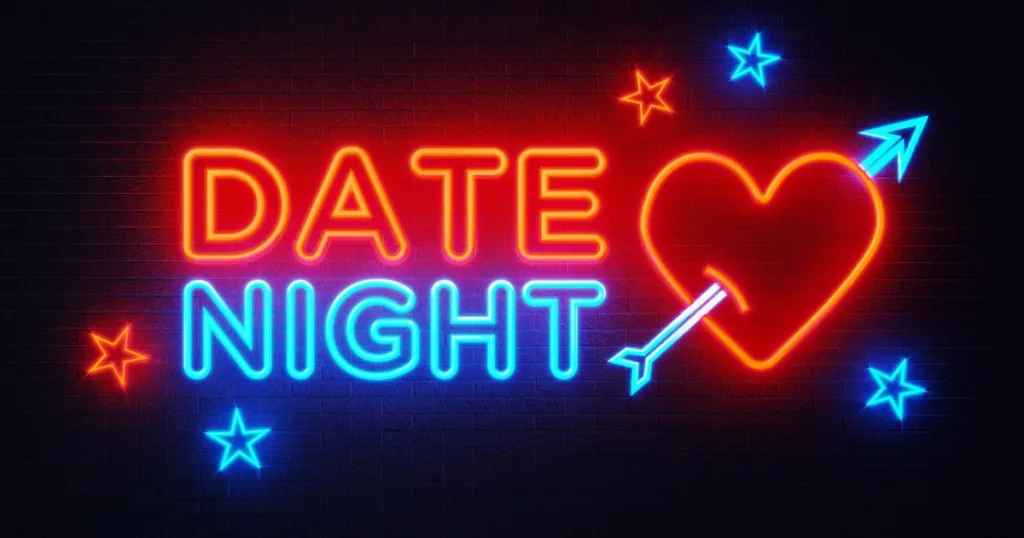 Jump To A Category
Music and Movies
For Music Lovers
The Royal Botanical Gardens have special year-round events for ages 19+. Enjoy the beautiful gardens outdoors or indoors, stroll through a special exhibit or listen to live music while nibbling on delicious appetizers and sipping a glass of beer or wine. Purchase tickets online for After Dark events. Admission to the WinterTide T.U. Jazz Fest is only $15. If you missed out on WinterTide, don't worry, the RBG also hosts a summer concert series.
Take your sweetheart for live music, drinks, and appetizers at Uptown Social. Duelling pianos entertain the crowd every Thursday from 7-10 pm and Friday and Saturday from 9 pm-12 am. Be sure to reserve your table in advance by calling (905) 331-4700.
For The Cinephiles
Treat yourself to a new release or a popular classic showing at The Westdale in Hamilton. This theatre has been an important part of Westdale since it opened in 1935. The Westdale Cinema also showcases art and independent films. Films selected for screening are thoughtfully curated, ensuring we show the best of independent films and documentaries, interweaved with cinematic classics and all-time favourites, giving special attention to showcasing diverse Canadian works.
See a movie and share a bucket of popcorn. We also love that these indie movie theatres offer you big savings on tickets and concessions! You may also enjoy blockbuster movies at Landmark Cinemas.
To save on tickets and watch international films, you could go to Film.ca in Oakville or Cinestarz in Burlington. Tickets at Film.ca are $10 for general admission and $6.50 on Tuesdays. Tickets at Cinestarz are only $8 for general admission, $6 for matinees and $5 on Tuesdays.
Summer Outdoor Movie Nights
Grab a lawn chair or a soft blanket and watch a movie under the stars. Movie schedules are announced in early June, so keep your eyes on our calendar and details.
Food and Wine
Date Night Ideas For Foodies
Tourism Burlington runs Taste of Burlington, a Prix-Fixe Program 2 times a year, in the winter and again in the fall. It's the perfect occasion to have a lunch date or dinner date at a restaurant you haven't been to before. Prix-Fixe meals include a starter, entrée and dessert. Lunch prices range from $15-$45 per person depending on the restaurant, and dinner from $40-$79 per person. Participating restaurants include casual to fine dining with menus that feature burgers, pizza or burritos to pasta, steak, and salads. Take the opportunity to have a date night at a participating Taste of Burlington restaurant of your choice.
Taste of Oakville also runs each winter. Taste of Oakville has Prix-Fixe lunch and dinner menus at 30+ restaurants, and some with live music. Even after Taste of Oakville has ended it's still a great idea to check out their list of participating restaurants for date night ideas.
Go very casual and snare an order of the best french fries in town, according to the locals.
Date Night Ideas For the Wine and Beer Fans
If you are looking for a date night that includes a drive in the countryside, head towards wine country and treat yourself to a glass of home-grown wine from Niagara Wineries. Here are some top recommendations from our wine-loving crowd.
The Edison Room at the Block Co. serves up gourmet charcuterie, wine and local craft beer. Reserve a table with your someone special to hear Juno award-winning musicians play on Fridays and Saturdays at 8 pm.
Redstone Winery and Restaurant, in addition to delicious food and wine, also hosts outdoor concerts in the warm weather
13th Street Winery has fire pits, a sculpture garden, an art gallery and a bakery onsite. They also have the best butter tarts – you're welcome.
Newark Brewery has a great selection of food and Canaian-made beers with a European flair. Visit any day, or make a special trip for one of their trivia nights.
Collective Arts Brewery and Beergarden is open daily and is also pet paws-itive so feel free to bring your little furry friend on your date. Very photo-worthy.
Waterloo Brewing and Taphouse is calling you if you love good food and great beer. Waterloo Brewing is Ontario's first and largest craft brewer.
Spa Dates
Book a couples massage at a spa and relax and unwind together. Go for the day or stay over. We have the scoop on the best day spas near us.
Live Theatre
There's always a full calendar of events at the Burlington Performing Arts Centre, Village Theatre Waterdown, and the Oakville Centre for the Performing Arts. Take your date for comedy, dance, music, theatre and more. Support up-and-coming actors and actresses by taking your date to a Theatre Sheridan performance. These performances are outstanding, super convenient and good value for money with tickets starting at just $20, and $15 for students and seniors.
Burlington Performing Arts Centre – 440 Locust Street, Burlington
Theatre Sheridan – 1430 Trafalgar Road, Oakville
Oakville Center for the Performing Arts – 130 Navy Street, Oakville
Theatre Ancaster – 357 Wilson St E, Ancaster
Village Theatre Waterdown – 317 Dundas Street East, Waterdown
Theatre Aquarius – 190 King William St, Hamilton
First Ontario Performing Arts Centre – 250 St Paul St, St. Catharines
Shaw Festival Theatre – 10 Queen's Parade, Niagara-on-the-Lake
Hamilton Family Theatre – 46 Grand Ave S, Cambridge, ON
Get Hands-On With a Class
Cooking Classes For Adults
As an alternative to eating out, register for a cooking class, prepare something delicious and enjoy your meals together. Learn a new recipe to entertain and feed your friends. Longo's offers adult cooking classes for $50 per person.
Pottery Throwing Classes
For those more into fine arts than culinary arts, try a wheel workshop at Crackpot Studio in Oakville. Also in Oakville, Pottery N Paint Café offers pottery and painting workshops for couples, groups and individuals. The Pottery Wheel Try Me session is perfect for first-timers. Creative Insight Pottery & More in Waterdown offers Saturday Nights Pottery and Wine and Saturday Adult Paint and Sip Nights events regularly.
Enjoy a Sweet Retreat
Who can resist quality chocolate? Book a chocolate-tasting tour at Chocolate Tales in Hamilton. Their pair their house-made chocolate with beer, wine, and more! You can even learn to make truffles and macarons!
Date Night Ideas For Couples Who Like To Play Games
Board Game Cafes are the perfect first date or casual date for anyone who loves having fun while being slightly competitive. Hundreds, even thousands of board games await your visit. Many are licenced to serve alcohol and food and they are just begging to be visited. With a small per-person playing fee ($5-10) this is an inexpensive way to spend an evening out. Check out 10+ area board game cafes here.
Be a tourist
Consider a day date to see some local attractions. Chances are if you grew up in the same city you're living in now, you've never done all of the local attractions.
Stay in Halton and Hamilton and visit a local art gallery or museum, the Joseph Brant Museum or the Canadian Warplane Heritage Museum. You can even make memories by booking a flight aboard one of their vintage aircraft!
Make your way to Niagara and take in the quaint town of Niagara-on-the-Lake complete with wineries, cute food emporiums and beautiful scenery.
For more small-town charm, be sure to visit St. Catharines and hop a ride on their Antique Carousel in the park.
You can squeeze a ton of fun into a single day in Stratford, Ontario.
More tourist destinations we enjoy:
Little Canada is a miniature collection of Canadian landmarks, located in Toronto's bustling Younge Dundas Square and easily accessible by GO Train.
Bird Kingdom is home to exotic birds, both large and small, as well as a menagerie of other animals.
Cambridge Butterfly Conservatory is a tropical getaway and will have you feeling like you're in an enchanted forest.
Date Nights For Nature Lovers
Take your special someone to wander the trails and smell the roses at the Royal Botanical Gardens. Their events calendar is always full, and the Rock Garden is a peaceful and romantic destination.
The University of Guelph Arboretum is home to thousands of native trees, plants and blooms. The packed gravel pathways are bike-friendly and perfect for strolling along.
Choose a low-impact trail to explore if the weather is cooperating. Our list includes paved and packed pathways that are perfect if you don't want to break a sweat.
If you can get away overnight, we highly suggest you treat yourselves to a Glamping Getaway at Four Corners Algonquin. We did and it was one of our fave weekends to date. So simple and peaceful and luxurious!
Keep it casual and pick up some fresh ingredients from the farmer's market and make a fab dinner at home.
Just as summer is winding down, we are treated to fields upon fields of blooming sunflowers. Snap a photo or two and even pick your own at certain fields.
Active Date Night Ideas
If sitting and sharing a quiet meal is not your preference, consider a more active outdoor date. We know some great low-impact places to hike so you can chat and wander without getting out of breath.
Mini golf is a staple date night idea because it's casual enough to be fun and silly, but you can turn up the competition a little too. Play outdoors in the good weather or all year long at this indoor glow-in-the-dark course in Oakville.
Teach one of your favourite pastimes to your partner when you take them like hiking, fishing, footgolf, or an indoor bowling date.
Need a great idea for a winter day date? Hit the hills for some exhilarating snow tubing. We know the best local hills, and some even let you go tandem. Very romantic. How about an evening on the ice? These local outdoor ice skating rinks are perfect for just that.
Prove your trust(and trustworthiness) when you belay for each other at The Hub indoor climbing centre in Mississauga. You can't miss the massive dragon!
Catch A Local Game Live
Where To Watch Local Sports
Our four seasons mean we have 365 days of sporting events to look forward to. Get your tickets and your popcorn, and cheer on these home town teams.
The Intercounty Baseball League has teams across the region. Baseball season opens in May and runs through the end of August. The league is made up of 9 teams from southern Ontario, with special mention to the Hamilton Cardinals, Kitchener Panthers, Guelph Royals, and Brantford Red Sox.
The Niagara River Lions are our local Canadian Elite Basketball League Team and let me tell you the games and talent are next level! The CEBL consists of 10 teams across Canada.
You can never go wrong when you catch a Hamilton Ticats football game at Tim Horton's Field (aka Ivor Wynn Stadium iykyk).
And who would we be without a plethora of hockey games to choose from? Hamilton Bulldogs, Niagara IceDogs, Guelph Storm and Kitchener Rangers all play close by, and go head-to-head in Ontario Hockey League (OHL) on-ice action.
More Ideas For Family Fun
We have visited hundreds of places and written about them to help you find the very best destination for your next day trip or outing. We love sharing indoor play places, playgrounds that go above and beyond, and more! Here are a few of our latest blogs to help you have a great weekend.