It's the time of year to visit a Christmas Tree Farm near Hamilton and Burlington to bring home your holiday centrepiece. You can choose to cut your own tree at a Christmas tree farm near you or buy one that's pre-cut and ready to tie to the roof of your car. Christmas Tree Farms have the usual precautions in place, and some are asking that you pre-book your visit. Make sure to read our details before visiting your favourite local Burlington and Hamilton Christmas Tree Farm.
local Christmas Tree Farms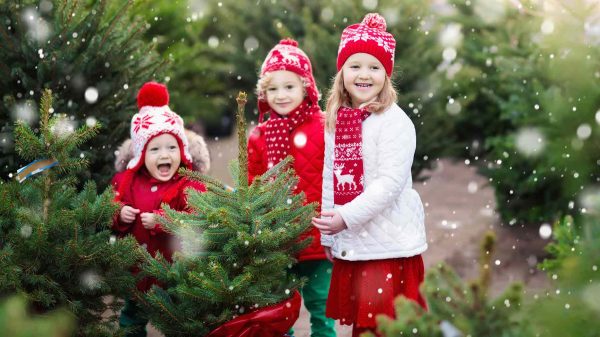 Opening day: TBC for 2021
Address: 1865 Wilson St W., Jerseyville, ON, L0R 1R0
Price: Starting at $40
Good to know info: They offer pre-cut trees this year, but no self-cutting. Multiple varieties and sizes from 4' to 14'. They take care of the bailing, shaking and drilling. Buy a bag of marshmallows and a stick to roast marshmallows on our outdoor fire pit. All proceeds will go to the Alzheimer's Society and patients who are battling dementia. Take part in the socially distanced scavenger hunt. Every family that completes the hunt will win a free gift from Andrews! No reservation is required.
Opening day: Wednesday, December 1, 2021 or earlier by appointment, open 9-5 daily
Address: 1788 Charlotteville Road 8 East, Simcoe
Price: all trees are $45
Good to know info: This 49-acre farm is offering cut and choose along with fresh pre-cuts. They have Fraser Firs, Balsams Firs, Blue Spruce and White Spruce trees along with natural wreaths.
Opening day: Friday, November 26, 2021 and open 9-5 weekends and noon till 7 pm on weekdays
Address: 4231 Derry Road, Milton ON, L9E 0P2
Price: n/a
Good to know info: Phone in your pre-cut tree order for next day curbside pick up, Saturday, December 4 is National Christmas Tree Day and $4 from each tree will be donated to the Community Foundation of North Halton. No reservation required.
Opening day: Open daily from November 13 thru December 23 from 9 am till dusk
Address: 9467 Erin East Garafraxa Townline, Hillsburgh, ON N0B 1Z0
Price: Starting at $89
Good to know info: Enjoy a local treat from Holtom's Bakery and warm yourself up by our outdoor fire while enjoying a decadent hot chocolate from our gourmet hot chocolate bar! Bring your appetite! We have a food truck at our farm that serves breakfast and lunch on weekends.
Opening day: Saturday, November 27, 2021
Address: 7373 Concession 1, Puslinch, ON N0B 2J0
Price: not posted
Good to know info: At Jingle Bills we grow each tree without the use of pesticides to ensure your tree is as natural and healthy as any tree found in the woods. With 3 different species of trees to choose from, we know we can help you find the perfect focal point for your Christmas traditions! By appointment only.
Opening day: Mid-November from 10 am till 4 pm
Address: 1233 Safari Road, Millgrove, ON L8B 1A4
Price: n/a
Good to know info: Christmas Trees are free of herbicides and pesticides. Accepting cash or e-transfers. By appointment only.
Opening day: Friday, November 26, 2021. Open 8:30-5 pm on weekends and 10-5 on weekdays.
Address: 1974 Concession Road 2 W, Hamilton (Lynden), ON
Price: not posted
Good to know info: Weekends require a reservation, check their website to plan ahead and avoid disappointment. Visit Wednesday and Thursday without needing a reservation.
Opening day: Saturday, November 27 from 9 am till 5 pm – open Wednesdays thru Sundays
Address: 2 locations: 1554 Concession 5 West and 1650 Concession 6 West in Flamborough.
Price: n/a
Good to know info: Bring a saw and cut down your own. Children's Play Area, Fire Pits, Miniature Train, Antique Sleigh Fun for All!
Opening day: 2021 dates not yet posted
Address: 1952 Ainsley Rd, Hamilton, ON L0R 1L0
Price: n/a
Good to know info: As an extra precaution, we have decided to close the Snack Shack for this season (sorry, no cider this year!) – you are welcome to bring your own food and beverage to enjoy at the farm. We are a CASH ONLY operation – please have the exact amount ready to limit exchanges. Please consider visiting on a weekday (Wednesday through Friday, 1 pm to 4 pm) when it will be less busy.
Opening day: 2021 dates not yet posted
Address: 2291 Kilbride St, Burlington, ON L7P 0H7
Price: varies by tree size
Opening day: Friday, November 26. Open weekends from 9 am till 4:30 pm, and Wednesdays to Fridays in December 1-4 pm
Address: 1762 Concession 6 West, Rockton/Hamilton
Price: $53 HST included.
Good to know info: Cash only. No appointment is necessary.
Opening day: Saturday, November 27, 2021
Address: 7156 White Church Road, Mount Hope, Ontario
Price: n/a
Good to know info: Pre-cut only this year.
Local Lots and Businesses Selling Fresh Christmas Trees
Burlington Area Christmas Tree Lots
Burlington Student Theatre – 2131 Prospect Ave.
Paletta Park – sold by Burlington Optimist Club on weekends from 10-4 pm with funds raised will assist organizations such as the Burlington Student Theatre Summer Programs, Food4Kids, and COLS (Central Ontario Leadership Seminar).
Canadian Tire
Dairy Queen on Plains Road
Foods Basics
Home Depot
Lowes
Marilu's
Nelson's (Hwy 5 and Guelph Line)
Sobeys Brant Street
Terra Greenhouses
Hamilton Area Christmas Tree Lots
Canadian Tire
Connon Nurseries
Harper's Garden Centre
Home Depot
Terra Greenhouses
Winona Gardens
Bennett's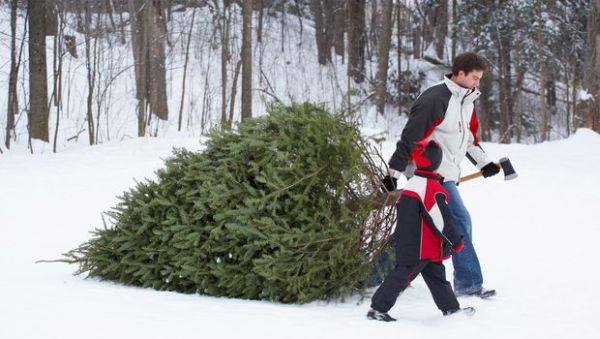 More Holiday Adventures For Your Family
You can find out most recent Christmas and holiday-themed posts below. Be sure to check out other winter ideas here, like where to toboggan, cross-country ski and ice skate outdoors, and of course our winter bingo challenge!