One of the best parts of living in our region is our proximity to greenspace while still living the city life. You can get a freshly cut Christmas tree, all while never losing cell reception. If you're brave enough to battle the pine needles, you'll love this guide to local Christmas Tree Farms.
About 30 minutes away from Burlington, and they offer pre-cut trees this year, but no self-cutting. Multiple varieties and sizes from 4' to 14' ranging from $40 to $160.
Located 1 hour away from Hamilton in Norfolk County. A variety of tree and fresh wreaths made daily. Trees range from $35-$45, cash only.
Located in Milton and offers pre-cut or cut-your-own trees starting at $40. Open thru Christmas Eve. Weekend bonfires, Santa visits, and more all listed
here on their website
.
Located in Hillsburgh, only an hour's drive from Burlington. They're open from November 23rd thru Christmas Eve. The bonus is getting to enjoy hot cider while choosing your perfect tree, starting at $59.
These trees are proudly pesticide and herbicide free, and on weekends they offer hot apple cider, candy canes, and wagon rides.
Merry farms is a top-referral form families when asked for their fave Christmas Tree Farms. On weekends they have horse-drawn wagon rides to the Harvest Field, bonfires, baked goods, cookie decorating for the kids, and horses! Closed Mondays and Tuesdays. Trees start at $53.
has been growing Christmas trees since 1955. Their 2 farms are located in Flamborough. They're open from the last weekend in November until Christmas Eve!
farm is CLOSED for the 2019 season because they don't have enough trees.
Rina's offers fresh-cut trees and cut-your-own trees but this year they have limited quantities. They expect to close up early for the season, so please check their website before you head out to avoid disappointment.
CLOSED for the 2019 season because they don't have enough trees.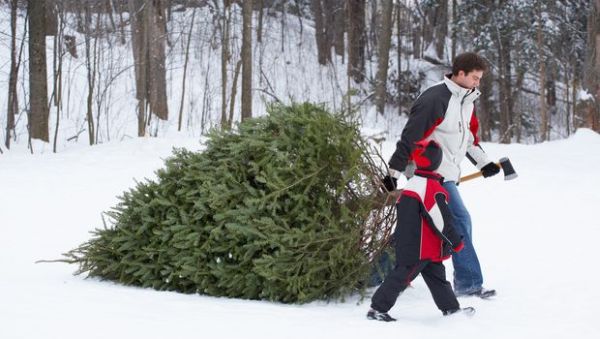 Tips from Better Homes & Gardens: How To Pick The Best Christmas Tree
Know what you want. Each tree species is a little different, so to find the best Christmas tree for your family, you need to match it to the needs and wants of your household. For example, if you have children, you might lean toward pines or firs with soft needles instead of spruce trees, which have sharp needles that can hurt when you step on them.
Check the tree's freshness. Bend a needle in half with your fingers; fresh firs should snap, while fresh pines bend and should not break.
Make sure the needles are secure. To find the best Christmas tree that will last the longest, gently grab the inside of a branch and pull your hand toward you. The needles should stay on the tree. Alternatively, gently tap the cut end of a tree on the ground; if a few needles fall off, it should be fine. If lots of needles fall off, keep searching for a different tree.
Look for a tree with even colouration. Some types of Christmas trees will go from deep, rich green to a dull grey-green if they get too dried out.
Freshen the trunk. Once you get the Christmas tree home, cut off about a half inch from the bottom of the tree's trunk (or ask the Christmas tree lot to do this for you). The fresh cut will absorb more water, so your tree holds its needles and keeps its colour longer. Put the tree in water as quickly as you can after making the cut.
Measure, measure, measure! There's nothing worse than picking out the best Christmas tree on the lot, getting it home, and finding out it's too tall for your room. Before you leave home, measure both your ceiling height and the height of your Christmas tree stand so you don't have to recut the tree when you get home.
Keep your tree cool. As tempting as it may be to place the tree next to a fireplace, know that heat sources — including a heating vent — will cause your tree to dry out faster.
Maintain your tree's moisture. To keep your Christmas tree looking perfect, keep the water in your tree stand filled all the time. You may need to add water two or even three times the first few days.