"Hey, Active Parents! Is there an outdoor skating rink near me?" Yep! Outdoor ice skating rinks are a great place to take your kids in the winter. Burlington, Oakville, Milton and Hamilton each are home to multiple ice skating rinks, open all winter. We are home to skating loops, frozen ponds, and refrigerated ice pads.
Each rink offers something different, and if you try a few out, you're sure to find your family's favourite. In this list, we share all of the public outdoor rinks and their addresses. We also share info on booking your skate time (if required) and share some photos of rinks we have been to.
Looking for more winter fun? We suggest this list of winter things to do.
The rink at Spencer Smith Park requires pre-booking your visit online and you can click here to make that booking. However, the rest of the outdoor ice skating rinks in Hamilton, Burlington Oakville and Milton don't need much pre-planning at all, and they are free to use!
Jump to your city's skating rinks by clicking the city name here: Burlington, Hamilton, Oakville, Milton
Outdoor Ice Skating rinks in Burlington
Ice skating in Burlington at Rotary Centennial Pond will be open for skating as of December 21, 2021. Reservations must be booked in advance to keep capacities to 50%.
Residents can book a spot 25 hours in advance by clicking here. Out-of-town friends can book 2 hours before the time they want if spaces are available. Reservations are for 1-hour timeslots. Skates are available for free rental, too! Outdoor ice skating in Burlington at Rotary Pond is free.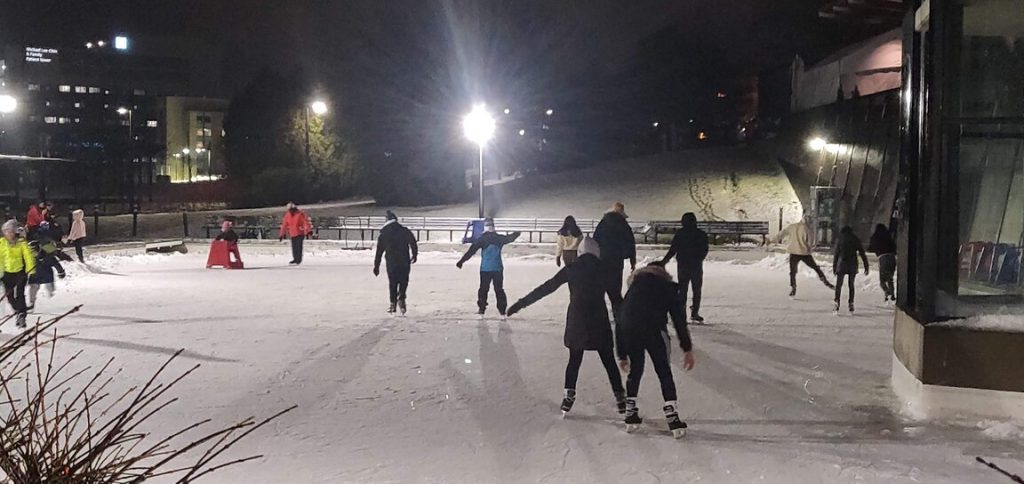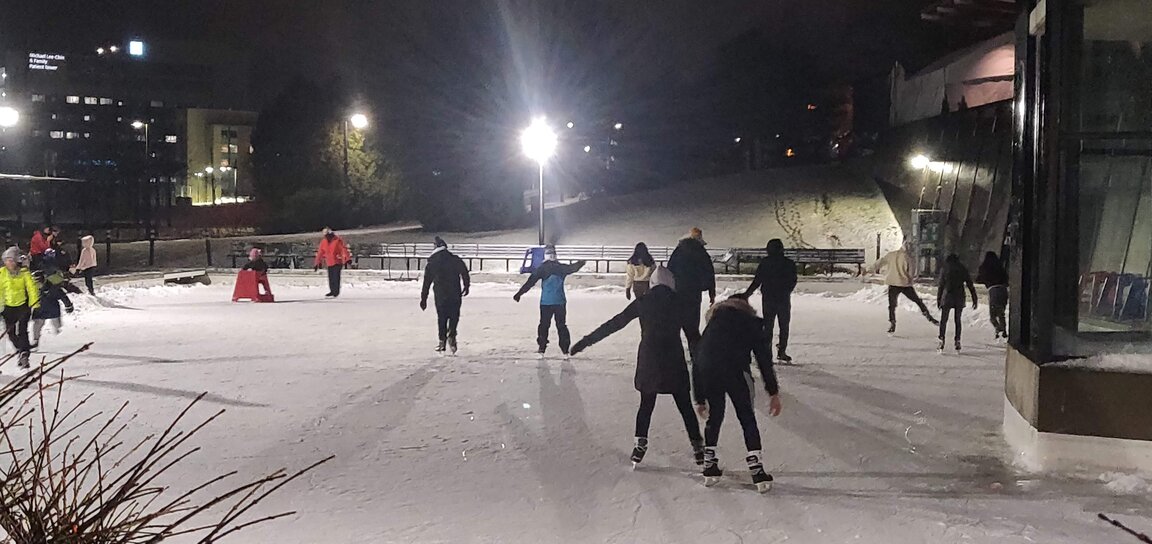 Burlington's neighbourhood ice rinks
Neighbourhood residents create their own ice rinks as part of a program partnership with the city. These rinks are free unsupervised, and completely created and maintained by the residents. Find all of the rinks here.
Outdoor Skating Rinks in Hamilton
Winter is here and drop-in outdoor ice skating rinks in Hamilton are back. Staff are on-site at City-operated outdoor rinks to maintain the ice and monitor COVID-19 safety measures. Outdoor ice rinks are weather dependent, during extended periods of above 0-degree temperatures, ice conditions may require closure. Closure notifications will be posted both online and at the park.
Outdoor public ice skating in Hamilton is offered at the following 4 locations:
Bernie Morelli – Serafini Family Outdoor Ice
Dundas Driving Park
Waterdown Memorial Park
Freelton Community Park
The ice at Valens Lake Conservation Area is frozen and ready for ice skating. Admission is $15.50 for 1 person and each additional passenger is $5. In addition to a great ice skating experience, you can purchase firewood and enjoy a campfire in one of the fire pits. Bring your marshmallows and hot cocoa!
Princess Point also provides access to a designated skating area across Cootes Paradise. The ice thickness is measured each Friday before the end of the day and updated at the on-site signage. Parking for this rink is $10 and is located at 335 Longwood Road.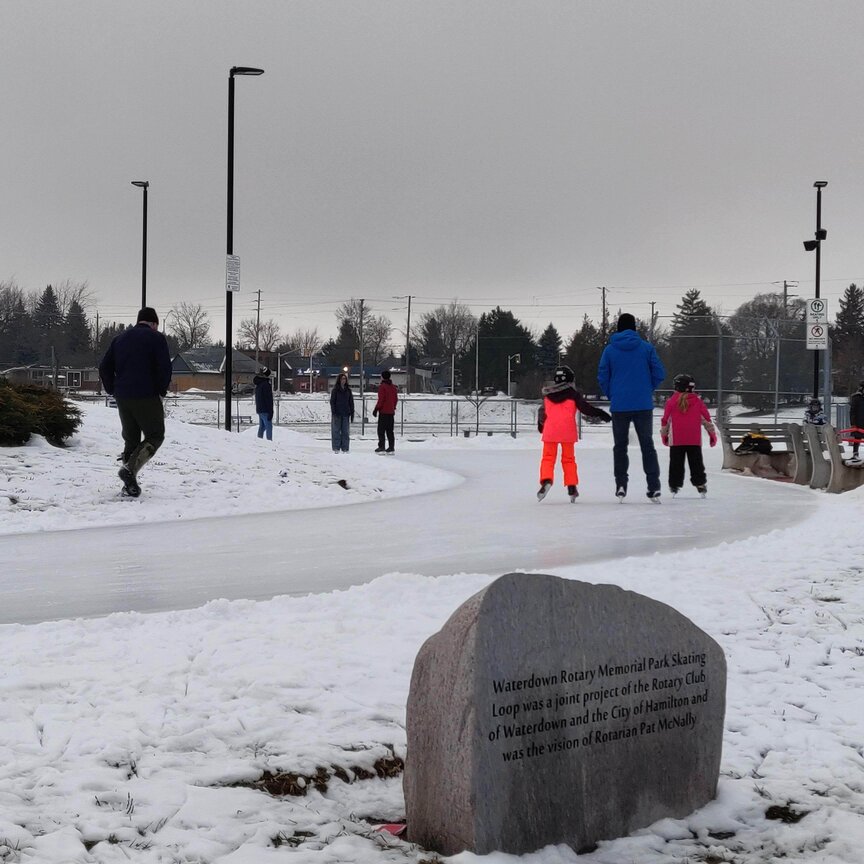 Community-Maintained Hamilton Outdoor Ice Skating Rinks
Thanks to some awesome Hamilton residents you can access a number of free, community-maintained skating rinks, too! These rinks are often less busy, therefore perfect for first-timers and newbies. These skating rinks are operated by neighbourhood volunteers (weather permitting), so here is where you can find them. (source)
Outdoor Skating rinks In Oakville
Try one of these outdoor skating rinks in Oakville! The rink at Trafalgar Park is open from 10 a.m. to 8 p.m. daily, weather permitting, from mid-December to March. Follow the Town of Oakville on their social pages for rink updates and closures.
Bloomfield Park  – 2531 Westoak Trails Boulevard
Clearview Park – 1260 Sir David Drive
Coronation Park – 1426 Lakeshore Road West 
George Savage Park – 3200 George Savage Avenue
Glenashton Park – 1051 Glenashton Drive
Kinoak Arena lot – 363 Warminster Drive 
Langtry Park – 2186 Brays Lane
Millbank Park – 166 Glenashton Drive
Nautical Park – 355 Nautical Boulevard
Old Abbey Lane Park – 1110 Old Abbey Lane
Sixteen Hollow Park – 2140 Westoak Trails Boulevard
Sixteen Mile Sports Complex – 3070 Neyagawa Boulevard
Trafalgar Park – 133 Rebecca Street
Wallace Park – 245 Reynolds Street
William Rose Park – 455 Wheat Boom Drive 
Windrush Park – 1225 Windrush Drive
Admission is free and first come, first served as space allows.
Capacity limits apply and are subject to change.
You can rent helmets and skates from the community centre.
Cancellations are posted on-site. Please contact the facility directly for the most up-to-date information.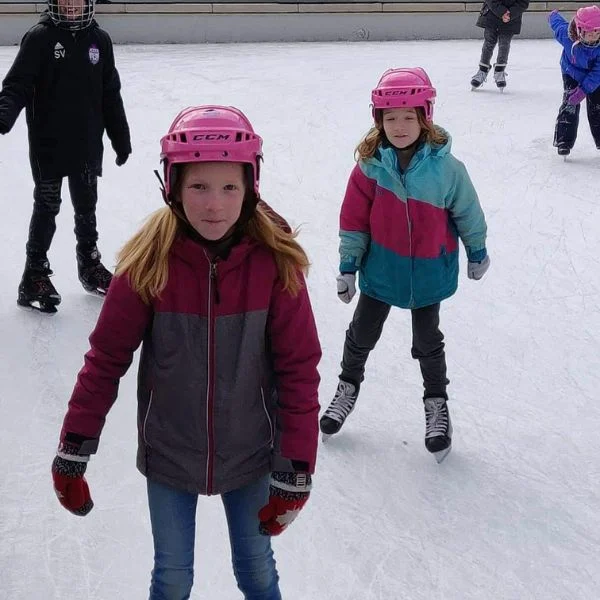 Ice skating rinks in Milton
Milton has two outdoor rinks maintained by the Town, located at Rotary Park (100 Garden Lane) and Campbellville Old Baseball Diamond (105 Campbell Ave. E.). The rinks are not supervised by Town staff. For everyone's safety and enjoyment, please follow the rules.
The rink is open to the public from 5 a.m. to 10 p.m. daily, when conditions are safe
After sunset, you must push the 'on' button to activate the lights
Rink users must physically distance themselves and follow all public health guidelines
You must wear skates on the ice, no shoes or boots are allowed
No hockey nets, sticks, pucks or balls
Help us maintain the rink by placing garbage in containers provided
No pets, food or drink on the surface
Where to Get Your ice and hockey Skates Sharpened in Burlington, Hamilton and Oakville
Make sure your skate blades are sharp before you hit your local outdoor skating rink! Take them to one of these locations to get them sharpened.
SportChek in Burlington Centre – contact them directly for availability.
Fast & Sharp – Mobile Skate Sharpening Service in Burlington. $10 for hockey and goalie skates, and right now they aren't accepting figure skates for sharpening. Drop off and pick up currently.
Gillian's Skate Ship in Burlington – $7 to sharpen skates, contactless pickup and drop off available.
Tydan Blades in Dundas – $10 to sharpen, contact for info.
Centre Ice Training Academy in Burlington
Al's Source for Sports in Burlington
Read Our Latest Articles
Catch up on what we've been covering! Here are our latest reads, hot off the presses just for you. Never miss an article when you subscribe to our weekly newsletter filled with kid-friendly fun and events.