Welcome to our list of local board game cafes in Hamilton, Niagara, Waterloo and beyond! Board game cafes have been popping up all over the world, and in your city, and it's easy to see why. They offer a unique and fun experience for people of all ages and backgrounds.
In this blog, we'll explore what board game cafes are, why they're becoming so popular, and what you can expect when you visit one. We'll also give you some insider knowledge on the cafes we've been to and share some of our favourite board games to play while you're there. So sit back, relax, and grab the dice, because it's your turn!
You might also like…
47+ Date Night Ideas To Put On Your Calendar
Escape Rooms to challenge your brain
Our favourite board games for the whole family
What is a Board Game Cafe?
A board game café is a spot much like. coffee shop or dessert bar where you can play board and card games. Most cafes also served food and drinks. Visitors generally pay a fee (per person or per table) and have access to a huge assortment of board games. The staff are super fans and often recommend games and help you with gameplay and instructions. Many board game cafés also sell the games.
Why are Board Game Cafes So Popular?
Board games have always been something fun to do with family and friends, but it can get pricey if you want to play a new game every few weeks. That's where game cafes shine. For a small fee, you have access to a library of games, all to play and put back if they don't tickle your fancy. For just a couple of dollars per person, you can try all of the popular and pricey games to make sure you love them. What a fun way to eliminate buyer's remorse!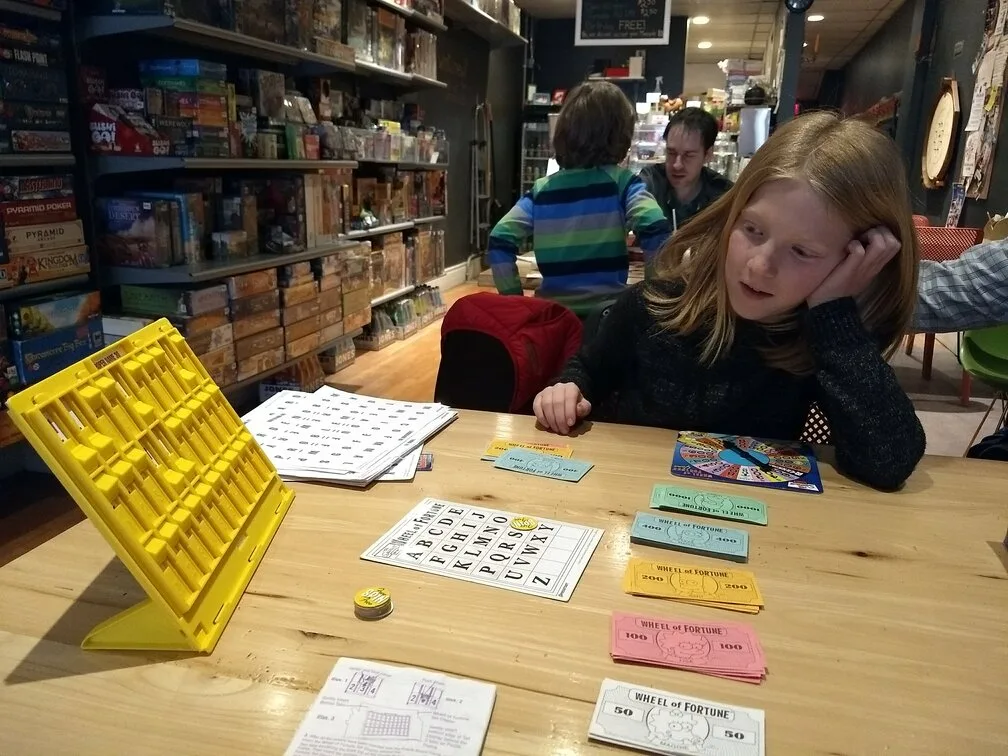 Game Cafes We've Been To
In our travels, we have visited 2 board game cafes in Hamilton and 1 in Toronto. We love this low-key rainy-day idea that doesn't cost much. You can get an entire afternoon of fun for your whole family, with drinks and snacks, for less than $50.
Never Board Games Lounge in Hamilton was out most recent visit to a cafe. With over 900 games to choose from, we tried so many and founds some new faves that we added to our Christmas list. Food drinks and alcohol are available on site. You can also play game in their 2 themed private rooms to really get that immersive feeling.
Mancala Monk game cafe in Hamilton, was the first one we ever visited. My kids were 8 and 10 and had a ton of board game options. I loved that they could cruise the wall of games and choose any box they wanted to try. Their short attention spans meant we played half of each game we choose, but with over 1400 games to choose from, we were never board.
Board Game Cafes Worth Visiting
More Ideas For Family Fun
We have visited hundreds of places and written about them to help you find the very best destination for your next day trip or outing. We love sharing indoor play places, playgrounds that go above and beyond, and more! Here are a few of our latest blogs to help you have a great weekend.