Finding great things to do indoors and with teens can be hard but I found one! I took my 11 and 13-year-old to The Hub in Mississauga to give indoor rock climbing a try and they loved it! And I scored serious "cool mom points"!
our first visit to the hub in Mississauga
This was our first time at an indoor rock climbing facility and we apparently went to the biggest one in Canada! Hub Climbing Mississauga is Canada's largest indoor rock climbing gym and offers climbing routes for everyone. But don't let that scare you, we first-timers got a great lesson from Natalie and were shown how to safely prepare and climb.
We started out by getting our rented climbing shoes and harnesses fitted and then we learned about the different styles of climbing. The lesson was thorough and engaging so my kids really needed to pay attention, which I loved because they need to be responsible too.
auto belay climbing is the best!
We spent a ton of time climbing the auto-belay rock walls. An auto-belay is (forgive my very basic definition) a manual pulley system that retracts the rope up as you climb up. Once you're ready to descend, you are slowly lowered to the ground. The routes are colour-coded, so you follow the same grips to the top for the most challenging. It's not only a physical workout – it's a cognitive exercise as well.
Or, if your kids are free spirits, they can use all of the grips to get up. We heard it was called "rainbow climbing" and because fun is the goal, we loved that! The climbing routes are ranked with a difficulty level, so once you master one, you can look around for the next level and master it, too.
Auto belay climbing was fantastic to start with because my kids got to climb really high and they could climb at the same time because they didn't need me to belay for them.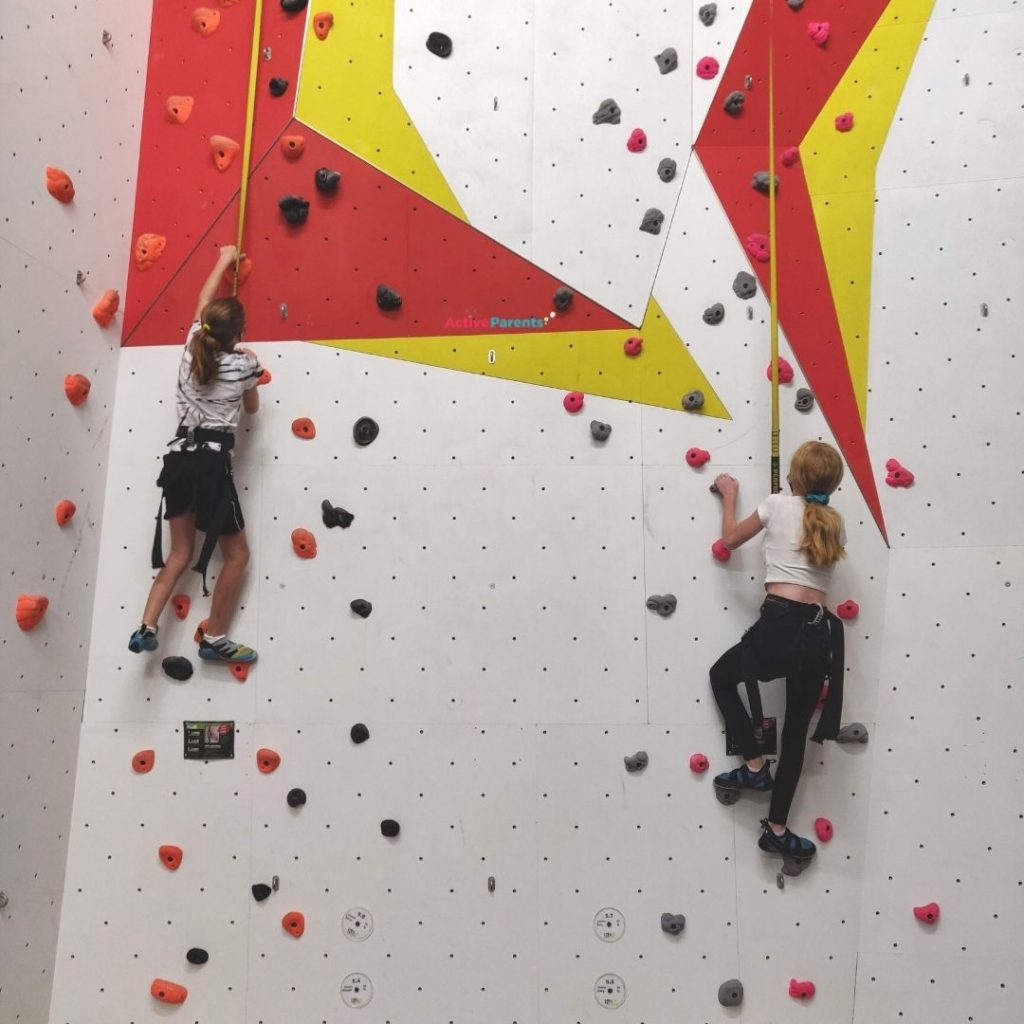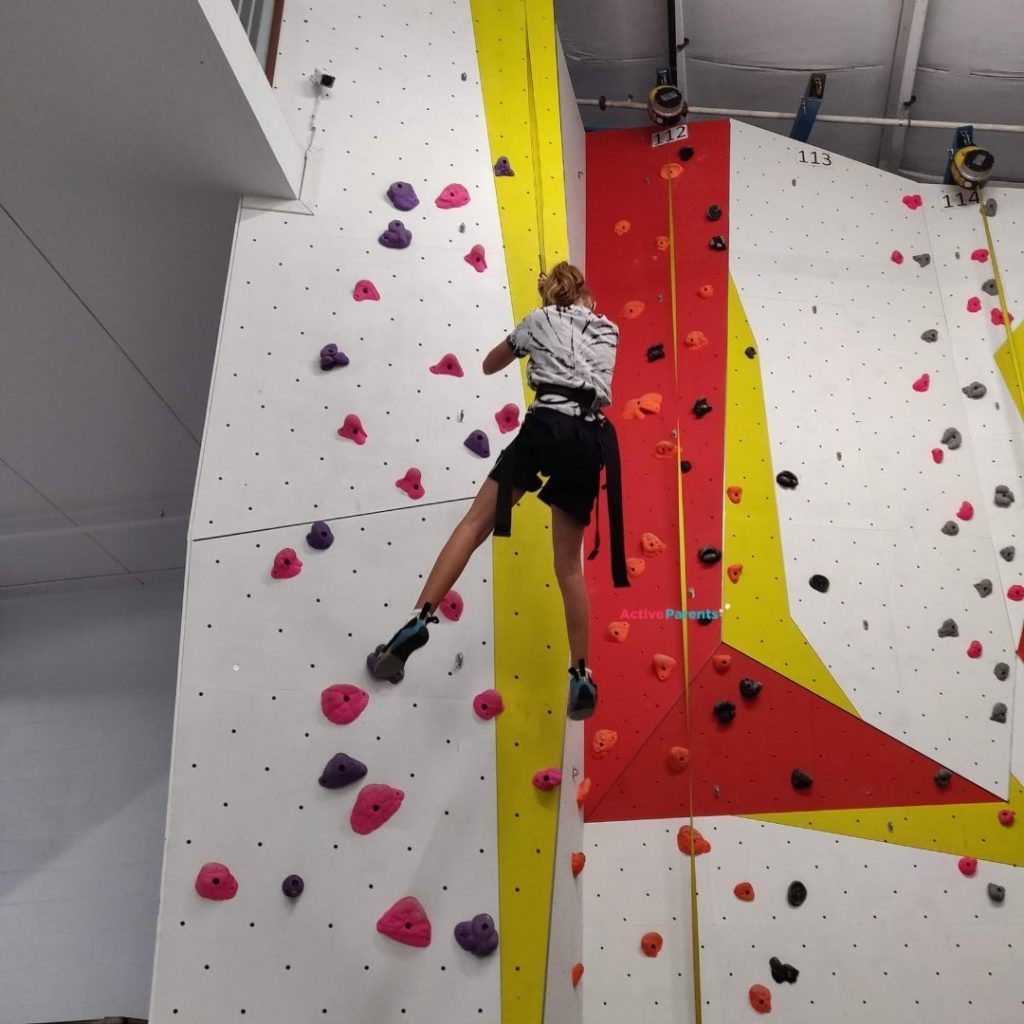 Parents, get involved, too!
Even if you don't want to go on the wall yourself, learning to belay your kids (pull them up and down the wall safely) is a great way to enjoy rock climbing with them. You can take a one-time lesson to learn and be in the mix with your kids and friends right away.
When you learn to belay, you get access to 100 new courses! Natalie did the belaying for us on our first visit, and both of my kids attempted to climb the 49′ tall wall because they had become confident on the auto-belay courses. The photo below is of my girls playing rock-paper-scissors to see who gets to go first. And look at this wall – it's called The Dragon and it's epic.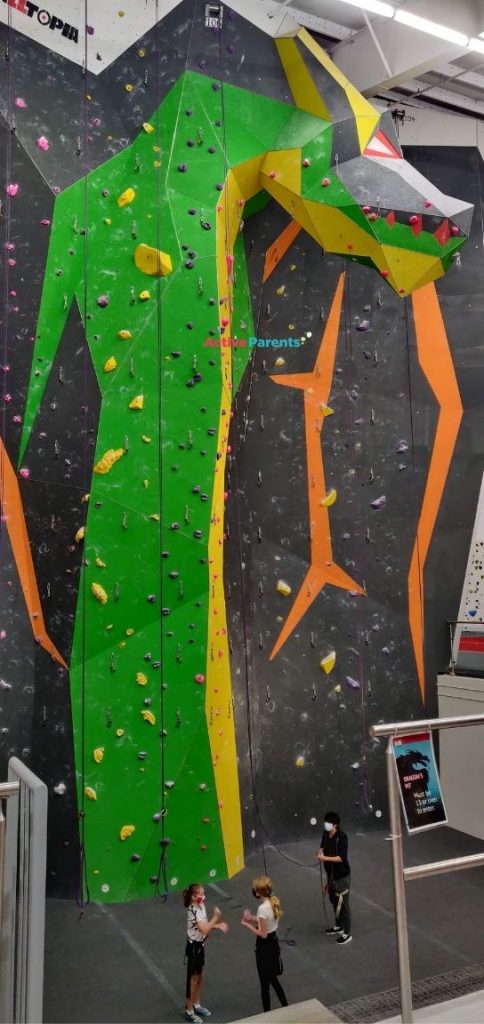 They each made it about halfway up the wall. You can see some videos on our Instagram page. The best part of belaying is that when you get tired or need to plan a new route, you can just "hang out" in the air instead of slowly gliding down to the ground as you do with auto-belaying. My youngest liked that part because she doesn't want to have to start her climb all over again.
augmented reality bouldering wall
The Hub in Mississauga is also home to a fantastic augmented reality bouldering wall. Have you seen one of these before? Your kid will boulder/climb around the board and play games like squashing these little black things, or push images around on the screen, or race to pop bubbles for points. Again, my kids needed to try out every game in the system. So much fun.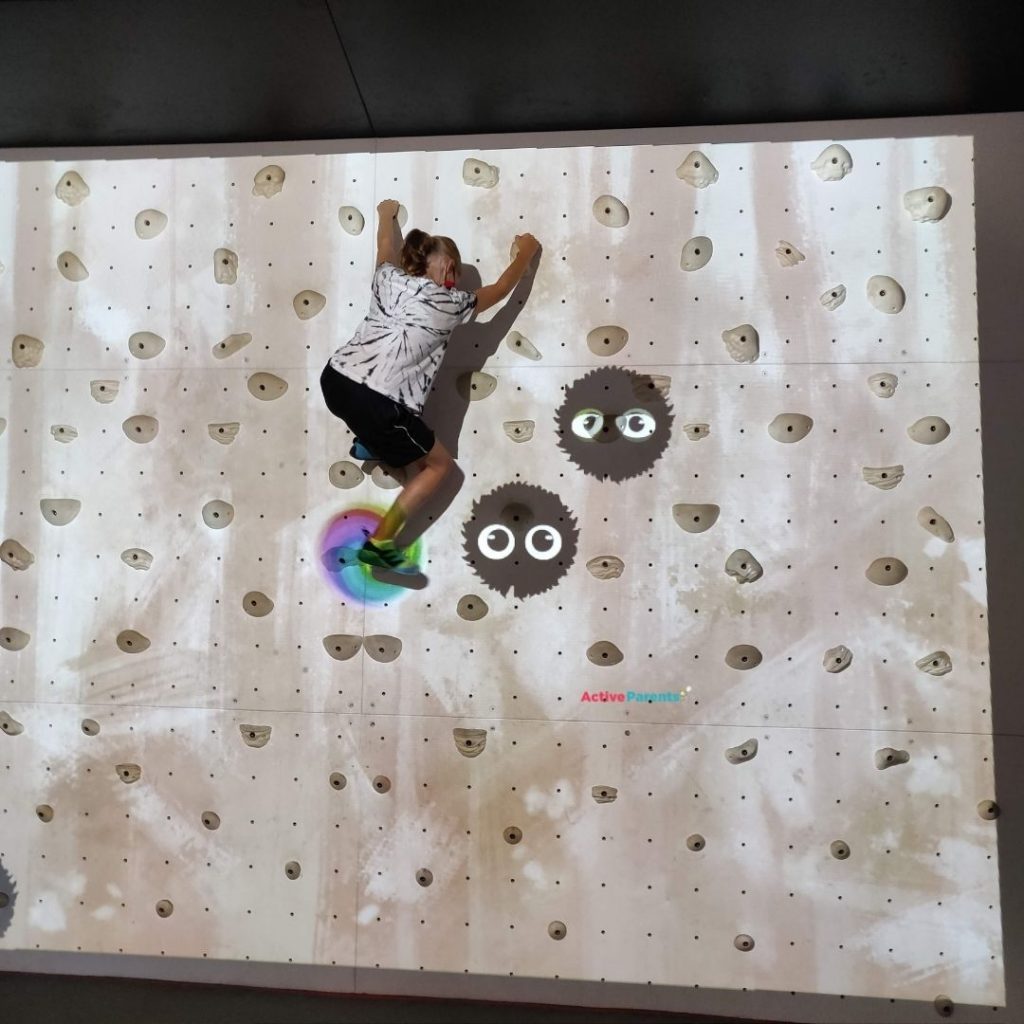 Bouldering at the hub
Lastly, because we wanted to try everything, we tried Bouldering. It's the "no harness" climbing that you see being done on lower walls, about 10-12 feet high. Kids learn to follow a climbing path based on the colours of the grips, and then they climb down safely. Natalie also taught my girls how to fall safely should they need to. This isn't for the littlest of kids, because there is the shortfall factor, but my 11-year-old was obsessed.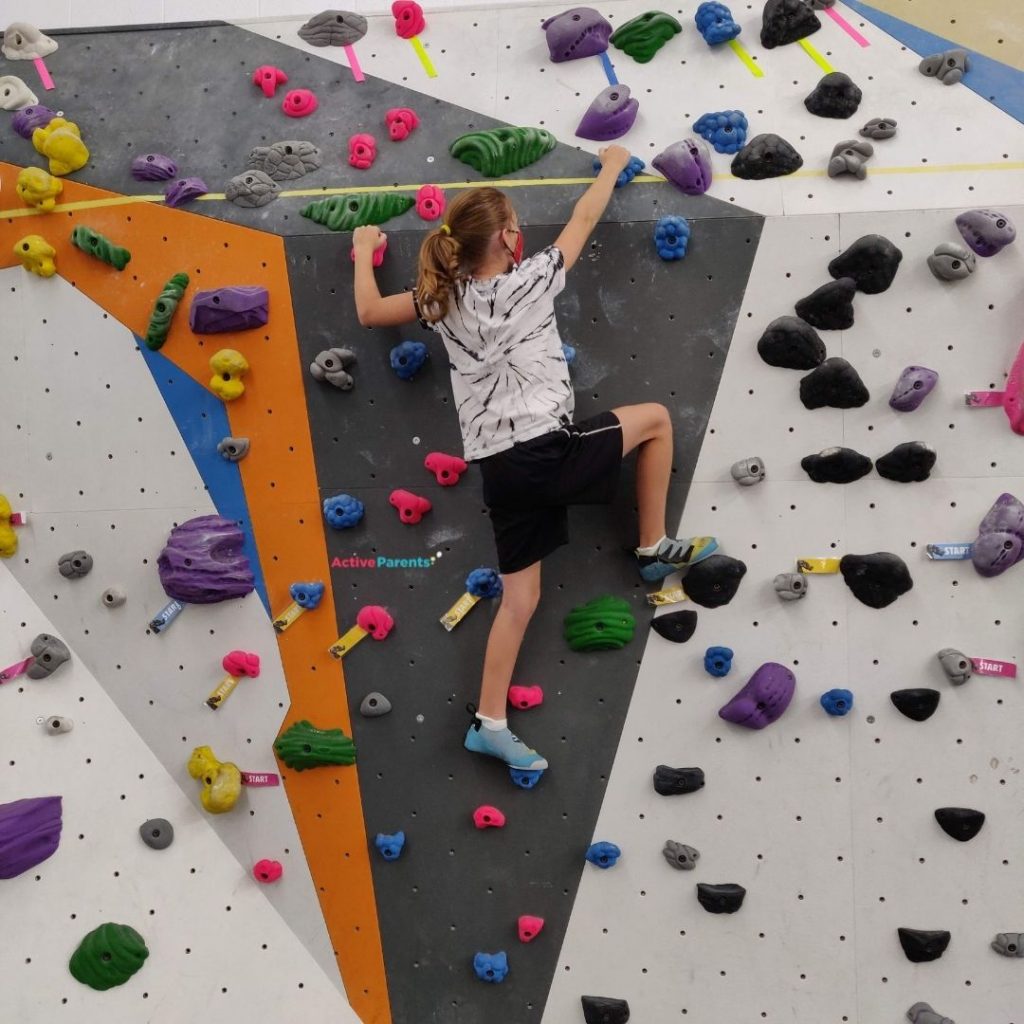 Great staff and clean facility
I cannot compliment The Hub staff enough. My kids thought Natalie was super cool, so when she suggested they challenge themselves with a slightly harder climb, they did it! The facility was massive and so clean. They have climbing available for newbies, kids, experts climbing during the off-season and everyone in between. We even took a break to watch some of the pros climb "The Dragon" and the 49′ walls! Your day pass gives you a full day of climbing – you can even leave for lunch and come back!
how much is it?
We didn't have our own equipment (shoes and harnesses) but they are available to rent for $10.49 per person. Your first child is $25 for the day, and kids #2 and #3 are only $17 each (plus rentals). Reduced rates are available for members. And I highly suggest you take a belaying class, it's soooo worth it and gives your kids access to so many more climbs, plus you get in on the action. The intro class is $36 + tax. You only need to learn once and it will stay on your file. But don't stop there, parents! You can be active and climb, too! There is a Hub special deal that gives you 60 days of climbing plus a belay lesson and all your shoe/harness rentals for $99!
about the hub climbing
The Hub is the only climbing gym in the Peel region where kids have an entire area just for them. And even the augmented reality bouldering wall is kids-only. They are also the only ones focused on the "attached" climbing experiences for kids. this is also the largest bouldering offering in the Peel region! They host birthday parties, recreational climbing programs for kids and camps, too! The Hub Indoor Rock Climbing is located at 3636 Hawkestone Rd Unit 1, Mississauga. You can visit their website here. Thank you to The Hub for inviting us to visit and experience your awesome facility!
Add More Fun to your day
If indoor fun is your jam, you'll be happy to know we've dedicated a whole section of our site to Indoor Activities in Hamilton, Burlington, Oakville and beyond! Don't miss our parent-approved Parks and Playgrounds they're always open and ready for a visit.
More Ideas For Family Fun
We've been to so many cool places, and we've made it our mission to share all the fabulous locations we find with you. Whether you're planning a day trip or looking for the best playgrounds, we've got your back. We are all about discovering the most amazing indoor play areas, farms and animal experiences, and a whole bunch of other visit-worthy local attractions. Check out our latest blog posts below to make sure you have an absolutely epic weekend!