One of the best summer getaways we've had so far is glamping in Algonquin with Four Corners Algonquin. The comfort level and 5-star accommodations made this a vacation to remember. If you're thinking of glamping in Ontario, you need to check out everything that Four Corners has to offer. I cannot wait to tell you all about it because I know you will add this to your summer adventure list!
Four Corners Algonquin hosted us in June, but rest assured all of these opinions are my own.
>> Click here to see our favourite day trips and vacation getaways
LET'S GO GLAMPING!
Before kids, my husband and I would camp a couple of times each summer and watch car racing. We'd pitch our tent trackside and hunker in for a weekend of campfires and cars. Once we had kids they joined us for the fun too! I always loved camping with the kids because it really did bring them right back to nature. But then something weird happened, I got old! Sleeping on the ground, or even an air mattress that would eventually deflate before the sun rose, became just too uncomfortable and ruined the experience for me.
All that changed when I discovered "glamping" with Four Corners Algonquin. Glamping is short for glamorous camping, which sounded right up my alley. We booked a weekend and here's how it went.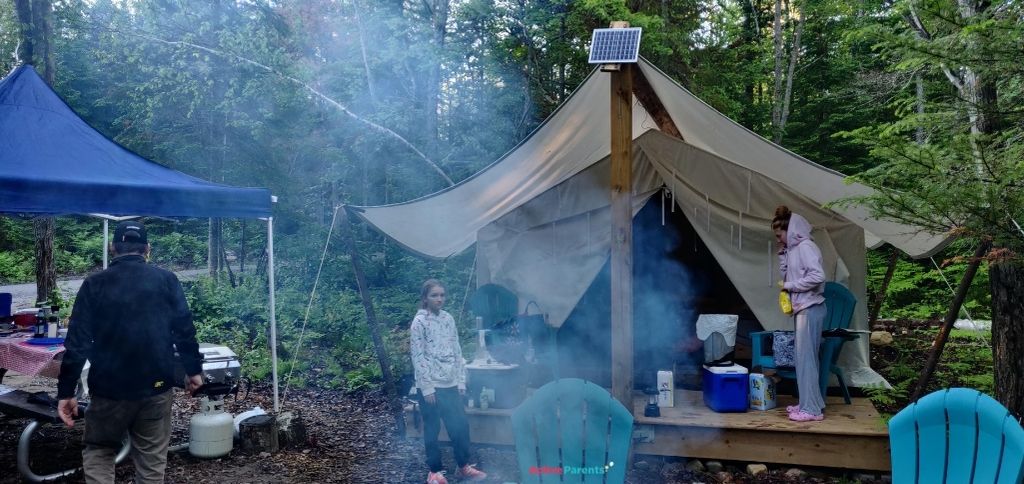 FOUR CORNERS ALGONQUIN TENTS AND GLAMPING
This was my first visit to Algonquin, Ontario! My husband had camped there most summers when he was a kid but for me and my girls, we were newbies! My kids are 12 and 14 and we loved the space that the "Whistlepunk site" provided us. You can see all of the different tents and accommodations that Four Corners Algonquin has here. The booking confirmation included a link to their quartermaster page and promised that anything I would need for my stay could be found there if I forgot it at home. This was reassuring because it had been years since we camped and I worried we could forget essentials. Our accommodations included a king bed and two twin beds. I didn't have sheets that fit those bed sizes but they were just one of the many items I could reserve online. Saved me from having to buy sheets we wouldn't have a use for afterwards!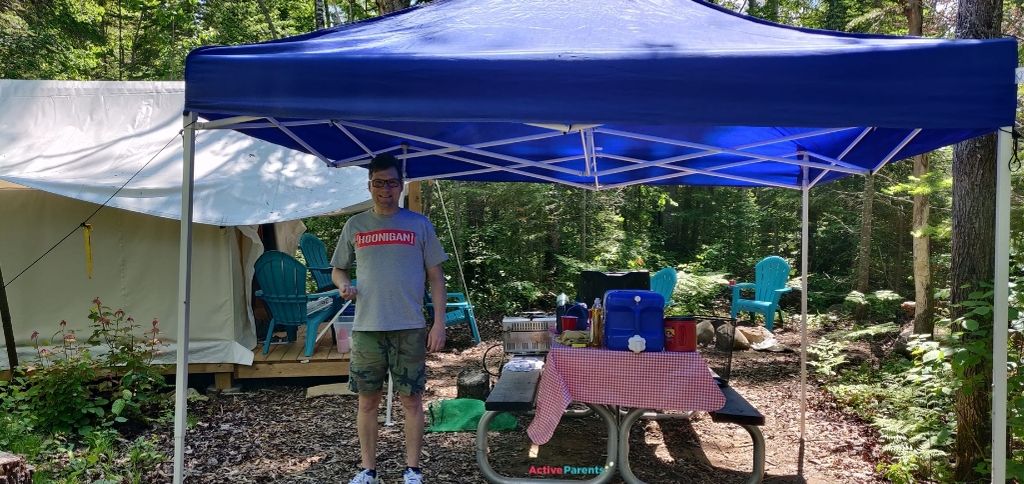 ACCOMMODATIONS
When we arrived at the campground, check-in was simple and the staff was beyond helpful and accommodating. They brought our sheets and our pre-ordered campfire wood to our site while we unloaded. And let me tell you about this campsite! My photos probably don't do it justice but our canvas safari tent was way cooler than any of us thought it would be. It was huge and everyone could stand upright in it (You can't say that about most pop-up tents!). Even with all of our bags and pillows and blankets from home, there was ample space for everybody to spread out. We even had tons of space on the floor to sit and play board games at night. Definitely glamorous camping!
If you're thinking of glamping in Ontario, you need to check out everything that Four Corners has to offer. Our 192-square-foot military-grade canvas tent was waterproof and included three solar-powered overhead lights that had dimmers on them. The beds each had an 8-inch foam mattress which my hips appreciated immensely. I had the best sleep on those mattresses! The floors were plywood but covered with outdoor carpeting that was easily swept but comfortable enough for us to sit on while we played games. All of the accommodations are elevated off the ground which helps them stay warmer during the cool nights and to ensure you're never wet no matter what the weather.
I kid you not, this was some serious glamping!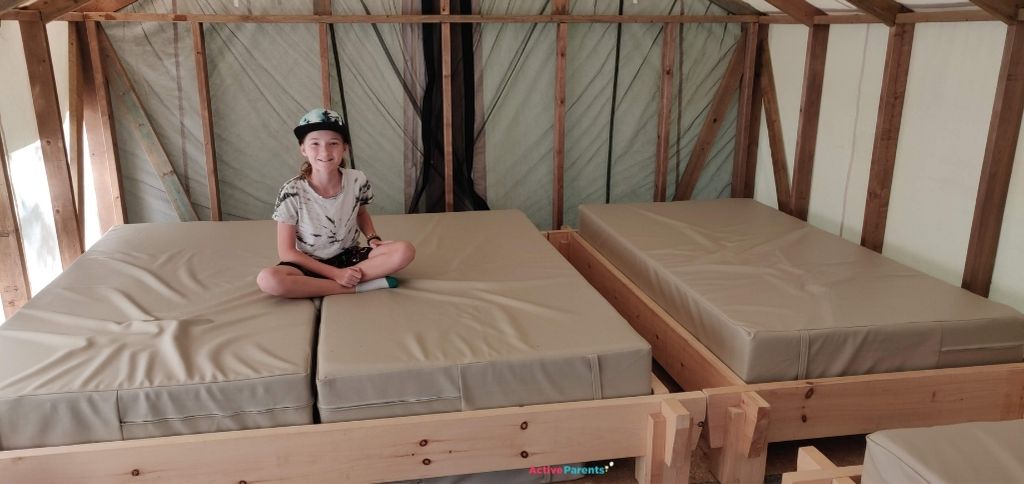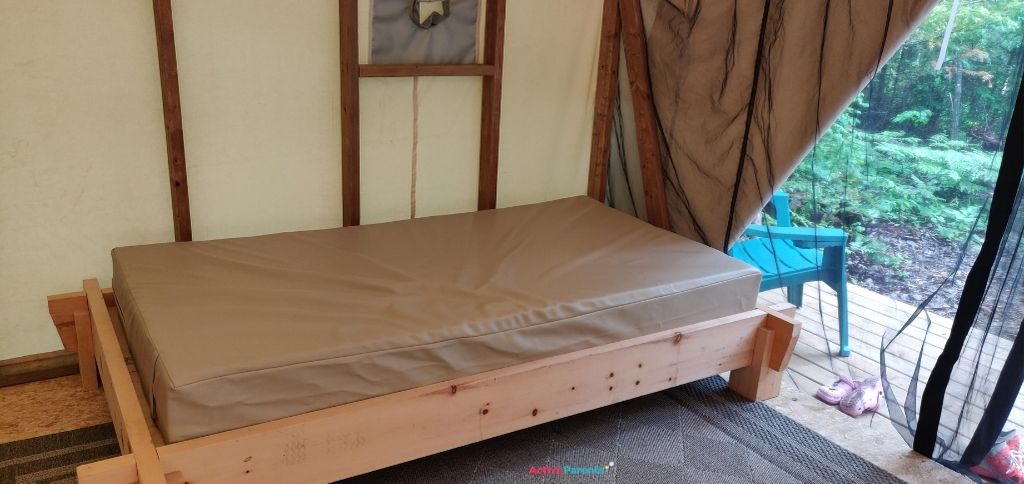 OUR CAMPSITE
Just outside the front doors of our tent was a covered front deck that was home to some Muskoka chairs and lots of space for shoes and more. Each site comes with a campfire pit and some Muskoka chairs that encircle it. We spent hours around that campfire.
Also included with each site is a camping barbecue with a propane cylinder attached. Extremely thoughtful and another thing we didn't need to purchase. We ate all of our meals at the larger-than-average picnic table, each side has one of those as well.
Make sure to also check out their Bubble Tent! The rounded roof is clear so you can enjoy the night sky full of stars!
AMENITIES
I mentioned before that the quartermaster at Four Corners Algonquin is stacked with everything you might need to make your visit comfortable. You can pre-book items online as I did with the bed sheets and firewood to make sure they are ready and reserved for you when you arrive. They have everything from board games to bedding to dishes and cutlery. They make glamping in Ontario easy and accessible. with free rentals of their all-terrain wheelchair and their beach wheelchair. Your hosts go above and beyond, and it makes a huge impact on your visit.
We usually bring paper plates to make cleanup after meals easy, but the campsite had a communal outdoor kitchen that was fully stocked with all the comforts of home. We took all of our dishes over and washed them with hot water and dish soap. The soap, sponges and dish towels are all provided! They really have thought of everything.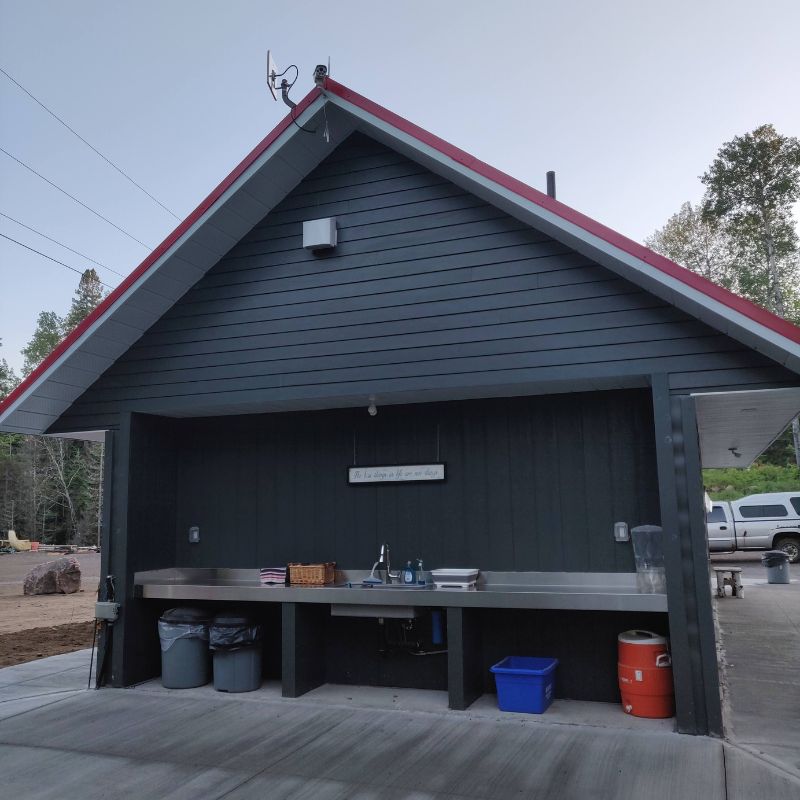 THINGS TO DO IN ALGONQUIN
Our drive through the town of Whitney treated us to a little roadside excitement! Just off to the edge of the highway, we saw a moose. Yes, a moose! It was hunkered down in a grassy field and had caught the attention of five or six other families as they drove past.
This was our first family trip to Algonquin and the top of our must-do list was Algonquin Provincial Park. Not only is the park filled with wildlife – like more moose and bears and loons – but Canada's oldest provincial park is also home to many different hiking trails. We chose the Algonquin Lookout Trail which gave us the most spectacular views of the region. It was a challenge for me being out of shape, but the kids and Matt conquered it with no trouble. The best part about our visit was that it was included in our reservation with Four Corners Algonquin.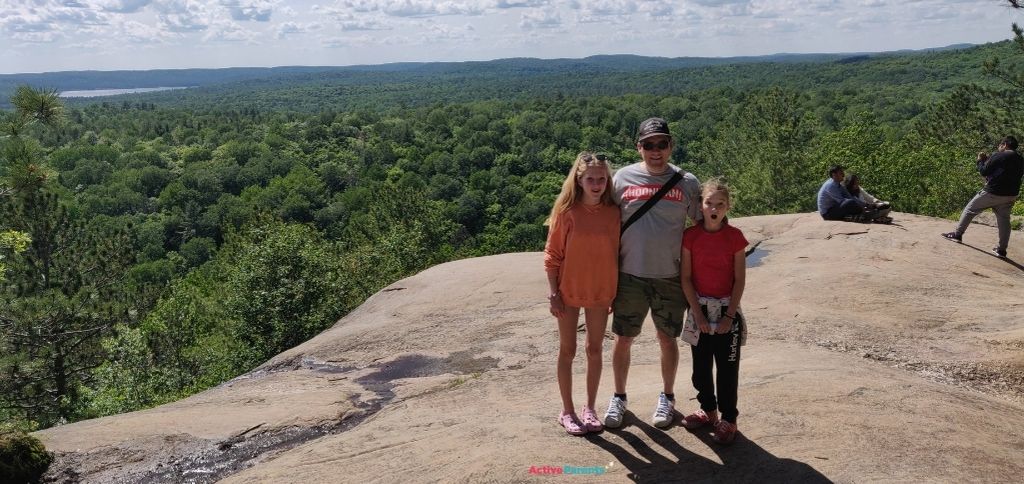 We also spent a morning at the Galeairy Lake beach in Whitney. The water was so clear and the sand so soft. There are picnic tables, so bring lunch with you. I loved the adorable red Muskoka chairs at the edge of the water.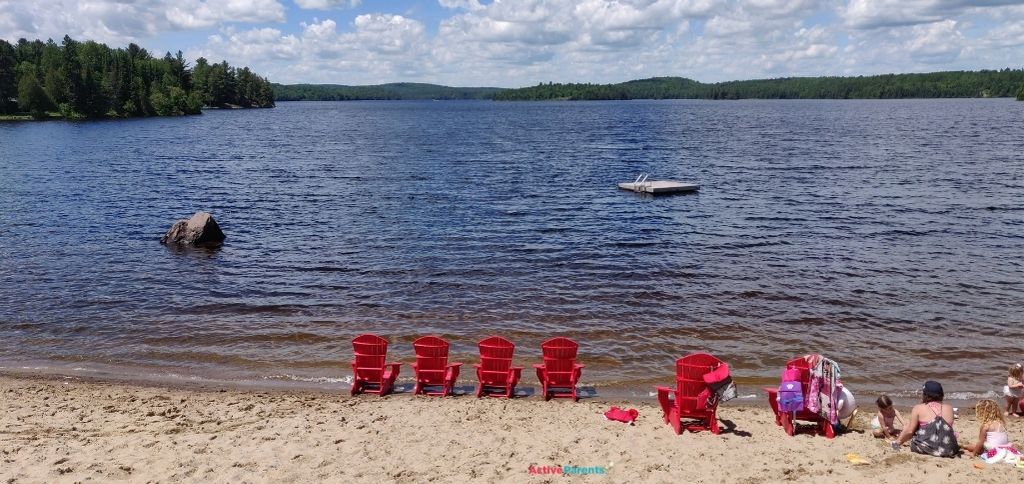 SAVE 10% WITH OUR CODE
The only regret I have from our weekend getaway to Four Corners was that we didn't stay longer. 2 nights away was so easy that we could have stayed a week and loved it. We're already planning a fall visit. The stay was so easy that we may even make it a girls-only getaway! You can save 10% on your 2022 visit to Four Corners when you use the code ACTIVEAMBER when booking your visit.
I'd love to answer any questions you have about our visit – please leave them in the comments below.
More Ideas For Family Fun
We've been to so many cool places, and we've made it our mission to share all the fabulous locations we find with you. Whether you're planning a day trip or looking for the best playgrounds, we've got your back. We are all about discovering the most amazing indoor play areas, farms and animal experiences, and a whole bunch of other visit-worthy local attractions. Check out our latest blog posts below to make sure you have an absolutely epic weekend!