When you're looking for things to do in Toronto, plan a visit to Little Canada. They have put together some miniature displays of some of Canada's most popular locations. The detail and the size will blow your mind!
Read More:
Find our favourite day trip ideas here.
Or spend the night at one of these family-friendly staycation destinations.
We love a weekend away in Toronto, you can read about our last visit here, and this time we went to Little Canada. A visit had been on my to-do list for a few months and believe me when I tell you the in-person experience is so much better than anything you could have imagined.
You can book your visit and buy your tickets online or at the ticket booth. Little Canada is centrally located at Young Dundas Square, right in the middle of all the excitement of Toronto.
When you enter one of the staff members will give you a map and a scavenger hunt for your kids. They have a little Canadian moose hidden in every display that the kids will love finding. It also helps to hold their attention and keep them engaged.
Be a GIANT tourist in Little Niagara Falls!
The first room you walk into is Niagara Falls and it did not disappoint! If you've been following us for a while, you know how much I love doing all the touristy stops in the falls. This extremely detailed display was a walk down memory lane!
You'll see the Falls and the huge tour boats that get you close to the rapids. The hydropower station and the gardens, too. Is it getting dark in here? Yes, it is! The lighting takes you from daytime to nighttime so you can watch the Niagara Falls light up. Keep following the falls around and around and you'll come to the most exciting street in Ontario – Clifton Hill! How many of those Niagara tourist destinations (link) have you visited with your kids? The Vegas-like rights look great when the lights dim, too!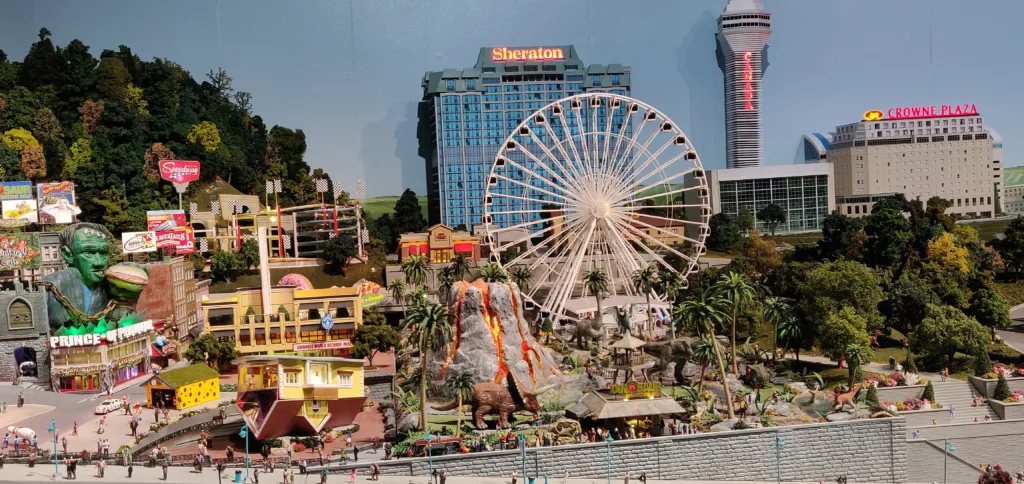 Toronto – A Little BIG City
The next room you visit is home to a large (yet little!) display of the most popular locations in Toronto. You'll love the nostalgia and the memories that come flooding back every time you notice a familiar spot. Chinatown, the Rogers Center, the distillery district and of course Toronto's busy highways!
Make sure to watch as the Rogers Center roof opens and closes.
Fun Fact: One of the miniature model makers told us that the Rogers Center model was so big that it wouldn't fit through the doors. They had to cut a hole in the roof and lower it down from above!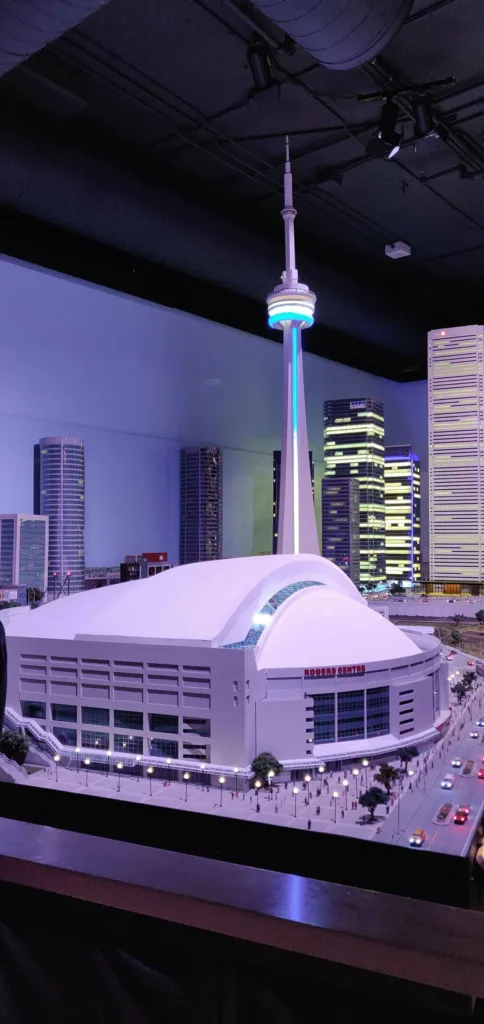 Travel To More Little Canada Destinations
Little Canada has displays for smaller Ontario towns too – like Burlington and Hamilton! Both are part of the Little Golden Horseshoe exhibit. My kids loved this one because so many places were familiar and places they'd been before. Stelco, Around The Bay and a very famous hot dog stand, will catch your eye.
Ottawa was another familiar family favourite to re-explore at Little Canada. If you've never been, this is the perfect chance to see it from a bird's eye view and plan your next getaway! The Parliament Buildings are so regal and patriotic. Make sure to watch for the sun to "go down" so you can watch the Canada Day fireworks! They really have thought of everything – even Beavertails!
Bonjour Petit Quebec! You won't need to parlez Français to enjoy this exhibit! Petit Quebec is home to the Chateau Frontenac, one of Canada's most beautiful hotels as well as its famous cobblestone roads. Look for iconic winter ice sculptures, sugar bushes, and more.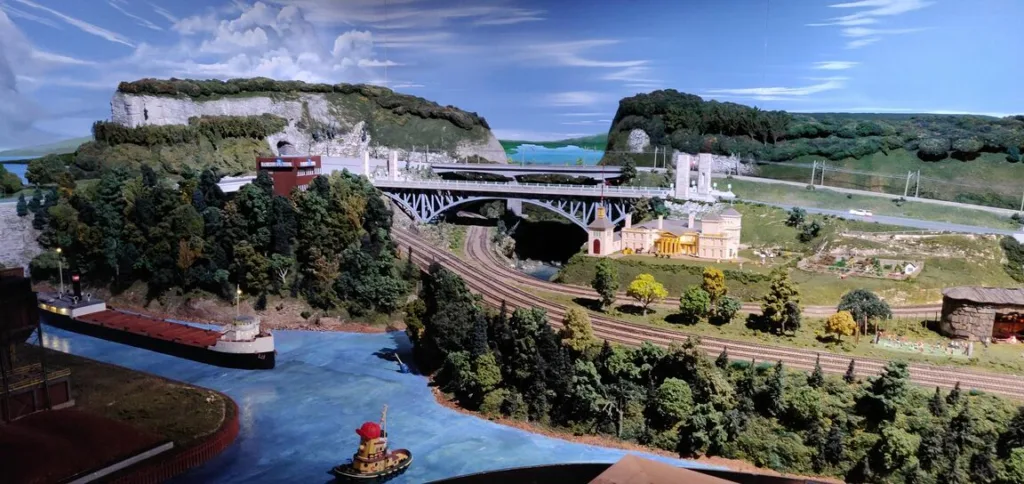 Coming Soon To Little Canada
Little Canada is always growing! 2024 has plans to see Little Rockies and Prairies, Little West Coast, East Coast, Little North and Petit Montreal. We can't wait to visit again.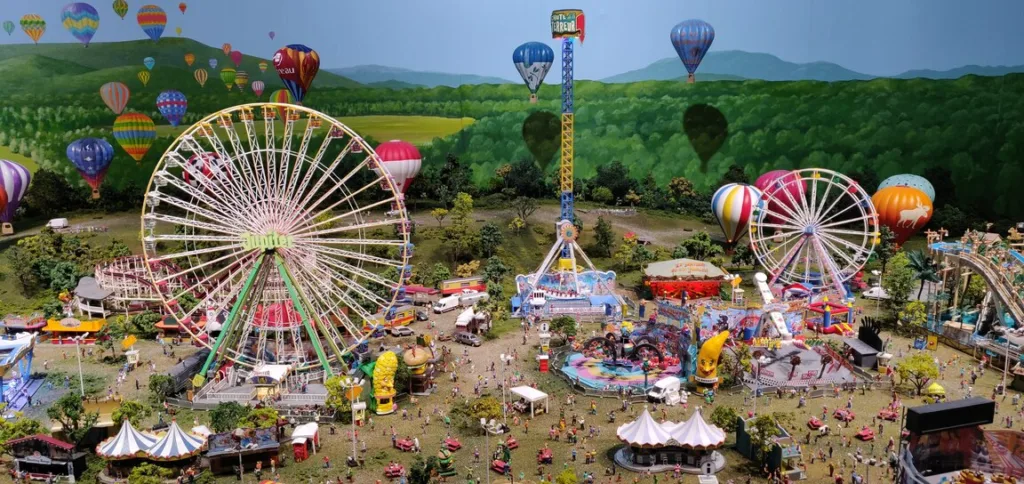 Frequently Asked Questions About Little Canada
Where is Little Canada?
It is located at Yonge-Dundas Square, 10 Dundas Street East, Toronto, ON, M5B 2G9. Right across from the Eaton Centre.
Is there parking?
You can find Gree P parking under the Eaton Centre, but I would suggest taking the GO Train in to make it easier on parents and more fun for kids!
Is Little Canada accessible?
Yes! Every level of Little Canada can be accessed by elevator, and staff are always on hand to help when needed.
Can you buy food or bring food?
No outside food or drinks are allowed, but, the Little Bites café is located adjacent to the Little Things gift shop when you get peckish.
How long should I expect to be there?
About 90 minutes is what you should budget to see everything.
I want to thank the team at Little Canada for inviting us to explore your current exhibit. You can see more photos and book your visit at Little-Canada.ca.
More Ideas For Family Fun
We've been to so many cool places, and we've made it our mission to share all the fabulous locations we find with you. Whether you're planning a day trip or looking for the best playgrounds, we've got your back. We are all about discovering the most amazing indoor play areas, farms and animal experiences, and a whole bunch of other visit-worthy local attractions. Check out our latest blog posts below to make sure you have an absolutely epic weekend!