In 2023, Ontario has planned four Free Fishing weekends. These are times when you can fish without a licence. They are a great reason to get out with the kids and try your hand at angling.
Wondering where you can fish near you? We have a roundup of reader-recommended fishing holes, lakes, creeks and more in the Hamilton and Halton area. If you have a fishing spot to recommend, please share it with us.
Related reading…
Where to fish in Hamilton and Halton
More Things To Do on Family Day Weekend
Free Fishing Weekend 2023 – Free Fishing in Ontario
Normally, in Ontario, you need to possess a fishing licence to fish recreationally. However, four times a year the government allows for licence-free fishing, and these weekends make the ideal time to get out in nature and enjoy a day lakeside.
Free Fishing Weekend 2023 in Ontario will allow for licence-free fishing for Canadian residents on the following days.
Family Fishing Weekend in February (February 18-20, 2023)
Mother's Day Weekend in May (May 13-14, 2023)
Father's Day Weekend in June (June 17-18, 2023)
Family Fishing Week in July (July 1-9, 2023)
If you're not a regular fisher or a fishing licence holder, make sure you take advantage of these weekends. They are a great and fun way to spend time with family and friends while enjoying the beauty of the outdoors!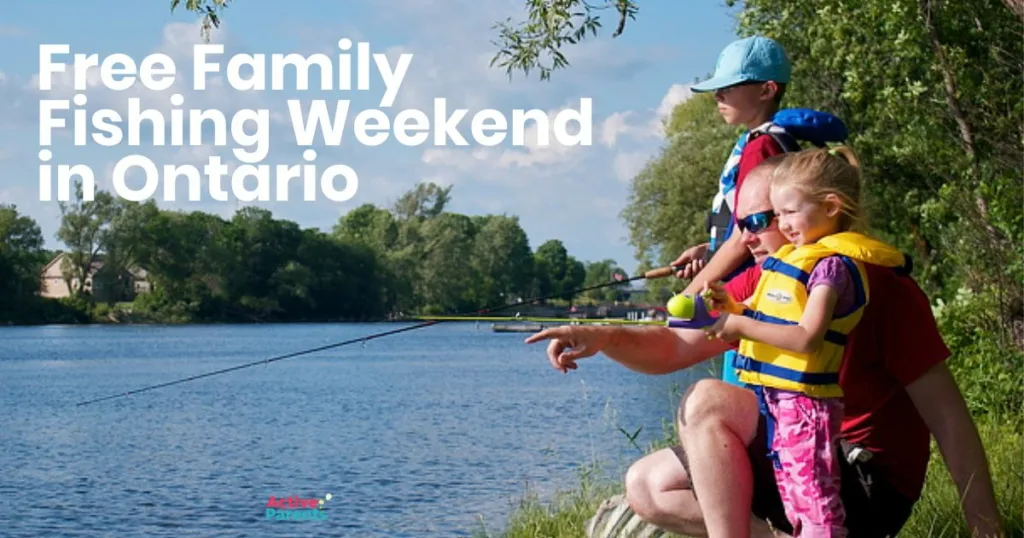 How To Borrow Fishing Equipment
Since 1998, the Ontario Federation of Anglers and Hunters has sponsored a program called TackleShare to loan our fishing equipment for free. This program removes the financial barrier that would keep families from enjoying this relaxing sport.
Borrow rods, reels and even tackle is as simple as checking out a book from the library. TackleShare has hundreds of loaner sites in Ontario. They also partner with Ontario Parks to help bring fishing to more families. Just one more way to enjoy a free fishing weekend in Ontario! You can find a list of the loaner site here.
More Ideas For Family Fun
We have visited hundreds of places and written about them to help you find the very best destination for your next day trip or outing. We love sharing indoor play places, playgrounds that go above and beyond, and more! Here are a few of our latest blogs to help you have a great weekend.