March Break Bingo is the perfect way to spend your week away from school! 25 ways to make lockdown spring break great!
We can all agree that a lockdown is not how we want to be spending March Break, but here we are. And when life gives you lemons, add it to your homemade iced tea! That's 1 of the 25 ways you can have fun as a family. We've come up with 25 simple ways you and your kids can make some memories this Spring Break. Don't forget to get fresh air daily – it's essential. 
DID SOMEONE SAY PRIZES?
Oh yes, we did! Cross off your Bingo card – a line, 4 corners, or a whole card – and share it with us to enter to win 1 of 10 Active Parents mini prize packs! You can tag us on Instagram, share your March Break Bingo card in our Facebook group, or email it to us here.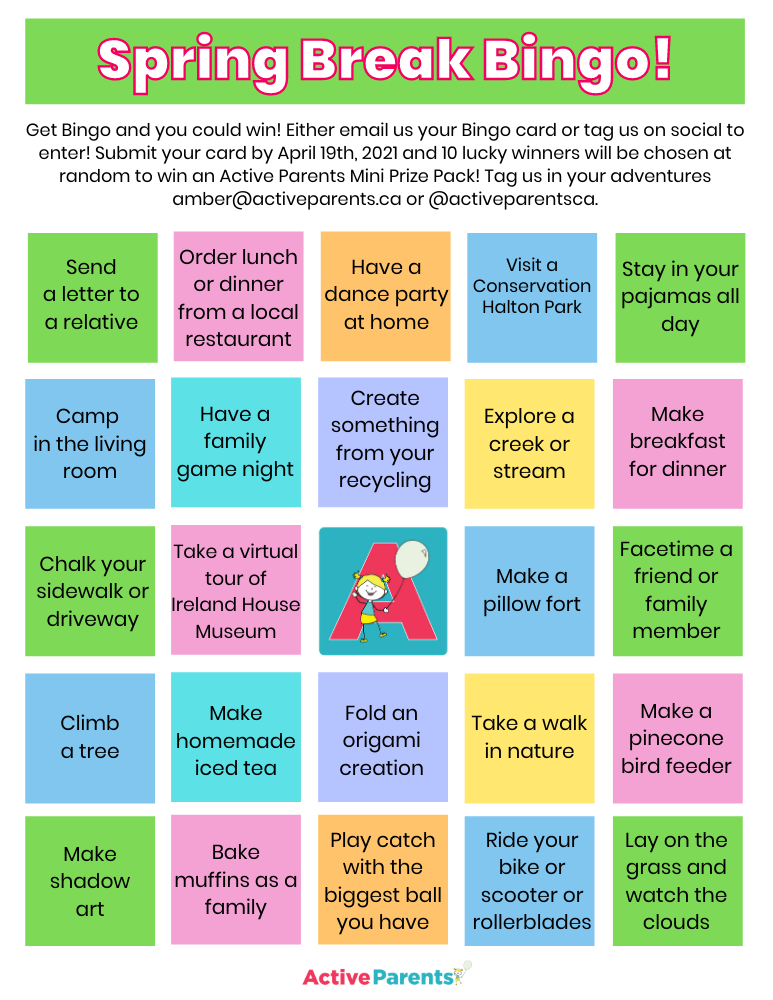 Have fun with your peeps, and be sure to submit your Bingo card by the end of the day on Monday, April 19th to be entered to win 1 of 10 Active Parents Mini Prize Packs. 
How to Submit Your March Break Bingo Card:
Post your Bingo card in the comments of our Facebook Group https://www.facebook.com/groups/activeparentschallenge 
Share it on Instagram and tag us @activeparentsca
Email us your card to amber@activeparents.ca 
looking for more inspiration?
We got you covered with hundreds of ways to make today great. 
Parks and Playgrounds are still open and great for physical activity
Stay home and send some postcards around the world
And find more spring activities below. Always double-check with the current provincial regulations before committing to anything.