Is there anything more Canadian than visiting a Maple Syrup festival and eating freshly-poured-on-snow maple syrup candy? We don't think so, either! That's why Active Parents has rounded up these local Maple Syrup festivals nearby that you should definitely visit. Bon appetite!
Read More:
13 reasons why you should visit Bronte Creek – even when it's not maple syrup season.
Winter fun for families is all in one spot – here!
Wondering what's on this weekend? Wonder no more.
Westfield Heritage Village – 2023 Maple Season
Reservations will open Wednesday, February 15 at 7 AM.
What is there to do? During Maple Season, two demonstration sites will be open, including the modern sugar shack. Westfield will also have their maple syrup panels on display, a Maple Trivia Trail to follow, and the St. George Lions will be out to sell pancakes in the Ironwood Hall. Visitors will be able to buy maple treats from the General Store and Gift Shop.
A selection of historical buildings will also be open, and volunteer historical interpreters will be providing a variety of demonstrations during your 2-hour visit. Remember to dress for the weather so you can stay warm as you explore the village. Westfield Heritage Village is offering their maple syrup program on the following dates:
Sundays, March 5, 12, 19, 26 and April 2
March Break days: Wednesday, March 15 and Thursday, March 16
Good Friday, April 7.
Visitors will also be able to buy maple treats from the General Store and Gift Shop. Due to the popularity of events at Westfield Heritage Village, visitors must reserve a time slot for their visit. Reservations, which include parking, are in 2-hour time slots on the Maple Syrup special program days. No walk-ins during Maple Season.
Pricing / Admission:
HCA Members – This event is free for HCA Membership Pass holders, but they will be required to pay a $10.00 reservation fee.
Non-HCA Members – Reservation Fee: $10.00, plus Vehicle Fee: $10.50, plus Per Person Fee: $5.00 per person. Ages 5 and under are free.
Click here to visit the Hamilton Conservation Authority website.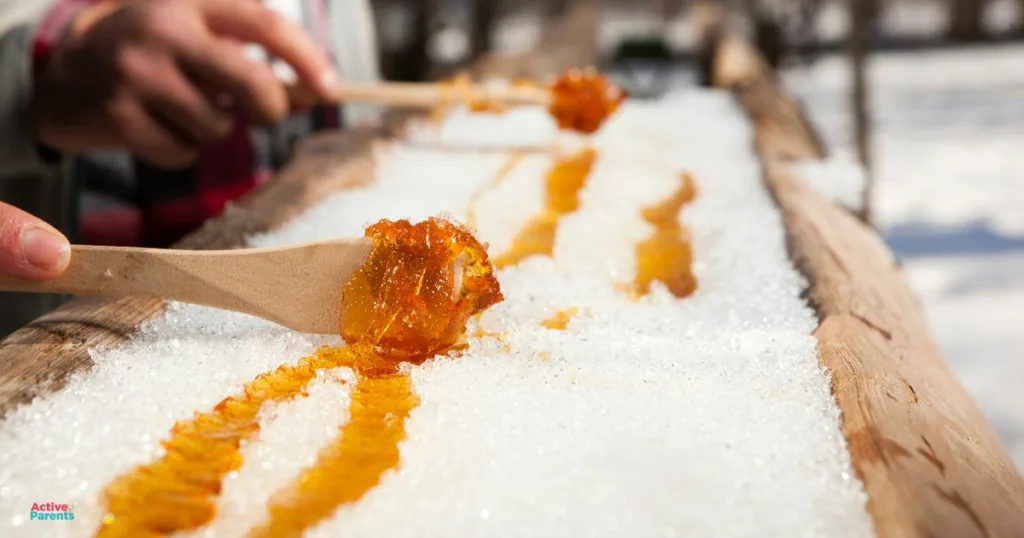 Bronte Creek Provincial Park – 2023 Details
Bronte Creek's Maple Syrup festival specializes in the history of maple syrup presented on a heritage farm from 1900. Their maple syrup farm includes a pancake house, fresh maple candy, fresh maple taffy, guided tours of Maple Lane, gift shoppe, wagon rides, farm animals, historical tours, family activities and more. Open every weekend in March, and daily during March Break. This is one of the more popular maple syrup festivals nearby.
Admission / Pricing:
The festival is included in the daily vehicle access fee:
Daily vehicle permit $18.00
Senior permit $14.50
Disable persons permit $9.00 with proof of Ontario Disability permit)
Bur permit $62.50
In addition to your park permit, Bronte Creek also recommends you budget about $40 for maple festival popular purchases like the candy shanty, gift shop and maple taffy station. The pancake meals vary in price (see below) Meals include pancakes, sausage or bacon, a drink and of course 100% pure maple syrup! No group rates for meals.
$6.00 small meal
$12.00 medium meal
$40.00 family platter
Address: 1219 Burloak Dr, Oakville, Ontario.
Maple town at Mountsberg Conservation Area – 2023
It's the sweetest time of year at Conservation Halton! The Mountsberg Maple Syrup festival is a popular one! Their sugarbush has been producing maple magic for more than 150 years and educating the public for over 40 years. The park will tap about 300 sugar maples this spring and the crystal-clear sap will be magically transformed into sweet maple syrup in the Sugar Shanty. Purchase a delicious pancake meal, maple-themed sweets & treats!
A visit to Maple Town offers you an exploration of the various demonstrations around the sugar bush – and of course pancakes! Plus, you can add a Wagon Ride (additional fee, first come first serve) through the sugarbush for a truly unforgettable experience or Talons and Tailfeathers for a closer encounter with the Mountsberg Raptors.
Non-Members
Adult: $12.00 +HST
Senior: $9.75 +HST
Child (5-14): $8.75 +HST
Child 4 & under: FREE
Members
Adult: $7.00 +HST
Senior: $5.00 +HST
Child (5-14): $4.00 +HST
Child 4 & under: FREE
Maple Town is one of the more popular maple syrup festivals nearby so don't wait to book. Click here to book your Maple Town visit.
Crawford Lake Sweet Water 2023
March 4, 2023 – April 9, 2023 (Weekends, Holidays, and March Break)
Crawford Lake Conservation Area presents Sweet Water Season, a celebration of the Indigenous heritage of maple sugaring. Your visit focuses on the Indigenous heritage of maple sugaring through a series of exhibits throughout the Longhouse Village. Visitors can take a step back in time to the 15th-century site when maple sugaring was the first harvest of the year. Sweetwater demonstrations run throughout the day, Guests are encouraged to gather by the fire and learn all about the history of maple sugar making. There will also be guided maple syrup tasting flights offered where you can try different grades of maple syrup, similar to a wine tasting.
Included in your Sweetwater Season Experience:
Longhouse Village Exploration
First Harvest: Celebrating Sweet Water Exhibit
Maple Syrup Tastings 12 pm, 2 pm
Maple Taffy on Snow 11 am-3:30 pm (additional fee applies)
Sweet Water Demonstrations 11 am, 1 pm, 3 pm
Book your Sweet Water experience here.
Maple Syrup in the park
Come out and explore Terra Cotta Conservation Area this spring at our maple syrup event. Tap into the sweet taste of spring and enjoy pancakes with real maple syrup, taste maple taffy and take home maple sweets and treats, available for purchase from our Park Store! Tour maple syrup demonstrations, take a walk through Tales on the Trail, learn from Indigenous partners and more!
This is a family-friendly event. Reservations are required. Click here for tickets: https://cvc.ca/maple-syrup-in-the-park/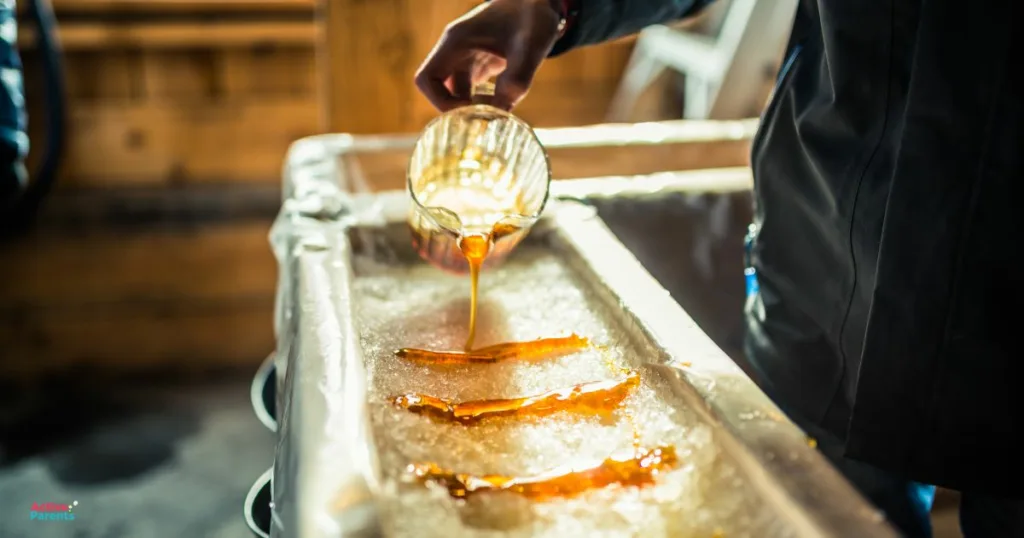 Maple Weekend with Sweet Ontario
The Ontario Maple Syrup Producers' Association will be hosting the Annual Maple Weekend. Participants in Maple Weekend can be found across the province in a number of maple syrup farms and producing areas. Depending on how far you'd like to travel for your syrup fix, you could find yourself at an event in St. Catharines, Halton, Niagara, or head north to Simcoe.
Burlington Lion's Club Maple Syrup Sale
2023 info not yet released.
Prefer to stay warm and cozy, but refuse to give up on that delicious maple goodness? The Burlington Lion's Club has been selling Quebec Maple Syrup as a fundraising project since 2003. The money they raise from this event is returned back to the Burlington Community. Sweet just got sweeter! Click here for more info.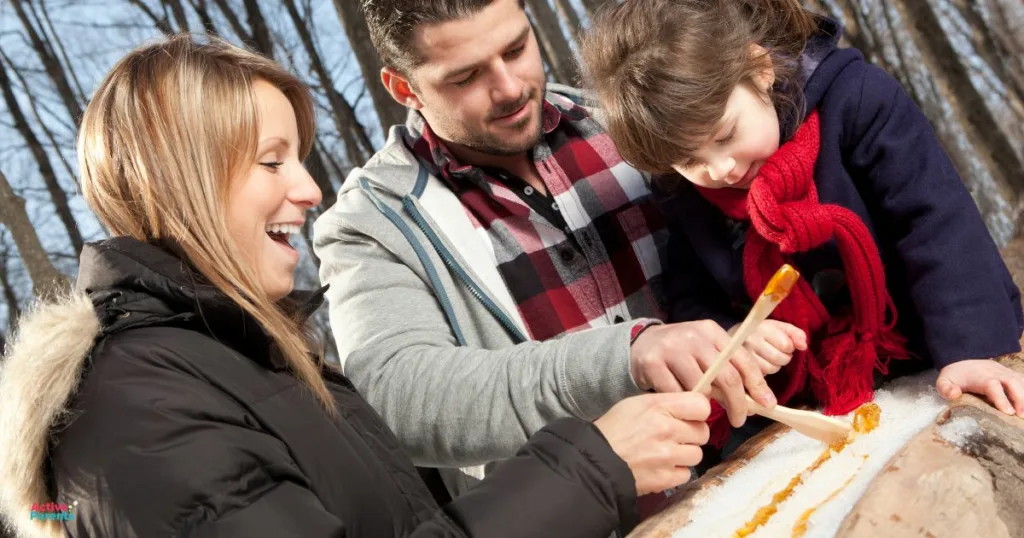 Read Our Latest Articles
Catch up on what we've been covering! Here are our latest reads, hot off the presses just for you. Never miss an article when you subscribe to our weekly newsletter filled with kid-friendly fun and events.