So many of us are moving towards giving gifts that offer the receiver are going to gather dust to end up in the landfill sooner rather than later, so we thought we'd inspire you with a list of some of our favourite experience gifts for kids and families.
What are some of the best gifts you've received? I know my favourites are experiences, both big and small. Replicate that joy this year by giving an experience gift instead of another toy or sweater. Parents will appreciate having something to look forward to after the hustle and bustle of the season have winded down. And kids will be so excited to try something new or have one of their favourite activities cities all lined up and paid for!
Science backs up the fact that we should be giving experiences instead of things. The memories of a great outing or activity last much longer than the average physical object. In addition to that, the emotion tied to the experience is worth more than the price tag in every case. So without further ado, here are some of our recommendations for experience gifts for families that we've loved that encourage fun, adventure and a little bit of travel, too!
TIP: Keep reading till the end for great ways to wrap up experience gifts so the recipient gets the thrill of unwrapping a present, too!
Experience Gifts For Sports Fans
Some of the prices on major league tickets are out of this world, but we have just as much fun at lower division games – and we have extra money for hotdogs and popcorn! Try some of these options when you're looking to buy experience gifts for families with sports fans.
Hamilton Bulldogs Hockey is still one of our favourite family memories. Their games are fun and exciting and very family-friendly. They offer themed days with giveaways and activities during breaks in the gameplay and before. We highly suggest the Teddy Bear Toss Game where the ENTIRE crowd pitches teddy bears onto the ice to be donated to a very worthy cause.
Hamilton Cardinals Baseball games are great for your ball fans and it gives you something to look forward to when the season opens in the spring. We can't wait to go to our first Cardinals game!
Toronto Marlies Hockey is a very close option when you can't get Maple Leafs tickets. Or check out the Toronto Rock Lacrosse – it's high energy and comes highly rated by families we know! Their season runs December thru April, and they play in Hamilton, so it's a perfect winter attraction. And not to be forgotten, Toronto FC is top-notch soccer close by. Their games are family-friendly (I'm told) and in an open-air stadium from April through November.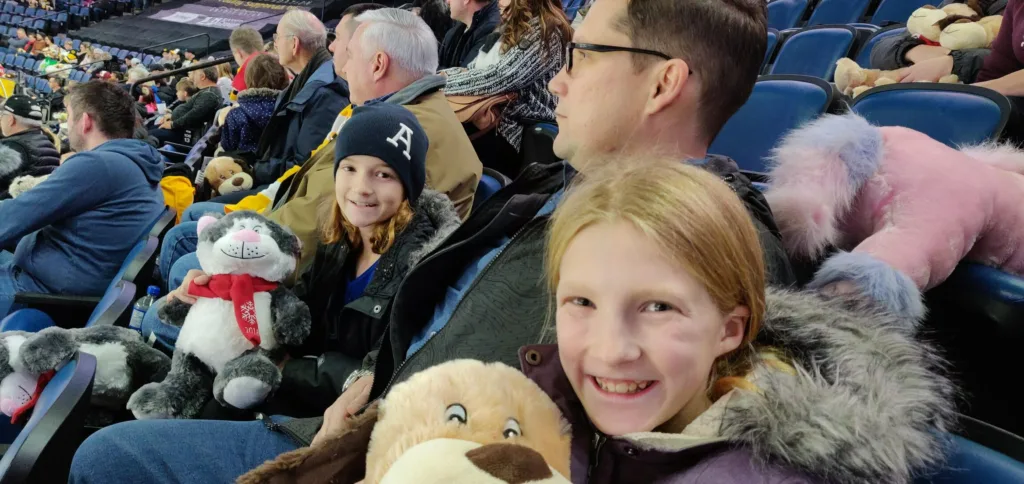 Outdoor Experience Gifts For Kids – Adventure Awaits!
You'll never catch me bungee jumping, but these adventurous family-friendly day trips were amazing and I definitely recommend them. If your family loves being outdoors and enjoys trying something new, give these experience gifts for families a try.
Rafting on the Grand River was one of the best things we've done as a family. We included friends, too and it's so easy, fun and affordable. Create your own gift certificate for one of these adventures and pen it onto your calendar.
Chicopee Tube Park and Zipline course was a summer adventure you just have to try. In the winter, opt for snow tubing, and in the summer you must try ziplining. Priced right and so easy for all ages.
Everyone in the family can do an aerial ropes course! I'm so unathletic and even I did it! It's a day of fresh air, adventure and using muscles you didn't know you had! We did Boler Mountain in London, Ontario and have plans to go back because it was such a great time.
When you buy an annual membership to a conservation area, you get 4 seasons of fun- including hiking, sledging, and swimming! Plus, access to special events, and you'll always have a destination for some fresh air fun all year long. We have purchased memberships to both Hamilton and Halton Conservation Area passes because they offer so much for us to do all year long.
Royal Botanical Gardens memberships give you access to a year's worth of their unique indoor and outdoor events and exhibits. In addition, you can hike their trails for free, and enjoy free parking and free access to their natural playground.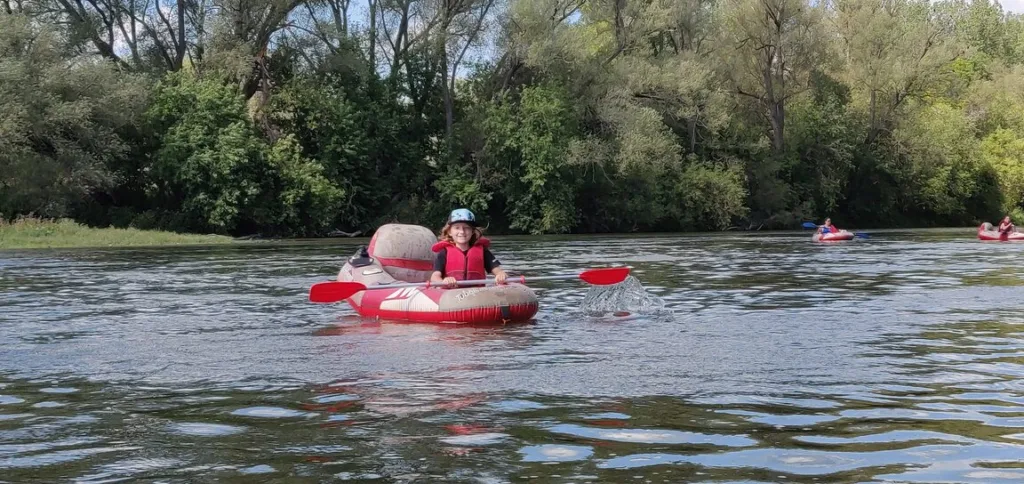 Staycation Experience Gifts For Kids and Families
A treat for both the adults and the kids is a weekend (or weekday) getaway. We've had some great Ontario staycations that we recommend. Whether it's the novelty of a hotel room and hotel pool or a full-on adventure in nature, we love these easy ideas for families.
Glamping in Algonquin Park is the only way to camp for me! We even got caught in spring rain and stayed dry and warm the entire time. A day pass to Algonquin Park is included in your stay.
Enjoy a small-town hotel that was built to entertain oodles of kids at one time! An indoor climber, ping pong, basketball, volleyball and badminton are all waiting for you. And I haven't even gotten to the pool yet!
Check out this big city that offers adventure, culture and outdoor excitement.
Stay close to home and ride a big blue waterslide. This hotel in Mississauga is a beauty and that waterslide gave us hours of fun and laughs.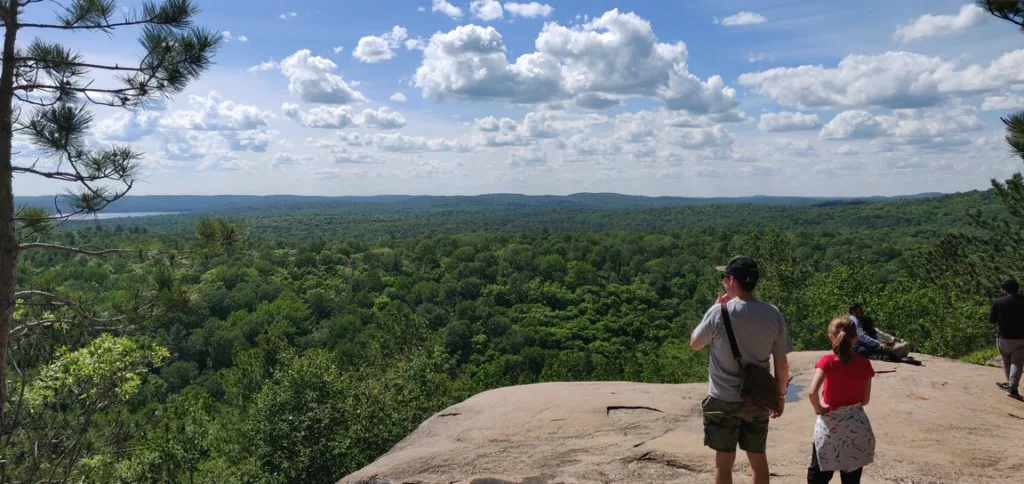 Kid-Approved Entertainment
Gifting admission tickets and gift cards to awesome places will thrill your kids on Christmas or their birthdays. The bonus is you always know exactly what you can do when the kids are climbing the walls! Here are some of our favourite places to play, if you're looking for inspiration. These are some of our favourite experience gifts for kids.
Adventurous kiddos will love the zipline and ever-changing swings at We Rock The Spectrum in Oakville.
Buy a pass to an indoor playground like Burlington's Lil Monkeys. Parents will love the chill-out atmosphere (couches and free wifi!) and kids will love the 3 story tall climbers, arcade, slides and more.
Rock Climbing at The Hub in Mississauga has turned out to be our family's favourite thing to do right now! It's a workout, but something everyone can do and enjoy.
Mini Golf – Adventure Village or Putting Edge Glow-in-the-Dark mini-golf are both super fun courses.
Have you been to Activate in Burlington yet? Your kids will be stoked to get a couple of admissions to this epic indoor laser play place. And adults love it too, therefore it's an ideal experience gift for families.
Movie Passes are always a hit. Plus, supporting a local movie theatre is good karma and leaves you more money for popcorn without sacrificing on watching a new release!
My kids love laser tag. You can gather a group of friends up or go head to head with your sibling, but you're such to come out happy and exhausted.
Popular Attractions Everyone Will Love
One great way to extend Christmas presents and have a plan for the winter break from school is to gift a visit to local attractions. Here are some of the popular experience gifts for kids.
Canadian Warplane Heritage Museum in Hamilton is a family favourite. Little ones will be wowed by the massive planes indoors and adults will love the historical and learning experience.
Museums of Burlington hosts dozens of family-friendly events throughout the year and offers 2 great museums to tour, each with fresh exhibits.
Royal Ontario Museum is a quintessential must-visit for everyone, and you'll probably need to go a few times to see it all.
Ontario Science Centre is packed with so much educational fun that kids won't even realize how much learning they're absorbing.
The Hockey Hall of Fame is pretty great to check out, and this is coming from a non-hockey fan!
We cannot wait to get back to Ripley's Aquarium in Toronto. Kids (and parents) will love tickets to visit this massive indoor aquarium in Toronto.
One of our favourite experience gifts for kids was a night at Medieval Times Dinner and Tournament in Toronto. Our group had 5 year-olds and retirees and everyone loved the action! They really put on a memorable show.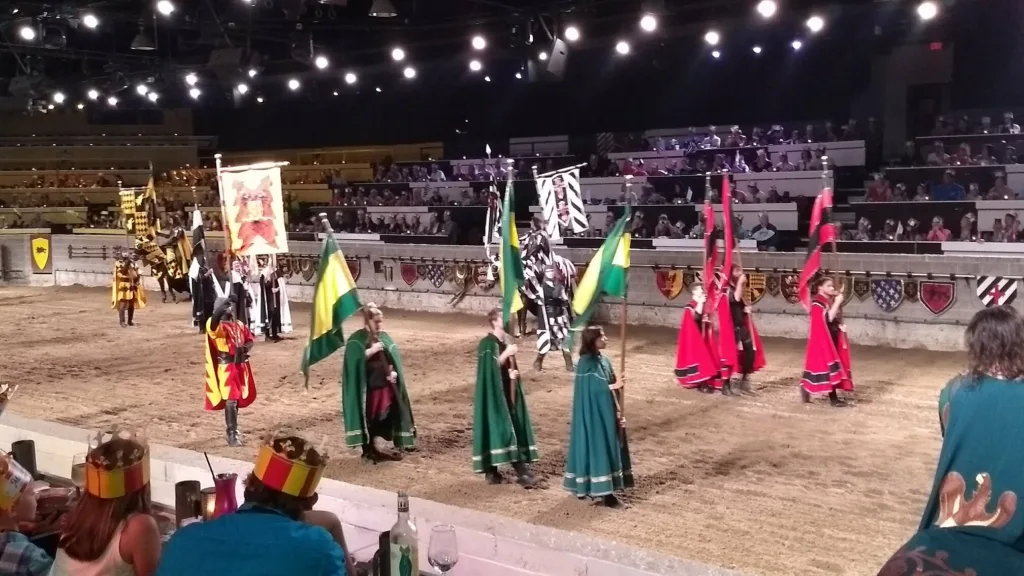 Get Creative… Together
Burlington Performing Arts Centre has family performances all through December to kick off the holiday season, and a full calendar for 2023!
Oakville Centre for the Performing Arts – has family performances in December and is welcoming Splash and Boots in 2022!
Give a pottery lesson where kids can paint ready-made creations (look at Pottery N Paint Cafe and Play With Clay) or try throwing clay on the spinning pottery wheel at Creative Insight Pottery Studio in Waterdown. And if you're a cool aunt or uncle or a grandparent who wants to spend more one-on-one time with your favourite people, you can both take part together!
Purchase Lessons of Any Sort
There's nothing quite as rewarding as learning a new skill, sport or activity to really stick with you for a lifetime. Learn a second language, how to code or ice skate – no matter what you choose to give, you'll definitely love watching the progression from newbie to pro! We've got a huge list of classes and lessons for kids right here. Ask the kids what they want to learn, and their replies become experience gifts for kids!
Day Dates Are The Best experience gifts for kids
These are my favourite gifts to give my daughters. It ensures we have a plan for spending some quality time together, one on one. Here are some of the best ones from years past:
Coffee dates at a cool coffee shop and extra whip on your drinks
Manicures with Grandma were a very special one for my oldest daughter
Sushi and phō dates with my youngest blend her fave foods and quality time
Movie ticket to see the next Marvel movie or musical – and of course popcorn!
Let Them Buy It Themself
The power of a gift card is like a winning lottery ticket in the hands of a kid. They can buy anything! Although this is not an experience perse, it does give them a shot at independence that is priceless.
Asking for experience gifts for families and kids isn't always easy. It's a fairly new concept for many, so you may see some raised eyebrows when you say "Please don't buy Addison a toy this year". One tip I have is to either mention it gently a few times or at least offer to shop along with the gift-giver to help them choose a gift. I've already had the opportunity this year to gently guide a generous grandma into spending her hard-earned money on something more meaningful, and it's making me even more excited for Christmas morning!
One way this works for our grandparents is that we suggest a gift card, and once we make that purchase, we snap a photo and send a card or text message. This lets the Grandmas know their gift was received, used and very much appreciated.
Don't let this part stress you, because that's not the point of gift giving. If you have folks in your circle who love giving a physical gift no matter how many times you try to steer them in another direction, just go with it. Help gift-givers pick out something you know your kids will use and love for years to come.
How To Wrap Experience Gifts For Kids
If you're like me, you love wrapping up a beautiful package to give to someone. But how do you wrap an experience gift? I've got some ideas on just how to do that, so prepare to be inspired!
Wrapping Sports Tickets – I love including a team cap, t-shirt or jersey that the receiver can wear to the game to really be part of the action.
Travel and Staycation Gifts – Choose a small overnight bag or a new piece of luggage to "wrap" the present in. This bag is adorable and under $10. Or include a tourism brochure for the city you are visiting. Many of the tourism boards offer these for free!
Outdoor Adventures – new sunglasses, a reusable water bottle or an inexpensive backpack for the adventure. We love these $6 backpacks for just this purpose.
Gift Certificates For Indoor Play – Trampoline parks require special socks when you visit, so include those. Other play places have stuffed mascots or branded merch you can buy at the front.
Giving Gift Cards – many malls and big stores have impressive envelopes to carry your gift card, but also think of a travel mug, partner it with a gift bag, or in a reusable box/jar.
More Ideas For Family Fun
We've been to so many cool places, and we've made it our mission to share all the fabulous locations we find with you. Whether you're planning a day trip or looking for the best playgrounds, we've got your back. We are all about discovering the most amazing indoor play areas, farms and animal experiences, and a whole bunch of other visit-worthy local attractions. Check out our latest blog posts below to make sure you have an absolutely epic weekend!