Put London Ontario high on your list when you're planning your next family getaway. Whether your crew includes little kids, big kids or grandparents, The Forest City has plenty to do for everyone.
>> Looking for more day trip suggestions? Click here.
We spent an adventure-packed 3 days and 2 nights in London this summer and we found some activities and destinations we think you'll love!
Summary Of Things To Do With Kids In London
Our Accommodations – Best Western Lamplighter Inn
The Best Western Lamplighter Inn is a popular hotel for families and sports teams visiting the London area and it's been on our bucket list for ages. We've stayed with Best Western hotels in the past and have always been very pleased with our stay.
Lamplighter Inn is popular with families because of its unique hotel pool. The surround is filled with greenery and rocks and even includes a koi pond. At the base of the "cliff" that holds the water slide you'll find a waterfall that the kids all loved. The waterslide is built into the large artificial rock face that slides past the indoor lighthouse. Choose a room that has a balcony facing the pool so you can enjoy the view, particularly at night when the pool is lit and the overhead lights are turned off.
Please note that the slide is currently only open on weekends, so watch your booking dates if the slide is a top priority.
Our room was a double-double (2 double beds) on the 2nd floor. We had a pool view and balcony which was great. The room included a small refrigerator, a large TV, a desk and the usual fixings for coffee and tea. The beds were comfortable, too!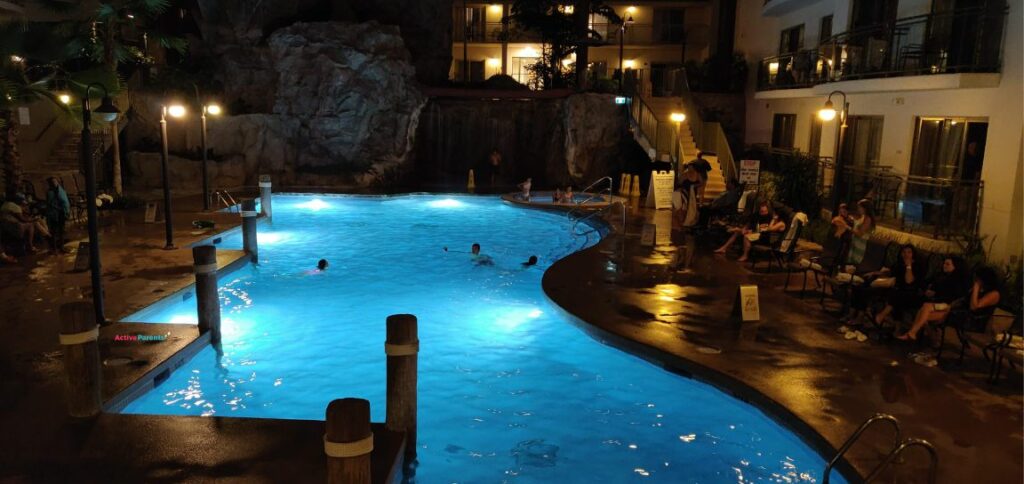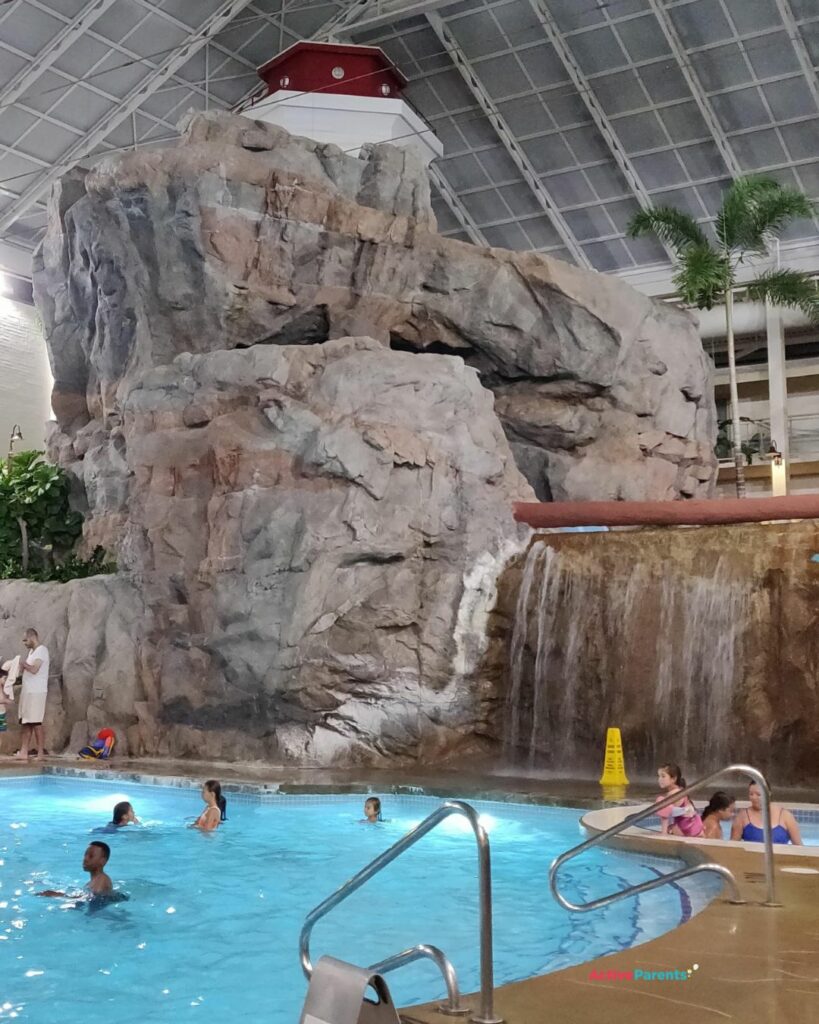 The Best Things To Do In London, Ontario With Kids
Stop #1: East Park – London's Place To Play!
Our first destination started off with a bang when we pulled up to East Park. The waterslides couldn't be missed and got lots of oohs and ahhs from the kids. The park has 7 waterslides featuring a single and double tube, the original mat slides and 2 different speed slides including the famous 55' high bullet slide. Are you excited yet? The waterpark also has a wave pool and accessible splash pad with a 2-and-a-half-story climber and dumping bucket that everyone loved.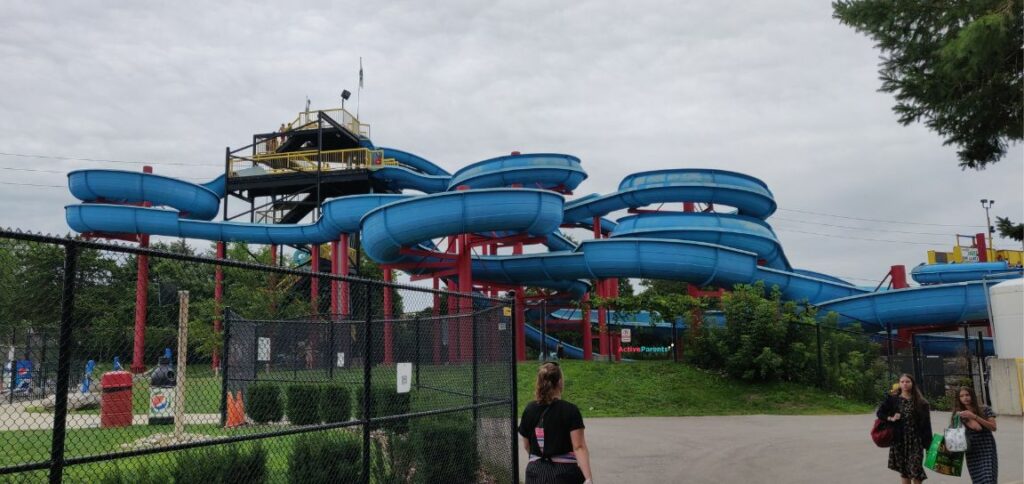 Go For The Go-Karting!
Go to London, Ontario for the go-karting! My kids are ultimate go-karting fans and they loved whipping around the racetrack. Kids over 10 could ride alone, or choose to be the passenger with someone over 14 years old. The track is 1800 feet long and has twists and turns to challenge the drivers. Each race was about 10 minutes long and the karts were quick! Lots of opportunities to pass and overtake others, or to play it safe and just enjoy the ride.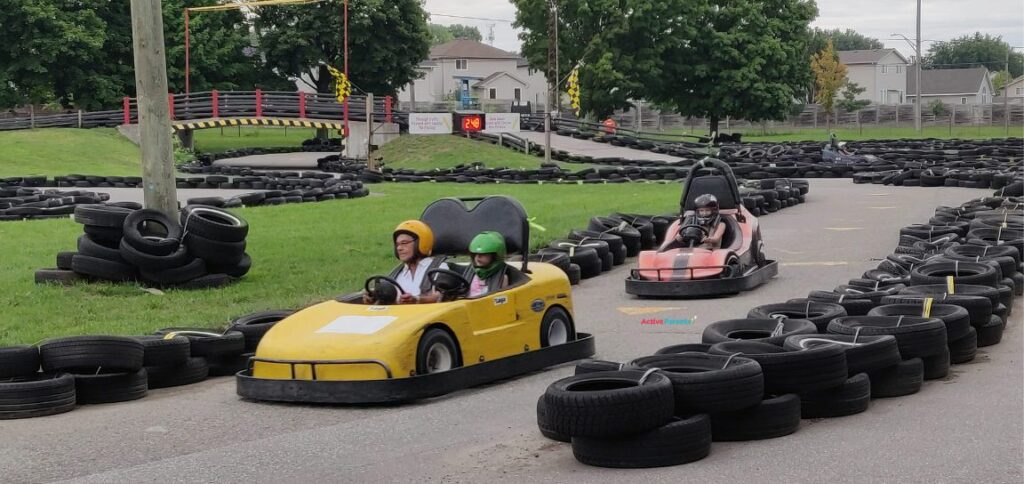 Two Mini Putt Courses To Play
I love mini golf and East Park has 2 courses to choose from. Their traditional mini golf course was our favourite because it has edges around the greens. Their modern course doesn't have the edges so you need some real skill to keep that ball from rolling out of bounds. My aim isn't that good, so I stuck with the traditional course.
If you're really into golf, you can practice your swing at the driving range or at the 18-hole easily walkable golf course.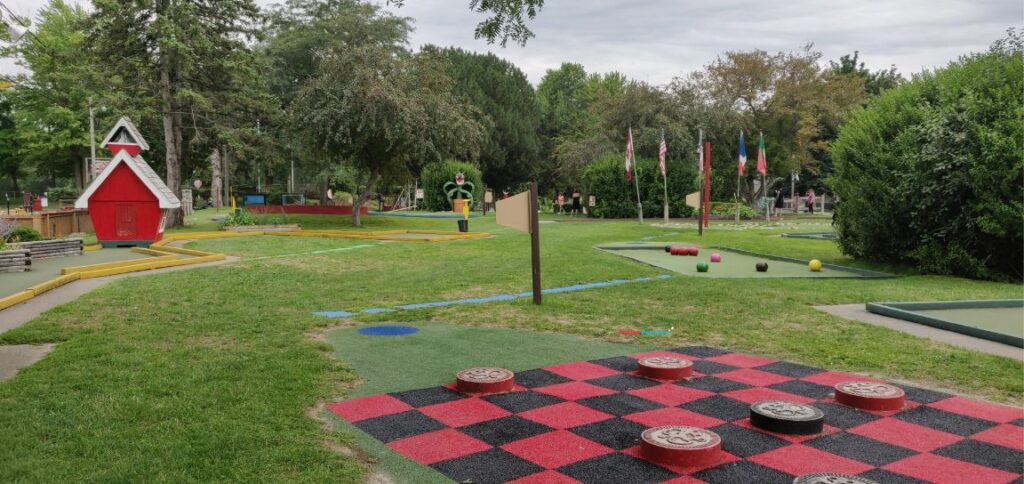 Batter Up!
Baseball fans and newbies can don a helmet and grab a bat because there are 4 batting cages pitching baseballs and softballs. We each batted a few rounds and loved it. The pitching machines use tokens and we saw a few families coming just for the batting.
Bumper Cars, Rock Climbing Wall, Arcade And A Jungle Gym
Move the fun indoors and enjoy the hilarity of bouncing off one another in the bumper cars. Challenge all of your muscle groups with the 40-foot climbing wall and play to win at the arcade. Kids can burn off any leftover energy in the jungle gym.
Prices And The Summer Extreme Day Passes
We had "Summer Extreme Day Passes" that gave us all-day access to the water park and to mini-golf. Putt and splash till your heart's content! The passes are $55 per person or $200 for a family of 4. If you get to East Park early in the day they are well worth it. We stayed till after 7 and had a great time bouncing from one activity to another.
Here's what the pass includes:
all-day access to the pool, splash pad and water slides
all-day play mini golf on both courses
1 go-kart ride
1 rock climb
2 rounds at the batting cages
1 small bucket of balls for the driving range
all-day access to the jungle gym
3 rides on the bumper cars
Stop #2: Boler Mountain Treetop Adventure Park
This was by far our most-talked-about adventure in London, Ontario. Boler Mountain is your ideal destination if you love being active outdoors. We saw kids enjoying their mountain bike summer camp, riding trails and working up a sweat with huge smiles on their faces. Lots of runners and hikers came in to make good use of the wilderness trails and we were there to climb high up into the treetops.
We opted for the Adventure Park ticket which included full access to 3 levels of ropes courses and "The Big Zip". The Big Zip is an 1100-foot zipline and it's the cherry on top of your adventure!
Our 3-hour visit started with getting our climbing gear on and secured and taking part in a training session. Once we learned how to safely climb and zip, we were off! This was hands down the best thing we've done this summer. It was a full-body workout and our whole family was filled with excitement, nerves and adrenaline the entire trek. Each section of the aerial course gets the slightest bit more challenging and at the end of each level, you're rewarded with an awesome zip ride to the next section.
We completed 2 of the 3 sections and then took our turn on The Big Zip! We've shared lots of footage of our trek and zip on our Instagram page.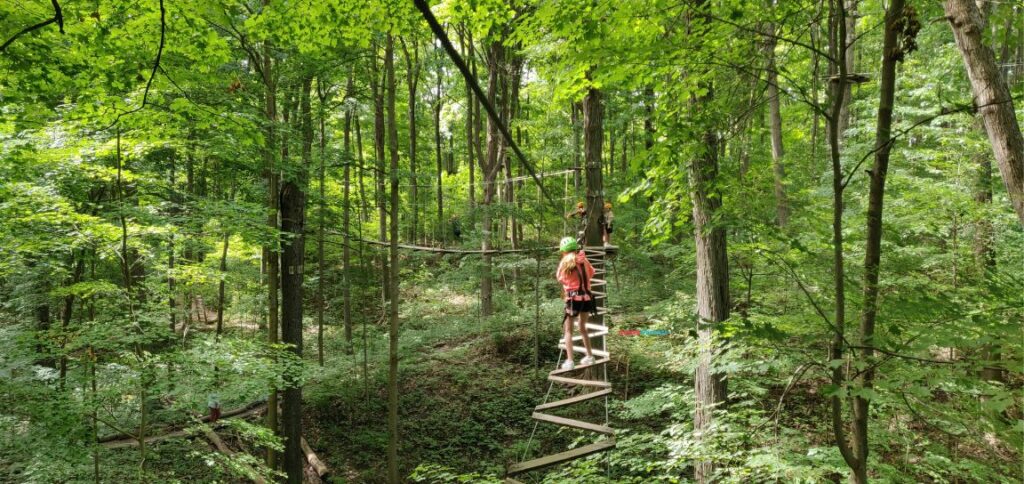 Stop #3: The Factory – Canada's Largest Entertainment Complex
100 Kellogg Lane use to be the home to the Kellogg's Company until 2014, where in its heyday it produced various types of cereal including popular brands like Corn Flakes and Frosted Flakes. Today it's the uber-modern home of Canada's largest entertainment complex. The Factory is a destination in and unto itself, You can spend all day here!
Trampoline Park
Put on your special socks and bounce, jump, and catapult yourself around this glowing trampoline park
Aerial Ropes Courses
Challenge yourself with two indoor aerial ropes courses! How far will you get and how high can you climb?!
Ninja Course
We spent lots of our time taking on each section of the ninja course! If you've seen ninja Warrior competitions on TV, your kids are gonna want to play here!
Arcade
Throw a couple of bucks on your arcade card and enjoy everything from Skee-Ball to blasting zombies to a four-person air hockey table!
Escape Room
Put your thinking caps on and work together to see if you can escape one of the 4 rooms at The Factory.
And Coming Soon…The Children's Museum
in 2023, The Children's Museum in London Ontario will also call 100 Kellogg Lane its home. Make sure to take a look through the massive windows into the warehouse. I think you'll be surprised to see what's growing there! Learn more about The Factory here.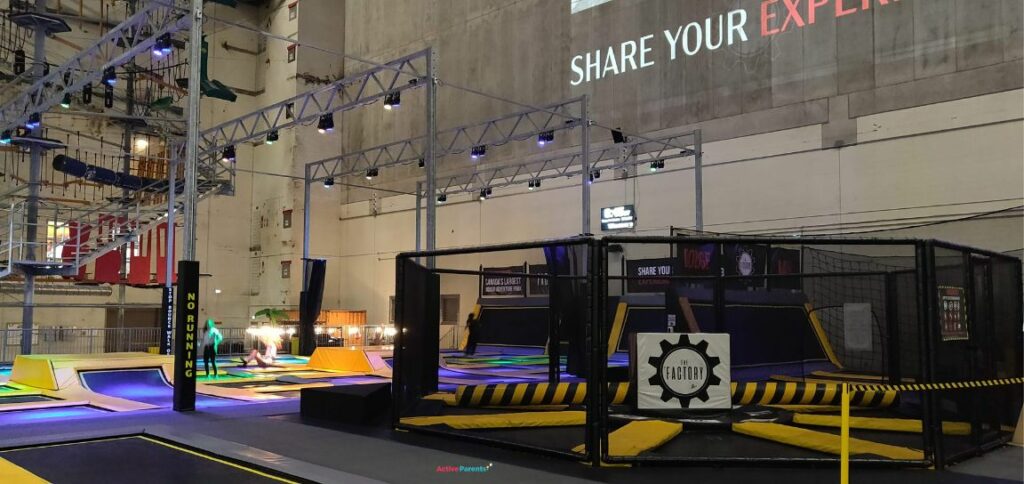 Stop #4: The Children's Museum
The Children's Museum in London, Ontario is another essential destination, especially if you have kids under 10. But don't let that stop you, my girls are 12 and 14 and loved every bit of our visit! It was the best children's museum we've been to in Ontario. It was originally opened in 1975 and sees 100,000 visitors annually, so you can take their word for it, too!
The building – a former public school – is 3 floors of hands-on education and entertainment for kids (and adults!) Learn about nature, space, olden days, dinosaurs and more. I would plan for a few hours when you visit, and you can easily make it a day-long destination.
In 2023, the Children's Museum will move to 100 Kellogg Lane and the new location is rumoured to have a rooftop playground!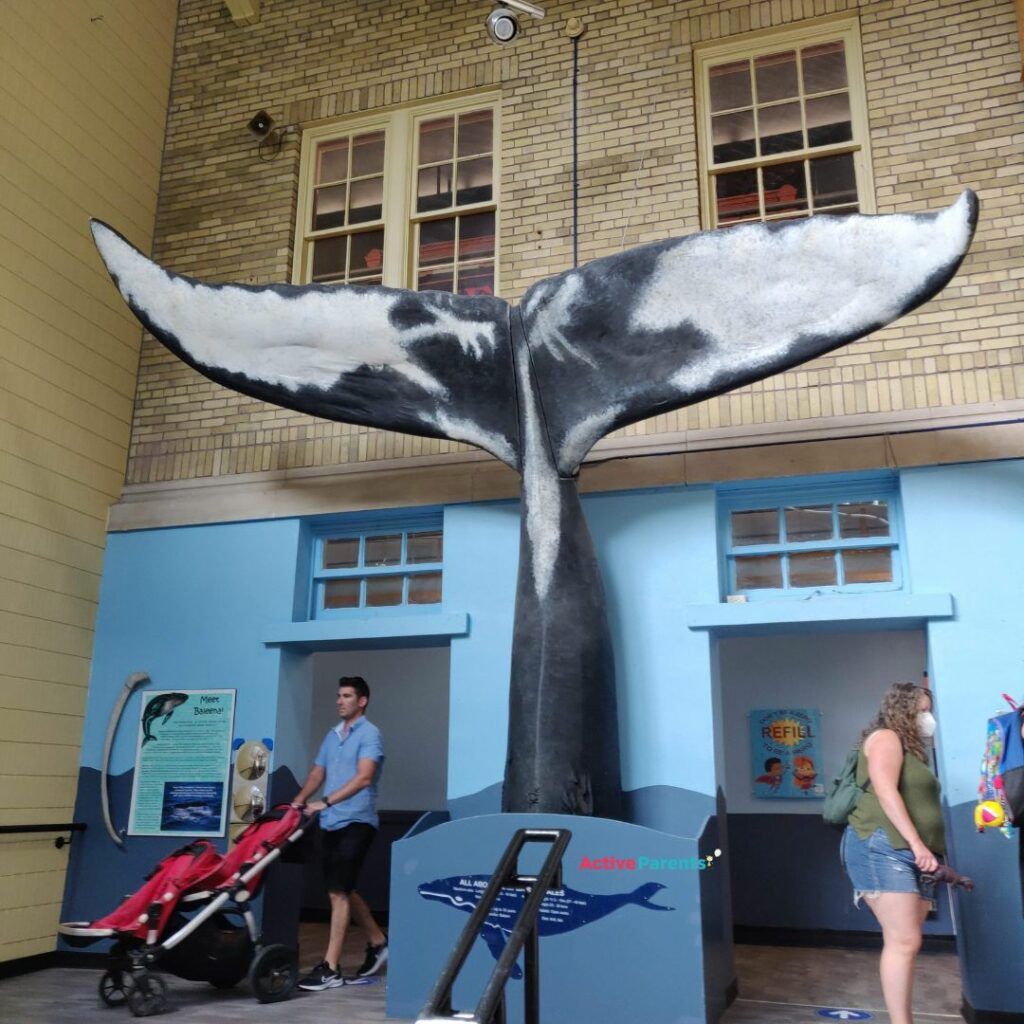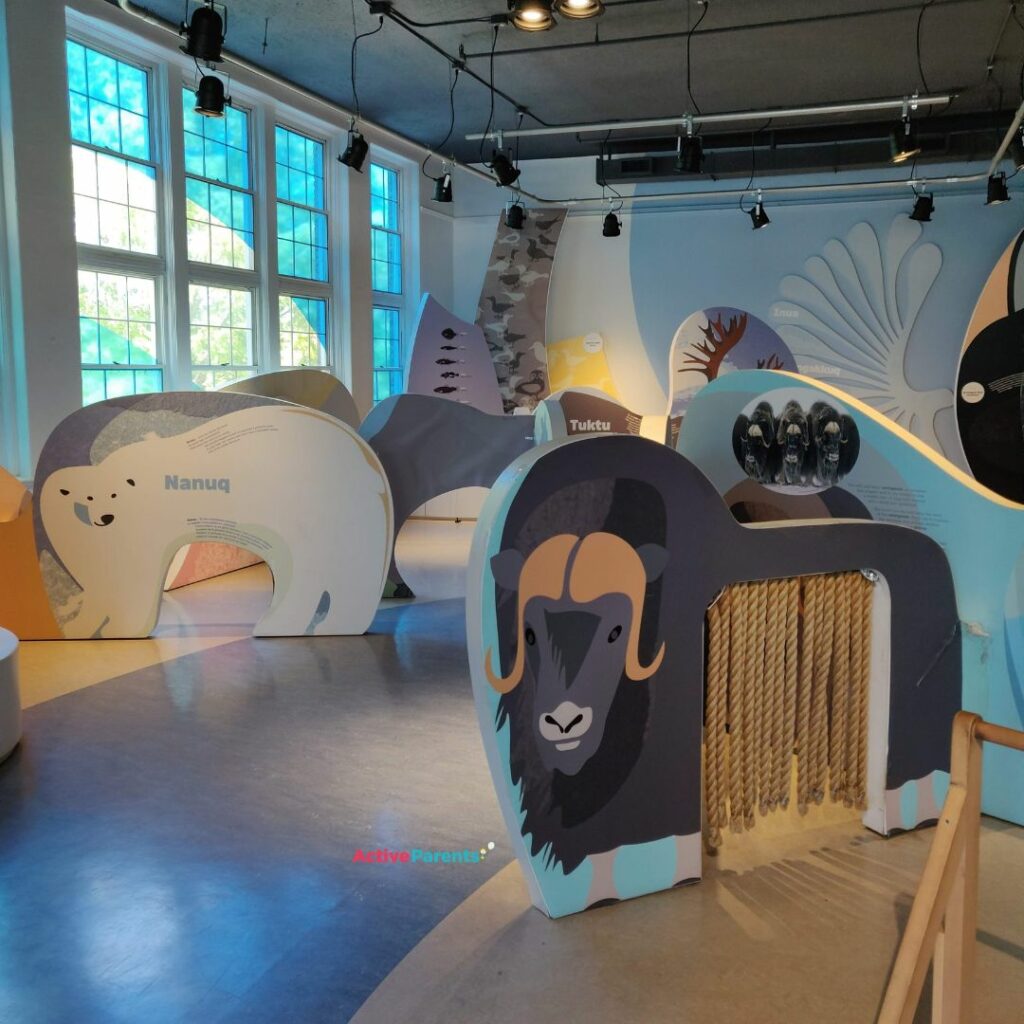 Stop #5: The Canadian Baseball Hall Of Fame
Our final stop took us to a quaint little town just outside London called Saint Mary's. If you're in the London area, or even Stratford for that matter, a stop at the Canadian Baseball Hall of Fame is one you should add to your itinerary.
In recent years, the CBHoF has been renovated and expanded, but that still doesn't allow their entire collection to be on display at once. We had a tour and learned so much about baseball's history in Canada. Did you know that you don't need to be a Canadian to be in the Canadian Baseball Hall of Fame? It's true! And did you know that Jackie Robinson played for the Montreal Royals? You can see historical artifacts dating back to the first games in the 1800s, game-used equipment from the greats, and a ton of material you'd never see anywhere else. Baseball fans, you gotta go.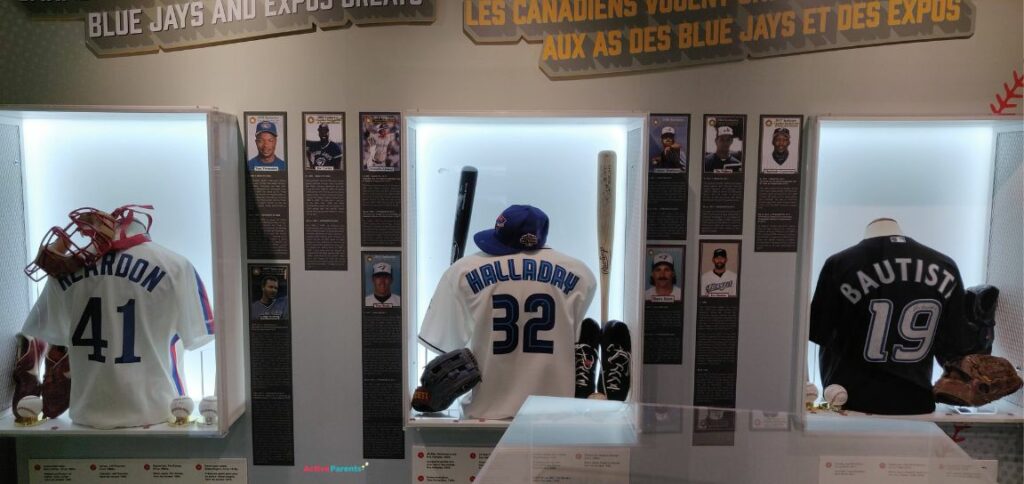 Don't Miss: Storybook Gardens
We might not have made it to Storybook Gardens on this trip to London, but we've been in the past and I always recommend it to families with young kids. Storybook Gardens is whimsical and magical and sized right for little visitors. They have rides, shows, a splash pad, train rides, and an awesome pirate-themed playground.
Admission in 2022 is $8.75 per person and you can buy tickets for a few of the rides that are extra. Check out their Friday Family Fun Festivals for discount admission plus special character visits and performances. Storybook Gardens website.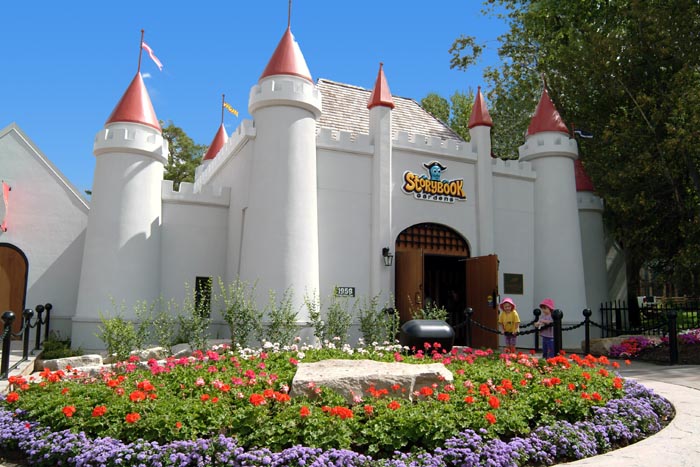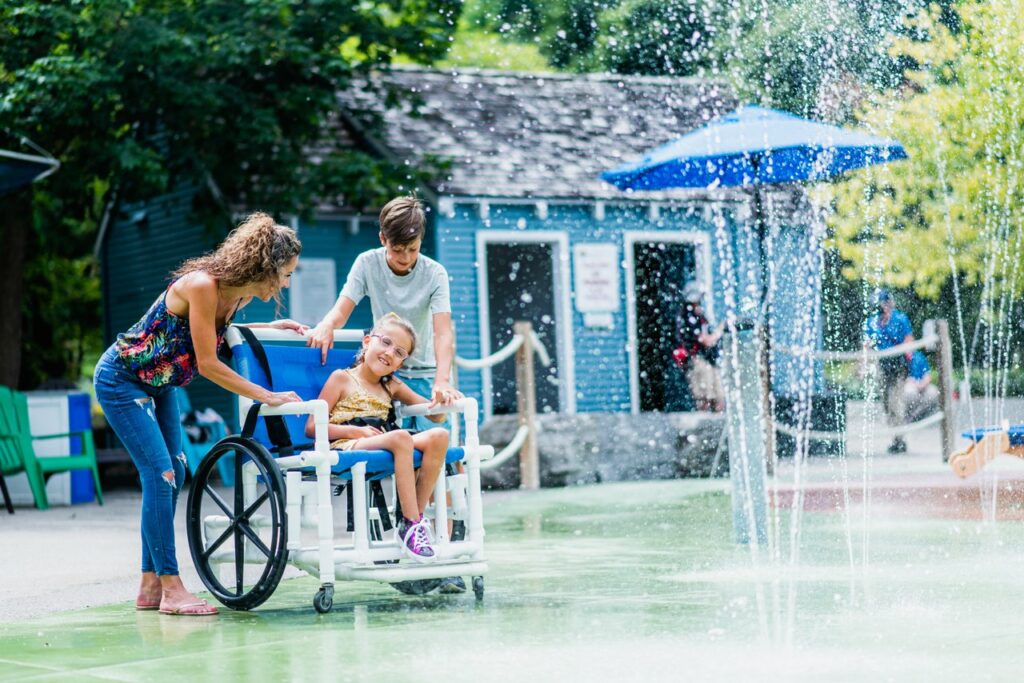 Where Did We Eat in London Ontario?
Eating is essential, and boy did we do some eating! We want to tell you all about it, too.
After our playtime at The Factory, we marched upstairs to The Clubhouse for dinner. It's a classy cross between a sports bar, a hunting lodge and a golfer's paradise. There are more TVs than I could count, plus mini golf, golf simulators and a bocce ball court. Our server was a delight and we recommend the artichoke and asiago dip, the Impossible burger, and the cod tacos.
Dinner at The Squire Pub and Grill was beyond delicious. They over-delivered in all the ways possible. We ordered their Squire Burger, The Clubber Lang Wrap, Five Fingers and a Ceasar salad – and we ate until we were stuffed! Even though we were starving when we arrived, the portions were so large all of us took home a doggy bag! We highly (HIGHLY) recommend a visit.
Breakfast at The Early Bird was something else! And this is a very popular joint in London, Ontario. Everything from the food to the decor was over-the-top in all the right ways. No wonder this spot was featured on Food Network's You Gotta Eat Here! The breakfast portions were massive! So much so that we skipped lunch! The girls ordered the Cinnamon Roll Waffles – and they were to die for. They could have shared 1 order it was so big! I ordered the thickest French toast I've ever seen, and nestled in between was blueberry cheesecake – yup! Cheesecake! Topped with lemon honey, which I'm now a super fan of.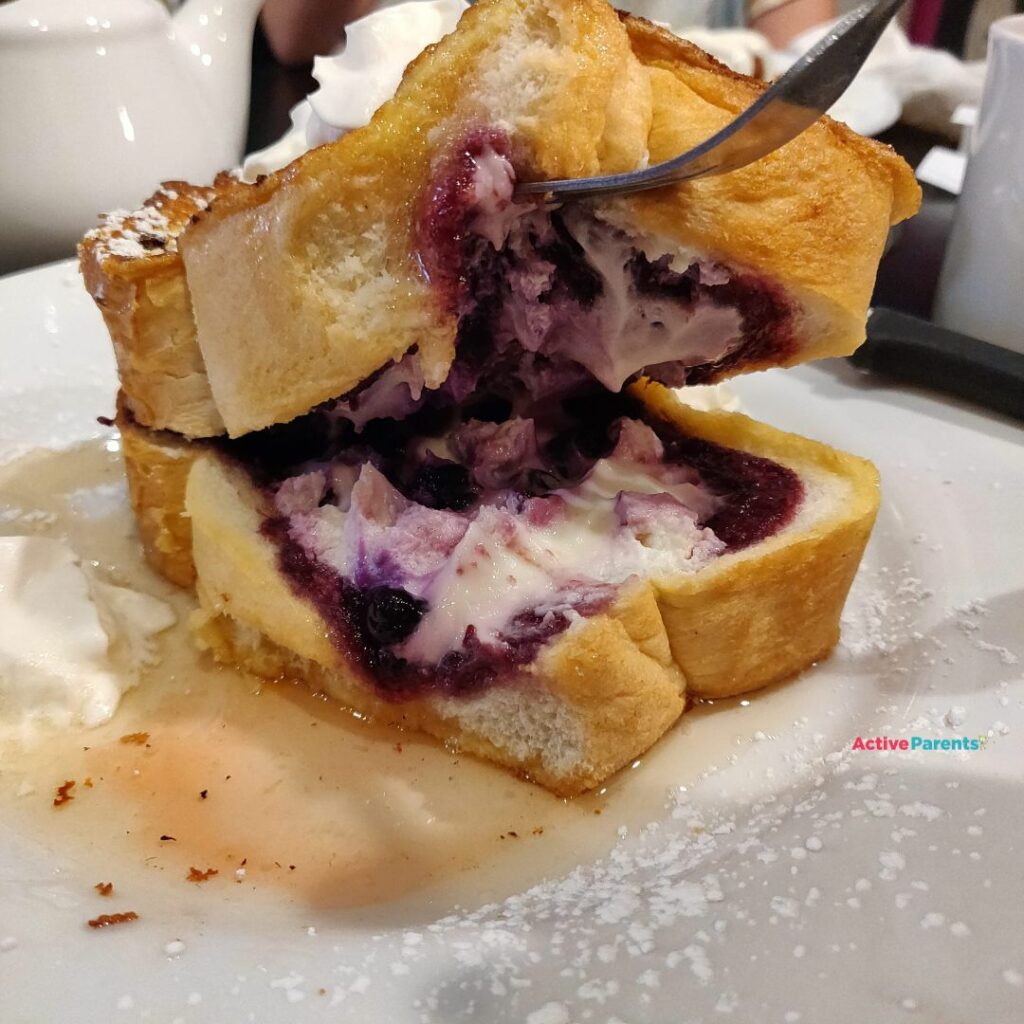 Take Advantage Of The Stay A Little Longer Promo And Save
Book a consecutive 2-night stay at one of the participating hotels here and receive a $100 VISA card to spend. We did! Stay a little longer and explore all that London Ontario has to offer – from restaurants to theatres, museums to markets, the great outdoors and local stores filled with unique finds, I know you'll enjoy your time in the Forest City. Stay at Lamplighter Inn as we did, or check out this awesome armoury-turned-hotel that looks so cool!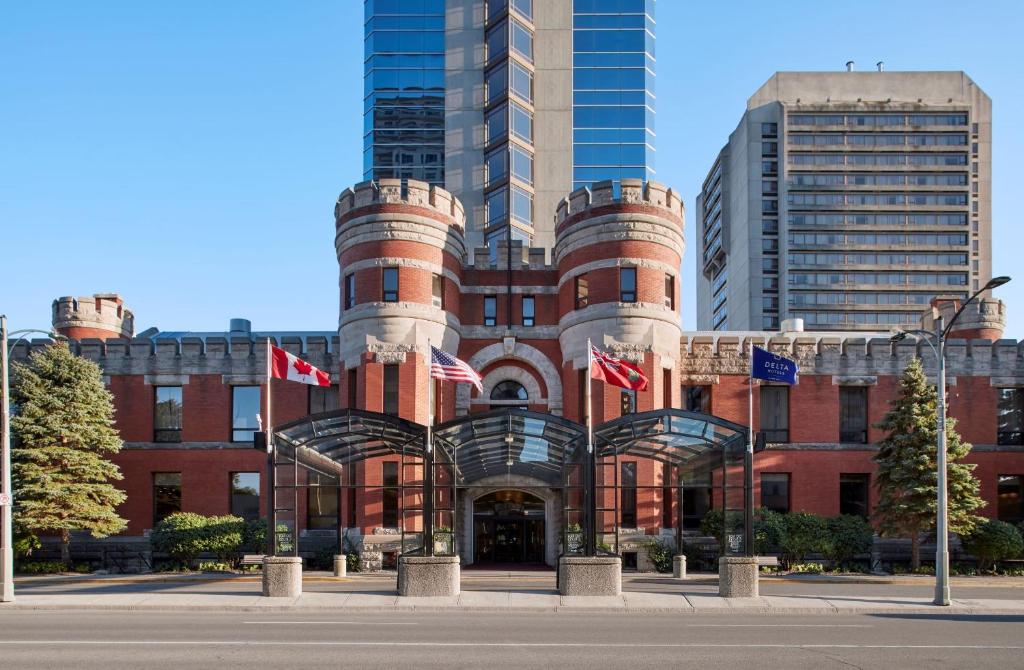 Our Final Reviews And Some Tips
Wow! London Ontario has been on my list of places to visit for years now, and it did not disappoint! The city is full of nature, architecture, great places to eat and so much to do for families (as you just read!). Any one of the activities we did would be worth a day trip on its own, but you can also have a ton of fun without ever leaving the Best Western Lamplighter Inn!
Some Tips For Visiting London Ontario
Leave yourself some time to enjoy the pool for a few hours. We didn't spend as much time there as we would have liked because we filled our itinerary with so much more!
Get the gloves at the Treetop Adventure. You'll need them eventually and be happy you have them!
Summertime visitors to the Canadian Baseball Hall of Fame can also add a swim at The Quarry to round out the day.
Spend all day at East Park, it's got so much to offer and we barely scratched the surface.
We love answering your questions and hearing your feedback, so please comment below!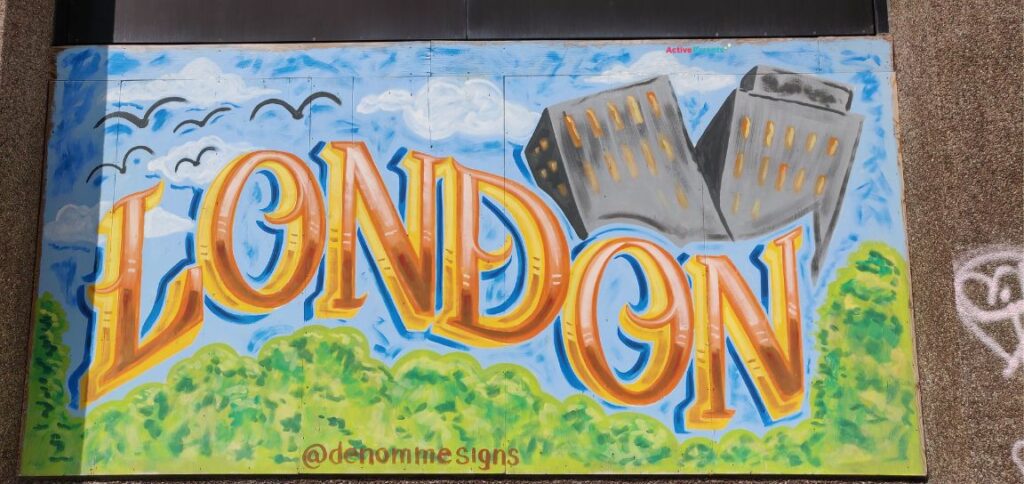 Read Our Latest Articles
Catch up on what we've been covering! Here are our latest reads, hot off the presses just for you. Never miss an article when you subscribe to our weekly newsletter filled with kid-friendly fun and events.