A couple of weeks ago we took a weekend getaway to Leamington of all places! And I'm as surprised as you are to say that this hotel is now going to be one of our most recommended local stations! Read on to find out why we loved it so much!
Just as Ontario was reopening and lifting our latest mask mandates, we knew we wanted a low-key family getaway to celebrate my daughter's birthday. My kids are huge fans of hotel pools and if there's a water slide even better!
>> Find more great day trips and getaways that your kids will love right here.
Our Preferred Hotel – The Best Western Leamington
We chose the Best Western Leamington (click here for availability and photos) and I know what you're thinking because I was thinking the same thing… Where's Leamington? I knew next to nothing about the town when I found this hotel but boy am I glad we went! Don't let the simple, outward appearance fool you, this hotel really packs a punch when it comes to family entertainment!
The best way to describe the layout of the Best Western Leamington is "comfortable hotel rooms surrounding a kid's play paradise". The pictures don't lie! This hotel was specifically designed to entertain little kids, big kids, teens and adults equally!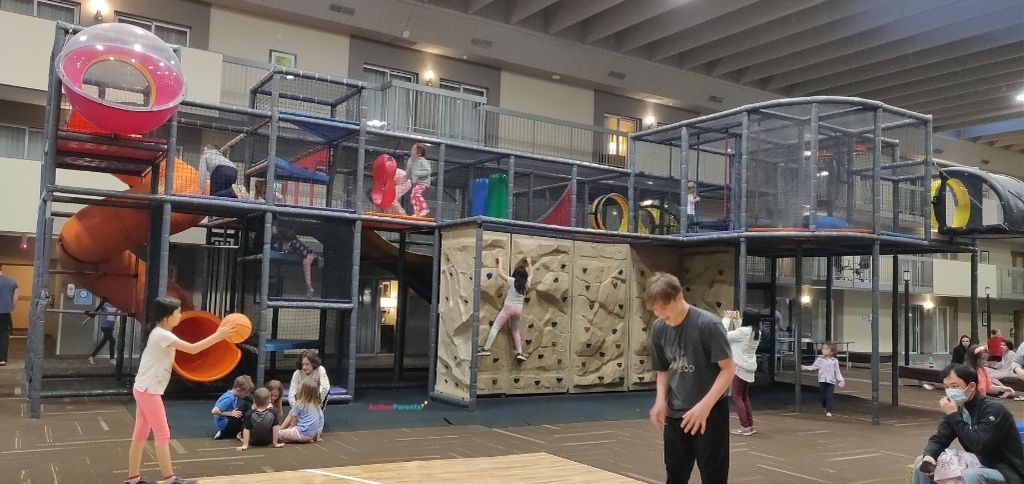 Best Western Leamington Amenities
No matter the season or weather, you'll want to stay and play at the hotel as much as possible. My kids didn't get bored once. They met other kids and organized games of frozen tag and man-hunt and had badminton tournaments.
Half-court basketball net and basketballs
2 ping pong tables
Badminton/volleyball net with badminton rackets and birdies
Mini arcade with games of chance and other games
Kids play climber suitable for kids up to about 10 (just for sizing)
Swimming pool with 2 water slides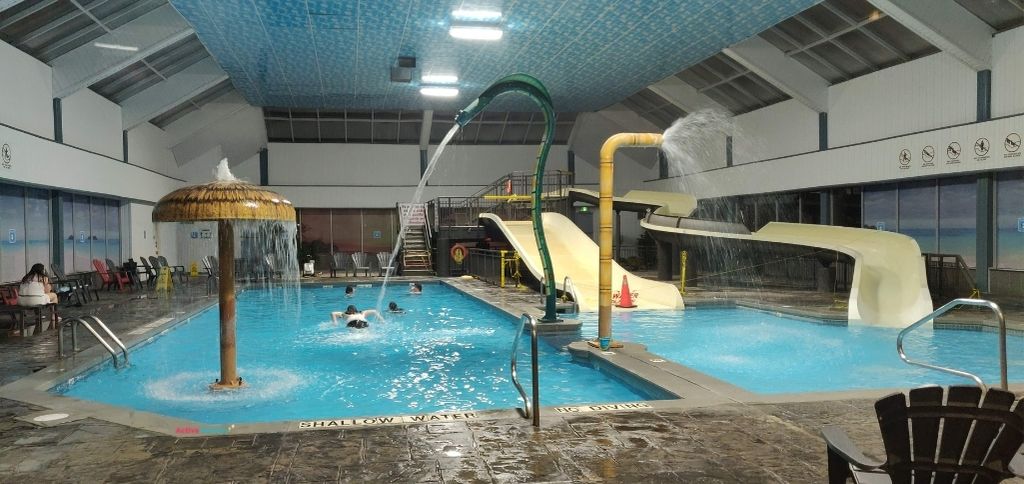 But What Are The Rooms Like?
Our hotel room was on the second floor of the 3-floor hotel. Bottom floor rooms have two doors, with one leading to the main play space. All of the second and third-floor hotel rooms have a balcony door that takes you out to a catwalk overlooking the entertainment space down below.
This was awesome because while I got my family unpacked and chilled watching some TV, my kids could go one floor below and start playing. They were always visible and I could call down and see their heads peek out from where they were playing. The freedom it gave them and the security it gave me was unexpected and so appreciated.
Watch our video below and you'll see the layout of the hotel rooms and the entertainment spaces.
No matter how much fun you have during the day with all of the hotel amenities, and believe me, you WILL have fun, you need a quality room to rest at night. Best Western Leamington delivered. We don't have over-the-top demands for hotel rooms but I do have a few must-haves like cleanliness. I'm happy to be able to tell you that all areas of our hotel and room met those standards. Our personal double queen bed hotel room and washroom were both very clean, and we felt very comfortable in them.
All of the common areas throughout the hotel that we visited, the main lobby and reception area, the play area and the pool were all very well maintained. Many times my kids would run from our second-floor balcony to the play centre down below in their sock feet and their socks never came back dirtier than I would expect.
Things To Bring To The Best Western Leamington
We are a family of snackers, so we always come prepared to crush the munchies when my kids (and I) get them. We stayed one night in Leamington, so we brought breakfast foods like orange juice, fruit and croissants as well as some of our favourite getaway snacks like pop and chips and candy. Hey, we're on vacation remember! In addition to the things you might normally pack for a getaway (your own pillows, device charges, etc.) here are some other bits and bobs I recommend bringing if you can. One group even brought a folding table and a crock pot to feed their party! Smart thinking!
Crocs or flip flops – for the pool and to slip on and off easily when heading to the play centre
Basketball – they had some, but the court was popular so we are glad we brought one from home.
Ping pong paddles and balls – the front desk might have had extras, but we saw others take them into the room, so it's good to have a set
A cooler with ice because the fridge is small
A folding table and a crock pot – haha!
Things To Do and Eat in Leamington
Don't limit yourself to only visiting the hotel because there is a lot to do locally before and after check-in. Here are some ideas:
Eat at Ray's Ribhouse – I love barbeque and the 4.5+ rating that Ray's had PLUS their amazing prices made it a no-brainer. We had burgers, sandwiches, pasta, salad and appetizers and everything was great! We picked up our dinner and ate in the room (another novelty of hotel vacations). The restaurant was packed with all ages and tons of locals. If the locals eat there, it must be good! Check out Ray's Ribhouse here.
Stroll The Promenade – The Waterfront Promenade is beautiful when in bloom and makes for a great walk and fresh air.
Visit Point Peele National Park – Point Peele is the southernmost tip of Canada and a must-see while you're in Leamington. Peaceful walking paths and trails and a lookout tower over the water are just a short drive from the hotel. Learn more about Point Peele National Park here.