Ripley's Aquarium of Canada has been a staple of Toronto family entertainment for years and it continues to be one of our favourite day trips.  If you haven't been in a while rest assured that it's as good as it's ever been and even feels more organized now than ever before. Considering a trip to Ripley's Aquarium of Canada soon?  Here's everything you need to know!
How to get To Ripley's Aquarium in Toronto
If you are coming from outside of Toronto, Go Train is definitely your best option, it's fast, easy and saves you the stress of parking in the heart of the city. Plus, as an added bonus, kids are FREE on the train so it really is a cost-effective way to travel.  
When you arrive at Union Station plan to exist at the west end of the train and walk all the way down the platform to the very last stairs. These stairs will take you to the west side of York street into an indoor corridor. Head south towards the lake then make your first right, from there it's a 5-minute walk to Ripley's Aquarium of Canada.
If you do decide to drive there are lots of parking lots around the Aquarium but there are quite expensive and can be pretty full depending on what else is happening in the city on that day.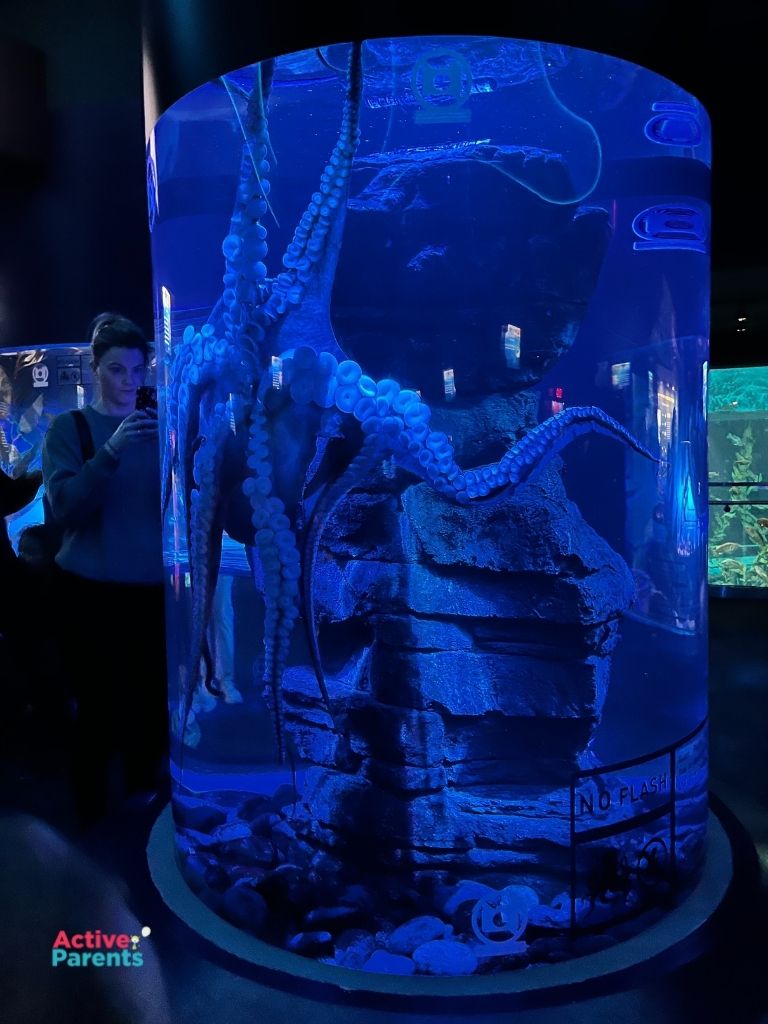 How Much Is Ripley's Aquarium Admission?
Tickets need to be purchased online before you get there. There are kiosks that you can use when you arrive if you happen to forget.  Tickets to the Aquarium are timed for entry and you have an hour window to enter. So if your tickets are for 10 am you can enter any time between 10-11 am.  Tickets are $44/adult, $29/youth (6-13) and seniors,  $12.50/child (3-5) and kids under 3 are free.
If you are visiting with someone who qualifies to use an Access 2 card the Access 2 card will serve as the admission ticket for the support person so be sure that every other member of the group has proper admission. If you have questions or need assistance there are people at the counter to help you.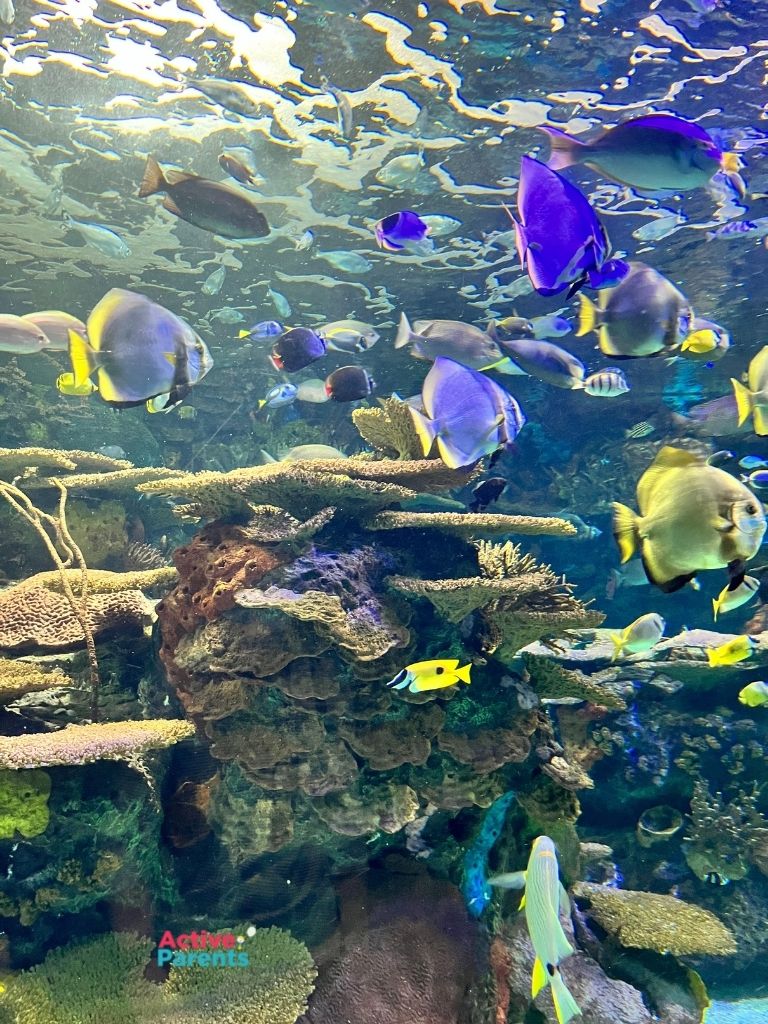 Times and Accessibility
Ripley's Aquarium of Canada is open daily from 10 am-8 pm and crowds will definitely vary depending on the time of day and what else is going on in the city. We went at 10 am on a Tuesday and it was steady but not overly busy. We were able to get to see everything with little to no wait.  Peak hours are between 11-2 so if possible try to go right when they open or later in the afternoon.
The Aquarium is fully wheelchair accessible with ramps moving you throughout the exhibits.  Ripley's Aquarium of Canada also has very dim lights and little noise other than basic background noise.  Obviously the busier the aquarium is the noisier it will become.  The two places that are quite loud and noisy are the play area near the food court and the gift shop right as you exist. Other than that it is a very calm environment.
Washrooms are available as soon as you enter the Aquarium and again at the play place/food court area.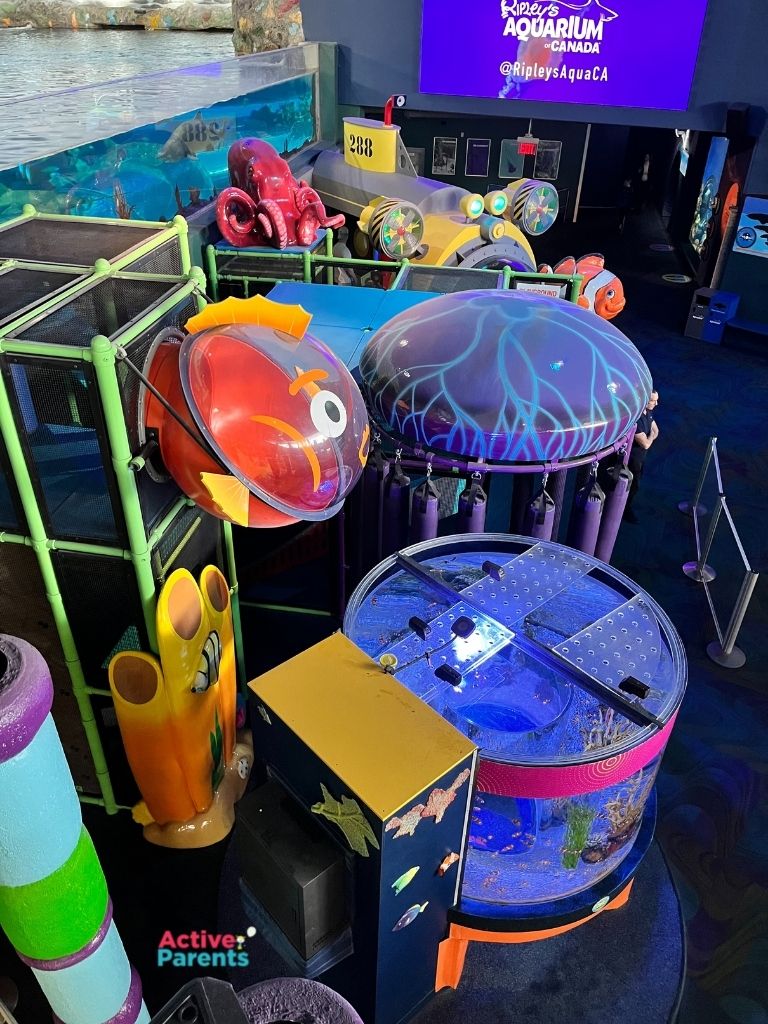 What Can We See At The Aquarium?
Honestly, so much stuff and it's impossible to miss anything!  The Aquarium is laid out in such a way that you will pass each and every exhibit. There is only one way to travel and it passes through every area of the Aquarium.  
There is something for everyone whether you love colourful fish, jellyfish or even sharks Ripley's Aquarium of Canada has it all.  You might even be lucky enough to see divers inside the tanks cleaning them or caring for the aquatic life. Many of the larger tanks have specific feeding times so you can catch the 'show' and see the feasting fish.
Learn, Touch and Play
Throughout Ripley's Aquarium, you will find interactive exhibits and activities to learn more about the different species in the Aquarium. You can also make the visit as educational as you'd like as there are information plaques everywhere so you can read and learn about the fish and other features.
Have little kids that need to burn off some energy?  Make sure to take some time at the play space near the food court.  It's not huge so it's definitely more for little kids but even big kids can do a little playing and climbing if they feel so inclined.
The most popular interactive exhibits do get busy and people tend to camp out at them for a while so if you have a child that is determined to get their hands in the water and try out some of the more popular activities be sure to pack your patience and a small towel to dry their hands.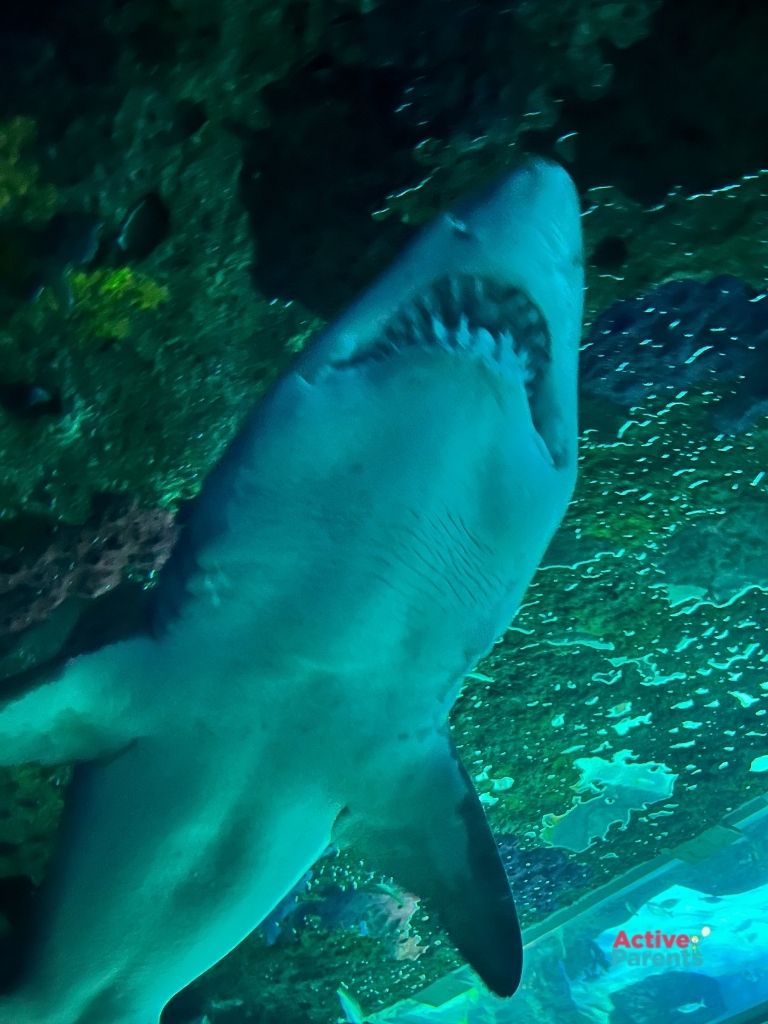 Sharks and Rays and Turtles, oh my!
The highlight of Ripley's Aquarium of Canada for almost everyone is the moving sidewalk inside the Dangerous Lagoon! This is the BEST way to see sharks, sea turtles and other predators swimming right over your head. And because of the moving sidewalk, everyone gets a front-row view and you won't miss anything. You can also step off if you want to look closer or take a picture. You can also choose to walk along rather than ride on the moving sidewalk.
How long Do You Spend At Ripley's Aquarium?
Honestly, that depends on you. We were there for just over an hour and felt that we saw and did everything we wanted to. There is no time limit on how long you can stay so if you want to read every piece of info and look at every single fish you can stay as long as you want.  Food is available to purchase on-site if you stay longer than expected and need to refuel. Plus, feel free to bring your own food and drinks inside.
Want to see what to expect at the Aquarium? Check out our full video tour for more!
Read Our Latest Articles
Catch up on what we've been covering! Here are our latest reads, hot off the presses just for you. Never miss an article when you subscribe to our weekly newsletter filled with kid-friendly fun and events.