Lil' Monkeys is home to 16,000 square feet of family fun and entertainment. Check out the new additions to their indoor playground and you'll want to visit right away!
>> Find more indoor play places right here
Calling Burlington home for over 13 years, Lil Monkeys is one of the best indoor places to spend the day with your kids. During their closure, they revamped their playground and added some very cool equipment to their space. Take a walk-through with us as we tell you all about our visit.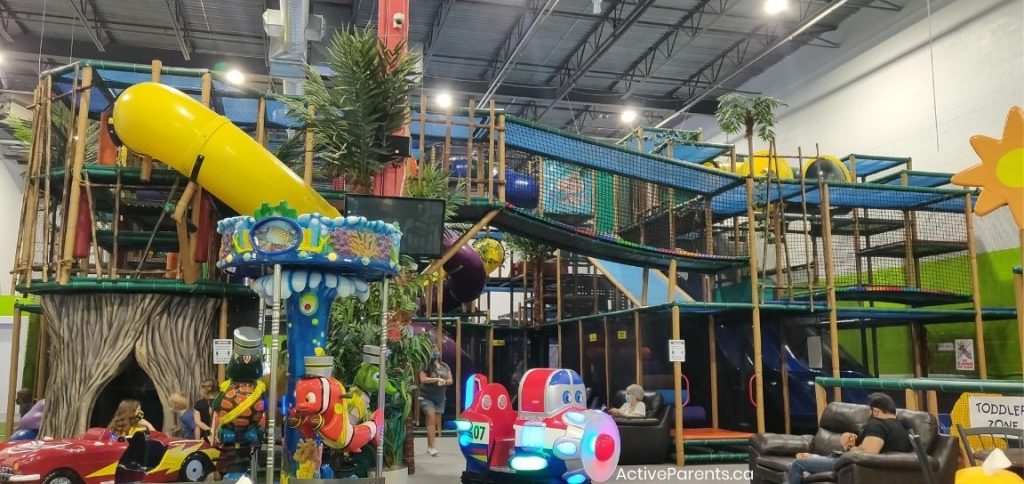 Don't fret! Lil' Monkeys still has their famous – and massive – 6-level indoor play structure. This jungle-themed climber is home to many slides with various excitement levels. Looking for the fastest slide? Try the black one. Want a slide for besties? Three kids can zoom down the blue one. And don't forget to zip down the green and yellow slide that is almost 3 stories tall!
To get to the slides, kids get to climb, balance, swing and jump their way through the elevated climbing structure. Climb up through the street house base, or run up the padded rainbow ramp. Kids are always thrilled to be racing about, above the heads of their grownups.
Toddler Fun at Lil' Monkeys indoor playground
Toddler parents, don't worry about losing your littles in the big climber, because Lil' Monkey has a dedicated Toddler Area just for you! They've managed to shrink down some of the "bigger" and most popular play equipment to toddler size. So smart, and safe.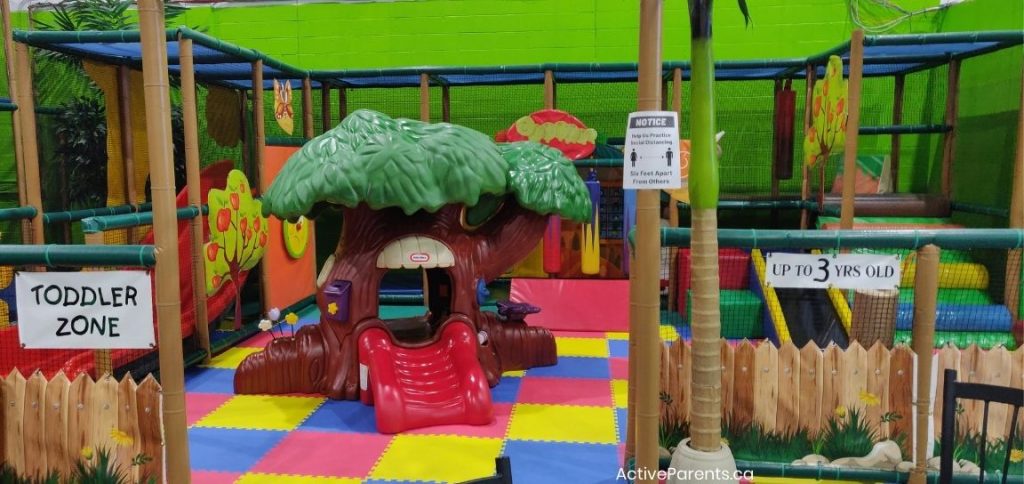 What's New at Lil' Monkeys?
We teased you with the promise of new features at this Burlington indoor playground, so we won't keep you waiting anymore!
First and foremost, my daughter was obsessed with the Vortex. It's this weird mind-tricking spiral room that convinces your brain you're spinning, when in fact the room is spinning around you as you walk through it. It's super fun and the kids all seems to love it. Hold on tight, this attraction is included with your general admission.
Lil' Monkeys also added a bungee trampoline and my kids gave it two thumbs up. Strap on your harness and bounce on the trampoline while being suspended by bungee cords. This activity is also included with your general admission.
Kids had a ton of laughs playing on the interactive game floor. We played soccer and a game where all the kids had to stomp on what looked like slime. Kids are so easy to entertain!
Also added, a gyro sphere! It's one of those pilot's seats that spins in all directions and make you feel weightless! Very cool. We didn't try this one personally but want to on our next visit.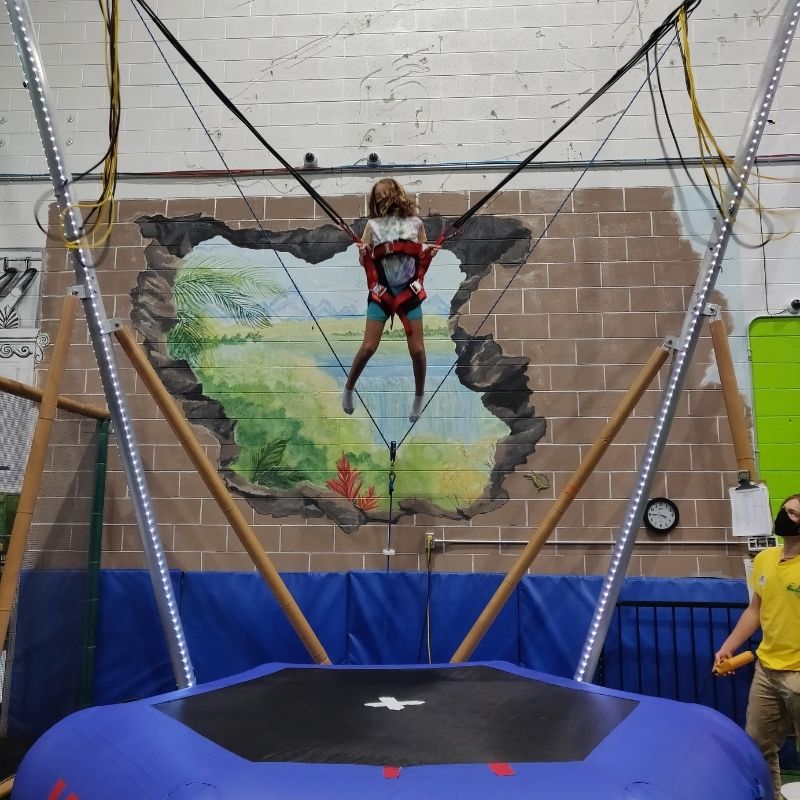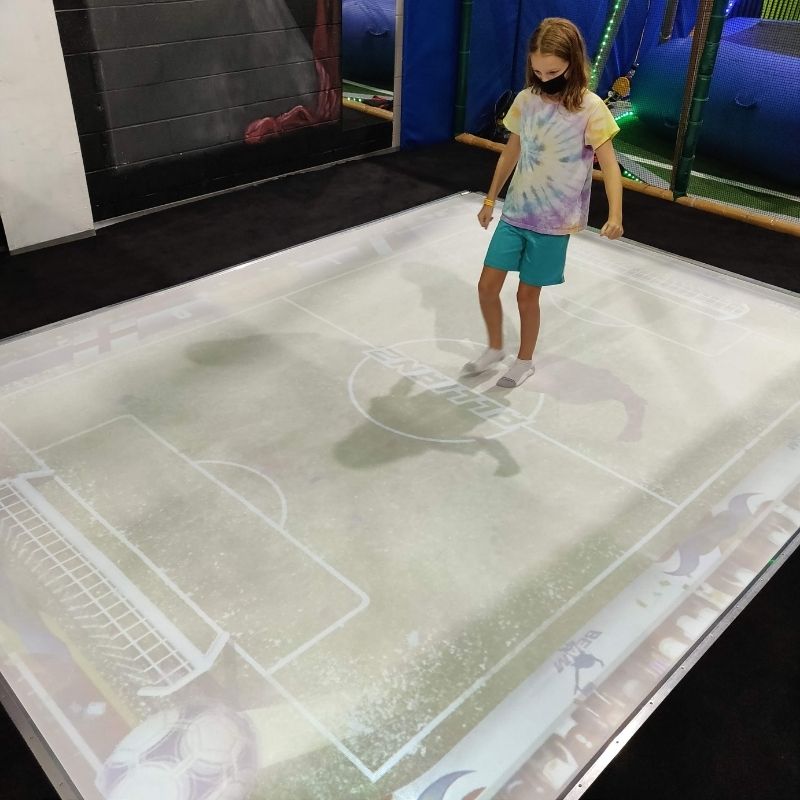 The Arcade and Monkeys Bistro
The arcade has been rearranged and a few new games have been added. We couldn't resist playing some skeeball! Can anyone resist skeeball? While I didn't beat my kid, I did help her earn some credits that she traded in for goodies at the redemption centre, located beside the Monkeys Bistro, where you can get snack foods, drinks, and even fresh-made items like burgers, pizza and salads.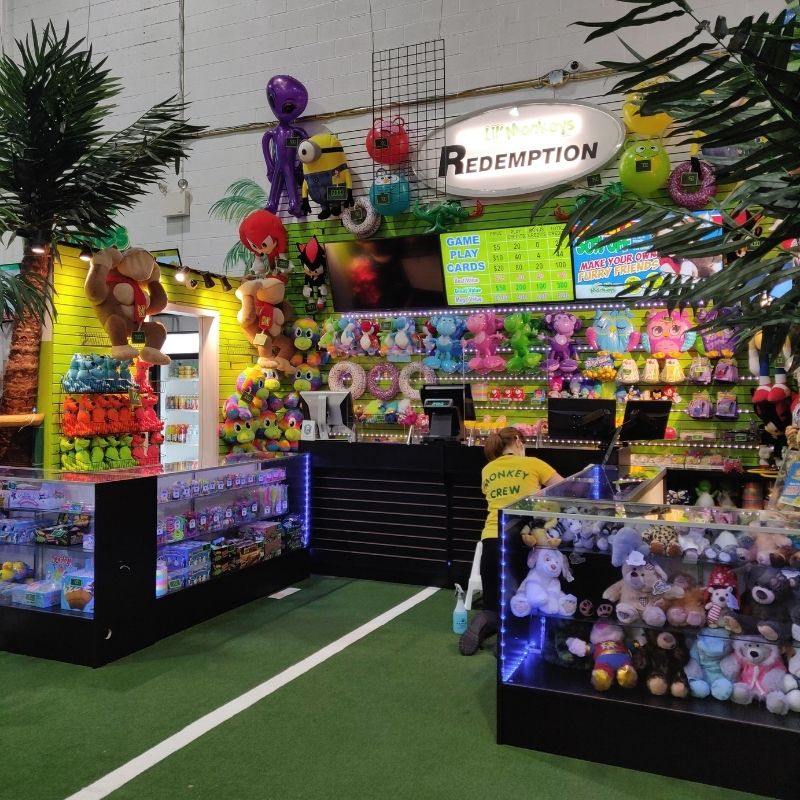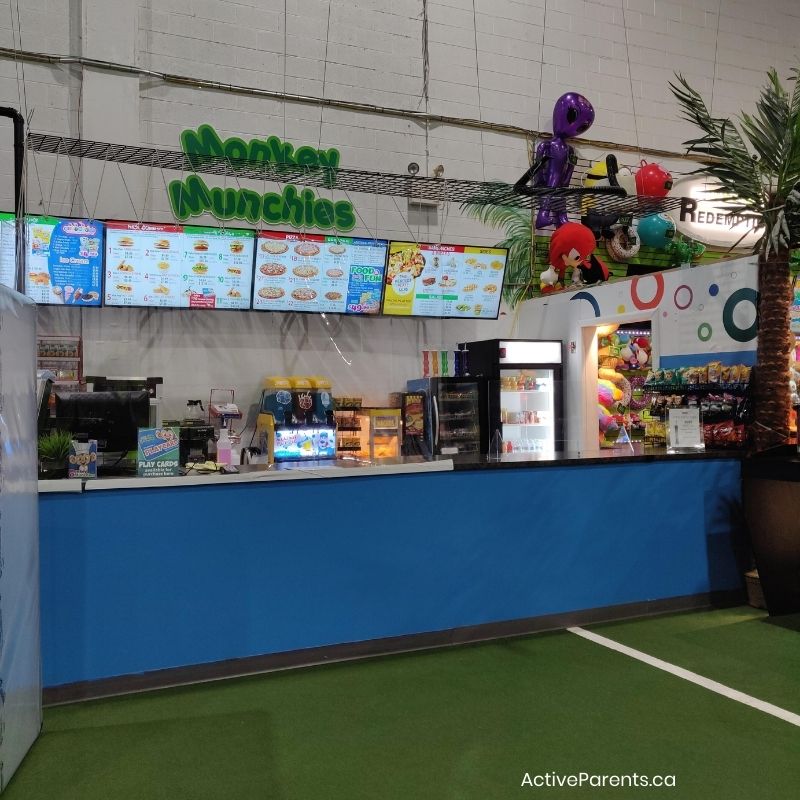 Host a party at lil' monkeys indoor playground!
If you haven't been to a party at Lil' Monkeys, you don't know what you're missing! Each party package includes a private party room – choose from 6 different themed rooms like Arctic and Australia, and 2.5 hours of play for your guests. Each child will also receive 2 slices of pizza, unlimited fountain beverages or one juice and one water per child, 1 ice cream cup, 1 $5.00 game card, 1 bungee trampoline ticket, and one 1/2 price admission coupon per party guest.
Lil' Monkeys indoor playground supplies you with the party invitations, a dedicated party host(ess), plates, napkins, cups, forks, and tablecloths. They even handle the setup and clean-up! You can find all of their birthday party info here.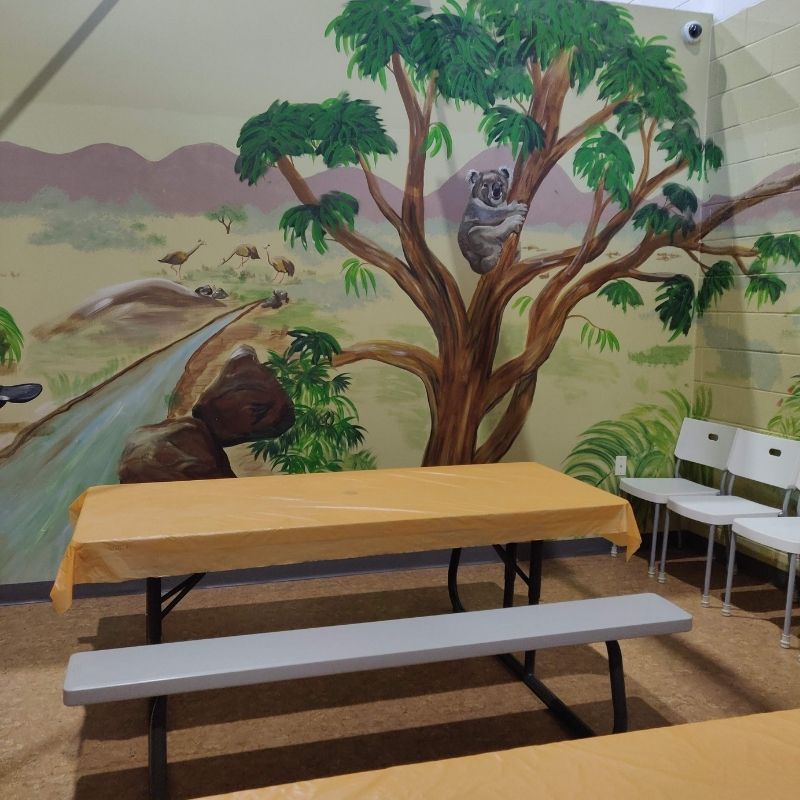 Amenities at Lil Monkeys
Washrooms
Food and drinks available for purchase
Free wifi
Ample seating – couches and tables/chairs
TVs in seating areas
Quiet reading room
6 different themed party rooms
Very clean – we saw at least 4 people on cleaning duty while we were there
Socks only, please! Lockers available to rent for your shoes, or use shoe racks
Friendly staff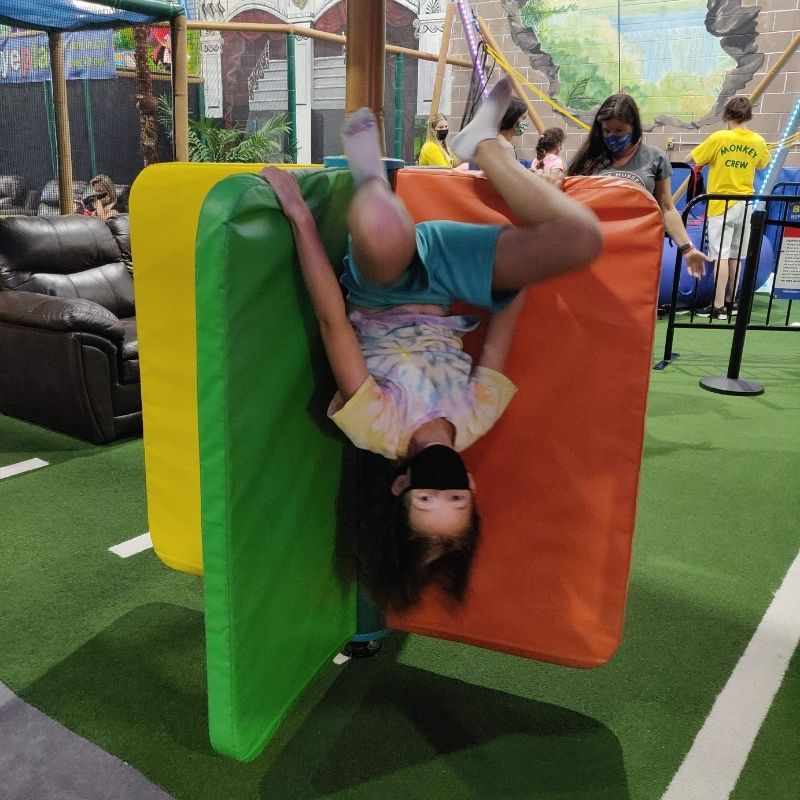 Thank you to the team at Lil' Monkeys for inviting us to see their new playground!
Lil' Monkeys Indoor Playgrounds
3250 Harvester Road, Unit 5
Burlington, ON L7N 3W9
More Ideas For Family Fun
We have visited hundreds of places and written about them to help you find the very best destination for your next day trip or outing. We love sharing indoor play places, playgrounds that go above and beyond, and more! Here are a few of our latest blogs to help you have a great weekend.