We had great plans for a trip north on Family Day weekend, but then Jack Frost had other plans. So, when the snow squall warnings moved in, we decided to stay local – but still get outta town! Here's what we did.
I have a saved note on my phone for places I want to visit, hotels that look cool, and of course attractions to check out. I knew our plans were last-minute, and on a holiday weekend, so I didn't put too much pressure on myself to make it "core memory" material.
First I checked out the various hotels I had on my list and scoured the photos. I'm a very visual person and I need to see where I'm going before I get there. Some surprises are bad surprises, you know what I mean?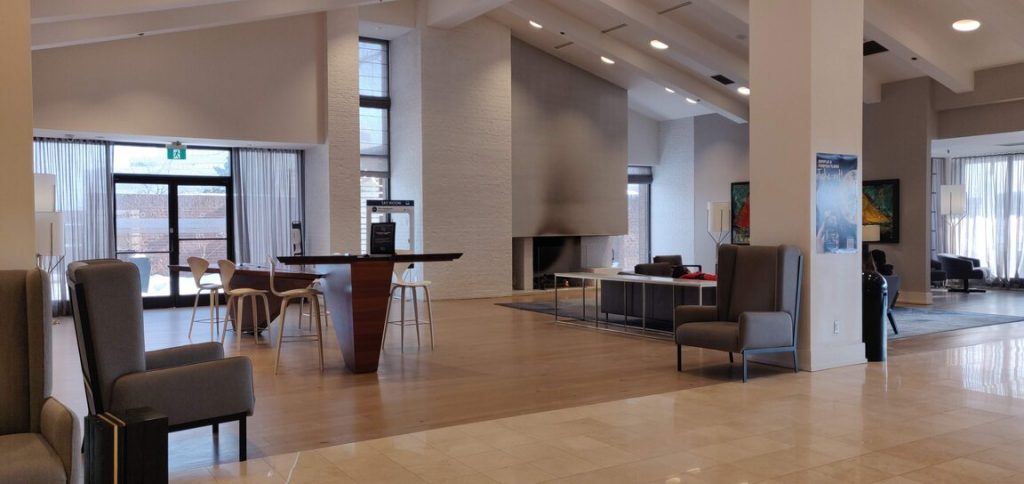 Mississauga's Best Hotel waterslide and Pool!
With kids in tow, you know you need to have a great hotel pool and boy did the Hilton Mississauga Meadowvale over-deliver. "The Big Blue Slide" is exactly that. It was 2+ stories tall and our family rode it dozens of times in 24 hours. It was the main reason we chose this hotel and the fact that we personally knew it was clean. My husband had stayed here and attended lots of functions here, so it can with his seal of approval, too.
The pool area consisted of Mississauga's biggest waterslide, a pool that was very warm, and a hot tub that was even warmer. The warm pool was great because it really encouraged me to stay in and swim with the kids longer. I hate being cold, but this was great! Kids had to be 4′ tall to ride the waterslide, and kids under 12 need someone in the pool with them. Towels are free to use, but they're not that great, so if you like a cozy towel, bring a few from home.
As lifeguards are scarce in 2022, the water slide's open hours are generally only on weekends and the occasional holiday. If you'll be visiting through the week, please take note.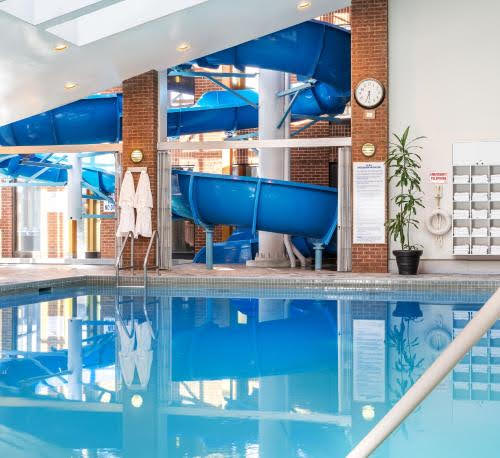 Hotel Rooms at Hilton Mississauga Meadowvale
The hotel was super clean and tidy. Click here if you want to see more room photos. Definitely cleaner than many hotels I've been in, which was a big sigh of relief for us when we arrived. The beds were made with military precision and the kids thought it was hilarious because they never make their beds at home. We also put them through the obligatory jump test, and the beds passed with high marks.
The room had a balcony which was a nice feature, except the weather was miserable and the views of Mississauga aren't much to write home about. Still, it was a novelty for my kids. The only thing the room was missing, which I didn't catch when booking, was a refrigerator. That's usually essential for us because I bring snacks and food to the hotel to keep prices a little lower.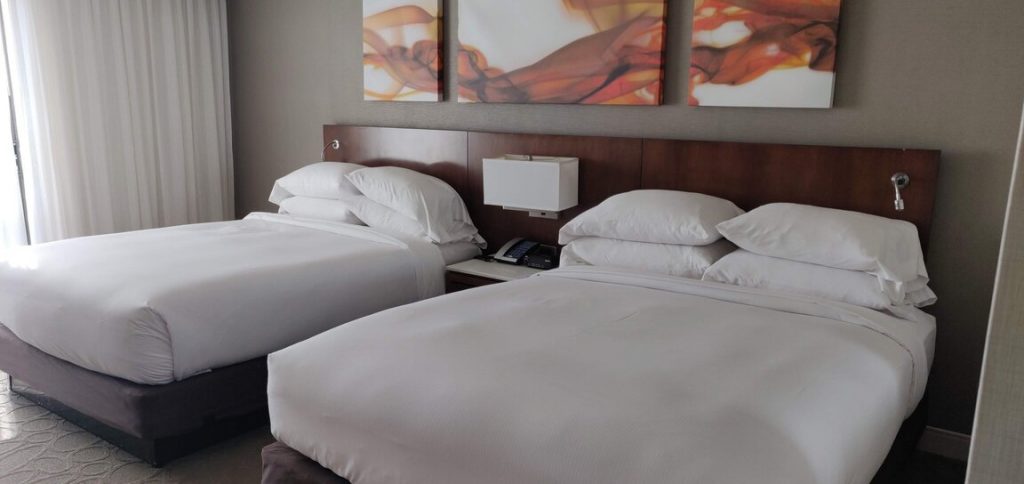 Things To Do In Mississauga With Kids
We didn't have much planned because I knew I wouldn't be able to pry my kids away from the epic big blue waterslide, but if you go for a little longer or want to add some sightseeing into your stay, here are some great suggestions for things to do with kids in Mississauga.
Square One is Ontario's largest shopping mall and Canada's 2nd largest which makes it an easy stop if you want to shop, eat, or spend a few hours people-watching. Kids will love the food court, Build-A-Bear and the various toy and games stores.
Watch the planes fly into Pearson International Airport from the Danville Park viewing platform. It is elevated about 2 stories above ground, which gives you a birds-eye-view of the highways and of course planes flying into and out of P.I.A.
Mississauga has a ton of great parks. We list some here, and Riverwood Park has a very cool tree sculpture I'd love to take a selfie with.
We are big fans of The Hub indoor rock climbing. You don't have to be good at it to have fun! Just ask me LOL.
Little ones will love Playtown where they can experience a dozen or so themed rooms that help them pretend to be chefs, cashiers, stars of the stage and veterinarians, to name a few.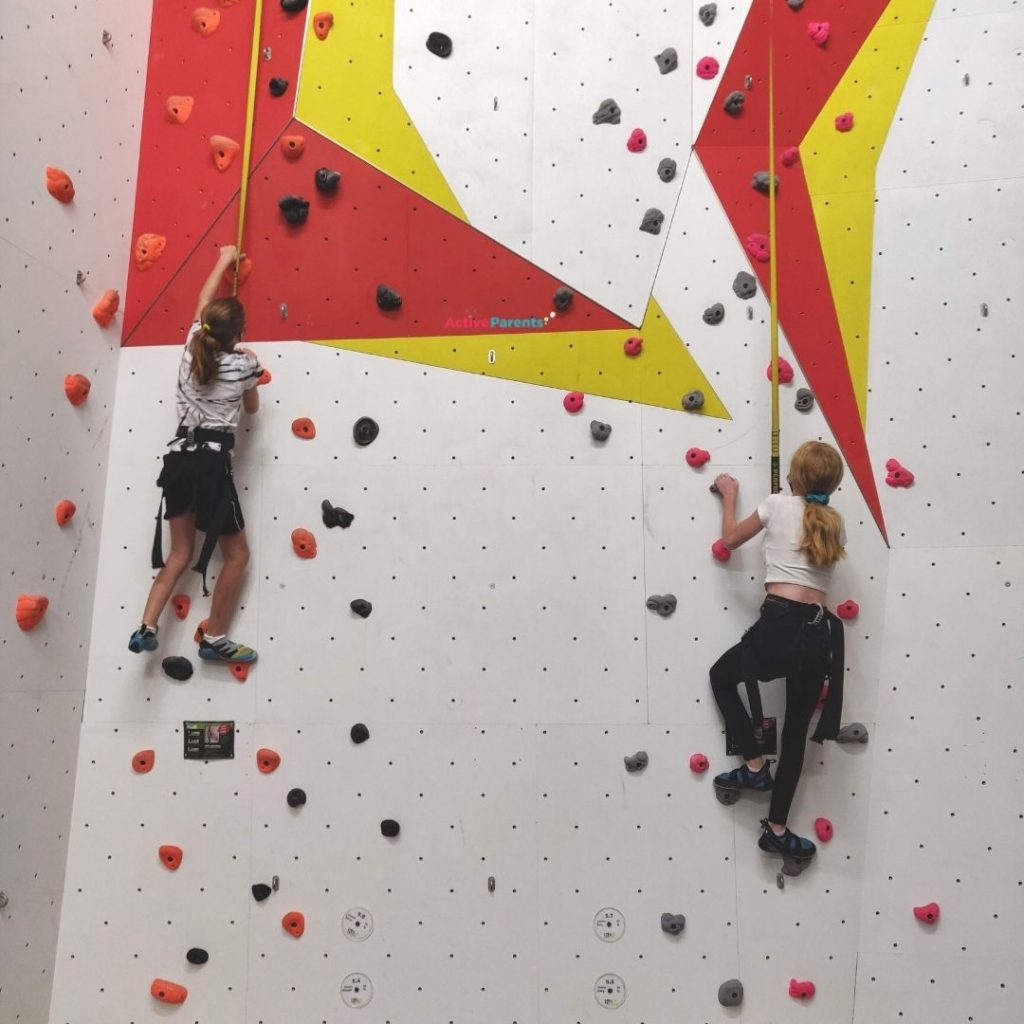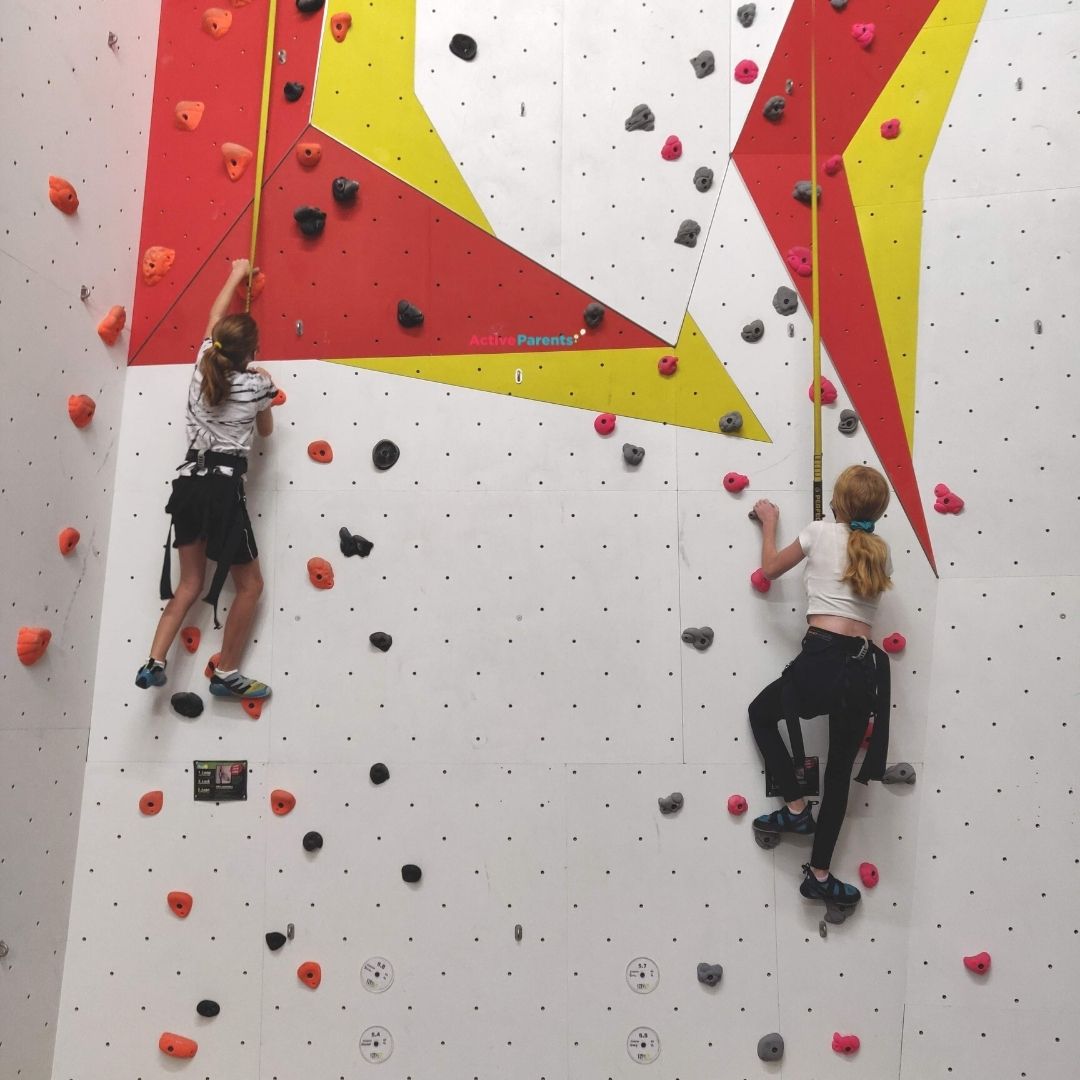 More Ideas For Family Fun
We've been to so many cool places, and we've made it our mission to share all the fabulous locations we find with you. Whether you're planning a day trip or looking for the best playgrounds, we've got your back. We are all about discovering the most amazing indoor play areas, farms and animal experiences, and a whole bunch of other visit-worthy local attractions. Check out our latest blog posts below to make sure you have an absolutely epic weekend!