It's that time of year again when all parents could use a few easy Elf on the Shelf ideas, so please to inspired by our list of ideas for tired parents!
I Love/Hate The Elf On The Shelf
When these elves first hit the market, I thought they were a great idea to work into December (dummy) but then that elf has to come back every.single.year. WTH? I clearly didn't factor in this elf's longevity when I jumped on board.
I'm guilty of at least two more things: loving fun and creative Elf on the Shelf ideas and being very lazy.
I'm the parent who needs a phone reminder (or three) to move the elf. I'm also usually tired and en route to bed when that reminder pops up. That means I need to act fast and come up with something awesome that requires next-to-zero prep. I save a ton of ideas to Pinterest (who doesn't?) and I repurpose great ideas from smart parents online.
10 Of My Fave Fun and Easy Elf On the Shelf Ideas
Here are a few of my favourites from past years (forgive the grainy pictures taken on old cell phones), and a few we've already done this year. I'll update this post as December carries on, so check back for more inspiration.
Also, meet Olaf! We never invested in the branded Elf on the Shelf or its pricey accessories because my youngest hates dolls and their faces haha! So, because the movie Frozen was huge in our house that year, Olaf joined the family in December.
Before We Begin, I Have a Confession
Our Elf on the Shelf was never going to be a watchdog or hired goon for Santa. That just didn't sit well with me. You know, stalking lows and all. So from day one, Olf was all about family fun and doing good. We fully embraced The Kindness Elves and chose to amp up the good we could do for others and each other in December. Alright, let's get into it!
Be Charitable
I downloaded some pre-made printable cards to inspire our messages from the Elf. My fave is when the kids buy and donate a gift to charity. It's great to watch them want to help another child they don't know have a good Christmas present under the tree.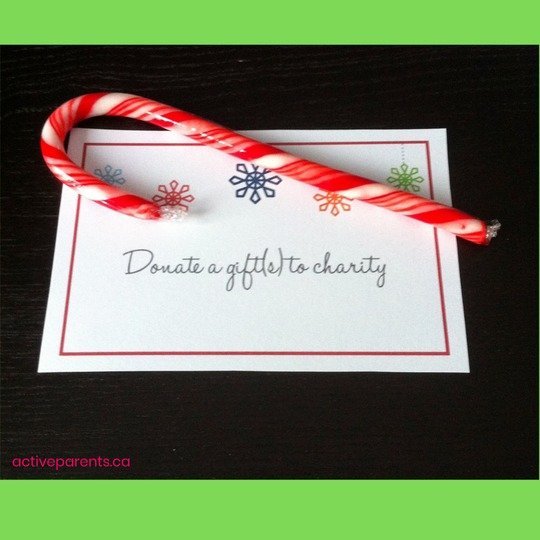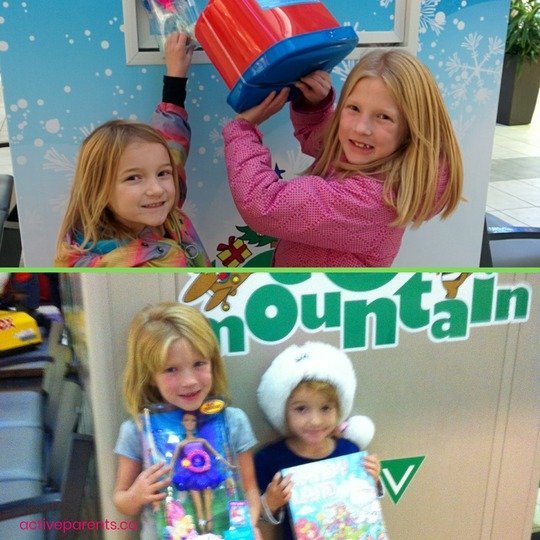 Elf On The Shelf Craft Delivery
Need a break already? Bust out the packaged craft kids! Olaf brought my kids these and they stayed occupied while I made dinner.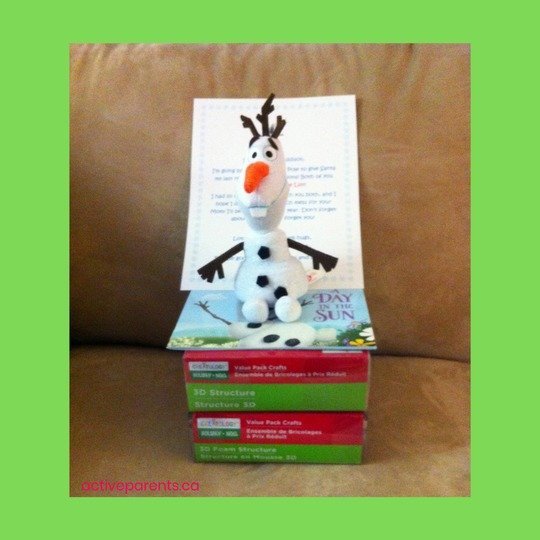 Cue The Silliness!
Olf was silly, so of course he did silly things when he was at our house! He filled the girl's lunch boxes with pop and Halloween candy and they thought it was hilarious! And no, of course, they didn't take it to school that way haha!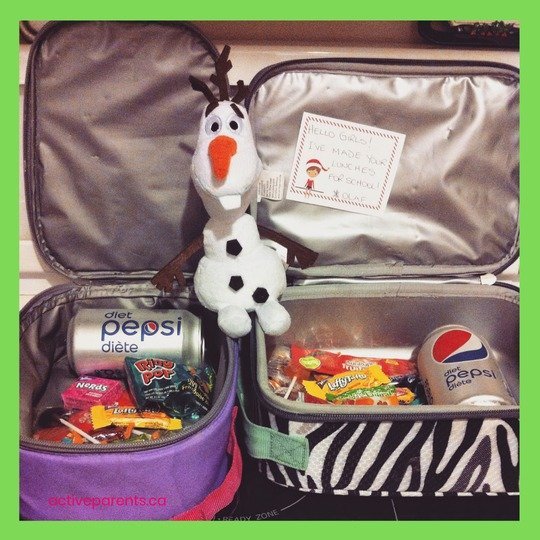 Bring on the Quality Time
Olaf also brought us board games from the "North Pole" (aka the thrift store). That meant we needed to play together that night, which was a win for this mom!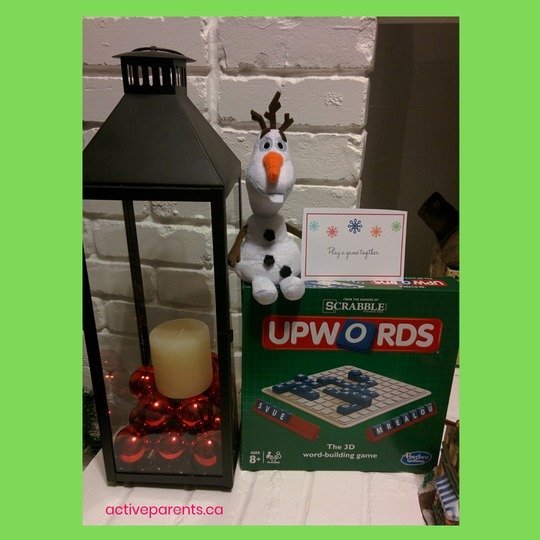 Sweet Treats? Yes Please!
Olaf also loved hot chocolate and marshmallows so he would leave us all the fixings to have a warm treat after school.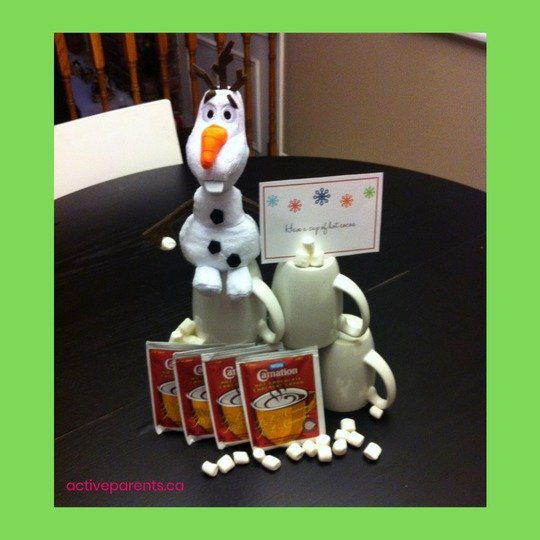 Make That Elf Make Dinner!
Wishful thinking, but they can make dinner suggestions – how about breakfast for dinner?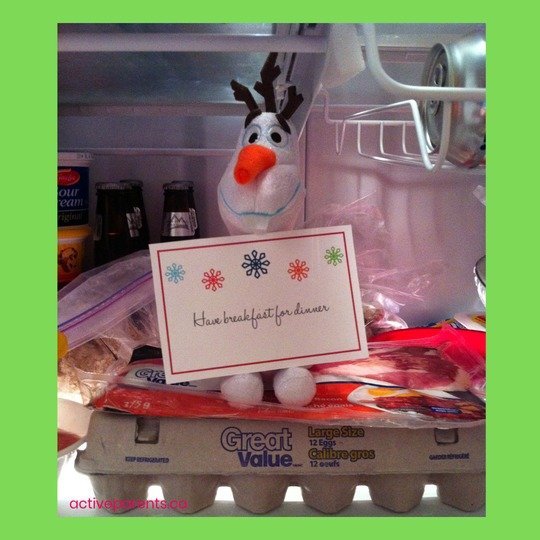 My Fave – Make Your Elf Do Magic!
In the morning, the kids add an egg and some glitter (bear with me) to this paper bag left by the Elf. When they get home from school, that regular old egg has transformed into a KINDER EGG! Ta da!
Watch our IGTV for the step-by-step.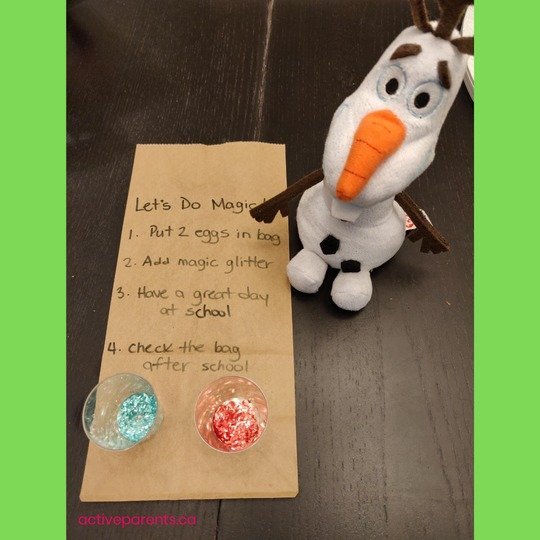 Snowman Social Club
Pick up a used or inexpensive game like this bowling so your Elf and his stuffy pals can host a games night or bowling league. Laughter will ensue.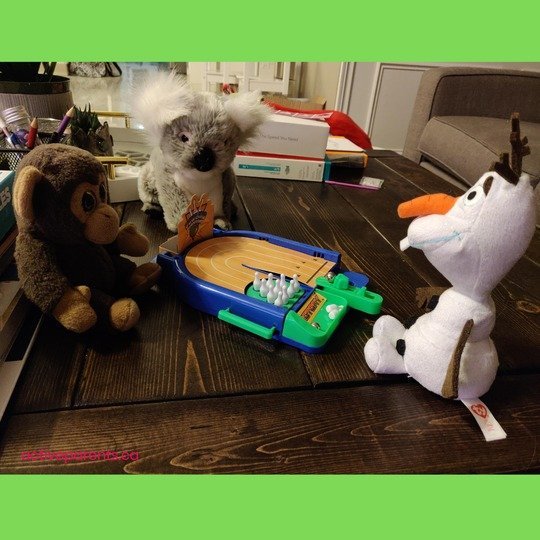 More Super Simple Elf On The Shelf Ideas
Check out our Pinterest page for a ton of ideas from parents with limitless creativity and energy. They've done the hard work for us!
Cleaver Reasons Your Elf Forgot To Move
Bad weather kept him grounded at home
The kids woke up too early or went to bed too late
Shhhh…he's sleeping!
Be Kind To Yourself
My only tip is to remember the old adage that kids love YOU, not what you DO. Parents (moms, mostly) are the only ones trying to live Pinterest-perfect lives, not our kids, so don't let the elf stress you out. I make sure to use mine as a fun way to inspire fun and charity, not to prove my awesomeness to anyone.
Looking for ways to help your family give back to others? We've got some great community groups and charities who will be over the moon to have you donate your time, your good, or money.
More Ideas For Family Fun
We've been to so many cool places, and we've made it our mission to share all the fabulous locations we find with you. Whether you're planning a day trip or looking for the best playgrounds, we've got your back. We are all about discovering the most amazing indoor play areas, farms and animal experiences, and a whole bunch of other visit-worthy local attractions. Check out our latest blog posts below to make sure you have an absolutely epic weekend!