Raise your hand if fall activities are your favourite! The mild, sunny days are the best for being outside for long periods of time. The flavours and aromas (hello apple and cinnamon!) are a delight and there are sooo many things to do with kids near Hamilton, Halton and Niagara. We've been making this list and adding a few new faves to it each year. What is your favourite way to celebrate my favourite season?
Cross these fall activities off your fall must-do list
Hike up Mount Nemo to see the breathtaking fall colours of the Niagara Escarpment.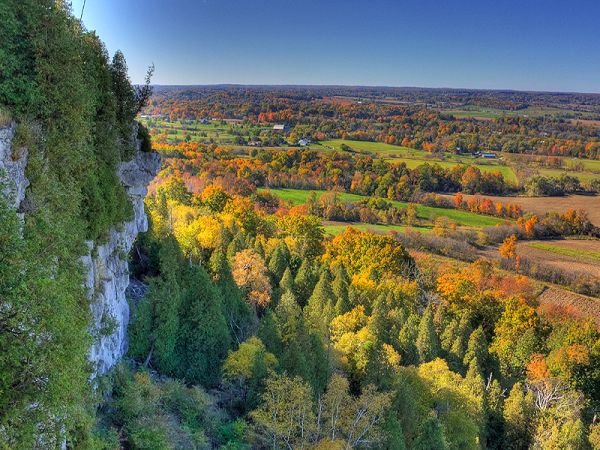 2. Challenge yourself with Canada's Largest Corn Maze! Hanes Corn Maze is over 20 acres! And we have a list of all the local mazes right here.
3. Geocaching is like searching for a treasure, right in your own neighbourhood. This is one of our favourite fall activities because it's free and you can do it anytime, anywhere.
4. Nelson Park is home to some rugged bike trails called The Dirt Jumps that my 10-year-old loves!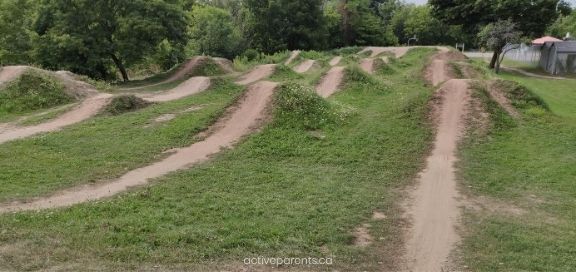 5. Pick Your Own Pumpkins. Kids love seeing the expanse of a pumpkin field and watching them choose the "perfect" one is adorable.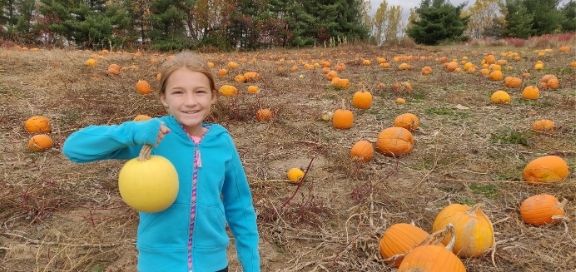 6. Paint kindness rocks for your friends and neighbours. Gather smooth rocks, paint them, and secretly leave them on their doorstep or in their gardens as decoration and a reminder that you care.
7. Take the family to a local apple orchard near Hamilton and Burlington and bring home some fresh-picked apples and pears! It's an essential fall activity for families.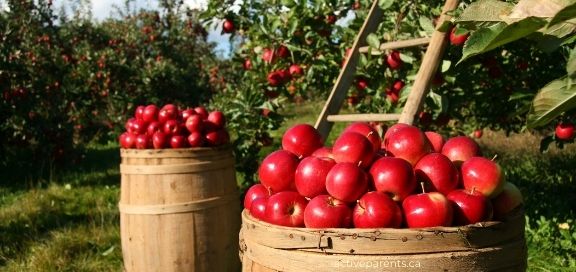 8. Work in your rubber boots with a creek walk. Nature soothes those wild kids like the adventure and discovery of a new ecosystem!
9. Send a postcard around the world! This week we received one from Japan and sent one to Germany!
10. Visit the Animals at a local farm or sanctuary.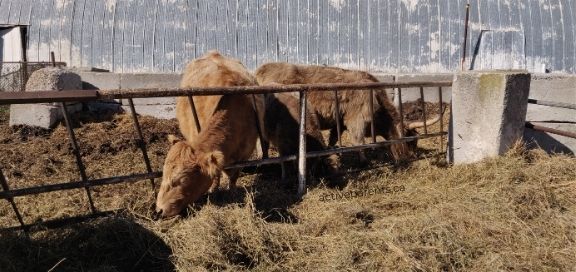 11. Visit one new park a day until the snow comes.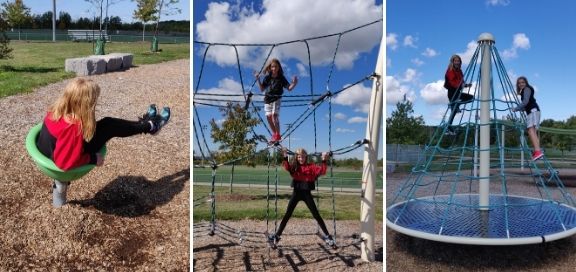 Family-Friendly Fall Fun
12. Make something apple-y. These apple spice muffins are super simple and pack in lunches perfectly. Or give homemade apple sauce a try. I used Splenda for my father-in-law when I made this recipe and it was delish. You may never buy the store-bought stuff again!
13. Carve a pumpkin! You can get one at one of these local pumpkin patches, or hit the grocery store. Most kids will love the icky mush inside and the freedom to create their own unique faces and expressions. Or decorate a pumpkin because then you don't have to touch the gooey bits inside!
14. Play one of our favourite family board games. We have our recommendations here.
15. Watch the salmon swim and spawn in Bronte Creek. You can see them both at Bronte Creek Provincial Park, Hidden Valley Park, or Lowville Park in Burlington.
16. Meet the Raptors and other Birds of Prey at Mountsberg Conservation Area. Peregrine falcons, Gryfalcons, Golden and Bald eagles, hawks, owls and more are on display for your view. My favourite is Jazz the barn owl!
17. Have you tried apple cider doughnuts? This was my first taste of the highly recommended Bennett's and they didn't disappoint!
18. Take a long, detailed look at the captivating Bruegel-Bosch Bus at Hamilton Art Gallery. The Gallery Level 2 (where this exhibit is located) is free admission all the time.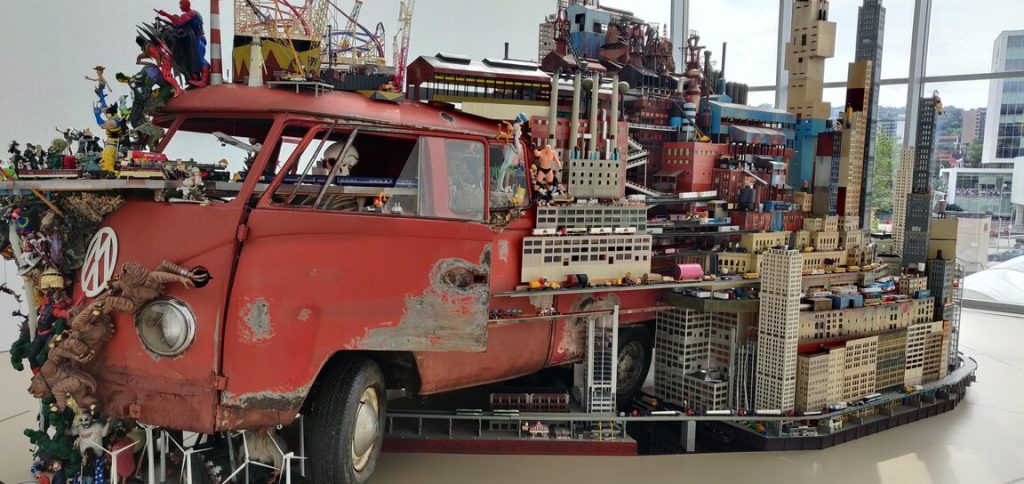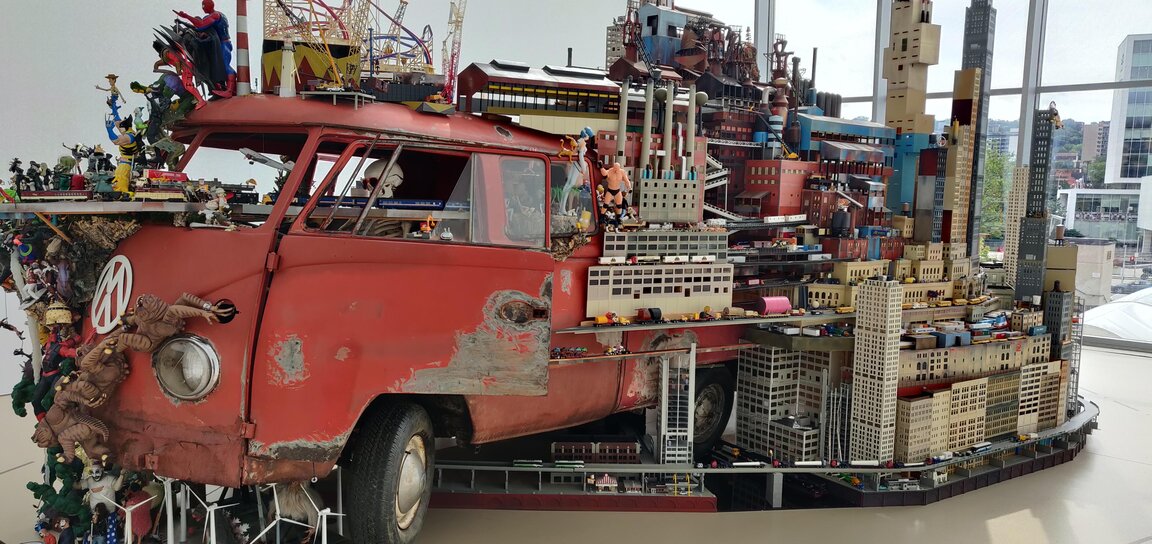 Fresh Air, Gentle Hikes and Farmers Markets
19. Make some tailgate chilli! This recipe has over 7000 glowing reviews and looks so warm and hearty. Bonus points if you serve it in a bread bowl!
20. Paint some seasonal pottery pieces like we did. We love the take-home kits from Pottery N' Paint Cafe. We picked it up curbside and will drop off the pottery to be baked when we are done. You can also safely paint in-studio with your bubble.
21. Visit the farmers market. Not only will you get the freshest produce and homemade goodies, but your kids can also meet the folks who grow their food and see where their food really comes from.
22. Have you ever seen a "Karst"? It's a natural crater and you can explore them up close and in person when you talk a walk through Eramosa Karst. It's one of our all-time fave family hikes as voted by the kids!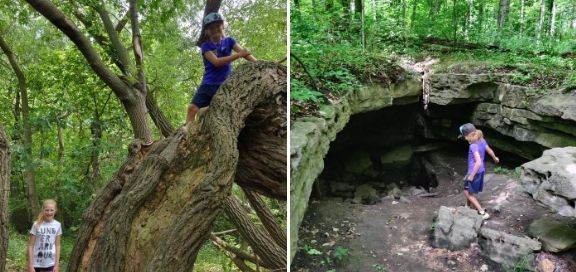 Cider, Conservation Areas, and More
23. Sip some hot apple cider. All of the orchards on our list sell their own, or you can pick some up at the grocery store or farmers market. Add a cinnamon stick and voila – you're fancy!
24. Christie Lake covers 60 hectares and is the perfect spot for a paddle! The area is also equipped with a boat launch. Bring your own or borrow a friend's and spend the day floating and taking in the fall foliage.
25. Watch the lift bridge. It raises and lowers on schedule for the massive ships touring around Lake Ontario, and as needed for the tall sailboats. Very relaxing, and kind of a feat of massive, steel awesomeness.
26. Roast marshmallows. It's the ideal season for this tried and true fall activity, and you don't even need a campfire. We make them in the toaster oven at home! The perfect treat for a family movie or game night.
27. Explore the longhouse village at Crawford Lake and learn about local First Nations history. Watch the turtles paddling in the meromictic lake on a walk around the boardwalk. Enjoy a day hike from Crawford Lake through the Nassagaweya Canyon Trail, and journey to Rattlesnake Point.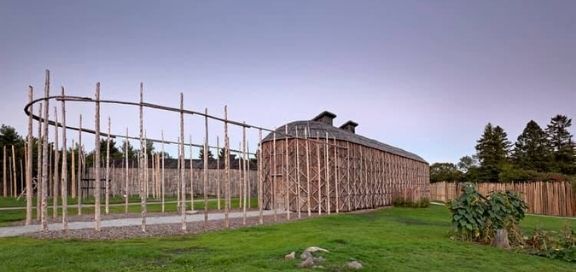 Fall Activities For Kids Can Be Free and Cheap
28. Take a flashlight walk around the neighbourhood. Even though the lights are low, kids will be extra excited to see what they can see with their flashlights! It's also a great time to deliver some of those kindness rocks you painted…
29. Book a visit to Joseph Brant Museum's current exhibits. "The Burlington Gallery" explores topics that tell distinct yet interweaving stories, exploring Burlington's rich history and heritage, or "The Costume Gallery" will take us back in history to Burlington's heyday and when people travelled miles to see their favourite musical entertainer at the Brant Inn.
30. Blankets + chairs + outside = stargazing. Kids love the special feeling they get from being outdoors at night with their grownups. This is one of the fall activities where time together is the goal, stars are just the bonus.
31. Halloween Movies are here! These are the 40 best kids' Halloween movies, and these
32. Pinecone crafts are hitting their peak on Pinterest! They are a great free craft supply and seeing the ways kids use them is so inspiring!
33. Brantford Zoo is one of our favourite places to visit. The size of the zoo is perfect for kids of all ages.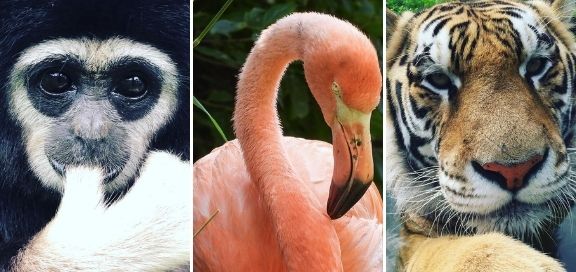 More Easy and Fun Things To Do With Kids in the Fall
34. Book your tickets to Safari Niagara's Boo at the Zoo. A spooktacular Halloween animal celebration on October 8th.
35. Visit Kelso Conservation Area. You can hike their beautiful trails, bikes them, or even ride the chairlift to the top for the best view in town!
36. Doesn't everyone make multiple trips to their local pop-up Halloween stores and purchase nothing?! We love the scary displays and the spooky atmosphere and can spend hours scaring ourselves and each other.
37. Visit the Gnomes and Fairies on the Gnome Trail at Bronte Creek Provincial Park. It's a little hidden village that will pique your little one's curiosity!
38. Experience a guided tour of Dundurn Castle. This 40-room Italianate-style villa was built in the 1830s on Burlington Heights; the former site of a fortified military encampment established by the British in 1813.
39. Grab the rakes and watch how much fun you and your kids can have with a slide and a pile of leaves!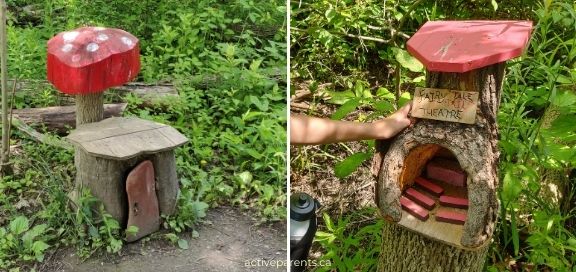 Pumpkins, Disk Golf, Popcorn and More Fall Essentials
40. Popcorn balls are such a fun and easy way to celebrate movie nights, birthdays, or you know – Tuesday?! We love these s'mores popcorn balls from I Heart Eating.
41. Playing a round of Disk Golf at Bronte Creek is a great combination of fresh air, nature and some good old-fashioned sports. It's not as easy as you think it is!
42. Mini golf before the mini greens are closed for the season!
43. Pumpkin spiced anything! Skip the latte and try some other pumpkin-spiced treats this fall. Bars, muffins, pies, and cupcakes! They make great desserts and gifts for friends.
44. A reader told us about Josling Farms this week and it sounds like an awesome experience for families. Josling Farms offers pick-your-own potatoes, tomatoes cauliflower and more! Give your kids a small taste of what farm life is like as they pick their own produce.
45. Visit Bronte Creek – and all of the Ontario Provincial Parks – to fill your passport with Parks stickers. Each park has its own crest available as patches and stickers.
46. Go ziplining at Chicopee Tube Park! I swear I was scared out of my wits, but I was sooooo thrilled I did it! My kids and husband loved it so much that they did multiple trips down.
47. Hilton Falls is the perfect mix of an easy hike and a gorgeous waterfall. It's one of the lesser-visited conservation areas, but definitely one of our favourites! Read about our visit here.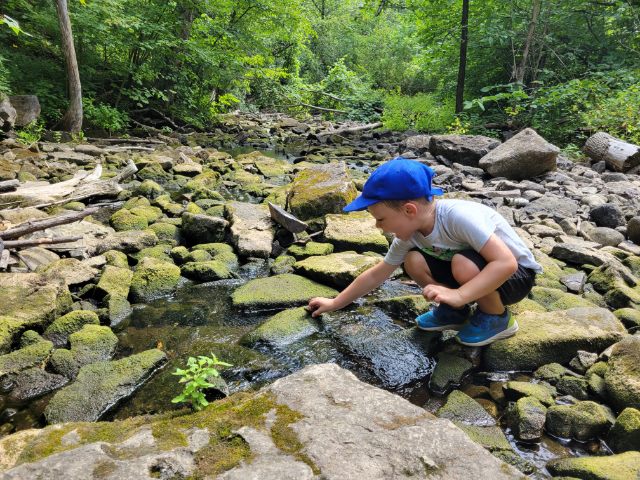 Read Our Latest Articles
Catch up on what we've been covering! Here are our latest reads, hot off the presses just for you. Never miss an article when you subscribe to our weekly newsletter filled with kid-friendly fun and events.