Nothing says fall family fun like a trip to the pumpkin patch!  Get a warm beverage in a travel mug and take the family out to the pumpkin patch to pick your own pumpkins. The crisp fall air, hayrides, and freshly baked farm treats are a great way to spend a day. If you're looking for a pumpkin patch, you'll find all the info you need below.
Burlington Pumpkin Farms
Hutchinson Farm
Address: 6202 Walker's Line, Burlington
What kids love: Snap a picture with Marco's pumpkin totem, and pick a fresh pumpkin for carving or decorating. New for 2022, to help eliminate afternoon crowds, come by on a weekend morning and save 15%!
Click here to visit the Hutchinson Farm website.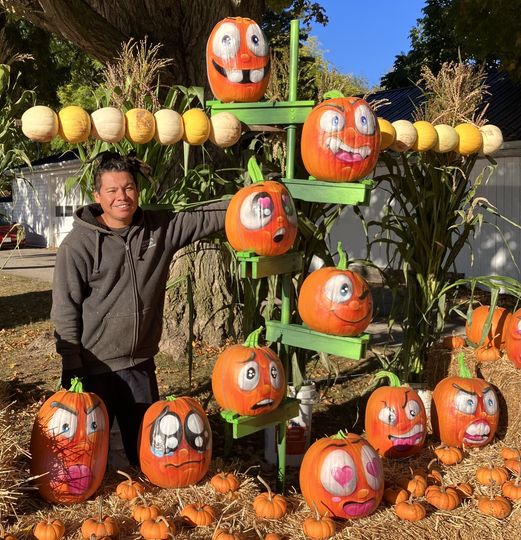 Stonehaven Farm Market
Address: 7388 Guelph Line, Campbellville
What kids love: The giant corn maze, wagon ride and "Strawhaven" straw bale area make up their Fall Fun Play Package at $8/person age 2 and up. No reservations/appointments are required or taken.
Price: $8 admission per person to the kid's zone. Pumpkins are $12 each or 3 for $24 (any size). No booking or reservations are required.
Click here for Stonehaven Farms' website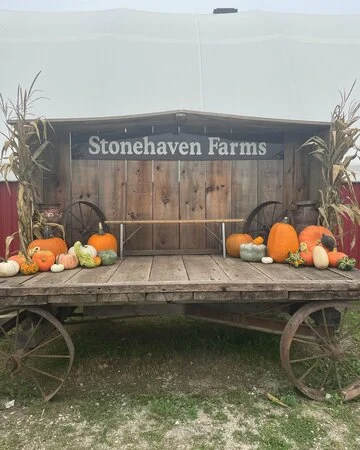 Milton Pumpkin Patches
Andrews Scenic Acres
Address: 9365 10th Sideroad, Milton
What kids love: Ride their ponies, adventure through the corn maze, walk the haunted forest, and climb the straw mountain! Take a wagon ride out to the patch.
Price: Ages 5+ $15/person, Seniors: $7.50/person (+HST) : ages 65+, Children under age 5: FREE entry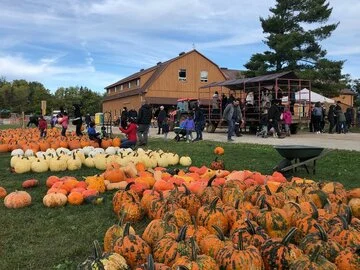 Hamilton Area Pumpkin Farms
Dyment's Glen Drummond Farm
Address: 416 Fallsview Road East, Dundas
Hours: Every weekend in October, including Thanksgiving Monday 10-5 pm
For Kids: Barnyard play area, animal farm, straw fort, trike track, wagon ride, 9-hole mini putt, and more.
Price: $16 per person. Kids under 2 are free. Cash only at the farm.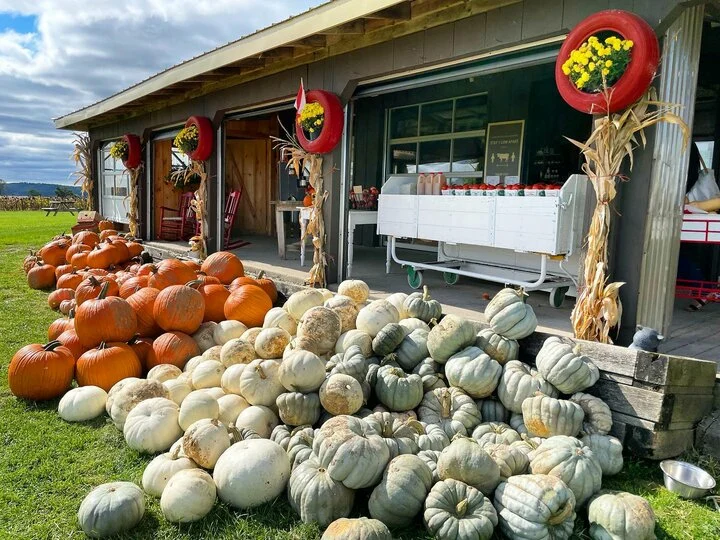 Hanes Corn Maze & Pumpkin Patch
Address: #1001 Hwy #5, Dundas (6 miles west of Clappison's Corners)
What kids love: The Hanes corn maze is a human-size puzzle carved into 25 acres of cornstalks, growing over 10 feet tall! Read about our visit here.
Price: Any pumpkin $5 each
Lindley's Farm
Address: 900 Fiddlers Green Rd, Ancaster
What kids love: 50,000 pumpkins to pick from, or buy a ready-picked pumpkin.
Price: Pumpkin hayrides will begin Saturday, Oct 1st. Saturday, Sunday and holidays are $12 per person. This includes one field pumpkin of your choice.
Visit the Lindley's website here.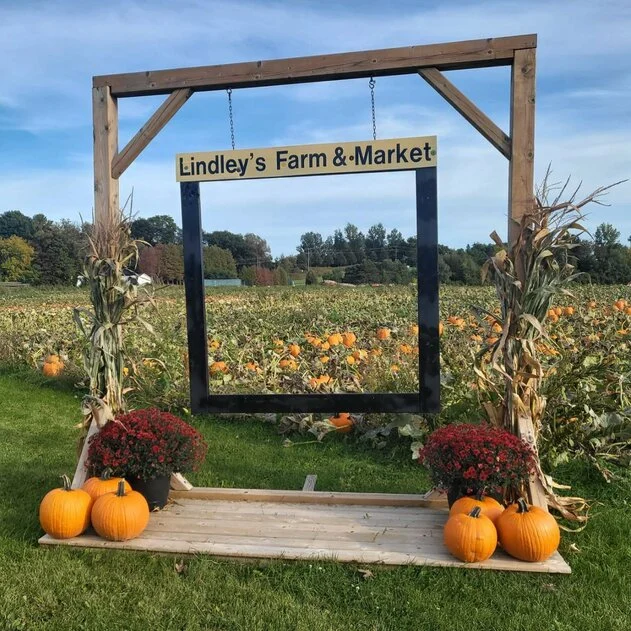 Farms in Brant County
Brantwood Farms
Address: 251 Powerline Rd., Brantford, ON N3T 5L8
What kids love: Hay wagon rides, pedal tractors, farm animals, PYO apples, pony rides, corn maze, and SO MUCH more!
Price: Open weekends September and October and Thanksgiving Monda. General admission is $15 per person over 2 years old. Fee includes access to all activities. Pumpkins are sold by size and range from $2 to $20. Cash and debit are accepted.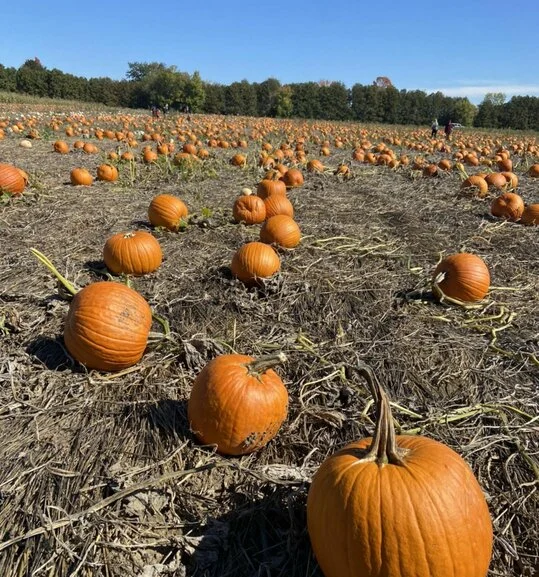 Colton's Fun Farm
Address: 109 Jerseyville Road, Brantford, N3T 5M1, Ontario
What kids love: Corn maze, kids' play area, pirate ship-themed corn pit, and more
Price: Only open weekends and Thanksgiving Monday from 10 am till 5 pm. Admission is $15 per person over 2 years old. The fee includes access to all activities. Pumpkins are $5 each. Cash only.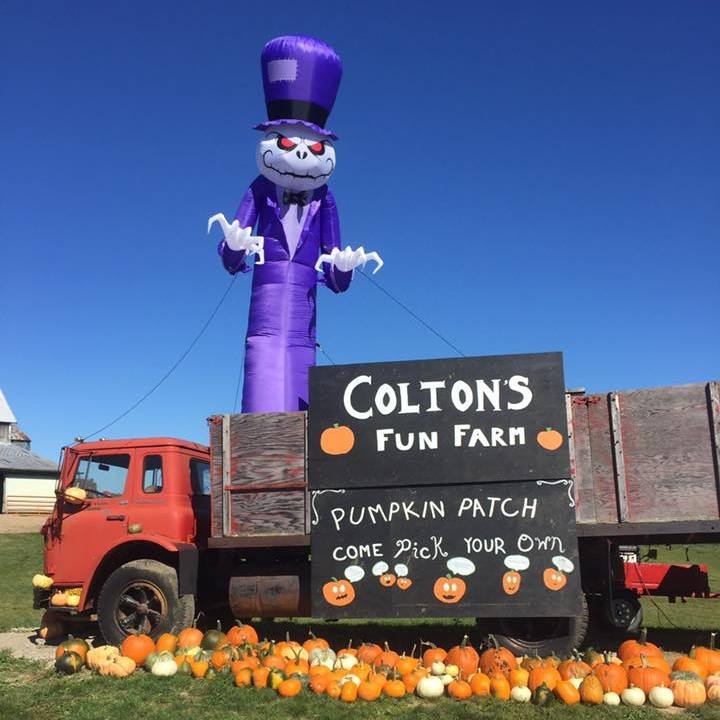 This Might Help You Decide
We've put together a cheat sheet of what local, popular farms have to offer.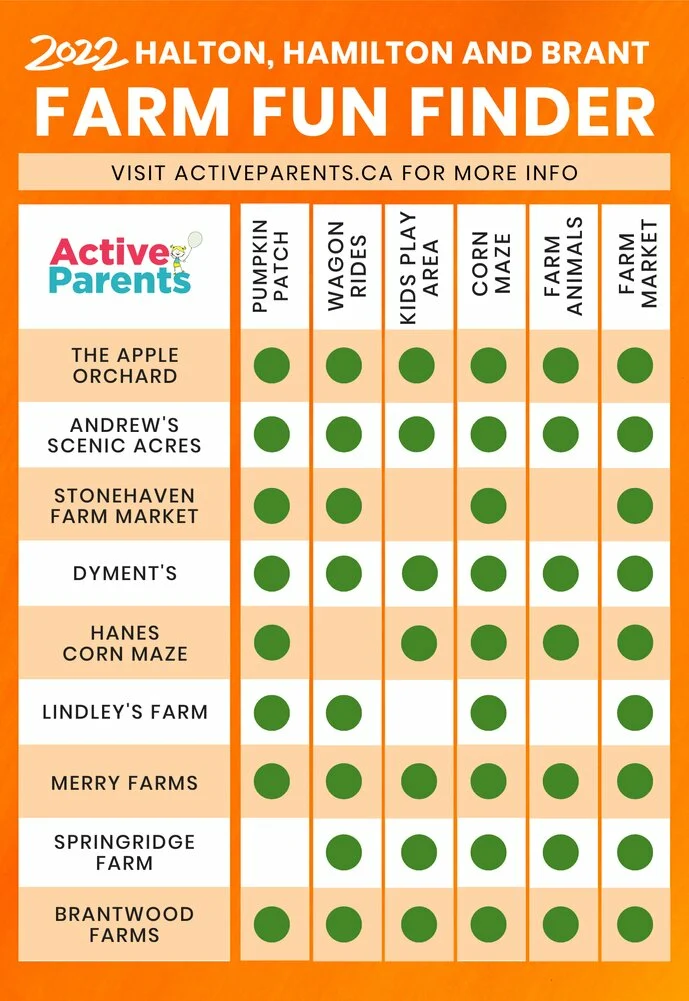 More Fall Fun
>> Visit an apple orchard to stock up on fresh and crispy apples
>> Find the best lookout to see the fall leaves change colour
>> Playgrounds are still our fave free fun for families
More Ideas For Family Fun
We have visited hundreds of places and written about them to help you find the very best destination for your next day trip or outing. We love sharing indoor play places, playgrounds that go above and beyond, and more! Here are a few of our latest blogs to help you have a great weekend.