Corn Mazes are a ton of fun, and they're a super-easy way to be outdoors and socially distanced from others.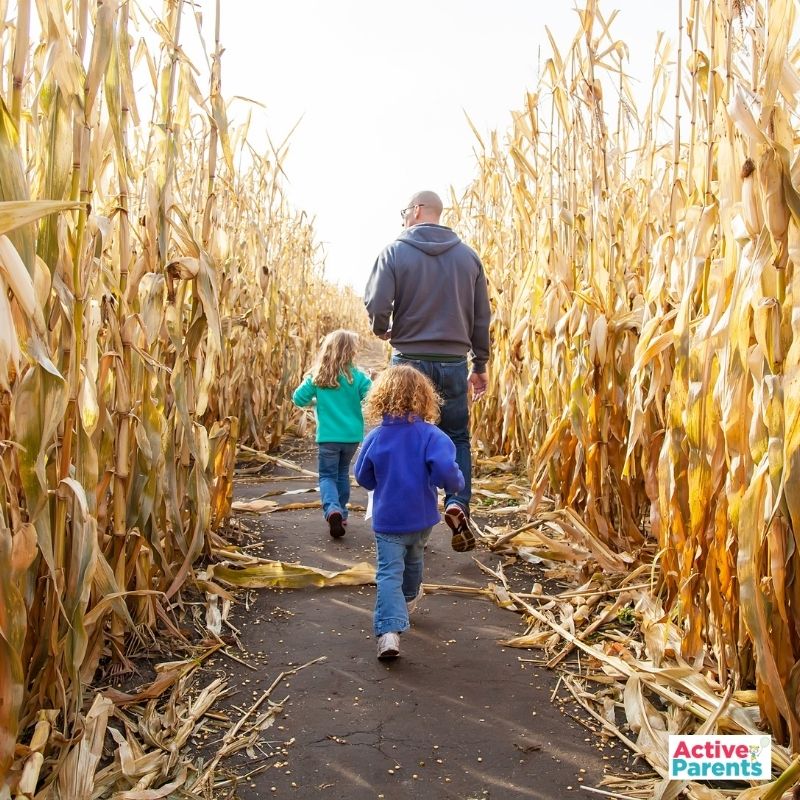 Corn Mazes In and Around Halton
Home to a 5-acre corn maze perfect for the whole family, and a smaller hay bale maze, perfect for kids as the height is lower. Pre-book your evening visit and bring a flashlight!
Book a 2-hour unlimited play visit and enjoy their 5-acre corn maze, animal barnyard, jumping pillow, giant peddle cart track and more. For an additional fee you can add on a socially-distanced campfire space, with hot dog and s'more roasting kit for 5 guests. Open weekends only. Admission is $12 each for everyone over the age of 3, kids under 3 are free.
The Hanes corn maze is pretty famous 'round these parts because every year the maze is in a different shape! 2019 was planted to honour the JDRF, and in 2018 it was a tribute to the Tim Horton's Children's Foundation. You can see the past mazes here. This maze is a human-size puzzle, carved into 20 acres of 12′ tall walls of cornstalks. Pre-booking required. Admission ranges from $11-17 and kids under 3 are free.
Corn Mazes In and Around Hamilton
Dyment's has a Corn Trail with Story Book, perfect for little ones. Also included are wagon rides, mini putt, animal farm, play area and more. Admission $14.50 for everyone over 2 years old, kids under 2 are free.
Opening September 18, 2020. New this year an amazing 5-acre corn maze. Find your way through the maze and try not to get lost. On the way, find the 6 hidden letters to a secret word. No pets, please. Pre-book your time and pay online, so walk-ins please. Admission $12 per person, kid sunder 2 are free.
Corn Mazes Worth a Drive
Twist and turn your way through 10km of trails. The maze is the ultimate experience with friends and family! It's the most fun you have ever had getting LOST! Reservations required. Corn maze is included in Fall Farmyard admission, $15 per person, kids under 2 are free.
Each year Strom's Farm chooses a new organization to support through maze admission proceeds. To date, we have raised over $87,000 for these amazing causes! Our 2020 partner is Guelph General Hospital Foundation. Admission $8 through the ween and $13.50 per person on weekends (plus tax).
Now Trending…More Fall Fun!
Find the best local pumpkin farms and pick our a biggie!
Pick-your-own-apple orchards are a fabulous fall activity the entire family will love