Fall brings us all kinds of unique and seasonal entertainment and corn mazes rank at the top of our list! Add a corn maze visit to your fall plans. Kids and adults love it, and it's always a thrill to work your way out.
There is a variety of corn mazes in Hamilton and Halton, perfect for all ages. You'll even find some super-easy pint-sized mazes just for the littlest adventurers to conquer.
Fall is Full of Family Fun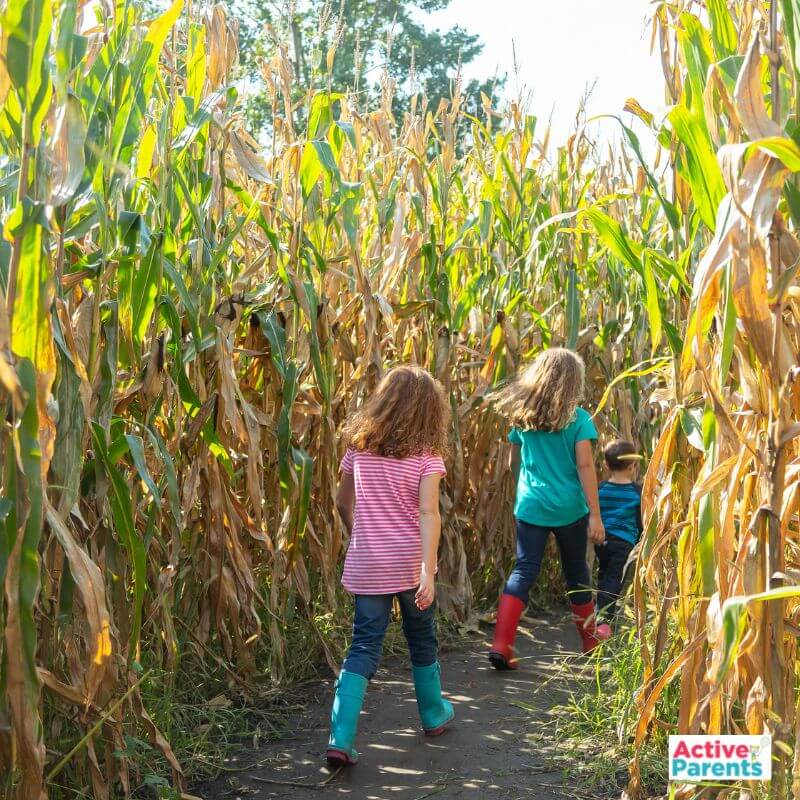 Corn Mazes In Hamilton
Hanes Corn Maze
The Hanes corn maze in Dundas is famous because every year the maze is a different shape! This is the largest corn maze in Canada, carved into 20 acres of 12′ tall walls of cornstalks, and a must-do fall activity. This maze has a fun puzzle to solve as well! Pre-booking is required.
While you're there, check out their little-kid-size sunflower maze.
Price: Ranges from $12-$19 and kids under 3 are free.
Address: #1001 HWY #5 West, Dundas, ON, L9H 5E2
Read more about Hanes Corn Maze here.
Dyment's Glen Drummond Farm
Dyment's has a Corn Trail with Story Book, perfect for little ones. This Hamilton corn maze also boasts wagon rides, mini putt, farm animals, a play area and more. The Farm and Pumpkin Patch opens to the public in October.
Price: Admission is $16 (HST included) for everyone over 2 years old, and kids under 2 are free.
Address: 416 Fallsview Rd E, Dundas, ON L9H 5E2
Visit the Dyment's Glen Drummond Farm website for more info.
Merry Farms
Opening September 30 to October 29, 2023, for PumpkinFest on weekends only. Enjoy an amazing 5-acre corn maze. Find your way through the maze and try not to get lost. Also included is 65' Long Jumping Pumpkin Pillow, Wooden Train Playground, 3 Giant Slides, Pedal Kart Race Track, Climb Hay Bale Mountain, Huge Sandbox, Pumpkin Bowling and more!
Price: $18.99 per person for a 3-hour stay, kids under 1 are free
Address: 1974 Concession Road 2 W, Hamilton (Lynden), ON, L0R 1T0
Visit the Merry Farms website for additional info
Corn Mazes Worth a Drive
Downey's Farm in Brampton
Twist and turn your way through 10km of trails. The maze is the ultimate experience with friends and family! Reservations required. The corn maze is included in the Fall Farmyard admission.
Price: $16.99 + HST for ages 2-92 for the Farm Yard Play Area from May 19 – Sept. 22, 2023.. Kids under 2 are free. October pricing for the Pumpkinfest PlayAarea is $23.99 per person over the age of 2.
Address: 13682 Heart Lake Road, Caledon, ON, L7C 2J5
Strom's Farm and Bakery in Guelph
Open Sept. 20 – Oct. 29, 2023. Wander 6km of maze trails. Your visit includes their corn maze, Jumpin Jack Tile Maze, Straw Maze, Rope Maze, Cedar Spiral, Sand Pit, Pedal Carts, Basketball, and Wagon. Pre-book your visit online.
Price: $16-$23.50 per person, kids aged 2 and under are free. A tip for our readers: weekdays are less expensive than weekends and tickets purchased online are less expensive than at the gate.
Address: 5089 Wellington RD. 32 Guelph, ON
Visit the Strom's Farm website for additional information
Snyder's Fun Farm Near Guelph
Book a 2-hour unlimited play visit and enjoy their 5-acre corn maze, animal barnyard, jumping pillow, giant peddle cart track and more. Includes access to our play area, pirate ships, petting zoo, pedal carts, jumping pillows, corn maze, haunted houses and HAYRIDE, too! For an additional fee, you can add on a campfire experience, too. Open weekends only.
Price: $19.99 per person, kids under 2 are free.
Address: 936685 Blenheim Rd, Bright, ON N0J 1B0 (just outside Cambridge)