It's not Fall without a visit to Hanes Corn Maze. Never been? Here's the scoop on what makes it an ideal destination for a day out with the family.
Looking for More Fall Fun?
Take one of our kid-approved hikes in Hamilton and Burlington
It's not Fall if you haven't picked some apples at a local orchard
Pick a new playground to play at with our park profiles
Visit Canada's Largest Corn Maze!
Hanes Corn Maze is the largest corn maze in Canada with over 20 acres of cornfields shaped yearly into a new, challenging maze. You can see all of their past corn mazes here. Make your way through the maze and collect clues at various checkpoints to solve the puzzle. Your kids will love following the map and decoding the clues at the end to win a prize. The corn maze takes 1-2 hours to complete, and it's great fun for everyone. We had a kiddo with extra energy, and she loved running through the maze and down all of the dead ends for us. I also brought my puzzle-genius husband so we did the maze in just over an hour. And we are going to go back again!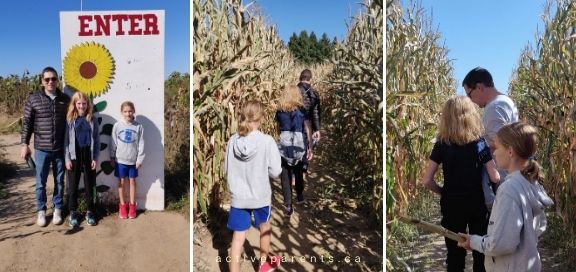 Farmland and Mini Corn Maze
You can spend a full day at the farm with the kids when you visit Hanes Corn Maze in Hamilton. Little ones will love the "farmland" play area. Enormous tractor tires to climb on, swings and slides, and a sandbox full of tractors and diggers were the big draws for my kids. Don't miss shooting free throws at the back of the hay trailer – lots of fun! The farmland play area is large and spaced safely, so kids can do lots without worry. Bring your lunches and snacks and sit at one of the many picnic tables chatting while the kids conquer the mini corn maze. It's a one-way bendy loop through 10-foot-tall cornstalks. Keep your eyes peeled for the gigantic sunflowers – they're gorgeous.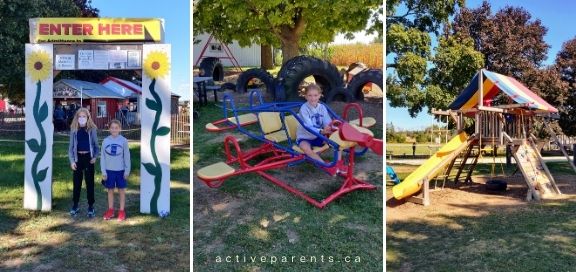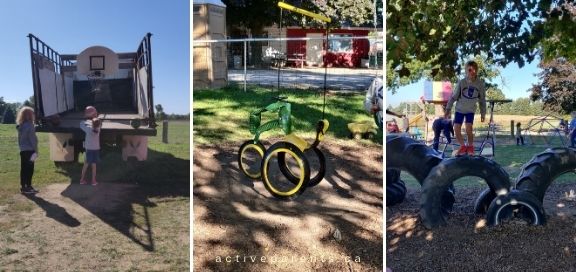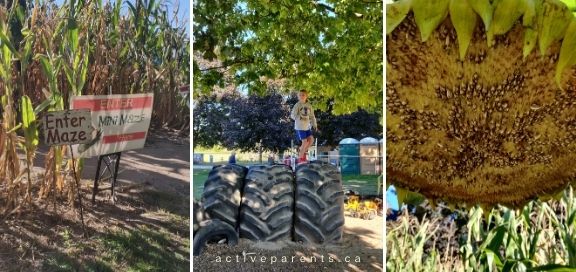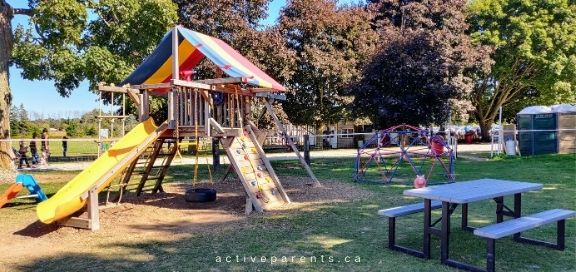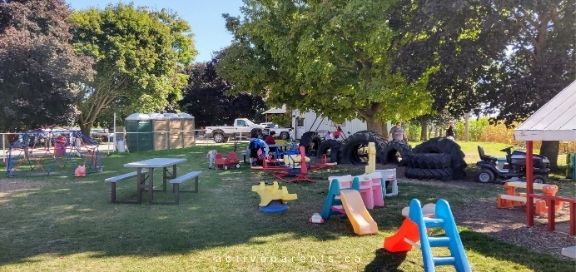 Visit the Farm Animals
My girls and I are suckers for any animal, so we spent a lot of time googling the goofy goats, the brand new chicks, ducklings, piglets, and of course the furry cows (not their technical name). You can purchase feed from the dispenser, and you can use the little soup ladle to feed the goats if little fingers get nervous. Farmer Seamus told us it was a great summer for new babies at Hanes Corn Maze, and we couldn't agree more! Watch for the sweetest little grey kitten you have ever seen. She loves to be pet.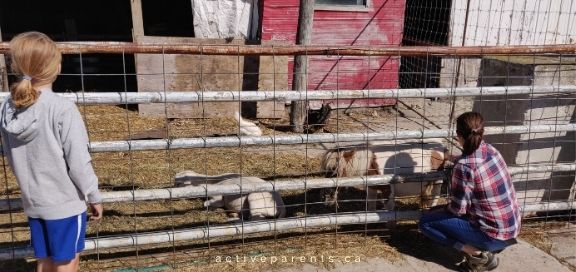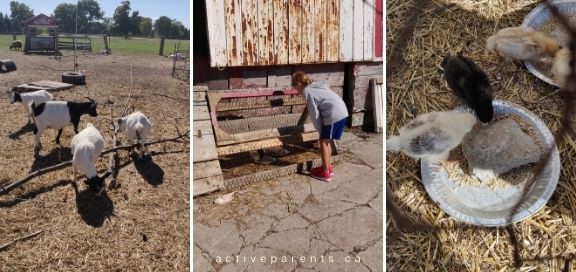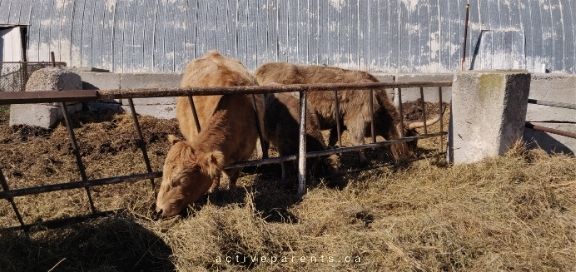 Did I Mention the Blasters!?
Possibly the most unique part of Hanes Corn Maze was the blasters! Oh yes, you read that correctly. There are air-powered blasters that shoot mini pumpkins or ears of corn across the field. Believe me when I tell you they shoot far! Very outside-the-box and a definite must-do when you visit.
The Tiny Bakery
Before you leave Hanes Corn Maze for the day, you absolutely must pick up something delicious from The Tiny Bakery. We bought a mini pumpkin pie, butter tarts, and a sampler pack of their best bars. Let me tell you – they did not last long! Homemade fresh every day, nothing beats it. On a weekend, the bakers can bake and sell 500 or more pies!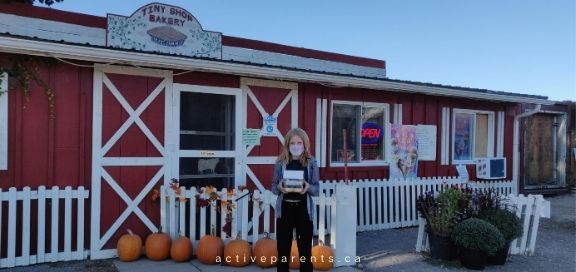 Tips for Visiting Hanes Corn Maze
Pre-book your visit online here
Wear "farm footwear" – the ground could be wet or dusty, so leave the fancy footwear at home
Dress for the weather – we went on a sunny and breezy day, but once inside the maze it got warm without the breeze
The farm is stroller-friendly but the maze isn't
Hanes Corn Maze is located at 1001 Highway #5 West in Dundas Ontario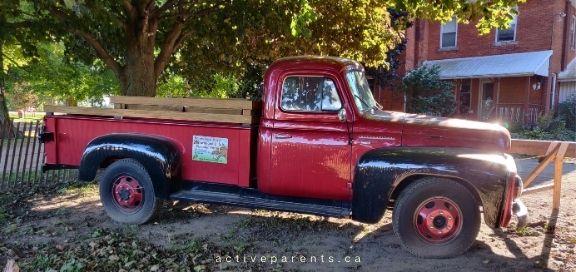 Admission Prices For Hanes Corn Maze and Farmland
Purchase admission to the Farmland and Corn or Sunflower Maze separately to build your ideal day at the farm. Kids under 3 are free to enjoy the farmland, and everyone over 3 years old is $10 each. Looking to do the Maze? Admission to the farm is included in Maze pricing and ranges from $12 to $19 for visitors over 3 years old. Click here to pre-book your time – it's recommended.