Burlington is full of fun events and activities. But this year, we've been organizing our own fun, like you have been! Here we're rounding up 5 of our fave free things to do in Burlington at any time of day, so you can try them, too!

Watch the Lift Bridge
One of my favourite things to do with kids is to watch the lift bridge go up and down. The bridge goes up every hour and half-hour for pleasure boats and on-demand for ships. The best viewing spot we've found is sitting on the concrete blocks on the edge of the pier at the base of the bridge. There isn't parking right at this location. We park at Beachway park and ride bikes or scooter over to the bridge. It's not a far ride. My kids are pretty fascinated by how the bridge goes up and the counterweights come down. We usually watch it go once, have snack sitting on the concrete blocks, and watch a second time before riding back to the car.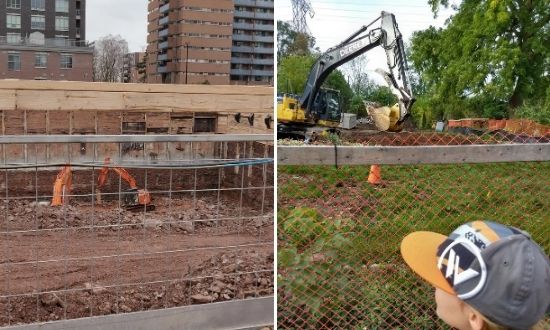 Find a Construction Site
I have spent countless hours over the years watching cranes, diggers, cement mixers, and dump trucks. We've met some wonderful construction workers who are happy to answer a couple of questions and chat with the kids for a few minutes. Of course we stay out of the way but occasionally someone will come over and strike up a conversation. Everywhere seems to be under construction these days, but our fave spots to watch are the high rises being built in Burlington's Downtown. There are a few to choose from, and they are all at different stages, so there's lots of variety to see. Another great visual (while sad at the some time) is to watch a house demolition before the new home is built on the land. It is sure to spark a ton of questions and oohs and ahhs from your kids. This is one of the easiest free things to do in Burlington with kids.
Trainspotting
Do you have kids who are obsessed with trains? Many of us do! The footbridge at Laking Garden is perfect! Spacious, high rails, and no road traffic to worry about. To find it, go West on Plains Rd. Just past the RBG is a bridge, go over it and immediately on the other side turn left. There is a small sign that says "Laking Garden". If you reach the light at Hwy 6 you've gone too far. Turn left into the parking lot and walk up the bridge. 
We were lucky and saw 2 trains within a half-hour of arriving. I'm not entirely sure what the schedule is but this is a popular spot for trainspotters. We took a snack and a few balls and toys to pass the time while we waited. If you walk over the bridge and down the ramp on the other side there is some shaded grassy space to play and have a snack. It's the entrance to Laking Garden at the RBG.
*Do you have a photo of watching the trains from Laking Garden? We'd love to feature it here!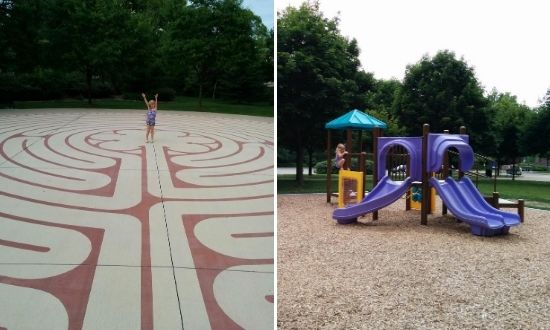 Walk the Labyrinth
Tucked in just behind the Rotary Youth Centre on Guelph line is the Central Park Labyrinth. I didn't know anything about the history or purpose of labyrinths, in all honesty, I didn't know the difference between a maze and a labyrinth. I learned that a labyrinth is a geometric pattern with one path that leads into its centre and back out again. We did have great fun pretending it was a path we had to take to reach the pirate ship on the other side and earn back our treasure. There is an excellent playground for little ones just behind the labyrinth. It's not a big park but perfect for toddlers and my 5-year-old enjoyed it too. One thing I really liked was how much shade was around the park. A perfect spot to have a snack or picnic lunch! And one of the best free things to do in Burlington with kids.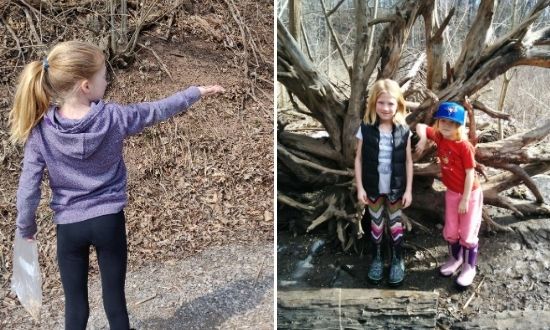 Feed the Birds and Climb the Tree
Cherry Hill Gate is one of our favourite free things to do in Burlington with kids. My kids don't get overly excited at the idea of just walking, however, this spot offers enough distraction that they don't even realize how much ground we're covering. Full of energy at the start we usually run down the big hill and around the corner to find the big upturned tree and start climbing. Walking on a bit further we get to the boardwalk and find the ducks. Then we pull out the birdseed and watch the birds eat. We often continue on and explore some of the trails, many of them have areas with wooden beams lining the trail, these make for great balancing practice. The main trails are stroller-friendly, some of the smaller side trails aren't as easy to navigate so I'd suggest a carrier.
Note: You do need to pay for parking. I know I said this was a "free" list but since the actual entry doesn't cost anything I decided to include it.
Any favourite spots to share? Or ideas for free activities that can be done anytime? Please post in the comments and help another parent out.
Now Trending…
We visit and review local Parks and Playgrounds so you can pick the best one to visit next
Looking for more free fun? We've got 26 ideas right here
Make the most of your mat leave with these free and cheap ideas