As the crisp autumn breeze sweeps through the city, it's time to indulge in the season's finest offerings. Join us for a tour of Halton and Hamilton's best apple orchards. We are here to help you plan an orchard-hopping, cider-sipping, and pick-your-own apple adventure. Bushels of fun for everyone awaits!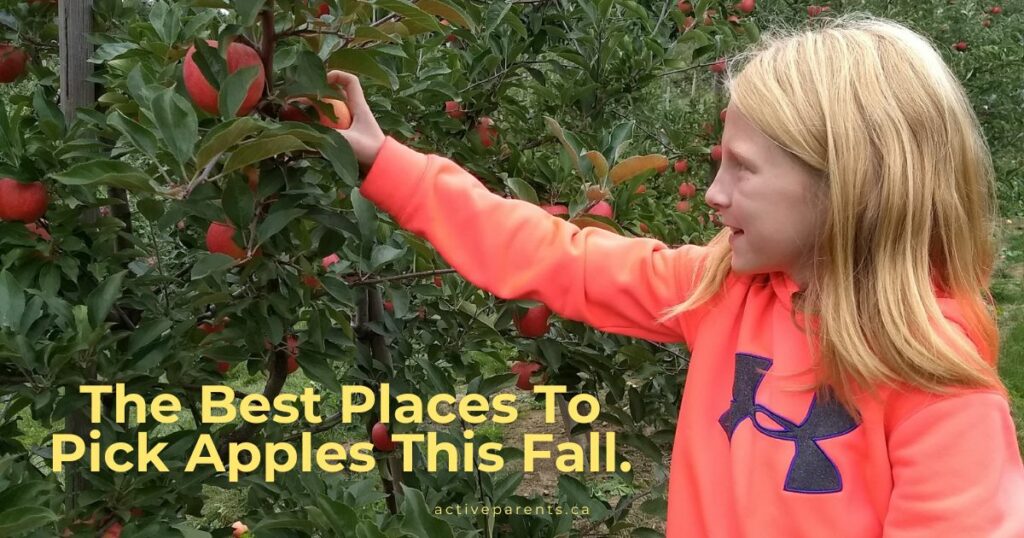 Andrew's Scenic Acres
9365 10 Side Rd, Milton | andrewsscenicacres.com
Highlights: Wagon rides to the apple picking fields, photo opportunities, 'gently' haunted, cornfield walks, and straw mountain for jumping.
Pricing: Admission $15 per person over 5 years old. The PYO apples season can be short due to weather, call ahead to avoid disappointment. Sunflower Kingdom admission is an additional fee.
The Apple Orchard
1668 ON-6,  Hamilton | theappleorchard.ca
Open Thursday through Monday from 9 am till 5 pm.
Highlights: The corn pit, wagon rides (weekdays only), a corn maze, a large sunflower field, the animals and even some gnomes. Come back and pick your own pumpkins! This apple farm in Hamilton has lots to offer beyond apple picking near me!
Prices: Admission is $10.20 +HST adults, $9.75 +HST seniors, $9.29 +HST kids and kids under 2 are free. All pick-your-own apples/pears are $2.25/lb – wow!
Applevale Orchards
5144 Derry Rd, Burlington | applevaleorchards.com
Opening for apple picking on September 8, 2023. Applevale is open 7 days a week, from 10 am -5 pm during the picking season. Call if the weather isn't great as they may close early.
Highlights: apple picking and fresh apple cider to purchase.
Pricing: Minimum $40 purchase per family, no entrance fee. Sold by the bag or bushel only, with bags starting at $10.
Carluke Orchards
2194 Shaver Rd S., Ancaster | carlukeorchards.ca
PYO starts Sept. 9, 2023. Open Tuesday thru Saturday from 8 am till 6 pm and Sundays from 11 am till 5. Closed Mondays.
Highlights: The farm market store sells old-fashioned candy, take a wagon ride through the apple orchards, and the apples of course!
Details: Freshly baked goodies in the bakery, real apple cider, and a variety of apples to choose from.
Chudleigh's Entertainment Farm
9528 Regional Rd 25, Milton | read more about our visit to Chudleigh's
General admission: open daily from 8:30 am – 6 pm including holidays. Most apples are pick-your-own or are already picked and bagged.
Highlights: Chudleigh's is great for young families. The activities include giant slides and play structure, "retired" tractors, horse tire swings, farm animals, wagon rides, hay bail jump. Pony rides every day weather permitting.
Pricing: Pre-purchase your tickets for your 3-hour visit online. Children under 3 are free, 4-12 years old are $14.50, adults are $16.50 and seniors 65+ are $15.50.
Josmar Acres
568 Lynden Rd., RR#2 Lynden | josmaracres.com
Apple picking farm opens Sept. 8, 2023. Pick your own apples Saturday and Sunday from 9 am – 4 pm. Open until Thanksgiving Weekend.
Highlights: Parents have told us trees are low enough for little arms to reach. Kid's korral will be open for little friends to enjoy.
Pricing: No admission fee. 2023 apple pricing is not available yet.
Pie In The Sky Apple Orchard
33165 Bell Rd. Wainfleet | pieintheskyorchard.ca
Open Thursdays 11 am – 5 pm and Fridays 9 am – 5 pm. Apple picking is available from August to Thanksgiving.
Details: 2000 apple trees and 9 varieties of apples to pick at this family-run orchard in the Niagara region. Be sure to check out their bakery, too!
Paradise Fields Organic Farm
3355 Golf Club Rd., Binbrook | paradisefields.ca
Open Sundays 10 am – 5 pm, Tuesdays & Thursdays 11 am – 6 pm and Fridays 10 am – 4 pm. Closed Mondays, Wednesdays & Saturdays.
Details: Certified ORGANIC pick-your-own apple experience with 7 varieties to choose from. This season we will be picking Gala in September and Honey Crisp starting September 25 during Harvest Celebration.
Highlights: A play area, a hay area, juice bar with fresh-made smoothies on Sundays. Visit the Farm store for honey, maple syrup, and organic produce.
Puddicombe Farms
1468 #8 Highway, Winona, Hamilton | puddicomefarms.com
Highlights: Train tour of the grounds, petting zoo, children's village, and picking apples. The train rides are a favourite.
Details: Country store, winery, and Ontario pear cider. Plan for a fun-filled full day at this apple orchard in Hamilton. Pick your own happens 7 days a week, Monday – Friday from 8:30 am – 6 pm and Saturday & Sunday from 8:30 am – 4 pm.
Spirit Tree Estate Cidery
1137 Boston Mills Road, Caledon | https://spirittreecider.com/
Highlights: wagon rides.
Details: Apple picking opens Sept. 2, 2033 and is Saturdays & Sundays from 10 am – 4 pm. Currently only McIntosh. $5 per person. Kids under 5 are free.
Tall Post Craft Cider
1170 Hendershot Rd., Hamilton
Details: Open Monday-Saturday | 10 am – 5 pm. Closed Sundays. Organize a tour or tasting for your group of 12 or more.
Wheelbarrow Orchards
8277 10 Side Rd, Milton | fraserbeveragecompany.com/wheelbarroworchards
Open daily 9 am – 5 pm.
Highlights: Wagon rides, baked goods, and most of all, apples!
Pricing – Admission is $8 for each person over 12 years old. Admission includes access to the orchard for picking, a corn field for walking, and sunflower patches for pictures. Pick your own apple pricing is 10 lb bags for $20 and 5 lb bags for $12.
Williams' Orchards
10101 Hume Ct, Milton | williamsorchards.ca
We noticed this family farm is closed for the 2023 season. Check back in 2024.
Willis Family Fruit Farm
6063 Fifth Line, Milton | willisfarm.com
Opening Monday Sept. 4, 2023 at 10 am. Open weekends in September and October while there are apples to sell. Closing times will vary. Go in the morning for the best selection.
Highlights: Apple picking, weekend wagon rides, baked goods, farm photo opportunities, fresh-pressed apple cider.
More Ideas For Family Fun
We've been to so many cool places, and we've made it our mission to share all the fabulous locations we find with you. Whether you're planning a day trip or looking for the best playgrounds, we've got your back. We are all about discovering the most amazing indoor play areas, farms and animal experiences, and a whole bunch of other visit-worthy local attractions. Check out our latest blog posts below to make sure you have an absolutely epic weekend!