The gift of time is priceless for busy moms and dads. We've got you covered with some healthy, ready-made meal options that will save you precious time in the kitchen. Most of these businesses will even deliver right to your door. You'll want to bookmark this page for those frantic nights that feel like a scramble. You can rest assured that for us, healthy meals are a priority.
Ready Made Meal Kits and Prepared Dinner Ideas
Chef Ninas'a Creative Kitchen
Chef Nina's Creative Kitchen delivers weekly meals in Burlington, Hamilton, Oakville, Stoney Creek and Waterdown. For those who prefer, you may also pick up your meals in Carlisle. Healthy meals are prepared for a variety of diet preferences, including vegetarian diets, taking allergies and intolerances into account, and without gluten, dairy, refined sugars, corn, or vegetable oil. A family plan of 3 meals for 4 people starts at $225 per order and there's an option to add optional extras like soups and treats.
https://www.chefninascreativekitchen.com/
523 Carlisle Rd, Carlisle, ON L0R 1H0
(289) 456-2071
Clarke's Homestyle Bakery Meat Pies
At Clarke's the cookies, butter tarts, cakes, and pies are all baked from scratch. Since this article is about ready-made meals, we should also tell you that Clarke's makes delicious meat pies too.
https://www.facebook.com/ClarkesHomestyleBakery/
2049 Mt Forest Dr, Burlington, ON L7P 1H4
(905) 319-1520
Costco Ready-made Meal Kits
Have you seen the influx of ready-made meal kits now available at Costco? We've been impressed with their convenience and price point. Amber's family loves them! Fried chicken sandwiches come with enough potato wedges for more than a serving per person, rotisserie chickens are always convenient. In addition to those, my two favourites have to be the Gyros meal kit that even comes with tzatziki sauce and the chicken tacos with fresh cabbage slaw.
Locations all over Ontario, delivery available through Instacart.
Denninger's Ready-Made Meals
Denninger's has store locations in Burlington, Hamilton, Hamilton Mountain and Stoney Creek where you will find bistro meals and snacks along with freshly prepared and frozen meals. Freshly prepared meals range from $3.29 (for a Bacon and Cheddar Roesti or Green Onion Roesti) to $10.95 (for Grilled Salmon and Lemon Orzo Pasta or Hunter Schnitzel Spaetzle). Options range from appetizers and deli salads to entrees, casseroles, sides, quiches, pies, soups and stews. They even do catering.
Burlington: 777Guelph Line, Unit M015 Burlington, L7R 3N2, (905) 639-0510
Main store and head office: 84 King St. E, Hamilton, L8N 1B7, (905) 528-8468
Hamilton Mountain: 1289 Upper James St., Hamilton, L9C 3B3, (905) 389-4113
Oakville: 2400 Lakeshore Rd., Oakville, L6L 1H7, (905) 827-3717
Stoney Creek: 826 Queenston Rd., Stoney Creek, L8G 4A8, (905) 662-5237
Familia Fine Foods
Homemade frozen meals with beef, chicken, vegetarian, vegan and gluten-free options. Mix and match meals, soups, kid-focused, desserts and coffees. Pricing includes approximate quantity measured in grams. Make sure to try their guacamole – it's so fresh and tasty. Pick up in-store in Burlington, free delivery for orders over $150, or delivery for an extra fee, based on distance, to Burlington, Oakville, Mississauga, Milton, Hamilton, Toronto, Etobicoke and North York.
3245 Harvester Road, Unit 17 Burlington, ON L7N3T7
(905) 632-9299
Fortinos Ready-Made Meals
Fortinos has a wide variety of ready-made meals, including rotisserie and fried chicken, hot sandwiches, pizza, quiches, soups and salads, sushi and more. The Roman pizza is prepared fresh by Pane Fresco and parents may select a variety of kinds (from Cheese, Sweet Stinger, Brie & Prosciutto, Meat Lovers, Chicken Pesto & Artichoke, etc.) and fill a box with 4 or 8 slices or more. We love the fresh-made soups that you can by hot or on mason jars to heat when you get home.
https://www.fortinos.ca/food/prepared-meals/c/27996
Fortinos has 23 locations serving families across the GTA.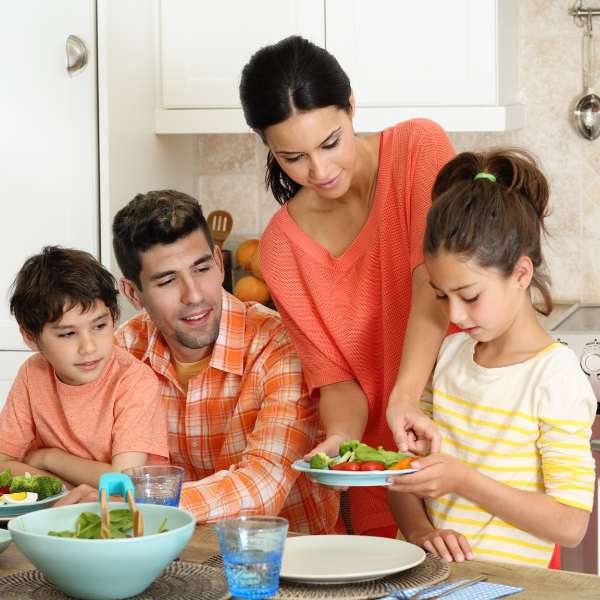 Hamilton Meat Pie Co.
Hamilton Meat Pies are made from scratch and perfect for dinner (think beef, chicken, turkey or pulled pork, steak & potato, salmon dill & leek, etc.) or dessert (apple caramel sea salt or blueberry, apple, sour cherry, rhubarb strawberry, etc.). Family meals start at $43.00 for 1 family sized meat pie, 3 garlic mashed potatoes and chocolate chip cookies.
https://www.hamiltonmeatpieco.ca/
601 Burlington Street East, Unit M, Hamilton, L8L 4J5
(905) 769-8010 press # 1
Longos
You'll find fresh pizza, rotisserie chicken, quiche and sushi at Longo's.  In addition to the prepared meals, Longos sells meal kits for meals like fish tacos, chicken kabobs and chicken linguine.  Come the holidays, Longs has meal kits available like a turkey breast kit for $74.99 and a whole turkey kit – perfect for the holidays or a big Sunday gathering – for $159.99.
https://www.longos.com/Prepared-Foods/c/703
Pick from among Longo's 36 locations, with delivery available.
M&M Food Market
M&M offers frozen meals with same-day delivery or pick-up options.   Their website has nutrition and product information and there are gluten-free, vegetarian and vegan options.  M&M makes a "real food promise" stating that meals are free of artificial colours, flavours or sweeteners.  Meals range from pizza, lasagna and pasta to meatballs, meatloaf, pot pies, cabbage rolls, beef lo mein and stuffed peppers.  The Slow Cooked Beef Pot Roast is a best seller at $26.99 for 907 grams.
Platter Company
The Platter Company Gourmet Market in Burlington ships across Ontario.  Order online from a selection of appetizers, dips, salads, meals, entertaining platters, sides and desserts that includes gluten-free, vegan and dairy free.  Family meal pans feed 6-8 people and start at $70.00.
175 Plains Rd E Unit 1, Burlington, ON, L7T 2C4
(905) 464.1138
Prep'd Fresh Ready-Made Meals
Prep'd Fresh delivers prepared meals weekly across Southern Ontario. Their site has: mains, sides, soups, kids' lunches, and desserts. Vegetarian meal options are available. Their family size serves 4 and prices range from $38.99-$42.99 for one-time order.
Office: 175 Longwood Rd S., Suite B21, Hamilton, Ontario
Set the Table Kitchen & Co.
Select daily or weekly from mains, sides, soups and desserts for curbside pickup, or for delivery in the Greater Hamilton area. Family dinners cost $60 and feed 4 people. You'll find their mouth-watering menu online listing all of the daily meals.
https://www.setthetablekitchen.ca/
1480 Sandhill Dr., #3 Ancaster ON L9G 4V5
(905) 648.8282
Supper Works
Supper Works is a meal assembly kitchen in Oakville with pick-up and delivery options. Pricing is $55 per main dish of 6 servings. Pick from meals, sides and desserts.
481 North Service Rd. West, A-24
Oakville, ON L6M 2V6
(905) 827-8433
Turtle Doves Bakery – Ready-Made Meals For Dietary Concerns
Turtle Doves specializes in gluten-free baking made in a gluten-free facility.  Their ready-made meals menu goes beyond delicious treats to include savoury dinner options like chicken vegetable and beef carrot meat pies, mac and cheese, lasagna, soups, sausage rolls and Jamaican patties.  The price list is online. Prices for 9" quiches range from $22.00-$27.00, and from $30.00-$37.00 for 9" savoury pies.  Jamaican patties cost $29.00 per dozen and sausage rolls $26.00 per dozen.  There's an option to order in advance and pick up your order curbside.
175 Plains Rd E, Burlington, ON L7T 2C4
(289) 337-6901
The Kids Table Ready Made Meals Delivered
The Kids' Table is a Toronto-based company that delivers prepared healthy and delicious kids' meals right to the doors of busy parents. Customers choose multiple meals for home delivery on Sundays and may order whenever they like, as we are not a subscription service. We put the FUN in kids' meals and take the STRESS off the parents' plates! Our meals are suitable for children aged six to twelve, but many younger and older kids and adults like them too! Delivery to Milton, Oakville, Burlington, Hamilton and more!
In conclusion, buying prepared meals from companies like these supports local businesses, they save you time and put healthy food on your table. We think it's win win win!
More Ideas For Family Fun
We've been to so many cool places, and we've made it our mission to share all the fabulous locations we find with you. Whether you're planning a day trip or looking for the best playgrounds, we've got your back. We are all about discovering the most amazing indoor play areas, farms and animal experiences, and a whole bunch of other visit-worthy local attractions. Check out our latest blog posts below to make sure you have an absolutely epic weekend!