Wondering where to see trains nearby? If you're a train enthusiast or simply love the charm of locomotives, you're in luck! There are several fantastic places near you where you can witness the beauty of trains up close. Here's a list of must-visit locations.
Canadian Pacific Holiday Train (seasonal)
Various locations (visited 168 communities in 2022) across Canada and the USA
The CP Holiday Train started in 1999, travelling across Canada and the USA in November and December, making stops, hosting concerts, and collecting money and food for people in need. The website has a train tracker once the Holiday Train has started. Watch for local stops in November and December. While the Holiday Train does not offer rides, it does deliver holiday cheer! Enjoy the free concerts and be sure to bring donations for the food bank.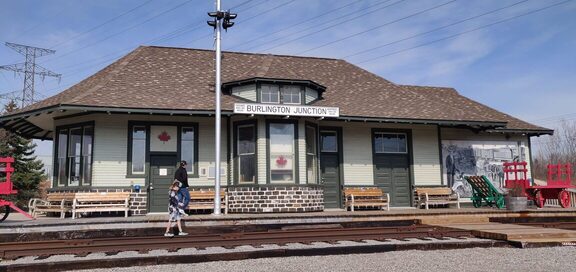 Freeman Station Rail Museum
1285 Fairview St, Burlington, ON L7S 1Y3 | website
Wondering where t see trains in Burlington? The Station was built in 1906 by the Grand Trunk Railway and moved to its current location and restored by the Friends of Freeman Station volunteers. It is open for public events, class visits and private rentals. Visit the Station to learn about Burlington rail and telecommunications history. There's a lovingly restored 1913 Canadian Pacific Boxcar and a 1929 Canadian National Caboose onsite. When you're there be sure to check out the model electric train diorama. Accessible parking and washrooms.
Halton County Radical Railway
13629 Guelph Line, Milton, ON
Halton County Radical Railway (HCRR) has historical trains, streetcars and railway objects. There's 2 km of track and operating streetcars. Take a ride and get off for an ice cream. The HCRR is owned and operated by the Ontario Electric Railway Historical Association. It is open weekends in June and Thurs to Mon in July and August from 10 am – 5 pm. Streetcars operate from 11 am – 4:30 pm. Pay per entry or purchase a family pass for 2 adults and 2 children for $120. If you have a young train enthusiast in the family or you are looking for a unique birthday party idea, the Halton County Radical Railway does birthday parties.
Hamilton Museum of Steam & Technology
900 Woodward Ave, Hamilton, Ontario L8H 7N2 | website
Known as the Steam Museum, the Museum offers Train Days by the Golden Horseshoe Live Steamers in the summer and into the fall. Train Days is a free event included with Museum entry that is by donation. The first one is scheduled for June 10, 2023. Ride on a miniature steam train for free around the grounds. Kids are gonna love it. Check the Active Parents calendar for upcoming Train Days events.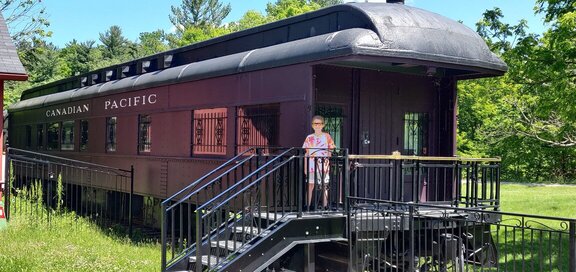 Dundas Valley Conservation Area
650 Governors Road, Dundas, ON, L9E 5E3 | website
At Dundas Valley Conservation Area, visitors can discover a unique attraction—a decommissioned train. This vintage train car, nestled amidst the natural beauty, serves as a fascinating reminder of the area's history. It offers a glimpse into the past, allowing visitors to explore its interiors and imagine the journeys it once embarked upon. The train car as well as a replica of a Victorian train station stands as a captivating feature, blending heritage with nature in this picturesque conservation area.
Port Stanley Terminal Rail
Port Stanley Terminal Rail, 309 Bridge Street, Port Stanley, Ontario, N5L 1C5 | website
Welcome to Post Stanley, home to a tourist railway that's been operating for 40 years. There's a 1-hour train ride and a 6-hour train ride departing from the Port Stanley Terminal. The 1-hour Scenic Train Ride is a deal at $15 for adults and $9 for children aged 2 – 14 years. Young kids will also enjoy the special event trains: Easter Bunny Trains, Teddy Bear Trains, Moms Day and Dads Day, Extended Parkside Trip, Music on the Rails. Murder Mystery, Pumpkin Patch and Santa Trains. The gift shop has train-themed merchandise, Melissa & Doug, Thomas the Tank Engine and other children's books and toys. Train tickets may be purchased online or in the gift shop.
Waterloo Central Railway
50 Isabella Street, St. Jacobs, ON, N0B 2N0 | website
The Heritage Hopper is a fun family afternoon train excursion with hop-on and hop-off stops along the way from Waterloo to St. Jacobs. It makes stops at Northfield, Farmer's Market and finally St. Jacobs. Ride on a restored steam train and shop for fresh local produce. There's separate pricing for first class, coach, child, adult and senior. A family pass for 4 costs $74.99. Watch for themed trains for the holidays, specifically at Easter and Christmas.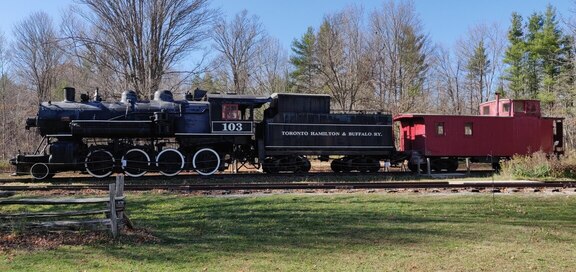 Visit Westfield Heritage Village
Westfield Heritage Village, 1049 Kirkwall Road, Rockton, Ontario L0R 1X0 | website
A trip to Westfield Heritage Village is a trip back in time and there's the historic Jerseyville station and Locomotive 103 steam train to explore. The locomotive was built in 1910 by Montreal Locomotive Works. It's been fully restored, is the largest artifact in the Village, and is used in programming, photo shoots and movies. Parking at the Conservation Area is $11 per car and admission is $5 per person aged 6 years and up.
York-Durham Heritage Railway
19 Railway Street, Uxbridge, ON L9P 1E5 | website
Go for a train ride, be transported back in time or participate in an event. The York-Durham Heritage Railway hosts children's birthday parties and special themed events and train rides like Summer Family Fun Fest (grounds only no train ride), Teddy Bear Day & Teddy Bear Picnic, Wizards Festival, Fall Festival, and Santa North Pole Festival. New for this year there will be a Hell Train – A Moving Haunted House in time for Halloween. General admission to the Summer Family Fun Fest is $19.99. Ticket costs vary by trip and event.
Local GO Train and Via Rail Stations
You don't have to travel far to find a go train station or a via rail station in our region. The stations are busy and exciting, no matter the time of day. You can watch from afar or get an up-close look from the platform. Trains go whizzing by all day and passengers love to exchange waves.
Upcoming Events Train Fans Might Like
Burlington Home Depot
3050 Davidson Court, Burlington, Ontario, Canada
More Ideas For Family Fun
We've been to so many cool places, and we've made it our mission to share all the fabulous locations we find with you. Whether you're planning a day trip or looking for the best playgrounds, we've got your back. We are all about discovering the most amazing indoor play areas, farms and animal experiences, and a whole bunch of other visit-worthy local attractions. Check out our latest blog posts below to make sure you have an absolutely epic weekend!