The CP Holiday Train is back on track for 2022! We've missed this adventure so we're excited to see the trains come back to our neighbourhood. Seeing the glowing train, lit up like a night-time parade really helps us get in the Christmas mood.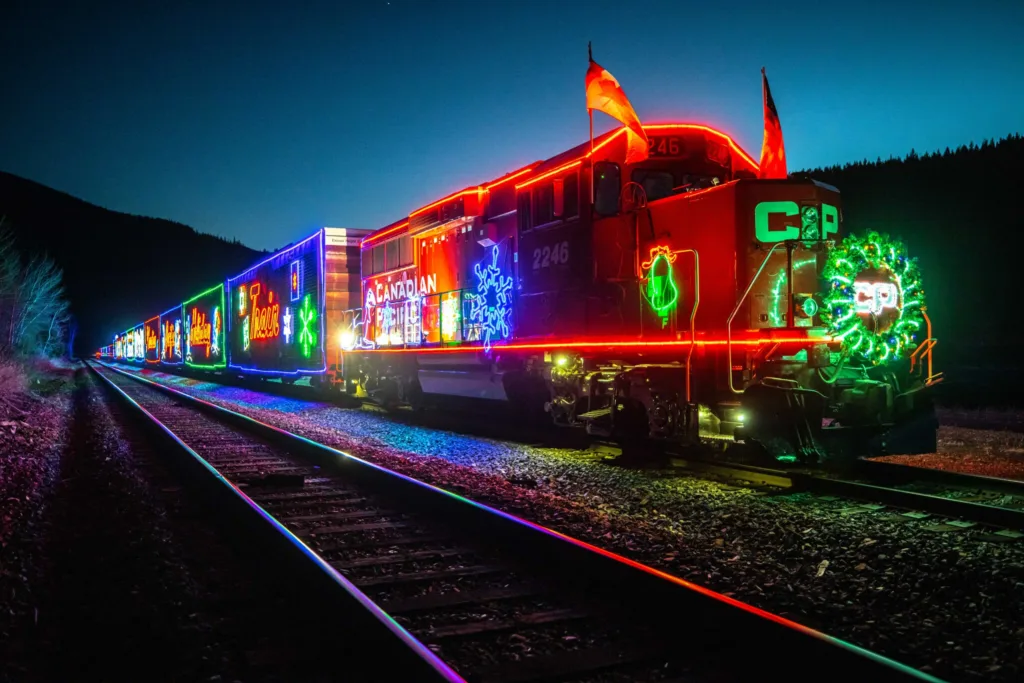 What is the CP Holiday Train?
Specially decked-out trains travel across Canada and the US in November and December, stopping in 168 communities. The event includes a free concert and a chance for local food banks to collect donations. The train is 1,000 feet long and has 14 cars, each decorated with LED holiday displays.
In addition to that, the really fun part is when the CP Holiday Train pulls to a stop and the special box car converts into a stage! The concert is about half an hour, and then they pack it up and it's on to the next stop. It's a parade and concert all in one!
The CP Holiday Train Schedule for 2022
You can check the complete schedule here but we've done all the hard work for you, and the local stops are listed below. (If you are looking on the site, Milton and Hamilton are the US train, Toronto is the Canada train)
Milton: 29 November at Glen Eden Ski and Snowboard Centre, 5234 Kelso Rd.
Arrival time: 4:45, Concert 5:00-5:30
Artists: Lindsay Ell and JoJo Mason
Hamilton: 29 November at the Railway Tracks across from Gage Park, 42 Lawrence Rd.
Arrival time: 7:45, Concert 8:00-8:30
Artists: Lindsay Ell and JoJo Mason
Toronto: 29 November at the CP Yard Office, 750 Runnymede Rd
Arrival time: 8:15, Concert 8:30-9:00
Artists: Tenille Townes and Aysanbee
You can find out more about the performers here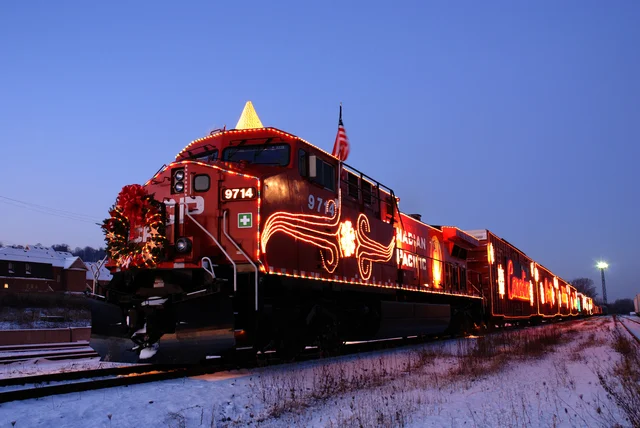 Tips and Tricks for the CP Holiday Train
#1 – Don't forget your food bank donation! The aim of the CP Holiday Train is to raise awareness and donations for food banks in each local community they visit. In fact, since 1999, over $21 million and 5 million pounds of food have been collected across North America.
#2 – Make sure you arrive early. Parking is usually a bit of a walk from the main event area, and you don't want to miss the train pulling in!
#3 – The Train is fun whatever the weather, but it always seems to rain either just before we go or on the day of. Warm jackets are a must, but don't forget those rain boots!
#4 – Take something to sit on/in. We learned early on to take some chairs for us oldies, but also our wagon or chairs for the littles. See #3 – the ground is usually wet, so blankets don't always work.
#5 – Snacks/games/glowsticks! With the train coming in after dark the kids don't get to run around a lot, but will still need entertainment while you wait! The dollar store is a great source of light-up toys and games and bonus you'll see your kids as they roam around!
#6 – Track the CP Holiday Train! Here in our region, we are starting the Trains off on their journeys, but you can follow their progress across the map here.
Have fun!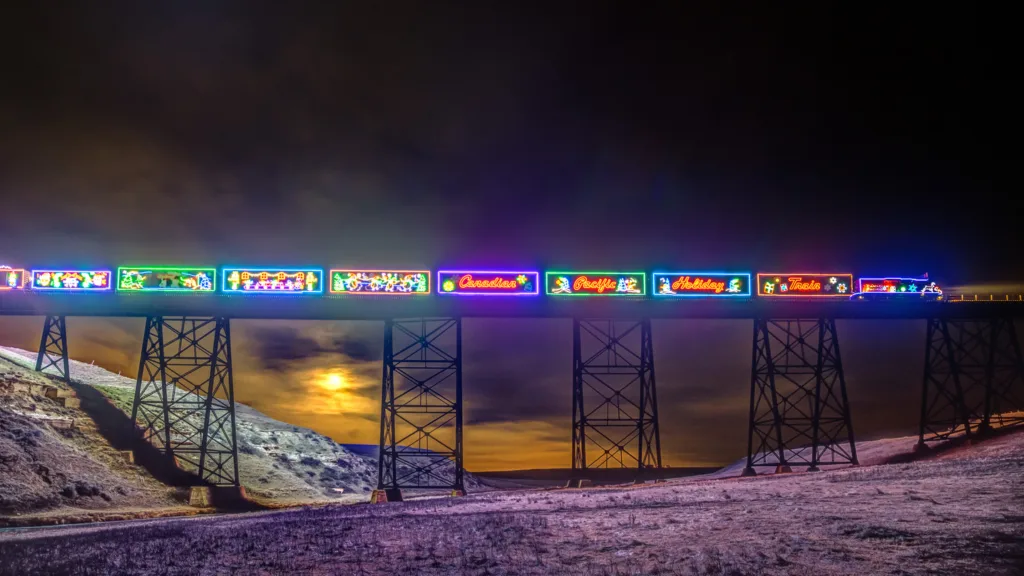 More Information and Complete Schedule
You can find more stops, all throughout Canada and the United States, here on the CP Holiday Train website.
More Ideas For Family Fun
We have visited hundreds of places and written about them to help you find the very best destination for your next day trip or outing. We love sharing indoor play places, playgrounds that go above and beyond, and more! Here are a few of our latest blogs to help you have a great weekend.