Have you been to Stratford, Ontario? I hadn't been in years, so when a friend inspired me to visit again, I did. I took the kids on the road and we spent the day in this adorable small town. Here's what we did.
>> Find more of our favourite road trips and day trips here.
Why Stratford?
Stratford wasn't foreign to me. My uncle lived in Stratford for many years, so as a kid I visited often and knew it was somewhere I'd want to take my kids to visit. We also watched an episode of The Amazing Race Canada take place there and knew we had to add it to our day trip list! You can truly find inspiration anywhere!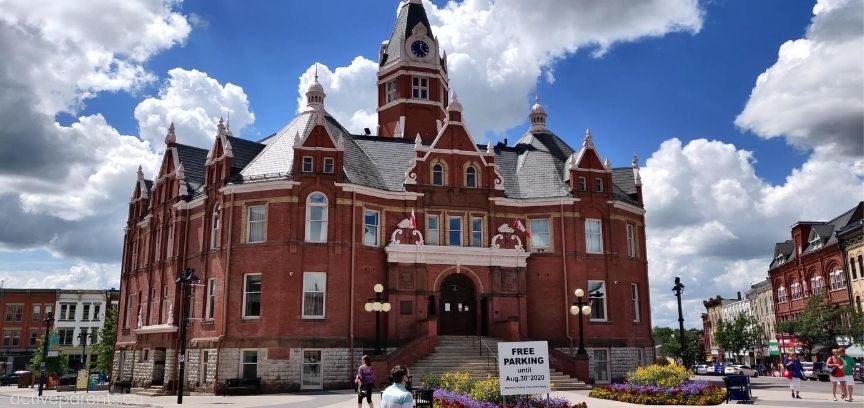 Stratford's Small Town Charm
Stratford is one of the most picturesque downtowns I've seen in a very long time. The buildings are so well maintained you'd think you were on a movie set. I couldn't help but take so many photos of the beautiful architecture. It's so fantastic to see a city that has maintained its charm for so long.
The drive was about 90 minutes from Burlington, and quite easy, especially for the directionally challenged like me. The downtown core offered lots of parking, and because it's compact, we parked and walked to all of the destinations we had on our must-see list.
Things to do in Stratford, Ontario
Our first stop was for lunch. We knew we wanted to eat local (no chain restaurants when we are day-tripping!) so we started to wander and stumbled up The Alley Cat Cat Cafe. Seriously! A Cat Cafe! We are cat people so we had to check it out. Their menu was the essentials of home cooking and we all really enjoyed it. Try the fresh-squeezed lemonade!
Once we finished lunch, it was our time to visit the cats! You pre-book a time slot to ensure social distancing and wear a mask as it's indoors. There were 8 resident cats and 2 who were adoptable. The Alley Cat Cafe has had great success with fostering cats until they are adopted, and the entrance fee ($2.50 for kids, $4.50 for adults) goes to support the cats. We recently lost our family cat when he was 17 years old, so petting and playing with cats was a much-needed activity for us all.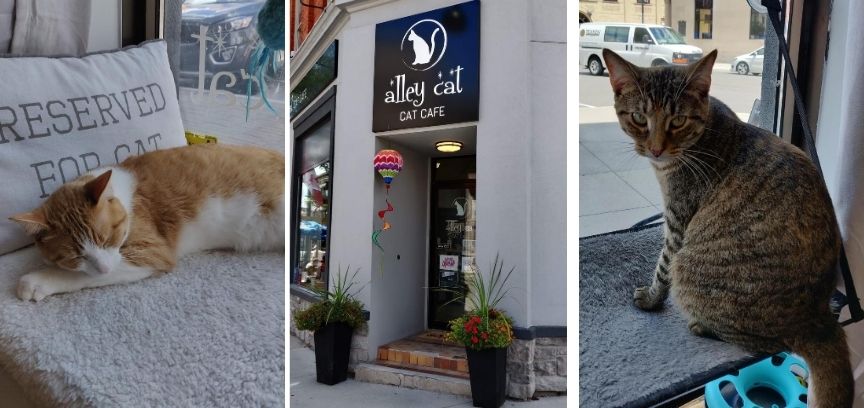 Float Along the Avon River
After we got our cat fix, we headed to the Avon River to rent a paddle boat and paddle around the water. For a 1-hour paddle boat rental, it was $24 and all three of us fit on one. They also rent canoes, kayaks and bicycles. Rental info here. As we floated along the Avon River we were treated to live music being performed on a floating and moving stage. You can also buy a small paper bag of food for the ducks, swans and geese to feed them while you're floating. Be prepared for some "passionate" eaters though!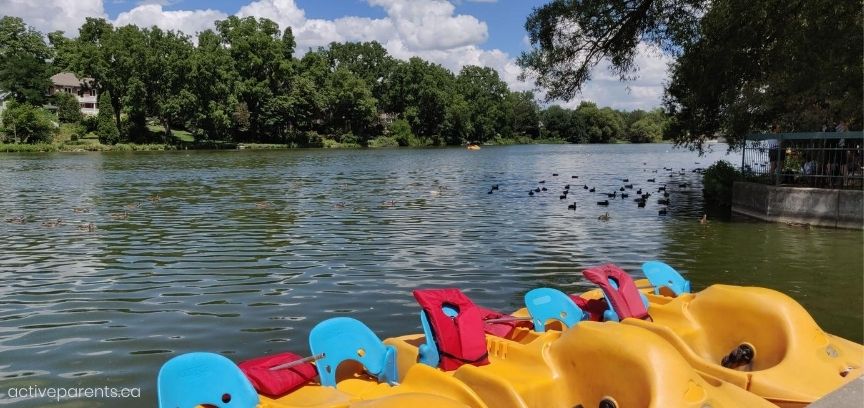 Treat Yourself in Stratford, Ontario
The paddleboat ride helped us work up an appetite, so we wandered the area more and did some window shopping before we strolled past 2 beautiful chocolate shops! In the first, Rheo Thompson Candies, we picked up some delicious peanut brittle and mint chocolates for my mother-in-law's birthday. And just a short wander away we stopped at Chocolate Barr's Candies and had not only a wonderful shopping experience but some decadent treats, too! As we were paying for our goodies, we were the only ones in the store and the chocolatier took the time to explain to my kids the differences between ice cream, gelato, and sorbet. That is a question they've been asking me all summer!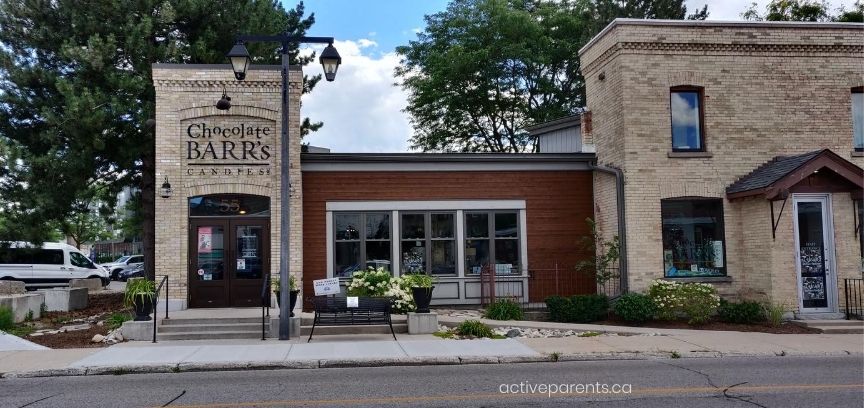 Other great reasons to visit Stratford, Ontario
We planned for a short day in Stratford, but we are already scheduling our next visit. There is so much to do and see. When chatting with our readers and friends, they suggested we make time to eat at Raja Indian Cuisine. They have the more beautiful patio I've ever seen. I can't wait to go back for dinner. You can also rent bicycles to roll through town and along the riverfront. Such a great idea for next time. Plus, once regular travel resumes, there are so many quaint bed and breakfasts to welcome you!
I hope you enjoyed reading about some things to do in Stratford Ontario this weekend – and I hope you visit soon! I'd love to hear where you visit and what you do.
More Sweet Reads…
Looking for another kid-approved day trip? Try one of these!
Can't get to Stratford yet, but want ice cream? These parlours are close to home.
Plan a staycation with our 50+ things to do at home
Read Our Latest Articles
Catch up on what we've been covering! Here are our latest reads, hot off the presses just for you. Never miss an article when you subscribe to our weekly newsletter filled with kid-friendly fun and events.