Bronte Creek Park in Oakville is part of the Ontario gradual re-opening, and starting Friday, May 15th, here is what you can expect Bronte Creek Park to look like at your visit.
This Thanksgiving weekend, you should take the kids to see the salmon run at Bronte Creek Park. We went this week and here are some highlights, plus other fun you can have at the Park when you visit.
This was only our second time seeing the salmon and my kids had forgotten how enormous they are!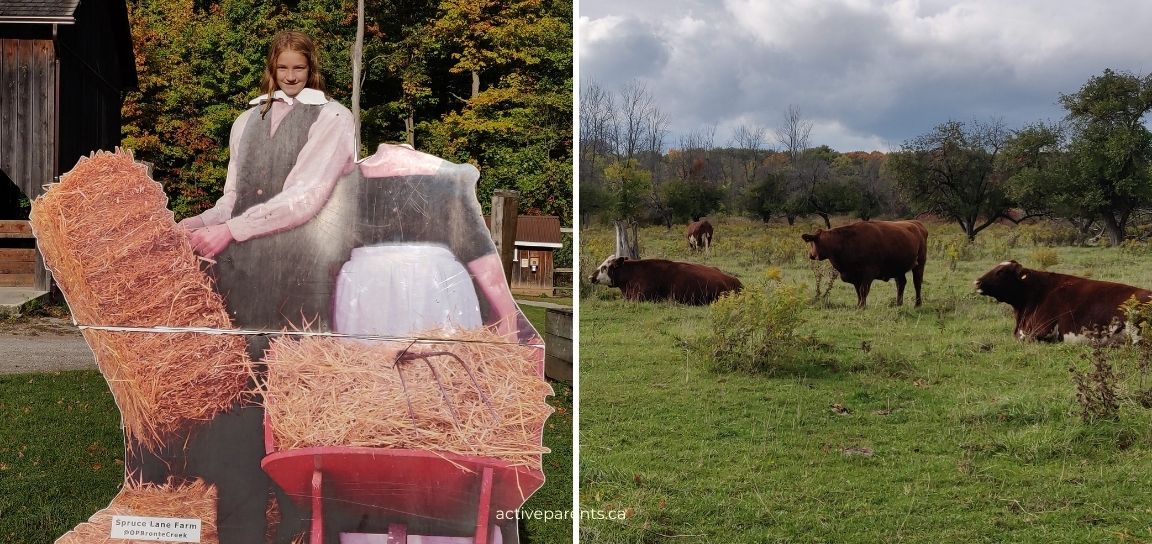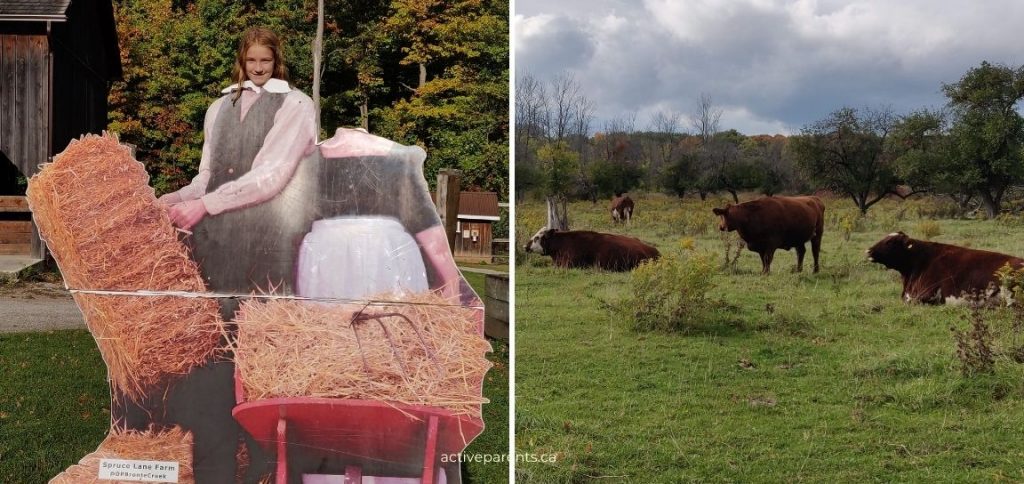 We always get a little turned around when we visit, so here are the directions for anyone wanting to check out the salmon this weekend. Park in Lot F, and walk through the Spruce Lane Farm. Behind the barns and the cow pasture, there is a trail marker for the Half Moon Valley Trail. Take that trail. This trail has stairs, so not easy with a stroller. When you get to a fork in the trail, go left, which is trail 4. And there you'll be! Bring appropriate footwear and a camera!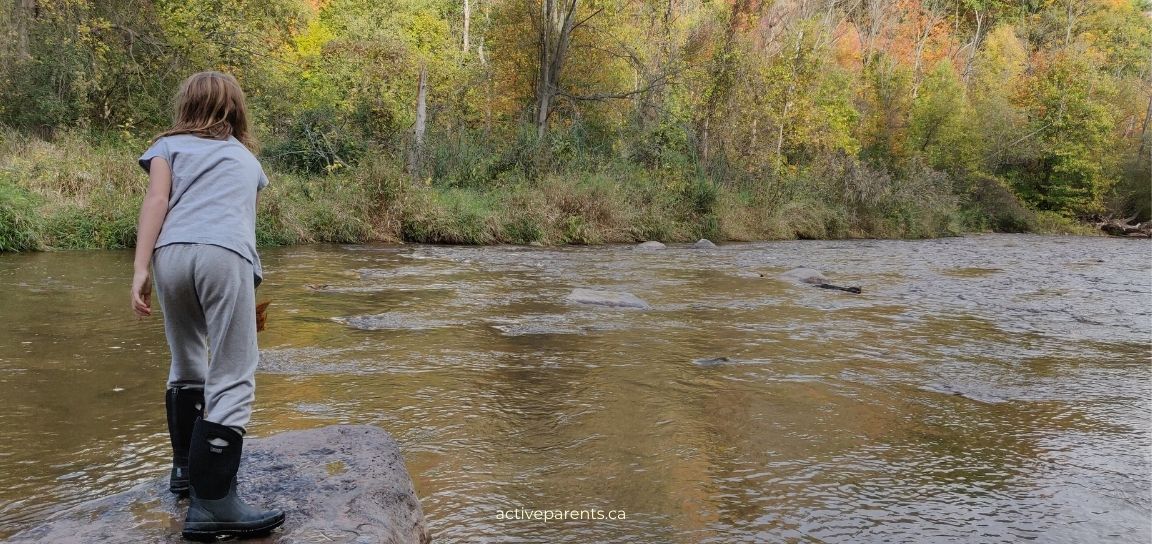 After you've seen the salmon, don't leave! There is so much to do a Bronte Creek Park. Here is how we filled 3+ hours there this week.
After the salmon, we parked in Lot C, and headed towards the (closed) play barn and small animal barns. We knew they would be closed, but we also knew we could see other fun attractions like the playground, the tractor, and the Gnome Road.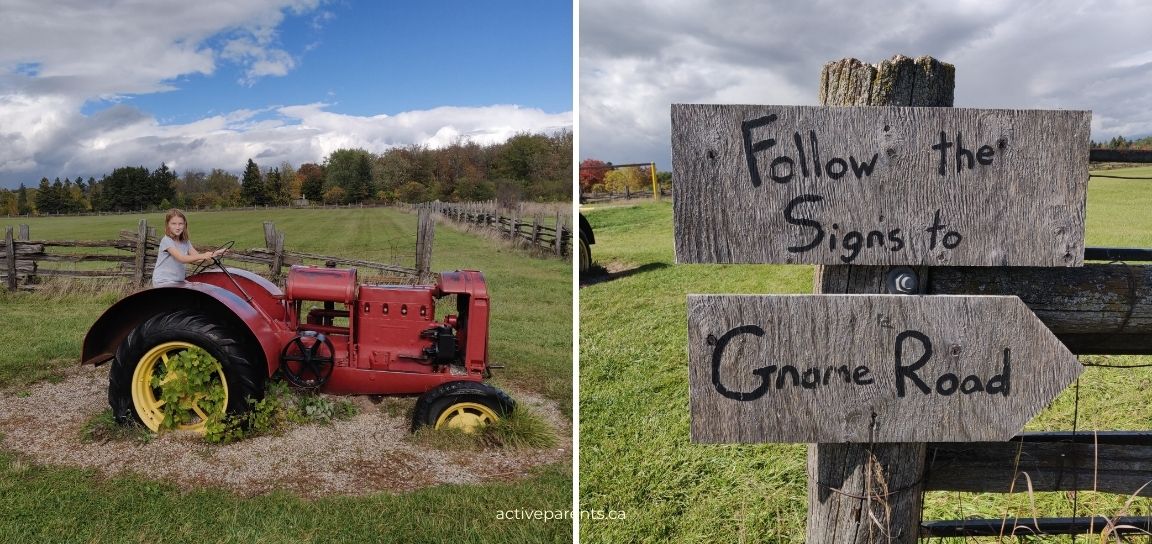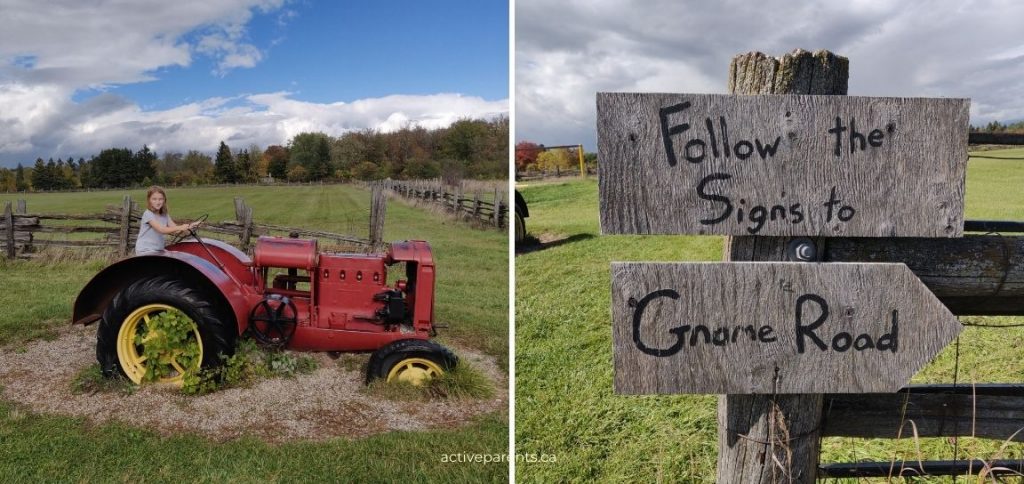 Gnome Road is a great reason to visit. If you've not seen it yet, add it to your to-do list. Sweet little wooden houses are decorated like little gnome houses, all along a very stroller-friendly walking path just at the tree line near the play barn and yellow playground.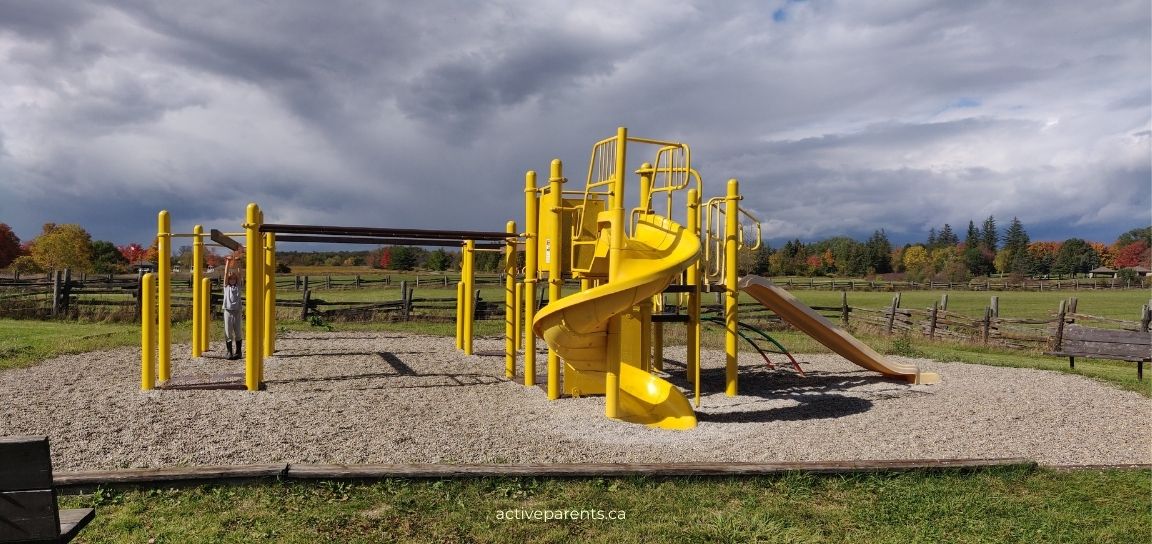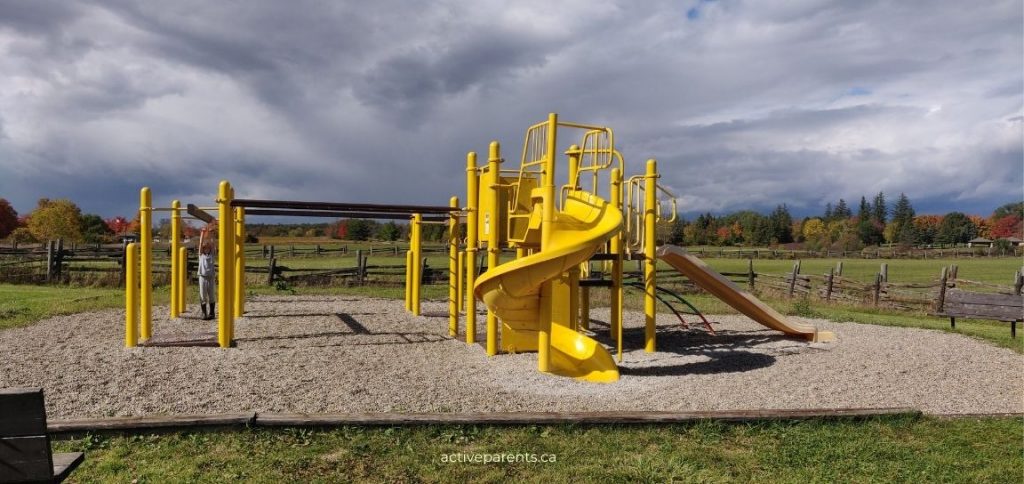 We thought the barns we all empty for the season but low and behold we get some up close and personal time with the two fluffiest bunnies we've ever seen. Someone had left heirloom carrots near their pen, so my kiddo had the time of her life hand-feeding them.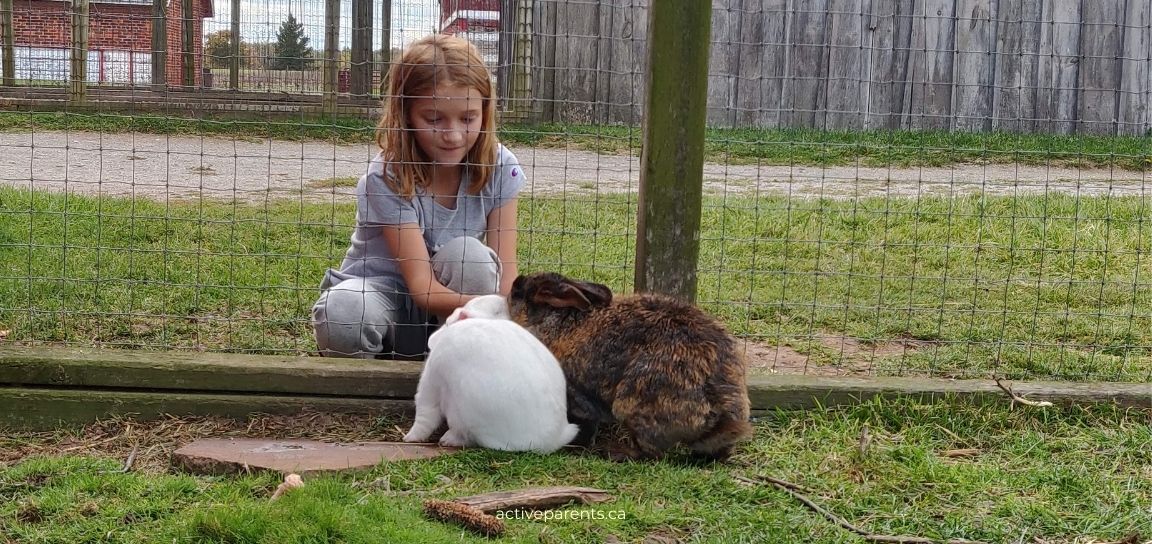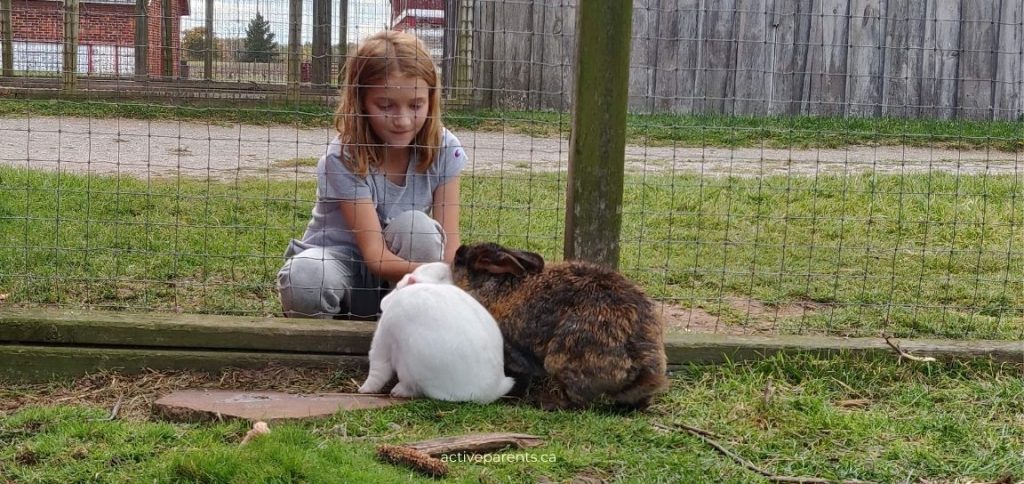 After we travelled south down towards Gnome Road, we took the path north to see what we could see. We read about the great White Oak tree, that started growing in 1685 and is one of the biggest oak trees in Ontario.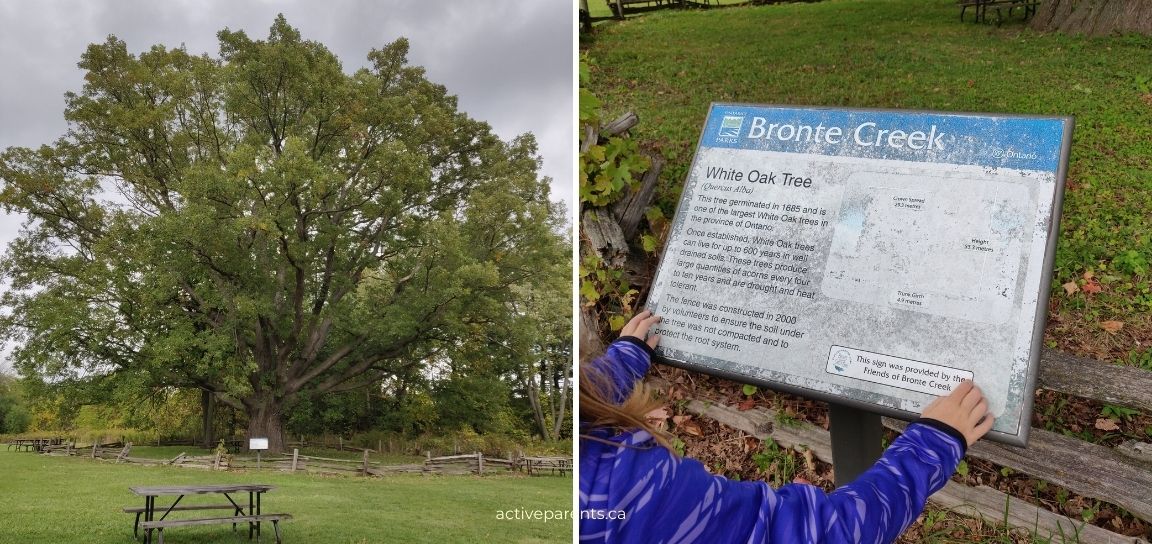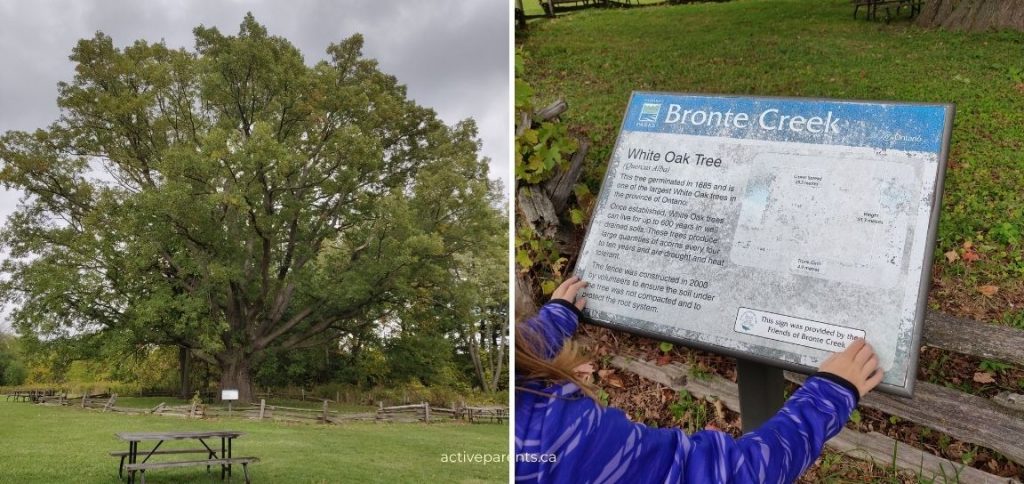 And of course – we played at the 2nd playground we stumbled upon. Get a load of those fall colours, Bronte Creek Park is stunning this time of year.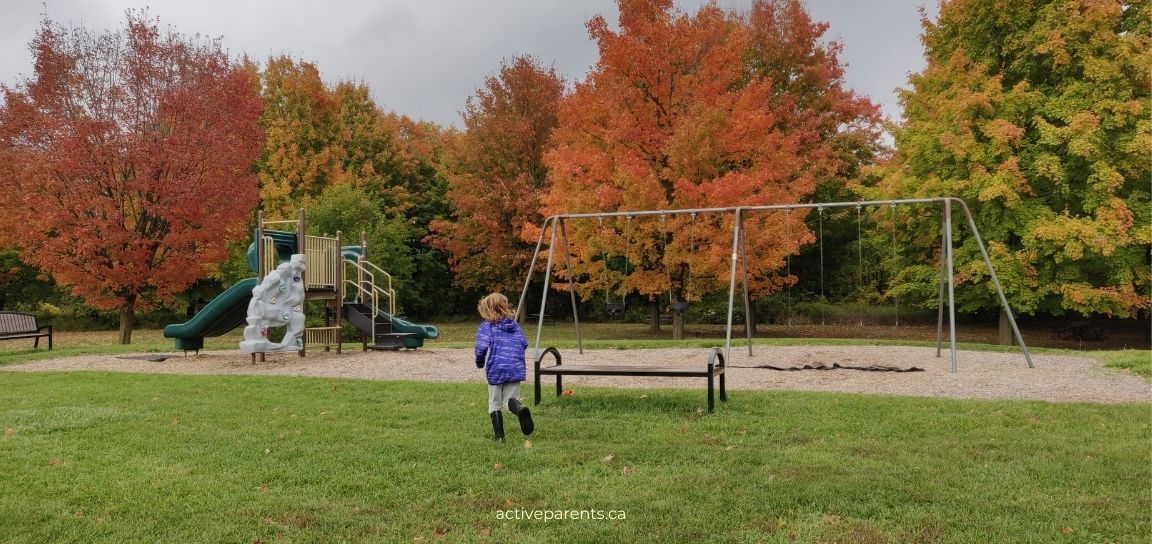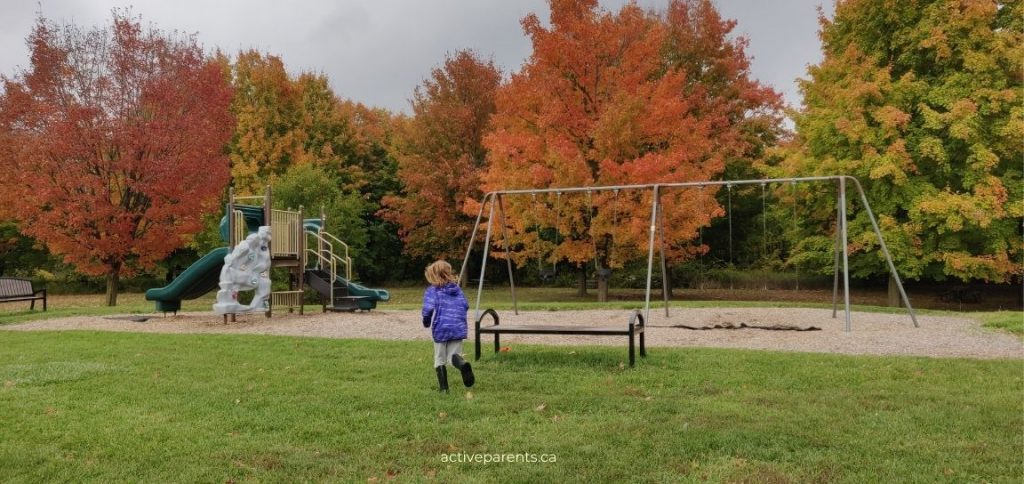 As we travelled in the same north-ish direction through the park, getting close to Lot A, we found this gorgeous path. The tree cover is amazing. Just to the left though is a very steep drop off down to the creek, so keep that in mind with little explorers.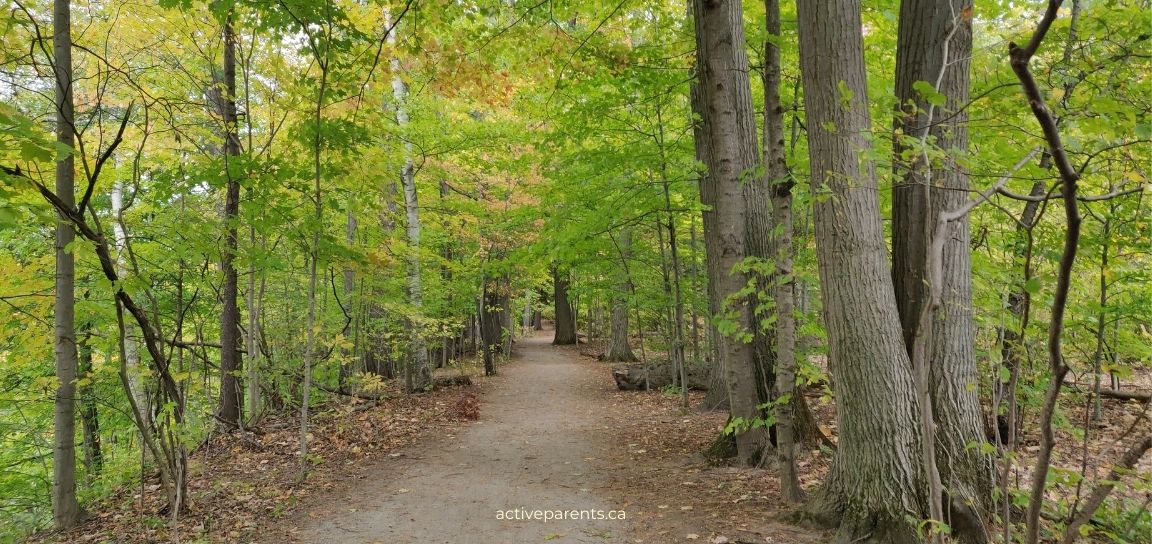 While you're walking the beautiful grounds at Bronte Creek Park, there will be so much to see. Give yourselves time to look at it all! There are unusual cylindrical buildings (what are they for?) and picnic shelters with real wood-burning fireplaces and sinks. Lots of opportunity for using your imaginations, and a ton of green space to run off all that energy kids have. Bring lunch or dinner or some snacks and have a picnic!
Hours are 8 am till 8 pm daily.
Admission is $18 per vehicle.
Comfort Stations / Washrooms – Comfort stations include washroom facilities with flush toilets and handwashing facilities at this time. Before you visit, check what activities/facilities are available, avoid large groups and practice social distancing and pack what you need (e.g., water, snacks, hand sanitizer).
Hiking and Biking – are permitted
Bird watching – is permitted, bring your binoculars!
Fishing – Fish from shore only.
Litter – Keep Bronte Creek Park pristine by using garbage bins or taking any trash home. There will not be staff on-site to empty garbage cans and to pick up after visitors, and the last things we want to see is animal endangerment due to littering.
Now Trending…
Make your walk at Bronte Creek Park better with our 5 tips.
Find other parks and playgrounds to visit
Have you bought cloth face masks for your family yet? We have a list of where to buy them today.