Camping in Ontario is a wonderful way to spend quality time with your family, especially because we live in such a beautiful province! With an abundance of provincial parks and campsites, there's no shortage of places to camp in Ontario with kids.
Whether you're a seasoned camper or a newbie, Ontario's diverse landscapes offer something for everyone. From pristine lakes and sandy beaches to rugged forests and majestic mountains, you will be delighted in nature. In this list, Shelley is sharing her insights to help you plan a memorable Ontario camping trip with your kids. So pack your gear, grab your family, and let's head out to discover the natural wonders of Ontario!
Read More: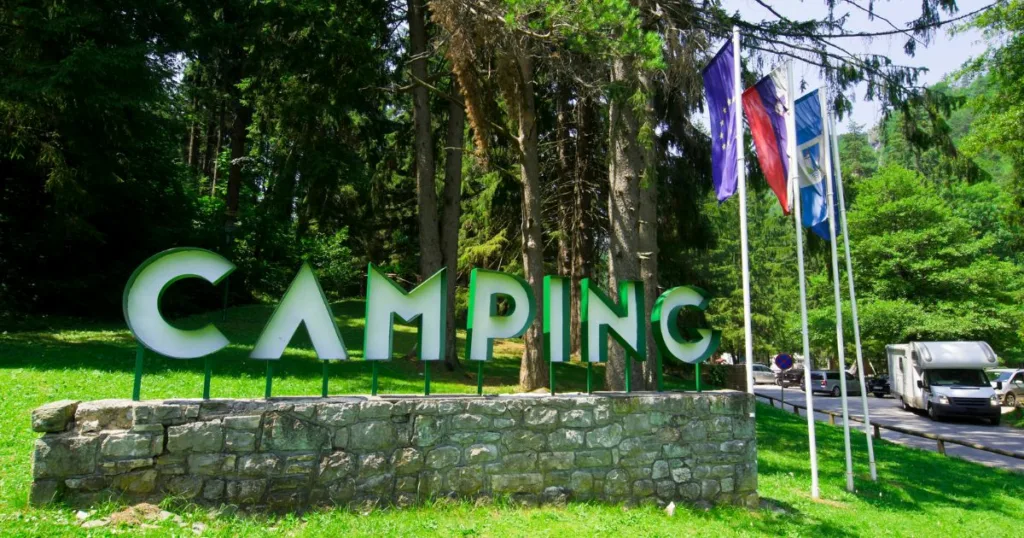 Camping & Glamping in Southern Ontario
Are you counting down the days until the summer holidays? Those lazy sun-filled days spent at the beach or poolside? Many sites open their reservation systems in March for the summer months. We know that finding the right campsite and/or accommodations takes research and patience and that's why we are sharing a list of the best places for camping in Ontario with kids. You can pitch a tent, rent a yurt or stay in a cabin, container, or trailer. There are all types of sites and accommodations for all types of adventurers.
Ontario Parks Camping
Ontario Parks camping allows reservations 5 months in advance of the arrival date. The website has a park locator with 100 parks that offer car camping. That means you can drive right up to your campsite, without needing to hike or canoe into it. Most campsites open in May or June and close on Labour Day or Thanksgiving weekend. New to camping? Check out the Ontario Parks Learn to Camp service and book an Ambassador for a free workshop.
The Pinery – An All-Time Family Fave
The Pinery is a popular Ontario Provincial Park in Grand Bend. What makes it a popular choice for families? Maybe it's the 10 kilometres of sandy beaches along Lake Huron? Or the canoes, hydro bikes, paddleboats, and kayaks available to rent to explore the Old Ausable Channel? Could it be the onsite ice cream store?
The Pinery has dog beaches, too. Plus, more than 300 bird species make it an appealing park for birders. Camping fees vary depending on the site and facilities. There are slightly discounted prices for seniors and persons with disabilities. Tent camping sites with an electrical hookup start at $43.79 a night, and without an electrical hookup start at $38.70. Standard yurts cost $114.13 a night. Check out other provincial parks for deluxe yurts, rustic cabins, camp cabins, and cottages.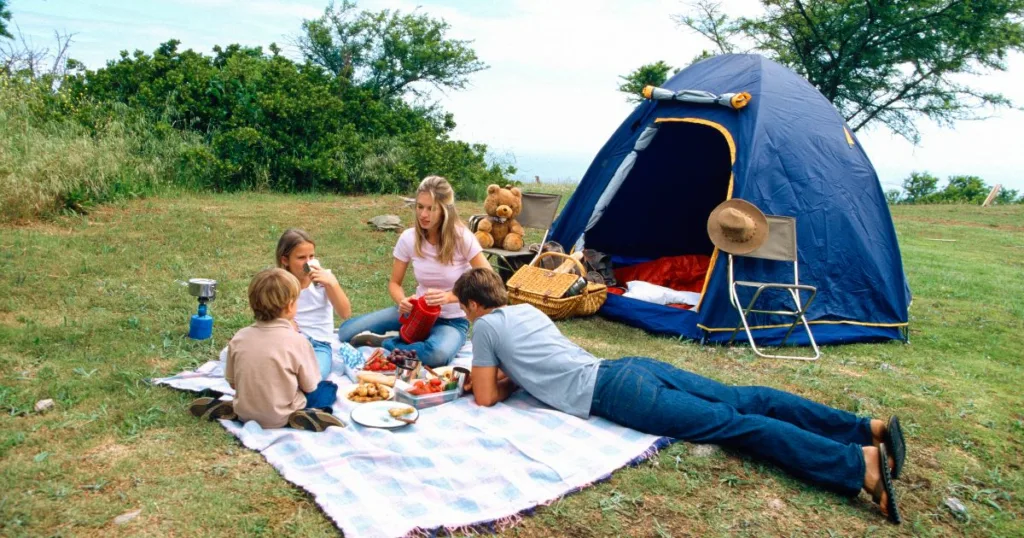 Parks Canada oTENTik Camping
Don't own a tent? Not to worry, Parks Canada has an excellent Learn to Camp program. Parks like Point Pelee National Park have oTENTik accommodations. The reservation launch date is March 21 at 8 am. Just book, show up and enjoy the comfort of these tent-like structures that sleep 6 on foam mattresses. They also come with a table, chairs, electrical outlets, and a gas BBQ. The cost to book an oTENTik is $128.00 per night. Additionally, park entry is $16.75 per family. While you're there your family can walk the boardwalk, birdwatch, ride the shuttle, enjoy the beach, have a picnic, or rent a kayak or canoe.
Ontario Camping With Conservation Authorities
Conservation Halton Camping
Conservation Halton offers group tent camping at Kelso and Rattlesnake Point Parks. We can confirm that there are no rattlesnakes at Rattlesnake Point Park! There is a $10 booking fee, a site fee (it is $119 for a site for up to 10 people, $145 for up to 20 people, and $220 for 30-70 people) and an entry fee per person ($7-10 per person, free under 5).
Conservation Areas are ideal for camping with kids. Here you can enjoy the beach, hiking and mountain biking trails. And be sure to try kayaking, canoeing and paddle boarding on the Kelso Reservoir at Kelso. At Rattlesnake Point you can enjoy hiking and rock climbing at Rattlesnake Point.
Hamilton Conservation Authority Campsites
Hamilton Conservation Authority has trailer camping at Fifty Point Conservation Area. They also offer tent and trailer camping at Valens Conservation Area in Cambridge. Reservations are accepted up to 11 months in advance of the date of arrival at Valens and starting Feb. 8 for cabins. Therefore you can book right now!
Tent camping fees are $44 per night for non-electric sites and $51.00 per night for electric sites. "Drumlin cabins" sleep 2 people ($135 per night), 5 people ($135 per night), or 6 people ($160 per night). The cabins have heating, beds with mattresses, a flush toilet bathroom, a kitchenette and a dining table. Outside you will find a BBQ, 2 picnic tables and a fire pit.
Take advantage of walking trails, picnic areas, the beach and canoeing and kayaking at Valens.
Grand River Conservation Authority Camping
Grand River Conservation Authority has 2,200 campsites across 8 of its parks and the reservation system opens on March 1. Rockwood Conservation Area has serviced ($50.44 plus HST per night) and unserviced campsites ($42.48 plus HST per night) for tents and full-serviced sites ($56.64 plus HST per night) for trailers. There is a reservation fee of $11.50.
Pro tip: bring money for the showers. Washrooms have flush toilets and coin-operated showers. Camping with kids? They will enjoy swimming at the beach and playing mini golf. Rockwood is the perfect place to spend time outside hiking, canoeing or kayaking exploring glacial bluffs, potholes and caves.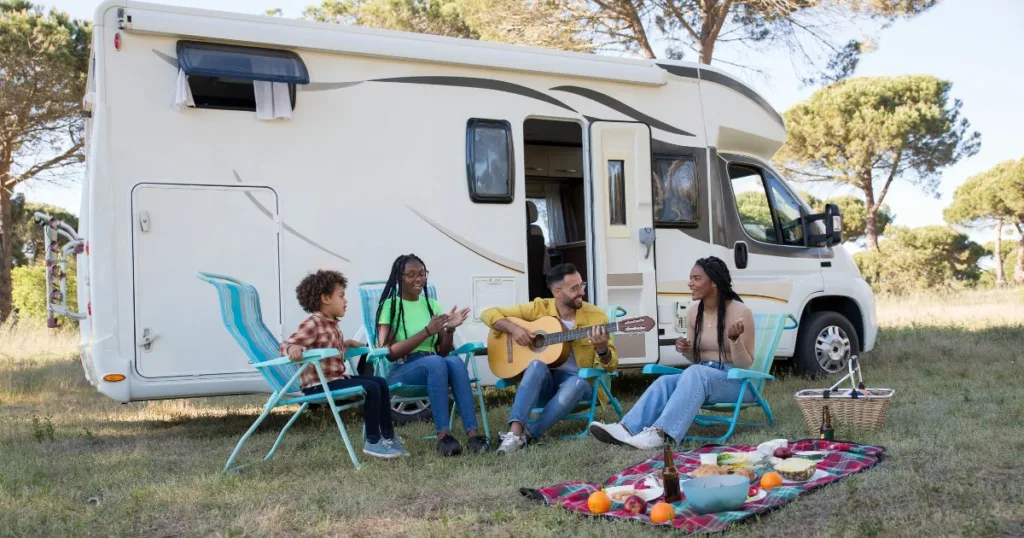 (Less Rustic) Camping in Ontario With Kids
Are quiet, natural and rustic not your jam? Are you looking for water parks, entertainment and extra activities? We have you covered for that, too.
Bissell's Hideaway Resort in Ridgeville – 1 hour from Hamilton
Bissell's Hideaway offers tent camping, trailer camping, Rustic Plus Cabins or Yurts. Family camping rates are $100 per night for weeknights, $105 for weekends, and $110 for holidays. Yurt rentals and Rustic Plus Cabins start at $175 weekday per night and require a 2-night minimum stay.
Yurts have 3 double bunk beds and a double futon and can sleep 4-8 people. Inside the yurts are lights, electrical outlets, a ceiling fan and a microwave. There's a water source outside. Rustic Plus Cabins sleep 4-6 people. While they do not have bathrooms, they have electrical outlets, lights, a water source, a bar fridge and air conditioning. Yurts and Rustic Plus Cabins all have picnic tables, firepits and WIFI.
Three words you will not hear at Bissell's are "I am bored"! They have is a splash pad, a 1-acre swimming pool with a water slide, a playground, mini golf, volleyball, basketball and a fishing pond.
Camp at Bingemans in Kitchener
Bingemans has tent and trailer campsites, log cabins (for 4 people), container cabins (for 5 people) and luxury container cabins (for 2 people). Book a 7-night stay and 1 of the nights is free! Peak season campsite pricing starts from $55 per midweek night for tents with no-hook-ups up to $80 per weekend night for pull-through trailer campsites.
Campers enjoy the Oasis pool and discounts on other attractions like mini golf, bowling, the arcade and Big Splash Waterpark. The Big Splash Waterpark pass provides access to the rides, a splash pad and a heated wave pool. For the most economical Camper's Big Splash Pass, purchase the Twilight pass to go after 4 pm. Be sure to check out the entertainment and special events too.
KOA Campground in Niagara Falls
KOA Niagara Falls is en route to Niagara Falls. It has tent and trailer campsites, Camping Cabins and Deluxe Cabins. A search showed pricing of $78.33 per night for an individual tent site with water, electricity and a grass tent pad. The price drops to $68.33 per night for an individual grass tent pad without hookups. Guests walk or bike around the campsite, take a wagon ride, splash in the kiddie pool, swim in the heated pool or soak in the hot tub. And don't miss jumping on the jumping pad, playing mini golf, basketball or at the playground. You can even watch a movie at the outdoor cinema. Curious to know what other families think of this KOA? Read below!
Want even more Options For Camping in Ontario?
Search Camping in Ontario for campsites and filter results by site services and facilities. The site lists 385 campgrounds for Southwest Ontario alone. There are separate categories for Niagara Falls & Wine Country, Hamilton, Halton & Brant, and Huron, Perth, Waterloo & Wellington, etc.
RV Life Campgrounds has information about and reviews for 494 RV parks and resorts and campgrounds in Ontario.
Good Sam has information and reviews for 334 campgrounds in Ontario.
Summer adventures await! Whether in your backyard, at a local park or playground, or at one of the campsites listed here. And, don't forget to pack the SMORES!
More Ideas For Family Fun
We have visited hundreds of places and written about them to help you find the very best destination for your next day trip or outing. We love sharing indoor play places, playgrounds that go above and beyond, and more! Here are a few of our latest blogs to help you have a great weekend.