"I'm so glad I live in a world where there are Octobers." is my favourite Anne of Green Gables quote.
It's that time of year again. October is the perfect time to watch the fall leaves in Ontario change from fresh green to warm, fiery hues of red, orange and yellow before the frost of winter rolls in. Here are our suggestions for the best places to see leaves change in Burlington and Hamilton.
If You Love Fall You Will Love These Articles, Too!
Kelso Conservation Area
Park Main Gate: 5234 Kelso Road, Milton, ON
Kelso Summit: 5301 Steeles Ave W, Milton, ON
How can you beat a chairlift ride above the treetops where you can see for miles and miles?! Not only is the view gorgeous, but the fall chairlift ride doubles as an unforgettable day trip experience. Book your visit to the park online and add on a chairlift ride to witness some spectacular views from above. This is one of my favourite ways to view fall colours in Ontario.
Chairlift rides are available Weekends and Thanksgiving Monday starting September 30 until October 29, 2023. Riders must be at least 42″ or 107cm in height to ride the chair.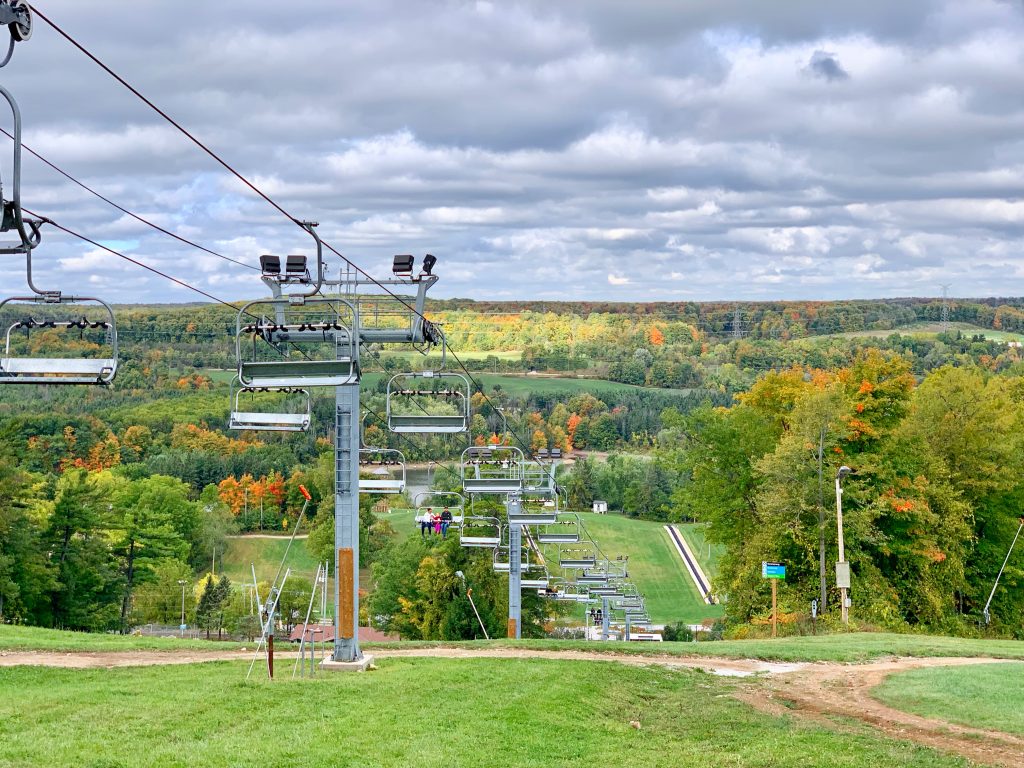 Chedoke Radial Trail
Address: Trail entrances are located at Hillcrest Avenue (just east of Dundurn Street South), Chedoke Golf Course, and at Scenic Drive (at Upper Paradise Road).
This is one of my family's favourite walks for any season. My kids love it because there are so many unique things to see while you walk. I love it because the tree cover makes you forget you're in the middle of a busy city. Stroller-friendly and dog-friendly. You can access it from the base or the peak, but we choose the base where you can park easily for a small charge.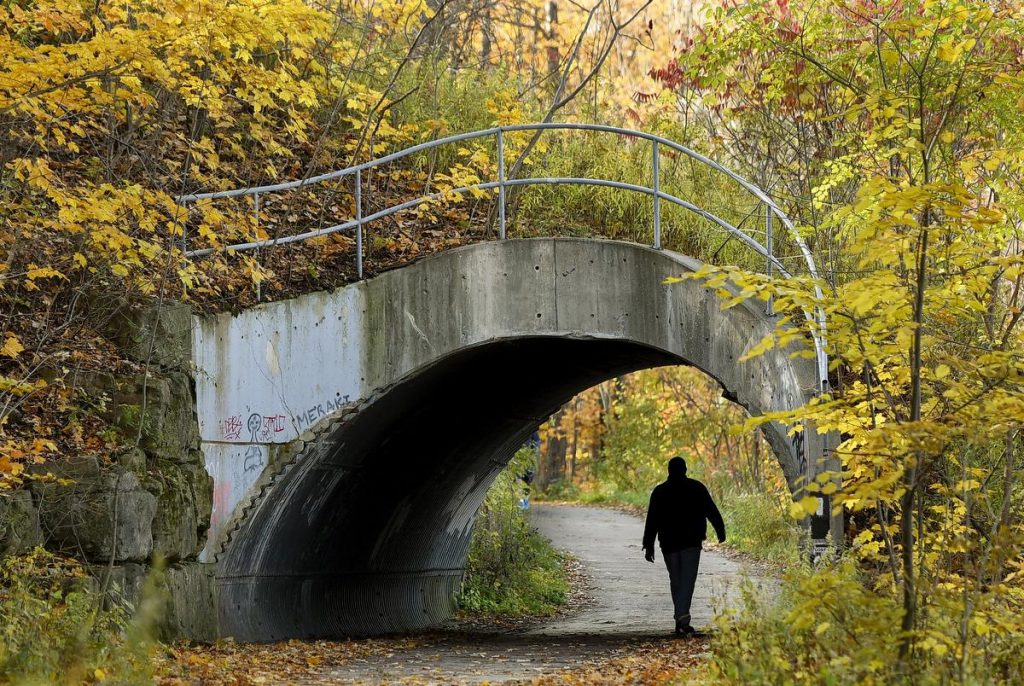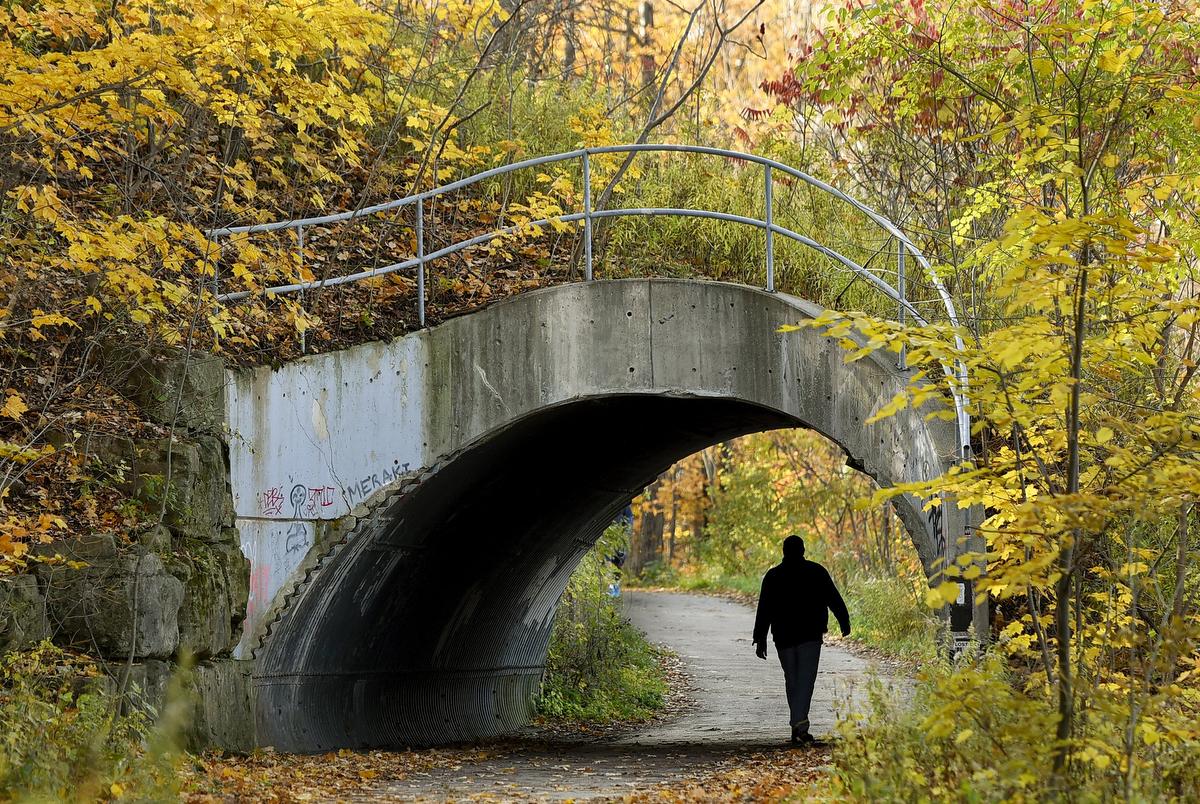 Climb Burlington's Mount Nemo
Address: 5317 Guelph Line, Burlington, ON
Mount Nemo possibly has the best view of Burlington. The hike is rated as easy, and it's great for kids and dogs on leashes. There are many lookout points like the one pictured, and you'll have a birds-eye view of the treetops as the colours change.  Parking is available for a small fee unless you have a Conservation Halton membership.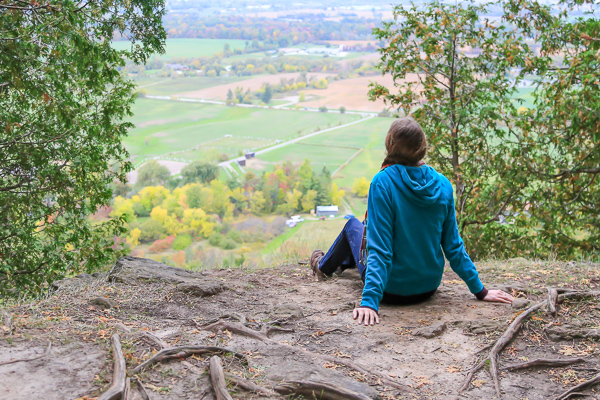 Dundas Valley Conservation Area
Address: 650 Governors Road, Dundas, ON
The hiking trails will keep you closer to the ground than my other suggestions, but the tree canopy will more than makeup for it! Dundas Valley Conservation Area is another one of my daughter's favourite hikes because there is just so much to see. There are freshwater streams, bridges, downed logs that are perfect for climbing, and of course the Hermitage Ruins. Walk through these smooth, wheel-friendly trails and you'll agree that it is one of the best places to see leaves change in Hamilton, Ontario.
Have you visited these trails and conservation areas this year? Maybe you have another hidden gem with beautiful fall views? If you do, please share it in the comments and we will add it to our list. In the meantime, here are some more fall articles you may enjoy: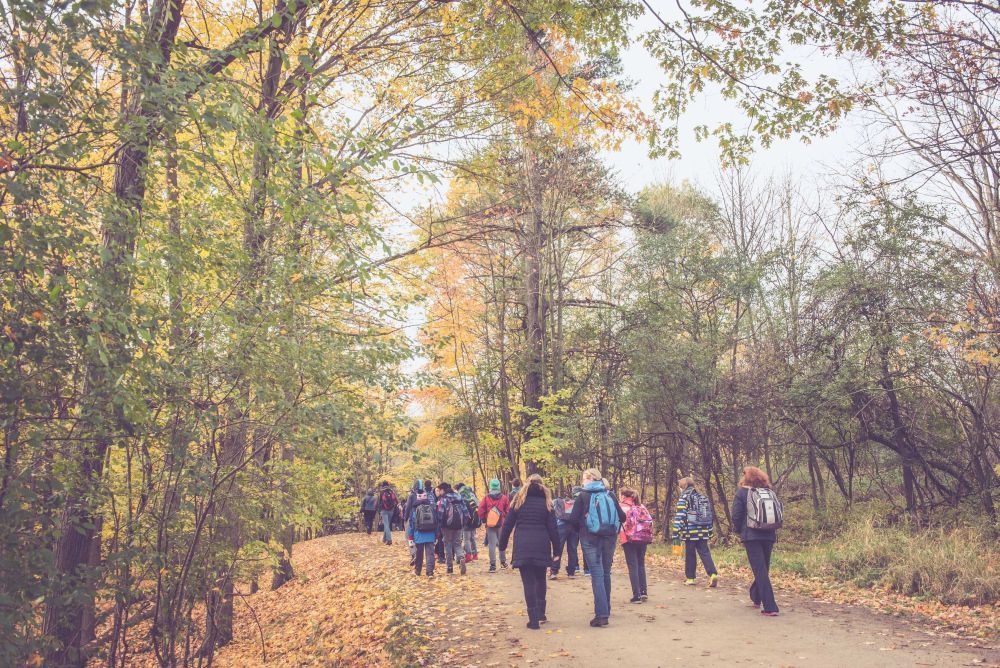 Hilton Falls Conservation Area
Read more about Hilton Falls Conservation Area here
Address: 4985 Campbellville Rd, Milton, ON
Hilton Falls Conservation Area in the fall is a stunning sight. As the leaves change, the forest's colors burst forth, creating a beautiful backdrop for hikers. Sixteen Mile Creek flows gently, providing a calming ambiance. Trails like the Beaver Dam Trail and Hilton Falls Trail lead visitors through this seasonal spectacle. It's a great time for a picnic or a serene moment by Hilton Falls, making it a must-visit for nature lovers in the fall.