Treat yourself to a Train Ride with Santa! These Christmas trains are the perfect holiday experience for families with a pint-size locomotive fan under their roof!
Whether you have got a kid obsessed with trains or your family loves to watch The Polar Express, these holiday railway rides will be ideal for making core memories. Here in the GTA, we are lucky enough to have some magical options for holiday train rides and experiences on the rails! You might not make it to the North Pole, but you will feel like you're heading in the right direction! Here are all the best local Holiday train rides and experiences.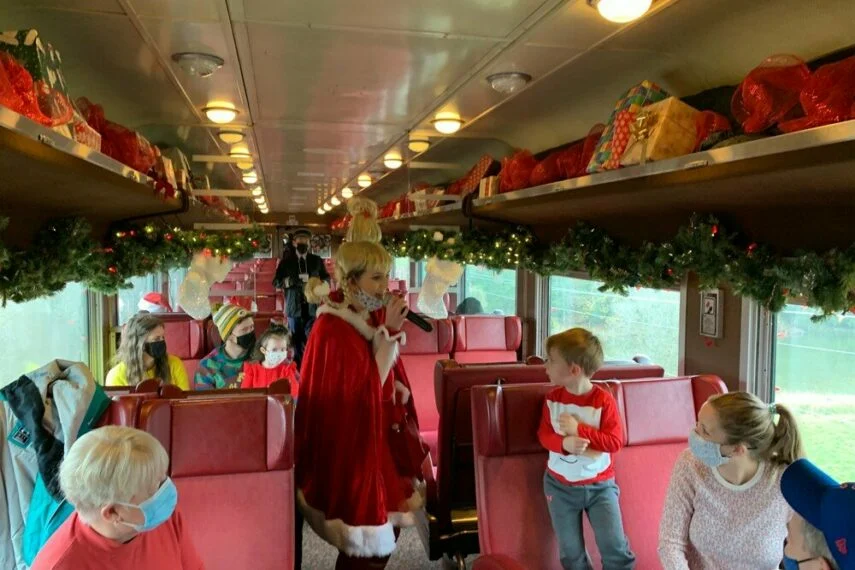 Waterloo Central Railway Christmas Train Experience
The Waterloo Central Railway offers two Christmas train experiences. Their daytime ride is "A Vintage Christmas" and they also have an evening tour called "A Vintage Christmas; Christmas Lights Experience". Both offer a one-hour round-trip ride on a magical journey to the North Pole. Santa, elves and reindeer await your arrival. You can expect singing, storytime, and on the evening experience, you get to take in the sights of over 15,000 Christmas lights!
Where: St Jacobs, ON
Cost: Starting at $38.99 for children and $45.99 for adults
When: Events run until December 23rd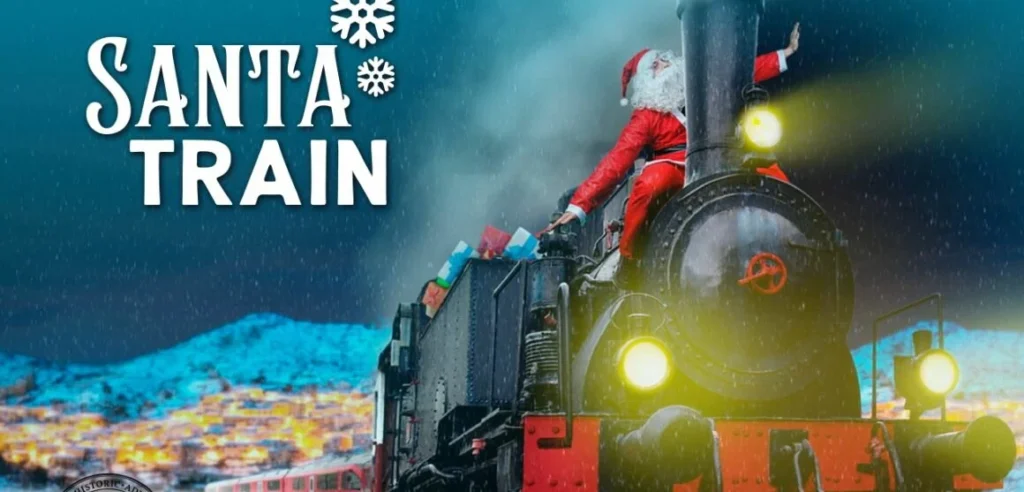 York-Durham Heritage Railway – 5 Rides To Choose From!
The YDHR offers five unique and exciting Christmas train experiences! There is something for everyone to be found on these rails. They are offering a Murder Mystery dinner, a North Pole Light Up Express, A Santa & Mrs Claus Breakfast ride, a Santa Express ride, and a Victorian Christmas tea. The difference between the Santa Express ride & The North Pole Light Up Express is that one is a daytime adventure and one is in the evening so you can take in the lights! Santa, Mrs Claus, singing & dancing elves, chocolate milk & cookies and lots of festive fun await you on the York-Durham Heritage Railway!
Where: Uxbridge, ON
Cost: Starting at $34.99 for children and $47.99 for adults
When: Events run until December 24th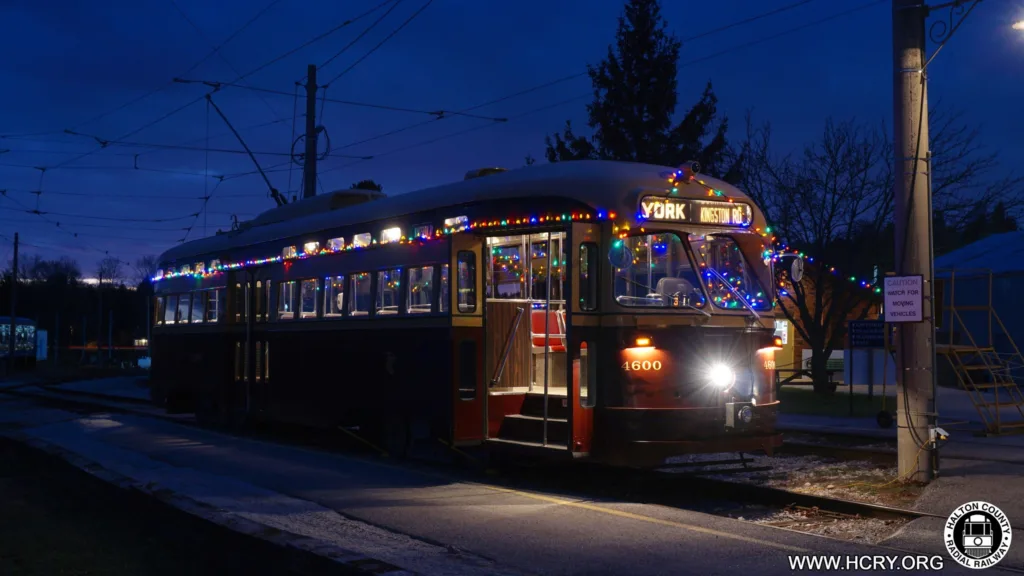 Halton County Radial Railway Christmas Train Ride
The Halton County Radial Railway is offering one last hurrah for the 2022 season; a Christmas on the Rails event! Join them for a ride through the woods with snow on the trees and Christmas carols in the air. There's also a big man in red scheduled to make an appearance!
Where: Milton, ON
Cost: $16.50 for children and $22 for adults
When: December 3rd, 4th, 10th and 11th from 1pm to 8pm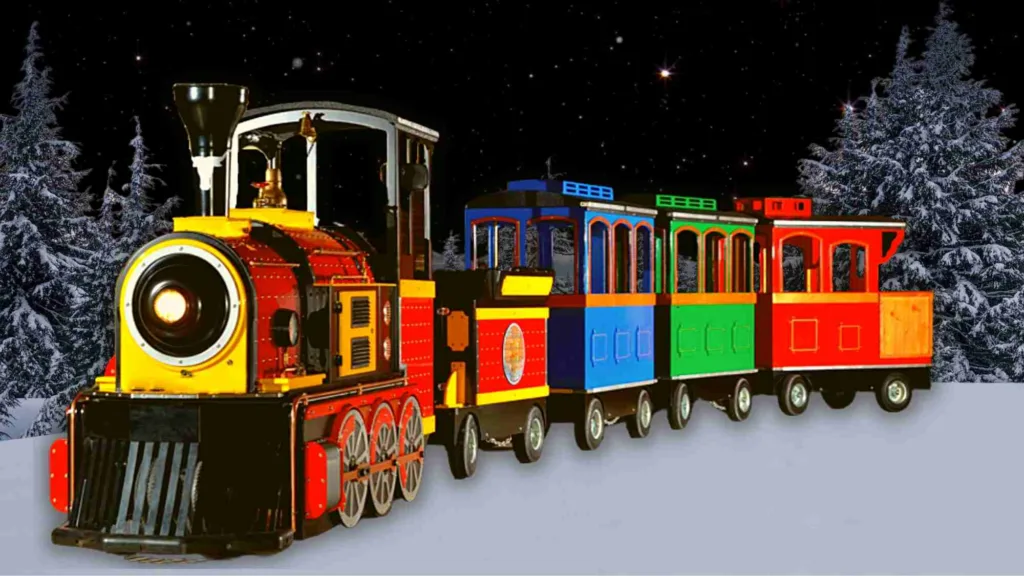 Free Rides On The Winter Twinkle Express in Downtown Milton
The Downtown Milton tourism agency is offering free Christmas Train rides through the downtown core. The Winter Twinkle Express will get you in the holiday spirit with music, fun activities and of course, train rides! Take in the seasonal light displays and the beautifully decorated storefronts, or enjoy a hot chocolate as you stroll the streets!
Where: Milton, ON
Cost: Free
When: Saturday, December 10 and Friday, December 16 between 4pm and 8 pm.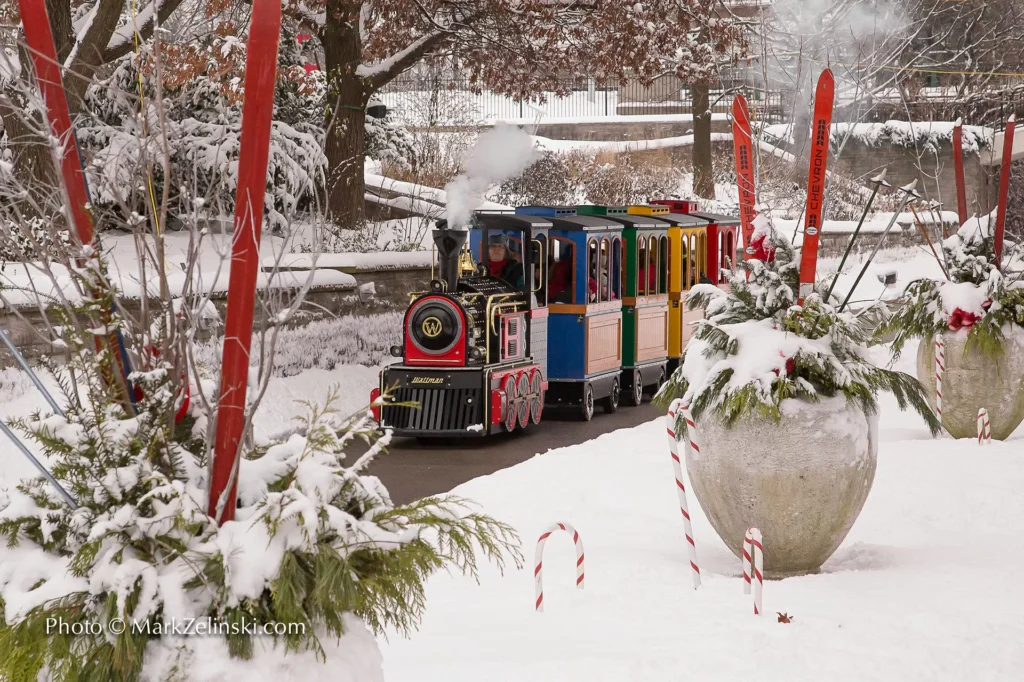 Ride The R.B.G. Express Christmas Train Ride at Royal Botanical Gardens
Royal Botanical Gardens: The RBG is offering Christmas train rides on the RBG Express! Don't miss a ride on the train during a day visit to the gardens. Purchase tickets at the door to take a round-trip ride throughout Hendrie Park. Tip: purchase your train tickets as soon as you arrive – they do sell out!
Where: Burlington, ON
Cost: $5 per car on top of admission; up to four people per train car.
When: Running until January 8th from 10:15 am to 2:30 pm
Train Displays and Shows
If you have a train lover on your hands, we have a few fun train-themed events to suggest, too!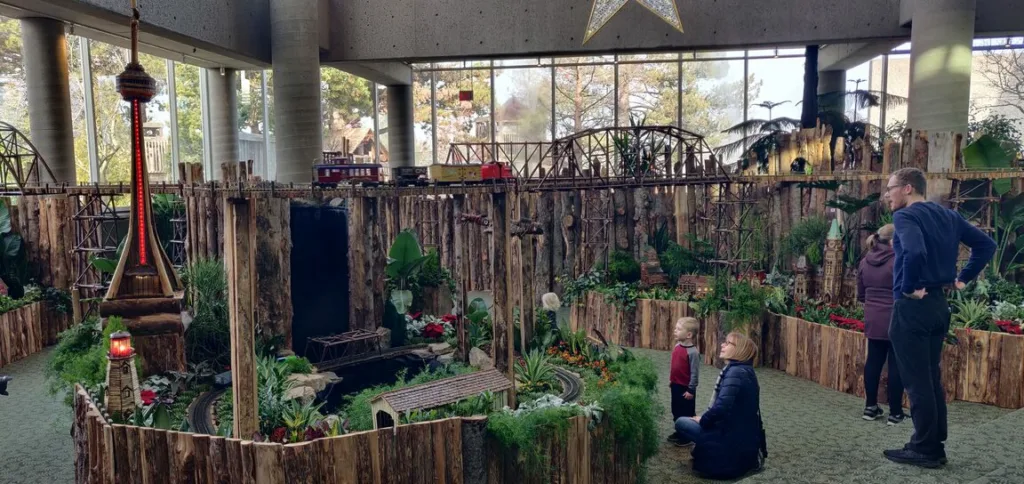 RBG Model Trains: https://activeparents.ca/royal-botanical-gardens/
Christmas Model Train Show: https://activeparents.ca/calendar/christmas-model-train-show/
Have a Holly, Jolly Time With These Helpful Articles
Enjoy some of our most recent articles on all things Christmas. Or click here to see everything Winter-related.