Welcome in the joy and beauty of the season by attending one – or a few – of these Christmas light festivals and drive-thru light shows. From spectacular light shows like Niagara Falls to a picturesque lakeside stroll at Burlington's Festival of Lights, Ontario is all glowing with magic during the Holiday season.
Find the Best Decorated Christmas Houses here. We included a map and photos to help you find the best ones to visit tonight!
Did we miss a light show that everyone should know about? Send us a message and tell us about it.
Christmas Light Festivals in Milton
Twinkle After Dark At Country Heritage Park
Walk-thru holiday light show
This holiday season, experience Twinkle After Dark, a fully illuminated country walk through experience brought to you by Canada's award-winning Pumpkins After Dark!
Featuring historic buildings, holiday projections, costumed actors, festive music and a main street that is truly awe-inspiring! Along the path, grab a hot beverage and warm beavertail and say hello to Santa!
Dates and times: Thursdays thru SUndays from November 24th to December 28th and December 26th and 27th. Time slots can be booked between 5:30 pm and 10:00 pm, with the last time slot being 9:00 pm.
Visit Home – Twinkle After Dark for more information and to purchase tickets.
Christmas Light Displays in Burlington and Hamilton
Winter Wonders At Royal Botanical Gardens
Walk-thru light festival
This unique outdoor experience guides visitors along Hendrie Park's picturesque pathways adorned with charming festive Christmas lights, new interactive light to sound installations, and magical displays that celebrate the magic of the winter season. Stroll through our breathtaking garden to the rhythm of festive music while indulging in the warm tastes and fragrances of the holiday season. After your walk cozy up indoors with the Botanical Train display, explore Mediterranean plants in the warmly lit greenhouse, and pick up unique gifts from Shop at the Gardens. One of the areas most beloved Christmas light festivals.
Dates and Times: Wednesday to Sunday, November 23 to January 8, but not December 24, December 25, December 26, December 31, January 1. Ticketed timeslots are from 5-7 pm and 7-9 pm.
Tickets required; get yours today at Winter Wonders – Royal Botanical Gardens
Christmas Light Festivals Near Niagara
The Ball's Falls Holiday Trail
Walk through lights experience
The Holiday Trail is an outdoor, evening trail walk experience featuring a 1.5 km (round trip) illuminated path through natural areas along the Niagara Escarpment and Twenty Mile Creek and through the 1800's heritage village of Glen Elgin at Ball's Falls Conservation Area. Along the way, visitors will get to take in the stunning winter vistas, including the 27-metre lower waterfall, illuminated like never before, and experience history in the village with each building lit up with thousands of lights. Warm up around the campfire or in the historic Big Barn, and enjoy holiday music and activities that the whole family will love! Take a tour back in time – and stop by the heritage buildings for a look inside.
Dates and Times: December 1-30, 2022. Each evening has 2 timeslots to choose from: 5:00 pm – 7:00 pm and 7:30-9:30 pm
Find more information about this exciting event, including programming and weekend live musical lineup at https://npca.ca/events/detail/holidaytrail.
Niagara Falls Winter Festival Of Lights
Drive thru light display
The most enchanting of Niagara Falls attractions, the 40th annual Winter Festival of Lights is Canada's largest FREE outdoor light festival. Experience the spectacular displays with millions of lights and larger than life displays across the tourism districts. For the 40th Anniversary, visitors can expect even more fun!
40 nights of FREE indoor family entertainment at multiple host venues every weekend and nightly throughout the December holiday period
Special illumination of the Falls every night
Niagara Falls Hot Chocolate Trail
Free photos with Santa in December, sponsored by Ontario Power Generation
Misty Kids Colouring Contest
FIREWORKS SCHEDULE
November: 12, 18-19, 25-26 at 8:00pm
December: 2-3, 9-10, 16-17, 23-24, 26-31 at 8:00pm
December 31 * NYE at 12:00am
January: 1-7, 13-14, 20-21, 27-28 at 8:00pm
February: 3-4, 10-11, 17-20 at 8:00pm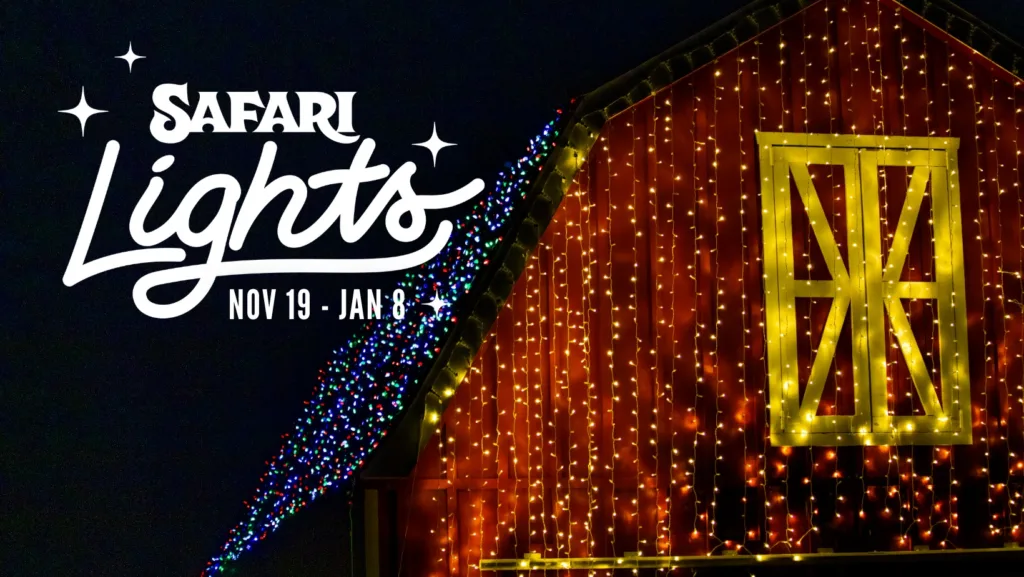 Safari Lights at Safari Niagara
Drive-thru light display
Make this holiday season a special one by driving through our dazzling holiday lights drive-thru adventure! There is snow-much to see! Immersive light tunnels, luminous motion lights, whimsical animal light displays you won't see anywhere else! This awe-inspiring 3 km drive will immerse you in luminous colour changing motion lights and winding light tunnels, complete with your favourite holiday scenes and displays. This is a once in a lifetime viewing experience that you'll remember long after the holidays!
Dates and times: Open from November 19th through January 8th. Time slots are from 5:30 till 8 pm nightly.
Visit Safari Niagara's Website to purchase tickets.
Drive Thru and Walk Thru Christmas Lights in Kitchener and Cambridge
Jingle Bell Rock at Bingemans
Walk through light display
Experience the magic and delight of Jingle Bell Rock. Walk thru this outdoor display of dazzling light features surrounding a 40 foot dancing tree illumination, sequenced to contemporary holiday music. Take in spectacular walking tunnels, sparkling lighting decorations and immerse yourself in the beauty of the season. Relax at the open fire pits with some s'mores, decorate cookies in Mrs. Claus' Kitchen or listen to live entertainment on featured nights. You won't want to miss this Christmas light festival!
Dates and Times: November 12th thru January 7th, time slots vary depending on the day of the week you want to visit.
Visit Jingle Bell Rock | Gift of Lights | Bingemans for more information and to purchase tickets.
Gift Of Lights at Bingemans
Drive-thru light festival
Gift of Lights is a family-friendly drive-thru holiday light festival with two tunnels and over 300 animated and static Christmas light displays! Enjoy this holiday spectacle from inside the comfort of your own vehicle and tune into Gift of Lights Radio at 103.3FM.
Dates and Times: November 12 thru December 31, 2022, 5:00 pm till 10:00 pm
Visit Gift Of Lights | Bingemans for more information and to purchase tickets.
Winter Ice And Lights
Walk-thru light festival
Take a walk through the interactive light displays in Central Park in Preston during the month of December. Make sure to capture that magical photo moment and share on social media using #CbridgeWinterfest
Pop-up Event – Thursday December 8, 2022 at 7 p.m.:Experience the lights in Central Park while enjoying the live concert and special visits from Santa, Mrs. Clause and Willy Melt.
7 p.m. Panwaves Steelband – Local group Panwaves will bring warm vibes as they perform Caribbean steelband music.
7:30 p.m. Tinsel & Jingle – Team T&J
Join Tinsel and Jingle, as they excite with an interactive music show that will surely bring out the inner child in all of us.
Find additional info on their website here.
Have a Holly, Jolly Time With These Helpful Articles
Enjoy some of our most recent articles on all things Christmas. Or click here to see everything Winter-related.