A few years ago our family put out a Teal Pumpkin. It was done in a show of support to a few friends who had told me about it, but it became so much more. Halloween is my favourite. More than Christmas. More than my birthday. And that is because Halloween is for the kids. And adults like me who haven't grown up yet. Therefore, when a friend told me about Teal Pumpkins, I was befuddled that I had never heard of them!
What is a Teal Pumpkin?
The Teal Pumpkin Project came to be in 2014, inspired by a mom's effort and brought to the international scene by F.A.R.E. (Food Allergy Research and Education). Over 14 countries took part last Halloween! I hope you will join us in displaying your teal pumpkins this year.
"It's about making the joy of trick-or-treating available to as many kids as possible."
Why Do People Put Out Teal Pumpkins?
The Teal Pumpkin program is an effort to make Halloween inclusive for all kids. Halloween is more often a candy-filled event (which I love) but kids with food allergies are often left out of the fun because most candy is off-limits.
Get Involved!
Having a Teal Pumpkin on your porch, and non-food treats to offer kids gets you in the game. You can get the kids to paint a grocery store or orchard pumpkin, or buy them ready-made at the local craft store. I had my girls paint one because that bought me 20 more minutes of kid entertainment, therefore very much worth the purchase!
My daughters LOVED shopping at the dollar store for non-food treats, which then gave me a chance to talk about food allergies, and how they affect our neighbours, and their school friends. Wondering what kinds of non-food treats to buy? This list is from the F.A.R.E website:
Glow sticks, bracelets, or necklaces
Pencils, pens, crayons or markers
Bubbles, playing cards, or bookmarks
Halloween erasers or pencil toppers
Mini slinkies, bouncy balls
Whistles, kazoos, or noisemakers
Finger puppets or novelty toys
Coins, spider rings, vampire fangs
Mini notepads, stickers, stencils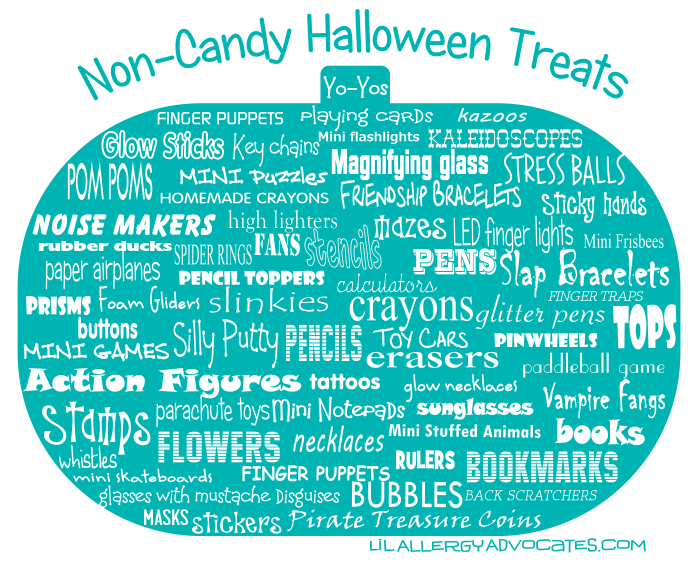 Bonus!
The absolute best part of our first year's Teal Pumpkin was the Facebook message I received from a neighbour whose daughter has severe food allergies. Is there anything better than making a child's day?
"It was exciting to see another teal pumpkin in the neighbourhood besides ours! Thank you Amber! Ayesha was very excited to tell Matt she has food allergies!"
The F.A.R.E. website has printable signs, an interactive map, and a great FAQs section for anyone who is interested in putting out a Teal Pumpkin, check them out here.
Find More Halloween Reads Here…
More Ideas For Family Fun
We have visited hundreds of places and written about them to help you find the very best destination for your next day trip or outing. We love sharing indoor play places, playgrounds that go above and beyond, and more! Here are a few of our latest blogs to help you have a great weekend.