Chudleigh's Entertainment Farm is a must-visit destination for anyone who loves outdoor fun and adventures. Chudleigh's is located in Milton and is a family-owned farm that offers a wide range of activities and attractions for people of all ages.
Love Farms? You'll Love These Ones, Too
Chudleigh's Apple Orchard
One of the main attractions of Chudleigh's Entertainment Farm is its famous apple orchard. The farm is known for growing a variety of delicious apples, including McIntosh, Gala, and Honeycrisp. Visitors can take a stroll through the orchard and pick their own apples straight from the tree. The farm also offers wagon rides through the orchard, which is a fun activity for families with young children.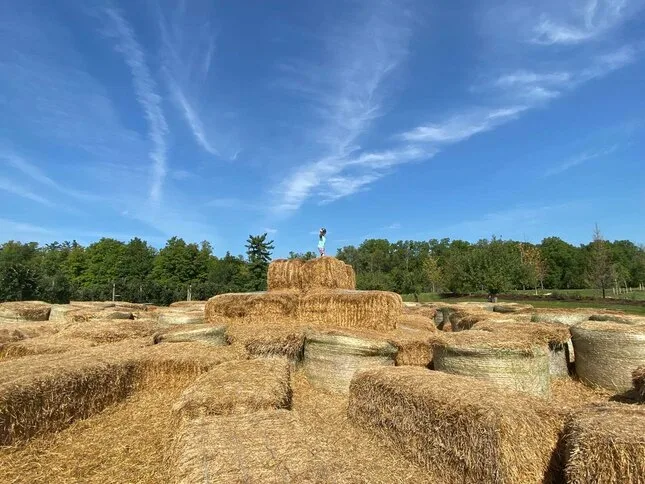 Enjoy the Entertainment Farm
In addition to the apple orchard, Chudleigh's Entertainment Farm offers many other activities that are sure to keep visitors entertained. The farm has a large playground area with swings, slides, and climbing structures, as well as a giant sandbox and a pedal cart track. There is also a petting zoo where visitors can get up close and personal with farm animals like goats, chickens, and pigs.
For those who want a more adrenaline-filled experience, Chudleigh's has a zip line and a rope course. The zip line takes visitors soaring through the air, giving them a bird's eye view of the farm, while the rope course challenges them to navigate through a series of obstacles high above the ground.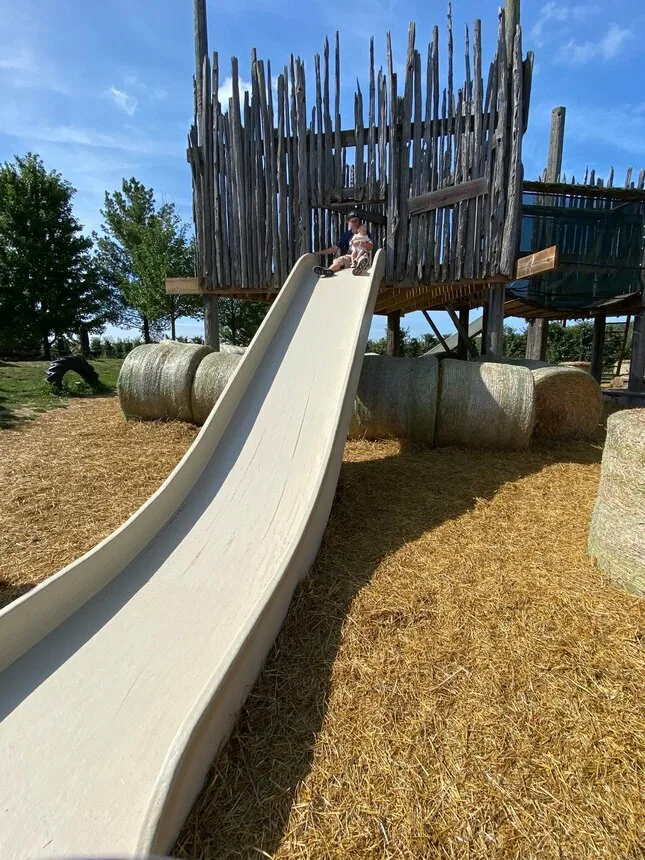 Springtime Apple Blossom Festival at Chudleigh's Farm
One of the most popular attractions at Chudleigh's apple farm is its famous apple blossom festival. Every spring, the farm comes alive with the beautiful pink and white blossoms of its apple trees. Visitors can take a guided tour through the orchard, learn about the farm's history and operations, and enjoy live music and entertainment.
This Milton farm is also home to a bakery and a farm shop, where visitors can purchase freshly baked pies, homemade apple cider, many varieties of apples, and other farm-fresh products. The bakery is known for its delicious apple pies, which are made from scratch using apples grown on the farm.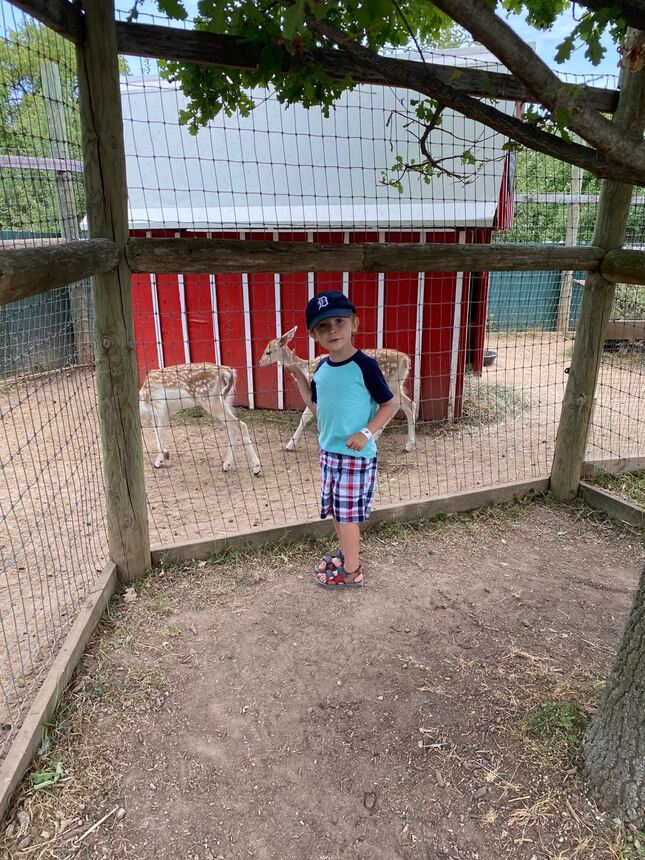 Activities At Chudleigh's Farm in Milton
Wagon Rides – take the wagon ride to pick apples, hop off to pick apples and hop back on again to head back to the main area. Or just go for a wagon ride without hopping off and on! Wagon Rides happen often and are about 10-15 minutes long.
Apple Picking – 2023 pricing to be confirmed.
Pumpkin Patch – there is a small pumpkin patch that you can take the wagon ride to.
Visit Farm Animals – you can pet and feed so many animals. Bring $1 cash to buy food to feed the goats and sheep. You can also see alpacas, donkeys, miniature horses, dogs, calves, peacocks, ducks, roosters and rabbits.
Slides – these slides are FAST but very fun! There are four slides in four separate towers. The base of this slide area is straw. Lots of fun in this play area.
Sandpit – bring your own sand toys and spend some time in the sandpit, it also has a mini barn in the sandpit and a tunnel. Great for imaginative play.
Hay Maze – make your way in between hay bales or walk on top and hop from hay bale to hay bale. Or climb to the top of the tower!
Nature Trail – enjoy a short hike through the fall colours in the nature trail. There's also a swing near the entrance.
Tractors – lots of "retired" tractors to play on as well!
EAT! – Chudleigh's is well known for its apple blossoms. They also sell pies and other delicious treats to take home. They also sell delicious lunch and dinner options – enjoy pizza, potato wedges, hotdogs, hamburgers, mac & cheese blossom and more.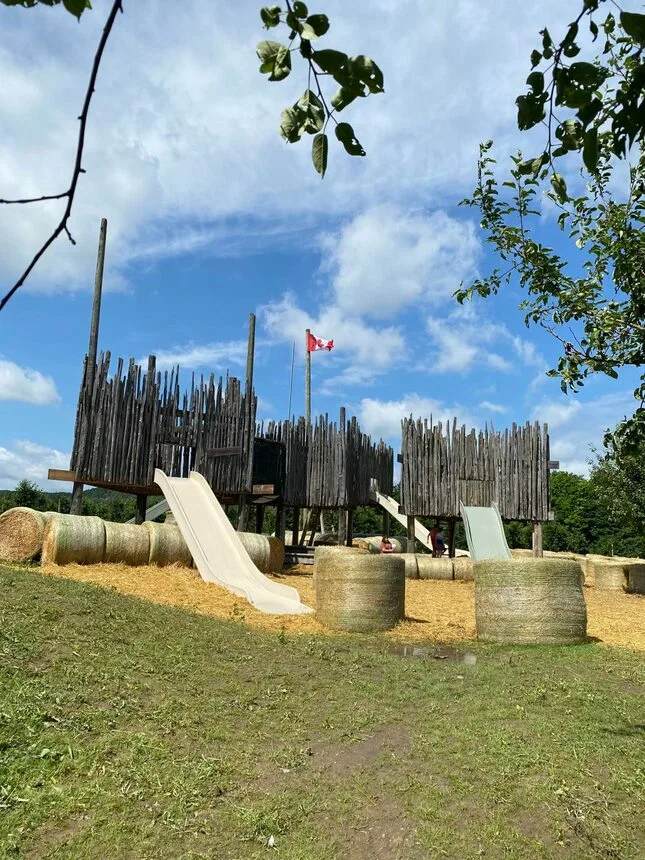 Tips For Your Visit
Overall, Chudleigh's Entertainment Farm is a fantastic destination for anyone who loves outdoor activities and wants to experience life on a real working farm. With its beautiful orchard, playground and exciting attractions, Chudleigh's is sure to provide hours of entertainment and enjoyment for the whole family.
Some tips for your visit
Tickets must be purchased online in advance.
Tickets are released about 30 days in advance.
Pets are welcome but cannot go on the wagon ride or in the farm animal section
No outside food is allowed inside. If you want to pack a picnic lunch you can eat it by the front pond or near the stream by the parking lot.
You cannot enter before your purchased time slot, and you're asked to only stay for three hours.
Bring cash ($1) to feed the farm animals
No refunds due to weather
No need to print your tickets – they can scan from your phone
Free Parking
Chudleigh's Farm Admission
Adult (13+) – $13 plus HST
Seniors (65+) – $12 plus HST
Children (4-13) – $11 plus HST
Infants/Children (0-3) – FREE
Chudleigh's Entertainment Farm is located at 9528 Regional Road 25 in Milton, ON.