Our very own Janelle is a Chudleigh's superfan and she's back with her tips and tricks on how to make your next trip to Chudleigh's Entertainment Farm in Milton the best it can be.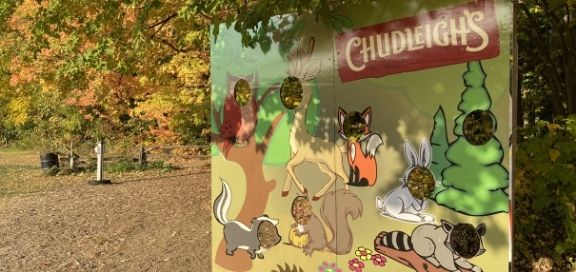 Chudleigh's Farm is a great place to go for a fall adventure. It's ideal for every age – the toddlers will love meeting the farm animals, school-aged kids will want to whip down the slides, high-schoolers will love all of the Instagrammable scenery. Parents and grandparents can join in on the fun, too!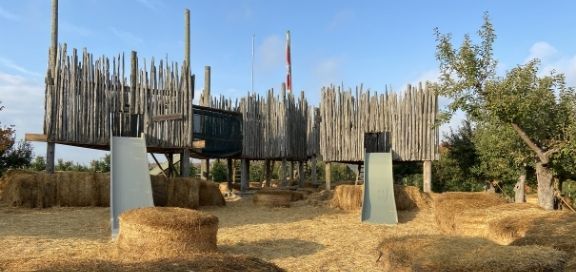 Located in Halton Hills, just a little bit north of Milton, it's perfect for a quick morning or afternoon visit. Be sure to book your tickets online.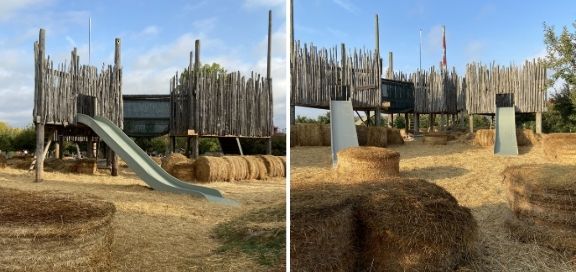 This year due to COVID-19, Chudleigh's Farm requires pre-booked timed entries.  Choose from 8AM-11AM, 10AM-1PM, 1PM-4PM and 3PM-6PM.  All the amenities are available during all time slots except the food area. The lunch area opens at 11 AM. Masks are required when you are lining up to enter, lining up to exit/pay, when you're in the play area, on a wagon ride, or lining up for food.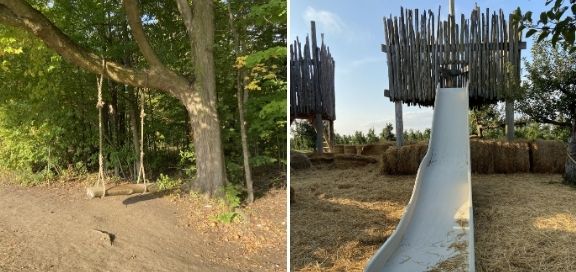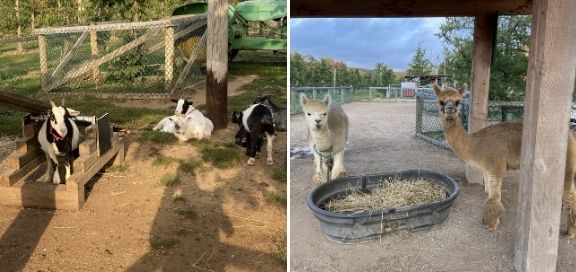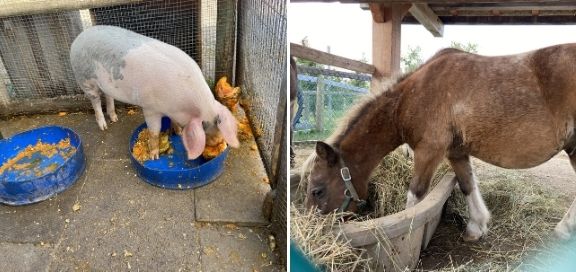 Things to do at Chudleigh's
Wagon Rides – take the wagon ride to pick apples, hop off to pick apples and hop back on again to head back to the main area. Or just go for a wagon ride without hopping off and on! Wagon Rides happen often and are about 10-15 minutes long.
Apple Picking – two bags to choose from – $15 bag (make sure your handles are touching otherwise it's $20) or the $25 bag (if handles don't touch it's $30).
Pumpkin Patch – there is a small pumpkin patch that you can take the wagon ride to. The pumpkins are $8 each.
Visit Farm Animals – you can pet and feed so many animals. Bring $1 cash to buy food to feed the goats and sheep. You can also see alpacas, donkey, miniature horses, dogs, calf, peacocks, ducks, rooster and rabbits.
Slides – These slides are FAST but very fun! There are four slides in four separate towers. The base of this slide area is straw.
Sandpit – bring your own sand toys and spend some time in the sandpit, it also has a mini barn in the sandpit and a tunnel. Great for imaginative play.
Hay Maze – make your way in between hay bales or walk on top and hop from hay bale to hay bale. Or climb to the top of the tower!
Nature Trail – enjoy a short hike through the fall colours in the nature trail. There's also a swing near the entrance.
Tractors – Lots of "retired" tractors to play on as well!
EAT! – Chudleigh's is well known for their apple blossoms. Create your own and eat it there. Or take a box home for dessert. They also sell pies and other delicious treats to take home. They also sell delicious lunch and dinner options – enjoy pizza, potato wedges, hotdogs, hamburgers, mac & cheese blossom and more.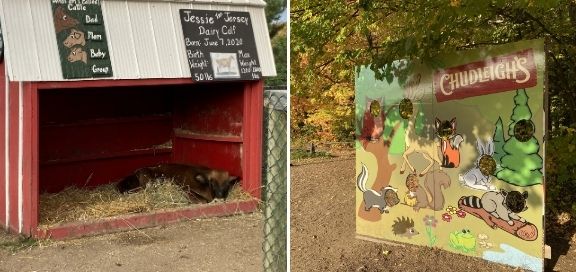 Things to know before you go to Chudleigh's
Tickets must be purchased online in advance.
Tickets are released about 7-10 days in advance.
Pets are welcome but cannot go on the wagon ride or in the farm animal section
Masks are required when you are lining up to enter, lining up to exit/pay, when you're in the play area, on a wagon ride, or lining up for food.
No outside food is allowed inside. If you want to pack a picnic lunch you can eat it by the front pond or near the stream by the parking lot.
You cannot enter before your purchased time slot, and you're asked to only stay for your three hours.
Bring cash ($1) to feed the farm animals
There are no pony rides this year
No refunds due to weather
No need to print your tickets – they can scan from your phone
Free parking
Chudleigh's Farm Admission
Adult (13+) – $15 plus HST
Seniors (65+) – $13 plus HST
Children (4-13) – $13 plus HST
Infants/Children (0-3) – FREE
(Seasons passes for 2020 are sold out)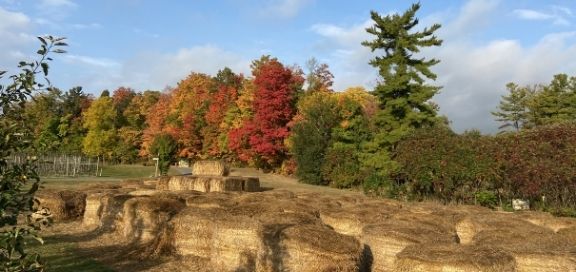 Now Trending…
Find more memorable day trips and local destinations that are perfect for families here
Pick Your Own apple orchard and pumpkin patches are ready to help you experience fall to the fullest!