This spring I challenged my family to see more of what Burlington has to offer. We get around, but there is still so much on our must-see list. An easy way to see more is to treat the kids to new park experiences. Burlington has dozens of parks, plus so many more neighbourhood parks that are little community gems. And in conjunction with getting out and seeing more, we'll bring you the scoop on the parks we visit, what I love, what my kids love, and why you might or might not add it to your Burlington Must-See list. Here we go!
Hidden Valley Park
Hidden Valley Park was our first park stop last weekend. We only discovered this newly-renovated park in the Aldershot area late last summer, but we love it. This past weekend we were drawn there because of two things. Monkey bars and geocaching. My 8-year-old is a monkey bars fan and we all really enjoy geocaching since we first tried it in the winter.
Hidden Valley Park is located off of Plains Road West, just west of Waterdown Road. There is a large gravel parking lot, with enough parking for about 40-50 visitors. When you arrive, you'll breathe a huge sign of relief as you see the – cue the angels singing – public washrooms. Yes, it has public washrooms!
The park is fenced in on the side facing the parking lot, with the perfect mix of enough fence for safety, but not feeling like it's closed in. As I mentioned, we were on a mission for monkey bars, so my trio of terrors took off for the play structures. Hidden Valley Park has a larger structure and a smaller one. My kiddos were 6 and 8, so they had no trouble on any of the equipment. I saw little diapered kiddos roaming all over too, but on the larger structure there are openings, so they'll need to be supervised. The play equipment was in excellent condition and there were all sorts of ways for kids to improve their balance and coordination (aka have fun).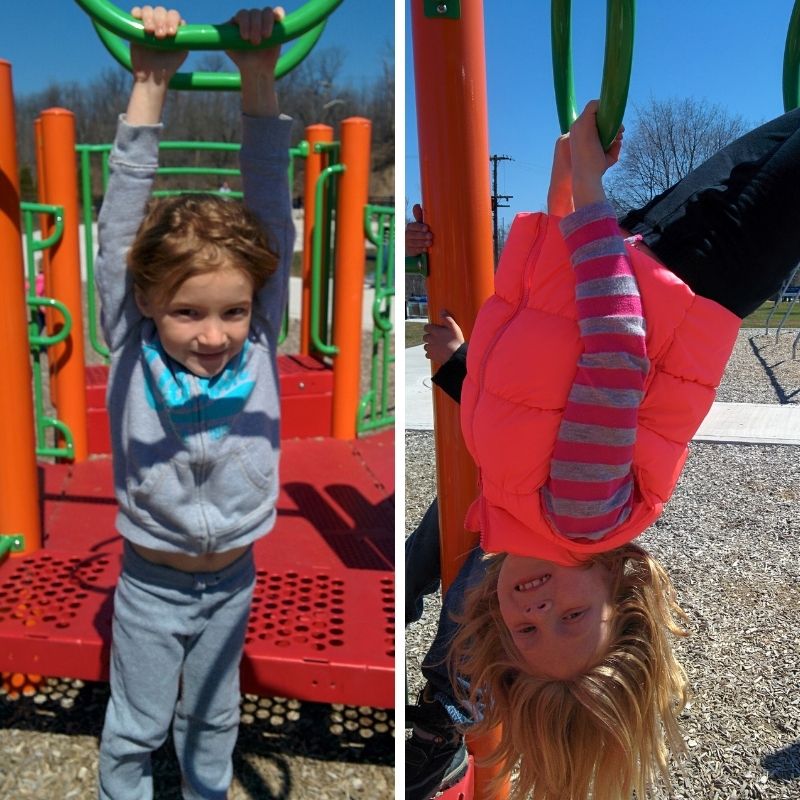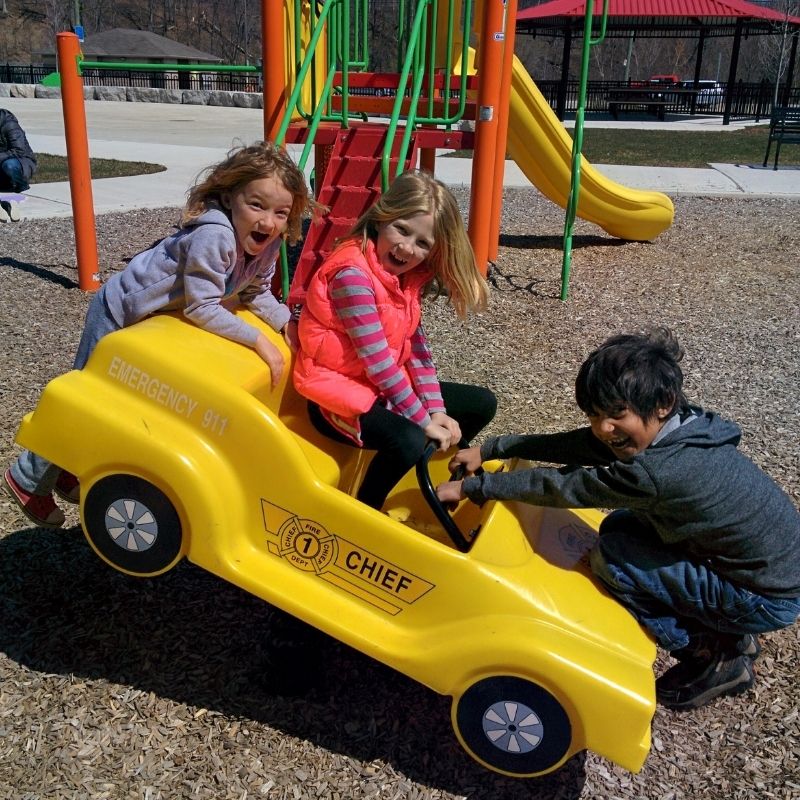 Hidden Valley Park has a variety of climbers and slides, and the ramps that connected them provided just as much entertainment. The kids imagined that the structure was everything from a tree house a la Swiss Family Robinson, a pirate ship, a space ship and an apartment for superheroes. There were swings for big kids and swings for little kids, and of course a high-back full-support swing. My kids were also happy to see that the picnic tables were wheelchair accessible because it meant that "Papa could come for a picnic, too."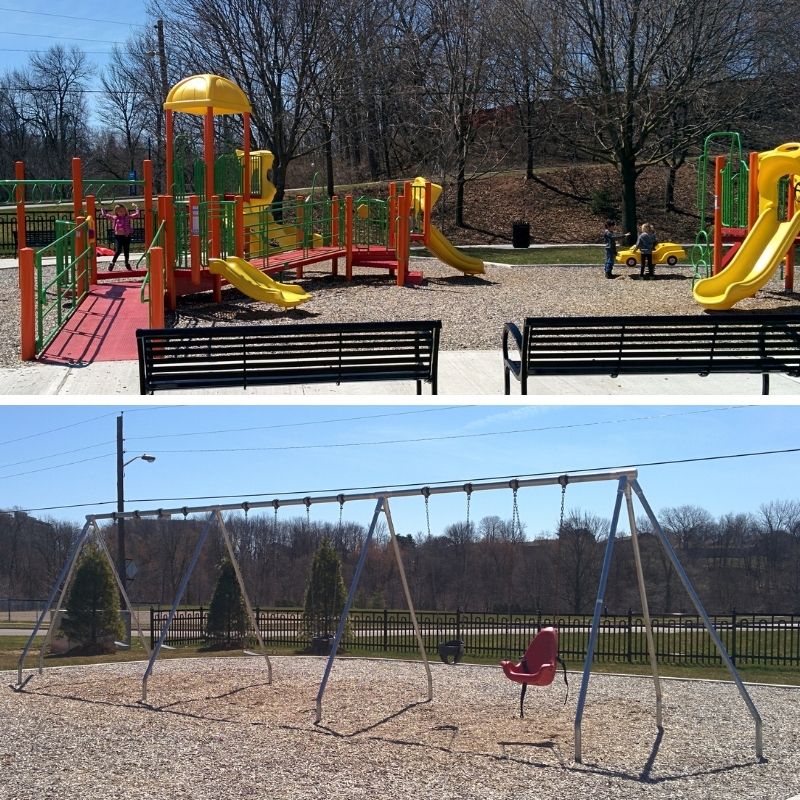 When you walk the Hidden Valley Park grounds, you'll come to the Burlington Model Railway Club. It was closed on the Sunday we were there, but it is open to the public during their various free events throughout the year. We peeked through the fence and my kids are looking forward to going back to see the trains in action. Watch the Weekend Wrap Ups and we'll let you know when they are coming up so you can be there, too.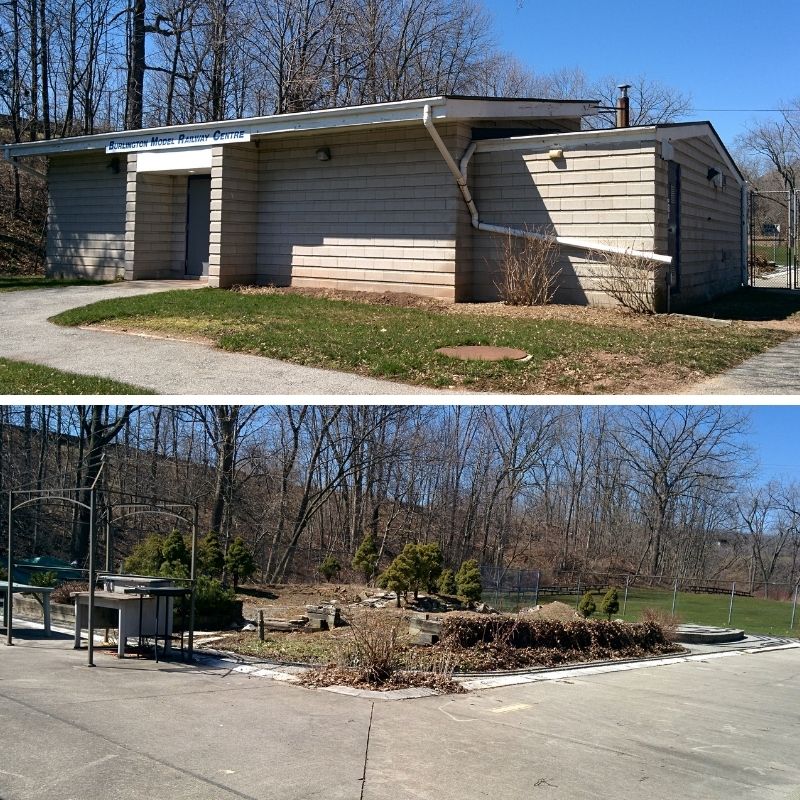 Walking a little further you come across a bridge that takes you over Grindstone Creek, and to a clearing with what my kids described as a "ghost cabin". I'm not sure what it was before, but now it's just a boarded-up stone building no bigger than a shed. And it's not scary, so don't worry. We were hot on the trail of a geocache, so we climbed the steep hill and were met with two amazing treasures…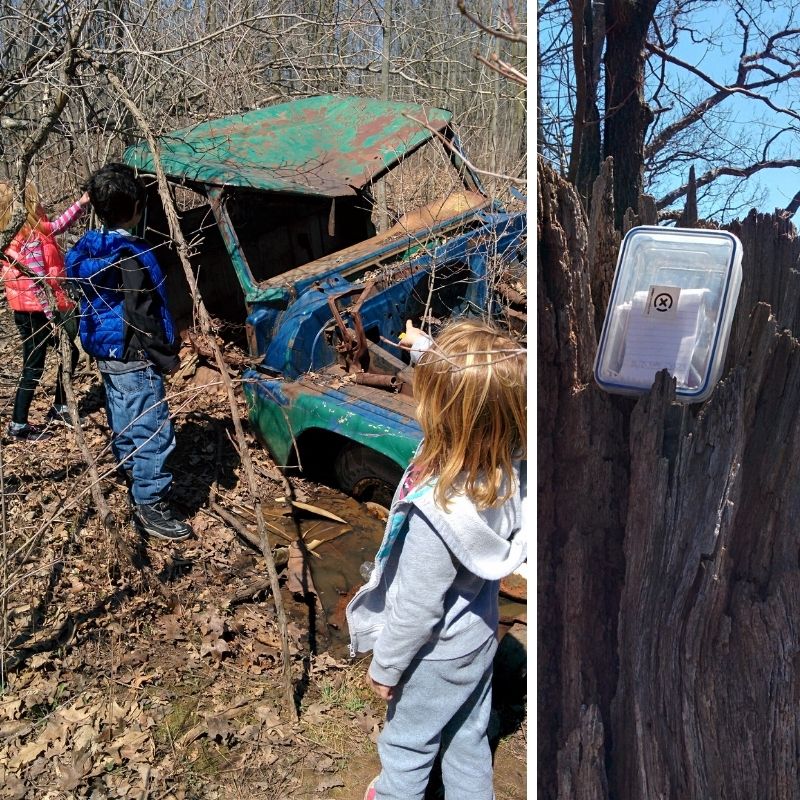 Much like the "ghost cabin", the history on the rusted out car is unknown to me, but we had tons of fun imagining how it got there. Off-road ride gone awry? I'd love to know more about either of these little gems, so if you have details, leave them in the comments below.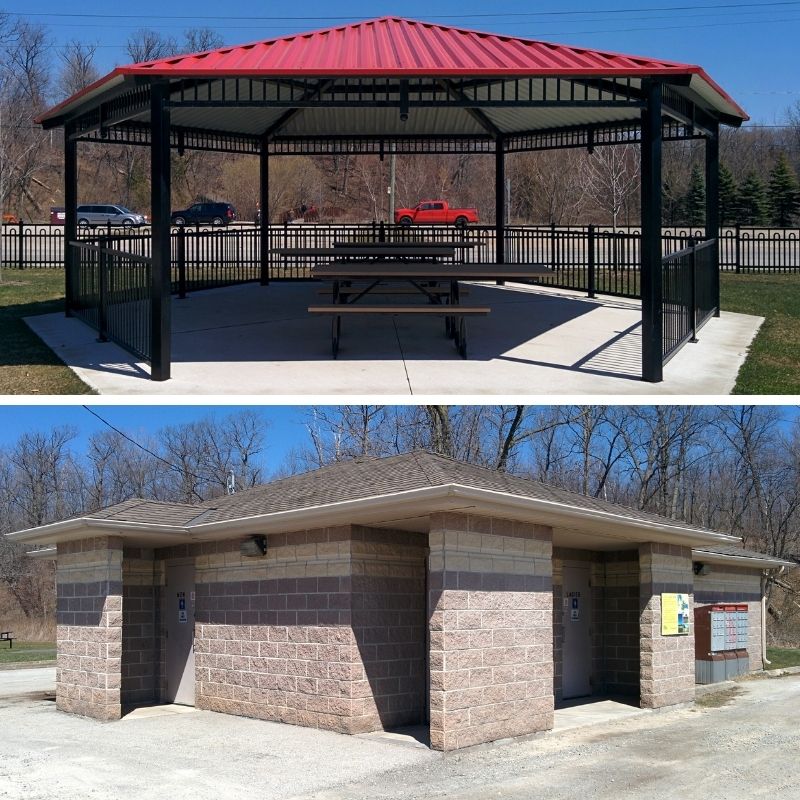 After our geocache adventure, we sat in the gazebo to have a snack and re-hydrate, then we hit up the (surprisingly clean) restrooms before getting in the truck and going home. Disclaimer: The restrooms had toilet paper, were checked throughout the day, and didn't smell, and to me that is clean. That's what I get for being raised in the 6ix.
Hidden Valley Park Summed Up
Play structures: slides, swings, spring-mounted rescue car, those seats you spin like crazy on, and monkey bars for days. Splash pad operational during summer.
Amenities: washrooms, ample parking, 10+ picnic benches, 5+ park benches, shaded gazebo.
Bonuses: Burlington Model Railway Club, mysterious stone cottage, an abandoned car that sparks the imagination, and a few great geocaches to find.
Did I miss anything at Hidden Valley? What park should we visit next? What is your favourite park in Burlington?