It is rare to have such a beautiful light festival also be FREE but the Festival of Lights in Burlington is just that! Here's when it starts, ends and what displays you can expect to see.
READ MORE: Drive Through and Walk Through Light Shows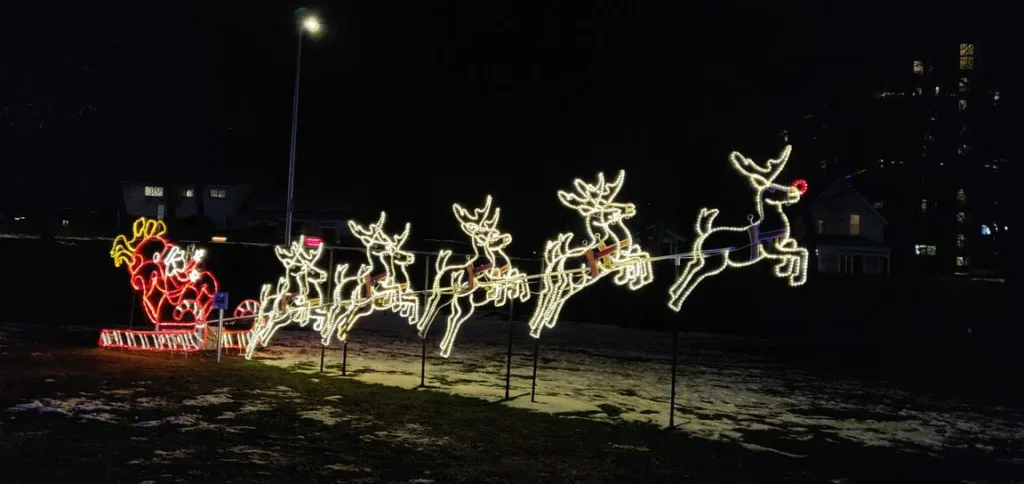 What is the Burlington Festival of Lights?
Every year, Spencer Smith Park is turned into a festive, glowing landscape of holiday, Christmas and everyday scenes. Volunteers and donations make this event run smoothly, and we add this to our list of must-do winter events every single year.
The Festival of Lights kicks off with the Candlelit Stroll through Downtown Burlington, so make sure to attend that as well! The entire evening is filled with seasonal joy and opportunities to make memories and snap photos.
Spread throughout this article you'll see some of our favourite light displays, each handmade and assembled specifically for the Festival. Some are classics like Santa with his sleigh. My favourite has always been a tie between the moose and pine trees and the 5 blue "frames" framing seasonal items. I'll share it below.
READ MORE: Experience the CP Holiday Train When It Stops in Hamilton, Milton and Cambridge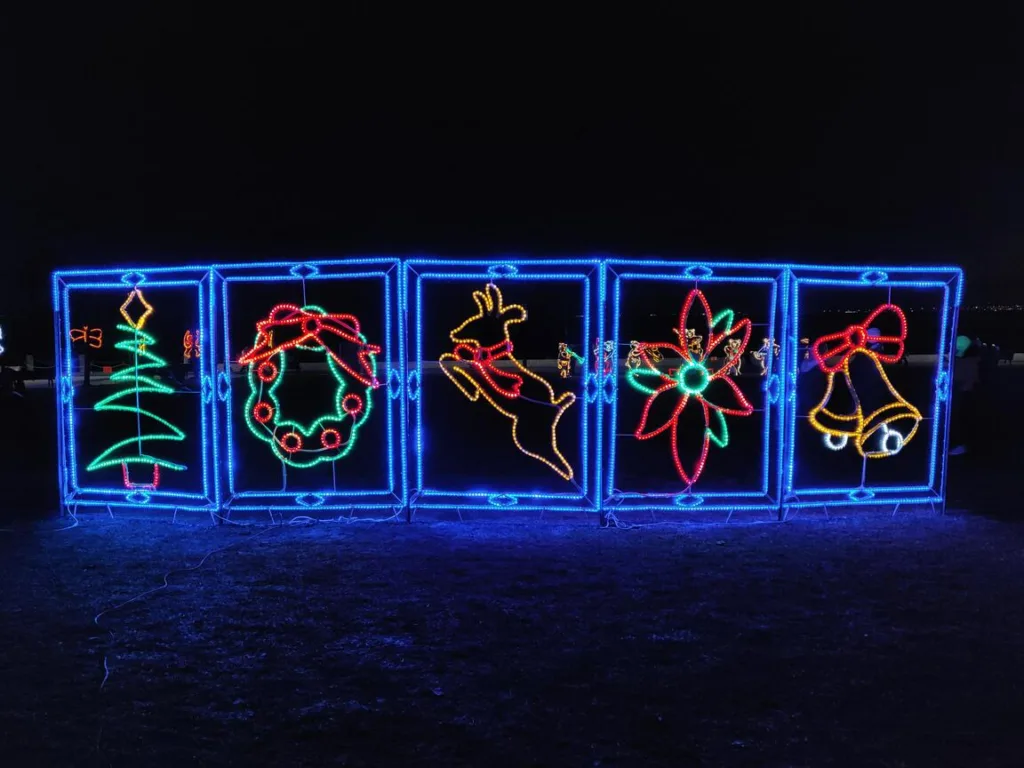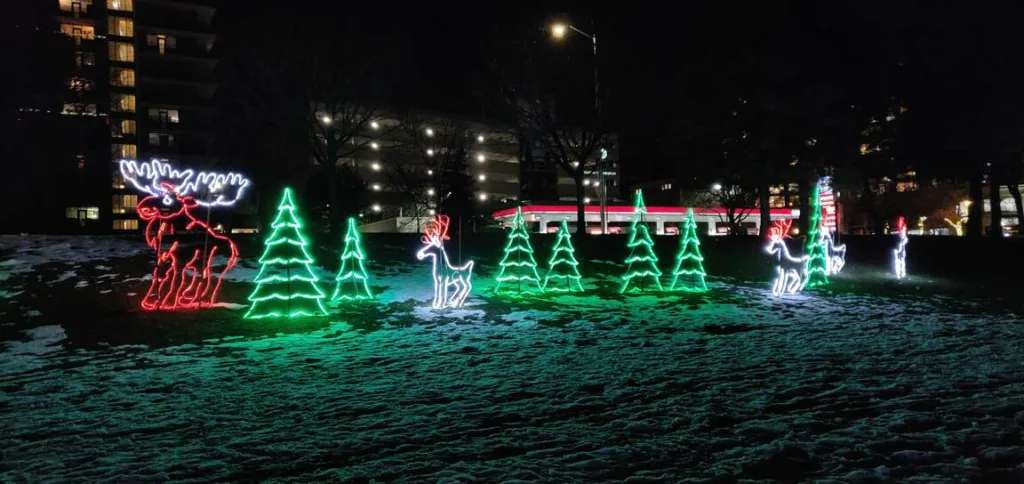 Festival Dates and Times
The Festival kicks off on Friday, November 24, 2023 at 4 pm, with the lights on daily from 4 pm till midnight daily until Monday, January 8th, 2024.
READ MORE: Find the best holiday events happening today and all season long.
Tips and Answers To Frequently Asked Questions
We like to think of ourselves as veterans of the Burlington Festival of Lights. We've gone every year since I moved to Burlington over 20 years ago, and that was long before we had a family to take. Here are my tips for visiting, with kids and without:
Proper footwear. watch the weather, if it is even a little bit wet out, the grounds will be VERY wet. Rubber boots or winter boots are essential.
Bring your camera and a hot beverage to keep you warm if the temperatures drop.
Come at night if you can. Lights are on from 5 pm, and look their absolute best after dark.
The waterfront is stroller-friendly, but the grounds aren't as manoeuvrable if they have frozen.
Bring a flashlight because the ground has a lot of tables and tie-downs that you could trip over if you don't see them.
Dogs on leashes are very much welcome.
There's limited parking directly at Spencer Smith Park but there is ample parking in the structure and on side streets.
No tickets, no pre-booking and no cost to visit the Burlington Festival of Lights.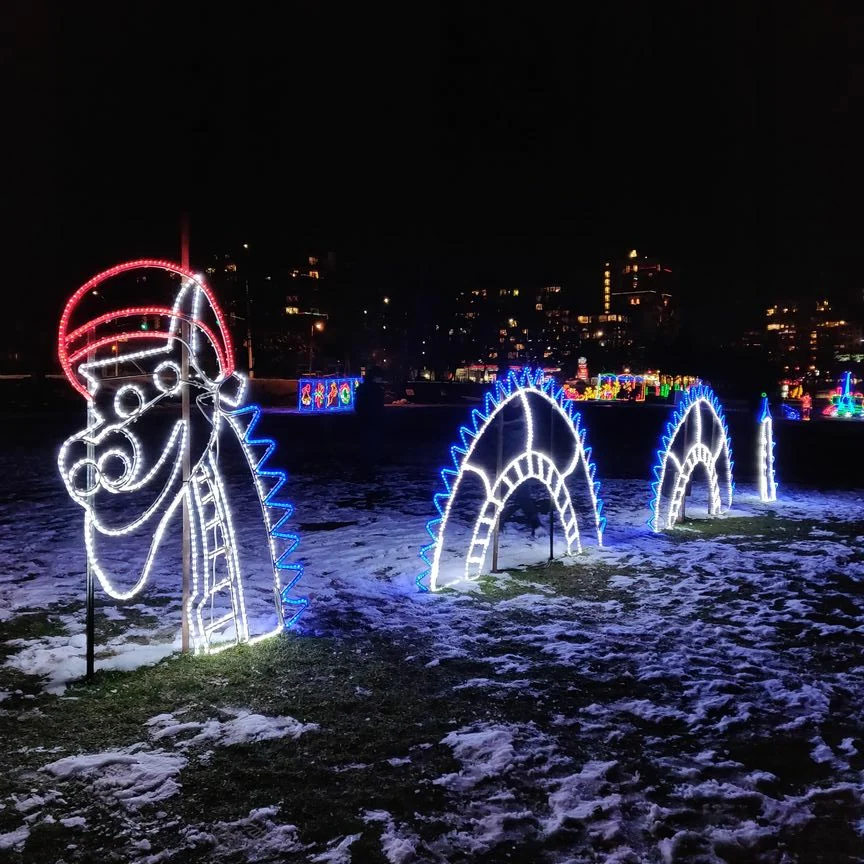 Volunteer at Burlington Festival of Lights
As mentioned, the F.O.L. wouldn't run nearly as well without the hardworking volunteers who assemble and tear down the displays every year. Apply for volunteer opportunities – also called the Twinkle Patrol – with the Festival of Lights through Volunteer Halton. Click here for more info on volunteering.
Have a Holly, Jolly Time With These Helpful Articles
Enjoy some of our most recent articles on all things Christmas. Or click here to see everything Winter-related.