Do you have a student at home looking for volunteer opportunities in Hamilton? Ontario high school students need 40 hours of community volunteer service to graduate with their Ontario Secondary School Diploma.  Recognizing that it can take some thought, time, and effort to find suitable roles for your teens, Active Parents has some ideas to get you started.
Volunteering in high school can be a rewarding and fulfilling experience. It not only provides an opportunity to give back to the community but also helps students develop important skills and qualities such as leadership, communication, empathy, and responsibility.
We also have a great list of Halton volunteer opportunities.
Earning High School Volunteer Hours
Parents, you can learn more about the program online. You can also check out eligible and ineligible volunteer activities because not everything qualifies. Download your volunteer hours record sheets on the Hamilton-Wentworth District School Board Community Involvement Hours page and on the Hamilton-Wentworth Catholic District School Board Christian Service Program page.
Now, for the fun part, finding the organizations that are looking for volunteers…  And, keep in mind that teens may volunteer with multiple places to make up the 40 hours. This will give them exposure to different types of experiences and introduce them to even more people, expanding their network.
The HWDSB lists known opportunities on the Kambeo website.
Other portals and Resources
These sites list volunteer opportunities in Hamilton for teens who want to work with youth, seniors, churches, animals, events and more.
Volunteer Hamilton has a wealth of information on their website whether your student is interested in sports, arts, religion, health, the environment or in other areas.
Dundas Community Services has a volunteer portal.  There are opportunities to give back alongside your children, sign ups for teens, seniors, and persons with disabilities, too.
Flamborough Connects lists a variety of opportunities, including some for students, in Waterdown, Carlisle, Freelton, Millborough, Millgrove, Rockton etc.
The Youth Portal has volunteer positions and lists volunteer opportunities from other places like the Village Theatre Waterdown, Good Shepherd, Animal Adoptions, and Eagles Nest.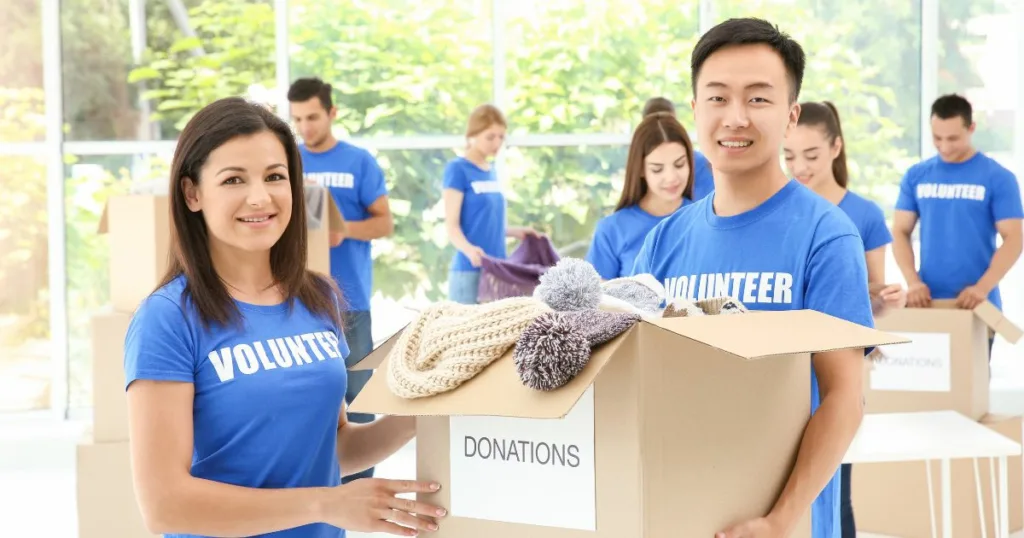 More Opportunities In Hamilton For High School Students
City of Hamilton opportunities
Is your teen interested in working with seniors or in healthcare or sports?  If so, you might want to check out some of the opportunities, like the ones at Macassa and Wentworth Long Term Care Lodges, listed on the City of Hamilton Volunteer Opportunities page.  The City's Recreation programs also accepts students aged 13 and up for help with swimming and dryland programs and camps. They have lots of volunteer opportunities in Hamilton.
Help Kids in Your Community
Teens may apply to give their time with Routes Youth Center helping with fundraising and community outreach events in Dundas, ON.  Email: [email protected].
Community events
High school students may give their time to help at Waterdown's Oh Canada Ribfest.  This is a fun way to earn some of your 40 hours. High school students often help with set up, take down, beverage sales and other general duties.
Volunteer Opportunities With Hamilton Libraries & galleries
For teens interested in libraries and museums, the Hamilton Public Library offers volunteer opportunities for high school students. The HPL accepts youth volunteers aged 14 and older.  There are different positions and they have a Volunteer Coordinator (who you may email at: [email protected]) and an online application form. 
The Art Gallery of Hamilton has a volunteer program too.  Check their website to read about the different positions and to see if they are accepting students when your teen is looking.  You may also email them at: [email protected].
Art classes
Contact Dundas Valley School of the Arts to learn more about volunteer positions for teens.  Students can sign up and earn volunteer hours by helping out at the school and with programs and special events.
Science & nature
Calling all environmentalists! Here is a great way to earn high school volunteer hours.  Green Venture has volunteering positions for gardening, the seed library, social media, programming and special events.  This is an opportunity to learn about nature and be a steward of the land in the Greater Hamilton Area.
And, last but not least, don't forget about the Royal Botanical Gardens if your teen is concerned with protecting the natural environment.
More Ideas For Family Fun
We've been to so many cool places, and we've made it our mission to share all the fabulous locations we find with you. Whether you're planning a day trip or looking for the best playgrounds, we've got your back. We are all about discovering the most amazing indoor play areas, farms and animal experiences, and a whole bunch of other visit-worthy local attractions. Check out our latest blog posts below to make sure you have an absolutely epic weekend!