Pumpkins After Dark Milton is back again for 2023 at Country Heritage Park in Milton and we scoped it out to give you a behind-the-scenes tour before you go. We are sharing tips from our visit, a link to get your tickets and some fun Pumpkins After Dark photos to get you in the Halloween mood. Come along as we visit this award-winning outdoor Halloween event.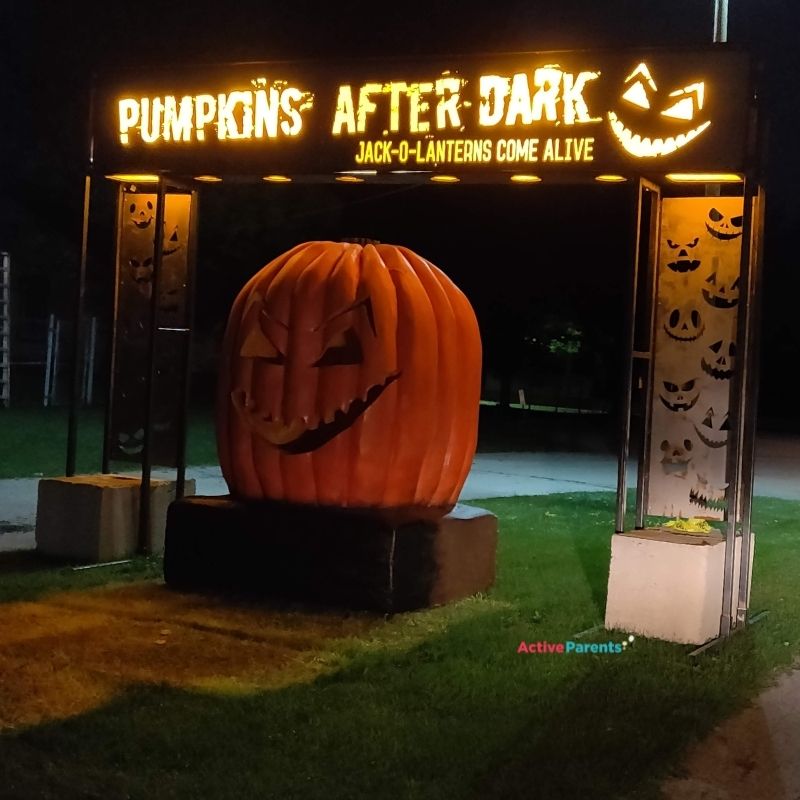 What is Pumpkins After Dark?
If this is your first year attending Pumpkins After Dark we have suggestions on how to make the most of your visit. This Halloween event has been set up as a walk-through experience around Country Heritage Park. Running from September 23 through October 31 in Milton, we think it's the perfect kick-off to the spooky season and ideal for any family who loves Halloween.
The route is decked out with 10,000+ hand-carved pumpkins, some real and some craft. It simply would not be possible to put on an event of this size and duration without using craft pumpkins. Rest assured, it does not take away from the artistry of the sculptures. Every pumpkin is hand-carved in the same artistic manner, using 2D and 3D techniques, as real jack-o-lanterns.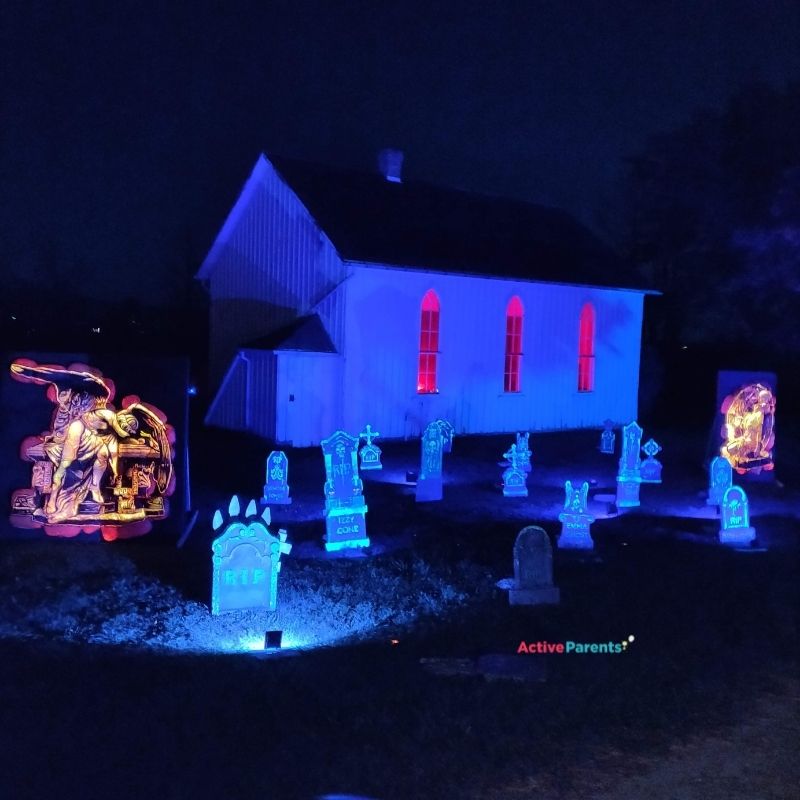 How Long Is The Pumpkins After Dark Walk Through?
The route is approximately 2.5 km long and it took us about 1.5 hours to stroll through it. I love that it's back to being walk through so we can go at our own pace and see more of what we love. Bring your camera! We also packed the kids in with popcorn and goldfish crackers, drinks and a warm blanket for afterwards in case it's chilly.
Make time to check out the live pumpkin carving demonstration. The talented artists can turn a squash into anything you imagine!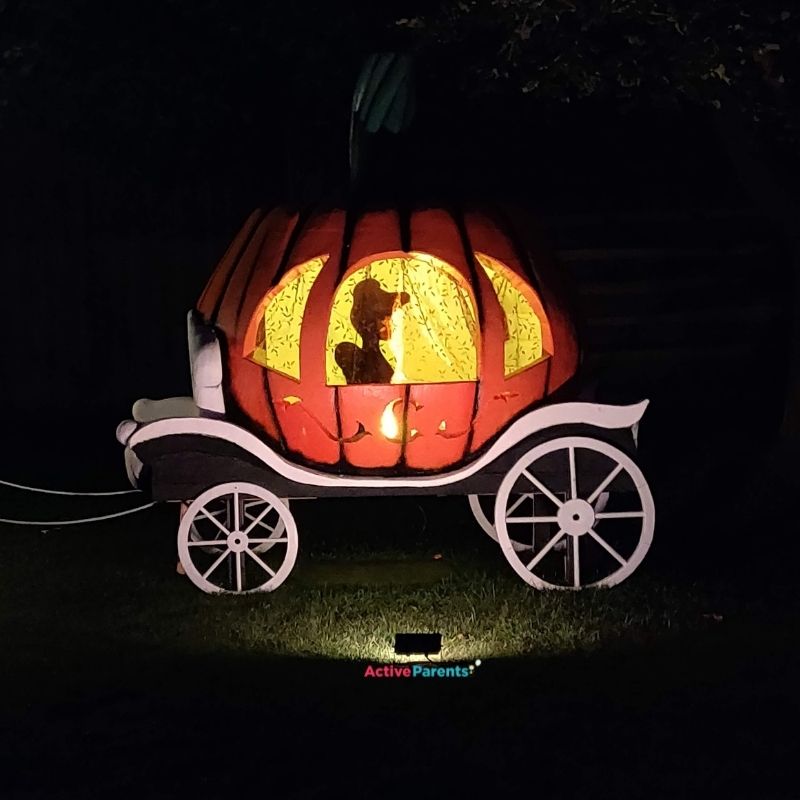 Is Pumpkins After Dark Scary?
My girls started going to Pumpkins After Dark when they were 7 and 9 and it's always been a great family event. Many of the carvings are of characters they'll know and love, like Super Mario, Cinderella, Harry Potter and superheroes.
Nothing jumps out or is created to scare you in any way. There's no gore or blood, or anything like that. We have found it to be fun for the entire family.
Check out more photos of our visit here on our Instagram page.
Pumpkins After Dark Tickets
While this is one of the priceier events we do or Halloween, we really do have a great time.
Family Package – 2 adults and 2 kids = $80.80
Eash general admission ticket (17+) = $17.95
Tickets for 4-16 years old = $19.95
Kids under 3 are free.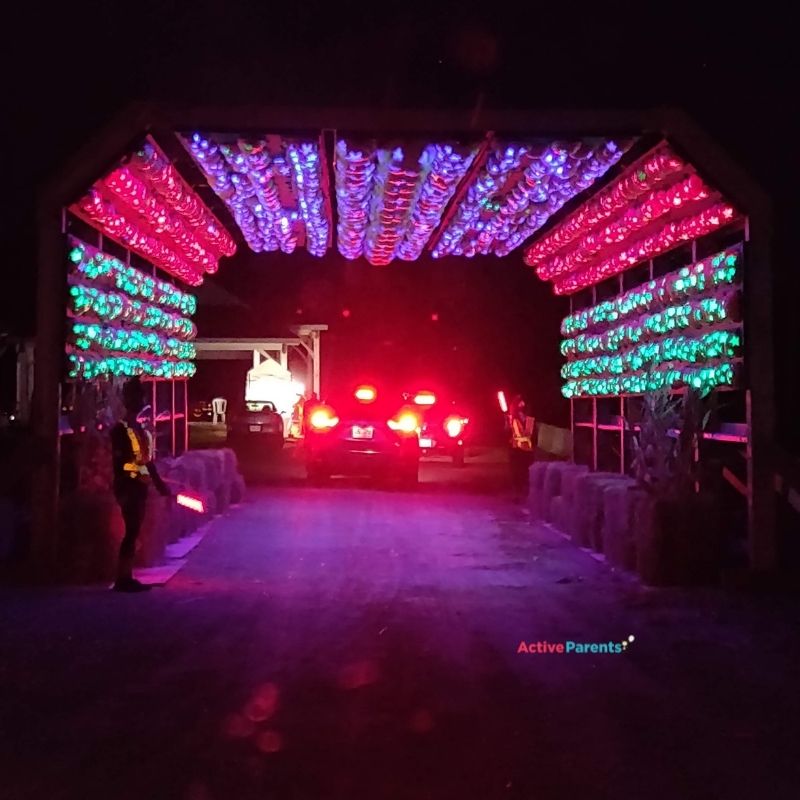 Tips For Your Visit
Pre-purchase your tickets here, they're not selling them at the gate, online purchase only.
You can bring your furry friend on 3 pet-friendly evenings in October.
Washrooms are on site
Tons of friendly staff on-site to help you with directions to get in and out of the route.
Pumpkins After Dark happens rain or shine, and your tickets are not refundable. Tickets are transferrable, though, so share them with friends or family if you are unable to attend.
Read Our Latest Articles
Catch up on what we've been covering! Here are our latest reads, hot off the presses just for you. Never miss an article when you subscribe to our weekly newsletter filled with kid-friendly fun and events.