Every summer, parents and kids need bike tune-ups. If you're looking for bike mechanics in Burlington or bike mechanics in Hamilton, we can help! We asked our community who they turn to to fix their wheel, and they shared their top recommendations.
Bicycles are important in our lives because they provide a way for kids and adults to travel, exercise, and have fun. But, like any other vehicle, bikes need to be taken care of and fixed sometimes to keep them working well. When your wheels need an overhaul, trust a local bike mechanic. They have unique skills and can help you in many ways.
The Benefits of Local Bicycle Mechanics
Expertise and Experience: Local bike mechanics with many years of experience have learned a ton about different kinds of bikes. They can provide preventative maintenance and bike tuneups to keep your wheels rolling all summer. They're experts who ensure your bike is safe and gets the attention it needs.
Personalized Service: Local bike mechanics take the time to understand what you want and how you like to ride. They will make time for you and your bike service needs. They give you personalized help and ensure your bike gets serviced the way you want it, making your biking experience even better.
Support Local Businesses: When you choose a local mechanic for your bicycle tuneup, you're helping your community grow and stay strong. Supporting local businesses is good for the local economy and creates job opportunities. It also makes your community proud. Local mechanics often care more about quality than quantity, so they make sure you get top-notch service.
Where to Find Local Bike Mechanics:
Independent Bicycle Shops: Independent bike shops are a hub for cycling enthusiasts, offering a wide range of services, including repairs, bike maintenance, and fittings. These shops usually have experienced mechanics on staff who can handle all aspects of bicycle care.
Community Co-ops: Community co-ops are collaborative spaces where cyclists come together to share knowledge, tools, and resources. They often have skilled mechanics who provide assistance and guidance to fellow riders. Joining a co-op not only offers repair services but also provides opportunities to learn and connect with other cyclists.
We asked our Facebook community who they trust with their bicycle maintenance and they gave us some great options for Hamilton bike mechanics and Burlington bike mechanics.
Great Paths For Cycling
Ride your bikes along the Hamilton waterfront and this cool playground
Biking across Burlington will have you crossing along two playgrounds at Sherwood Forest Park
Have you tested the Dirt Jumps at Nelson Park? Adventurous kids will love them!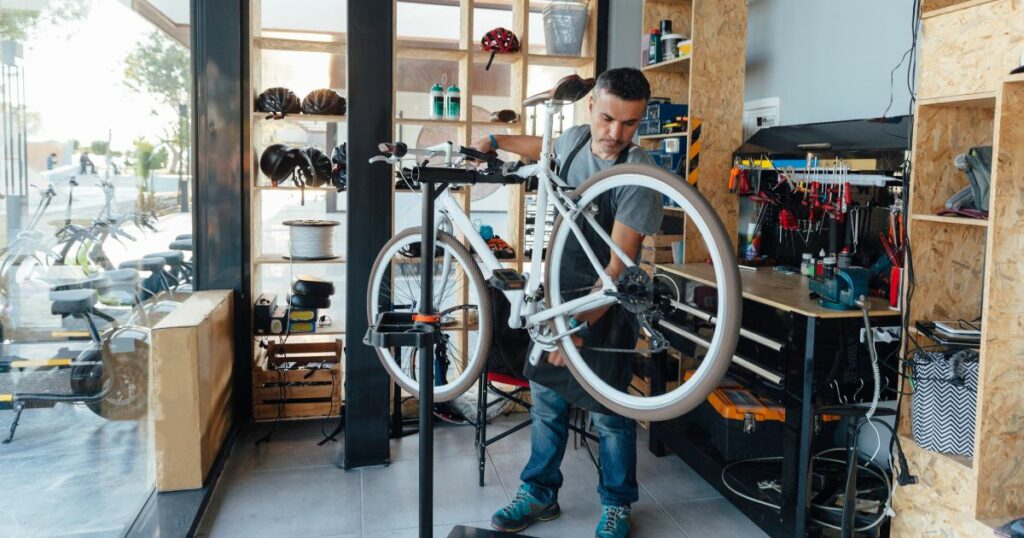 Bike Mechanics in Hamilton
New Hope Community Bike Shop – is a learning hub for building and repairing bikes, offering safe cycling education, providing access to affordable transportation, and fostering a rich and inclusive cycling community. They are one of the top recommended bike mechanics in Hamilton according to our audience of parents. They are a registered charity offering well-priced service and support. If you have a bike your kids have outgrown, New Hope also accepts bike and parts donations.
Freewheel Cycle is located in Dundas Ontario. Freewheel staff will offer you quoted pricing and timelines for your repair while you wait. If you're in the market for a new set of wheels, Freewheel Cycle also sells new bikes.
Sports Swappers was recommended for their service and affordability when it comes to maintenance and also purchase a used bicycle. Their most active in their Facebook group.
Bike Mechanics in Burlington
Rock and Road Cycle is a local bike shop that offers the quality of service and attention to detail, that only a small shop can. Whether you're a weekend warrior, commuter, family rider, triathlete or trail rider, they can keep you riding.
Rolling Horse is a non-profit bicycle shop offering full-service and refurbished bike sales. They also host community outreach programs including Mechanic Training, Youth Drop-Ins, Community Clinics, and more! They always accept bike donations during their open hours. Rolling Horse is one of the top recommended bike mechanics in Burlington according to our audience of parents.
While it might be tempting to tackle bicycle repairs on your own or opt for convenience at big-box stores, using a local bike mechanic has several benefits. Their expertise, personalized service, and contribution to the local community make them an ideal choice for maintaining and repairing your beloved bicycle. Whether you visit independent bike shops, community co-ops, or explore online directories, prioritize local bike mechanics to ensure the longevity and performance of your two-wheeled companion.
More Ideas For Family Fun
We've been to so many cool places, and we've made it our mission to share all the fabulous locations we find with you. Whether you're planning a day trip or looking for the best playgrounds, we've got your back. We are all about discovering the most amazing indoor play areas, farms and animal experiences, and a whole bunch of other visit-worthy local attractions. Check out our latest blog posts below to make sure you have an absolutely epic weekend!