Start meaningful conversations with your kids by updating your bookshelves with diverse books for kids when they are young to showcase a variety of families, identities and lifestyles. We are so thankful that Victoria Schwarzl of After All Photography shared with us her favourite books on diverse families. 
A Note From Victoria: There are many more great diverse family books (this is by no means a full list!) but this Pride Month I wanted to share with you some of our favourite titles. As we're a two Mommy family, you'll notice most of our books centre around two Moms! We have a two-year-old toddler, so this list skews to younger kids. It's important to see and celebrate all types of families and love in all different forms – after all, it's love that makes a family!
children's book showcasing diverse families
We are thrilled to share these recommendations of diverse books for kids as a great jumping-off point for your at-home library. We've included the synopsis for each book, as written by the publishers.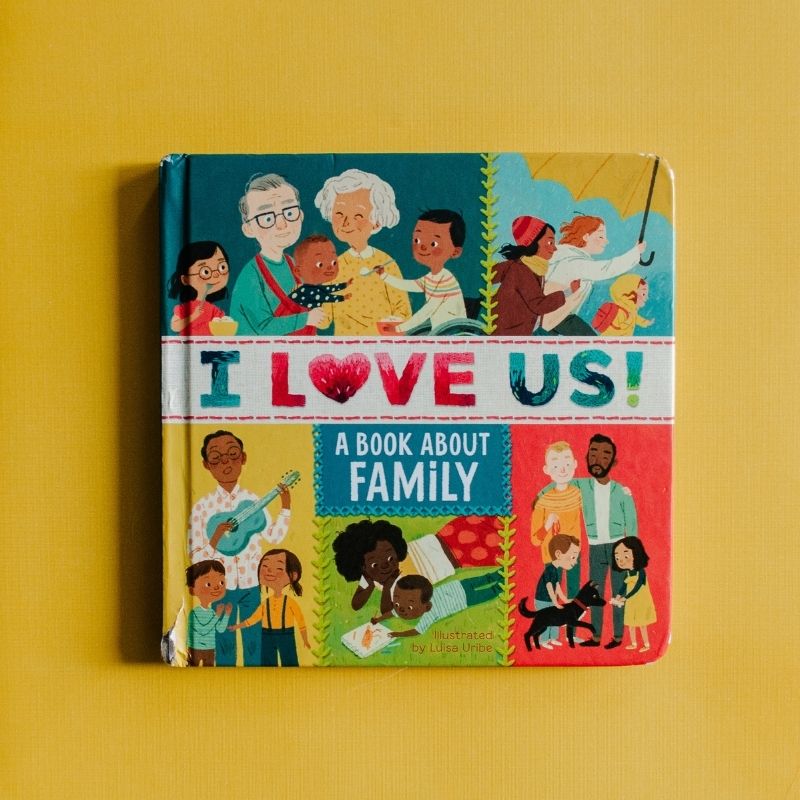 I Love Us: A Book About Family
A celebration of all types of families and the bond that holds each one together: Love! This book includes a mirror so YOUR unique family will be reflected in the story. Work together to fill in the bonus family tree with the names of everyone you love. Families can be big, small, silly, adventurous, loud, or messy, but they all have love in common.I Love Us! is all about the little ways families show they care: breakfasts made, play times shared, hurts soothed, and good times celebrated. With a mirror surprise and fill-in family tree, this special book makes a wonderful gift for children and the people who love them on Valentine's Day, Mother's Day, Father's Day—every day! Published by Houghton Mifflin Harcourt.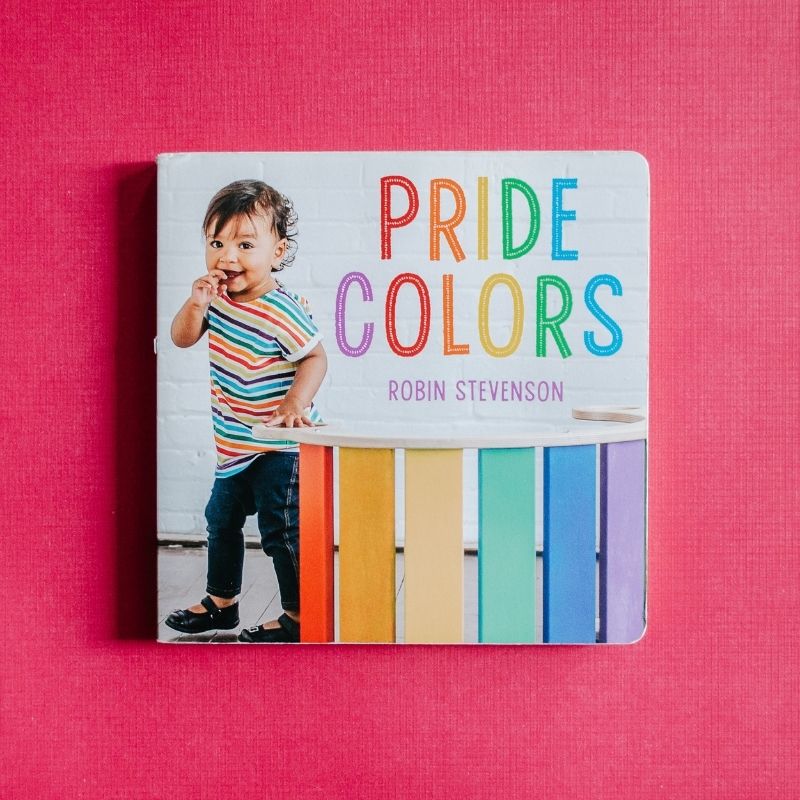 Pride Colors by Robin stevenson
"The cutest little rhyme with beautiful photography, we've read it so many times that our toddler daughter can recite the entire thing by memory! " Through gentle rhymes and colorful photographs of adorable children, Pride Colors is a celebration of the deep unconditional love of a parent or caregiver for a young child. The profound message of this delightful board book is you are free to be whoever you choose to be; you''ll always be loved. Celebrated author Robin Stevenson ends her purposeful prose by explaining the meaning behind each color in the Pride flag: red = life, orange = healing, yellow = sunlight, green = nature, blue = peace and harmony, and violet = spirit.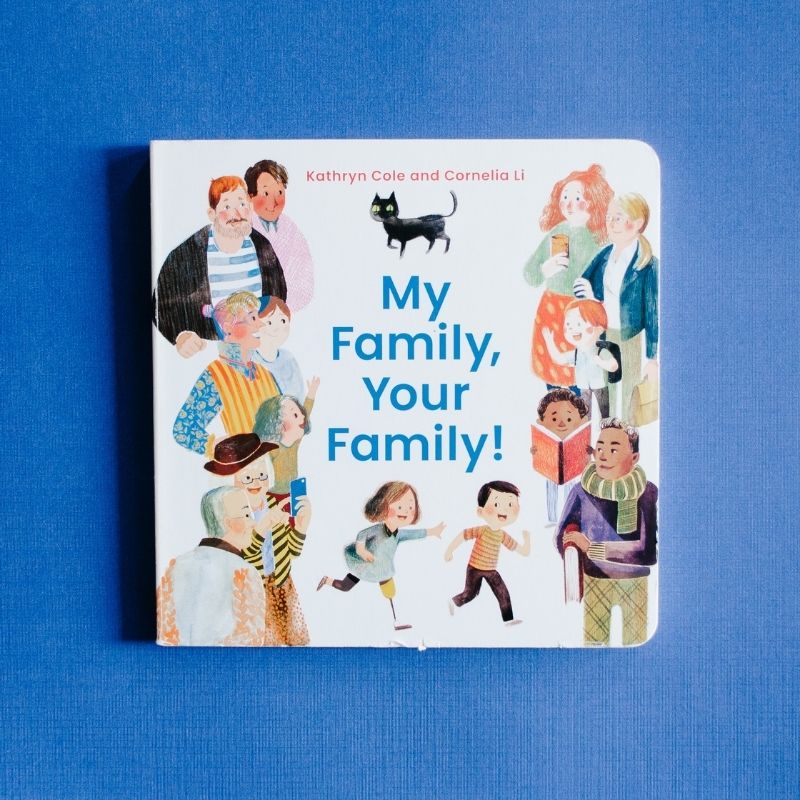 My Family, Your Family by Katherine Cole
"Includes all types of families including stepfamilies, grand families, sharing families (divorced families) etc. " There is no one-size-fits-all when it comes to families! This book includes a diverse array of characters and celebrates gay parents, single parents, blended families, and other family groups rarely seen in board books.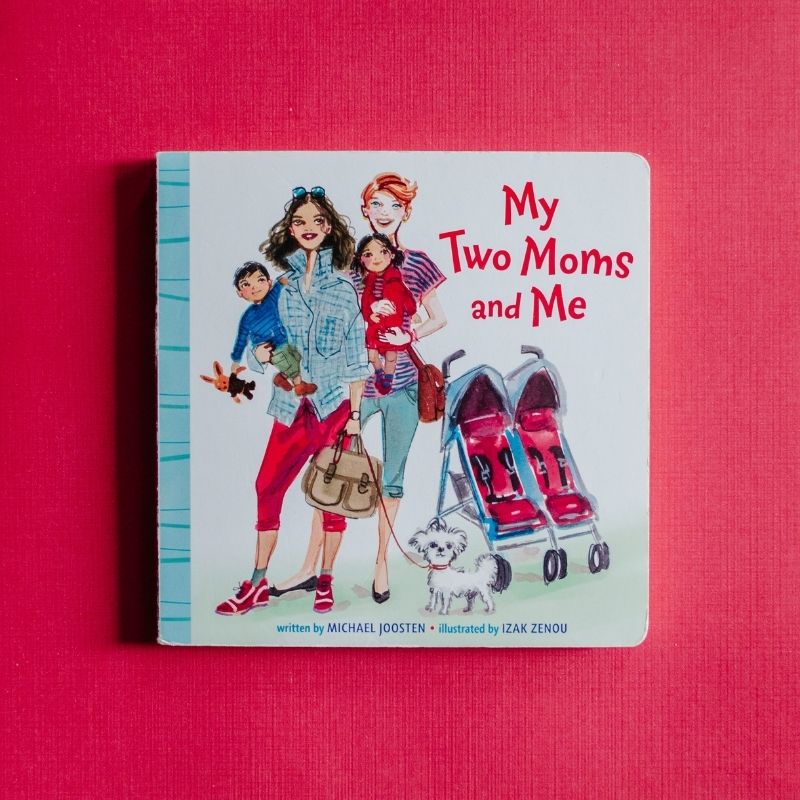 My two moms and me by Michael Joosten
Families with same-sex parents are celebrated in this board book that follows busy moms and their kids throughout their day—eating breakfast, going on a playdate, heading to the pool for a swim, and settling back in at night with a bedtime story and a good-night lullaby. LGBTQ+ parents and their friends and families will welcome this inclusive and cheerful book that reflects their own lives and family makeup. "Gorgeously illustrated by a fashion designer, shows different types of two moms families in everyday adventures - if only our life really did look like this!" Also available, My Two Dads and Me by the same author.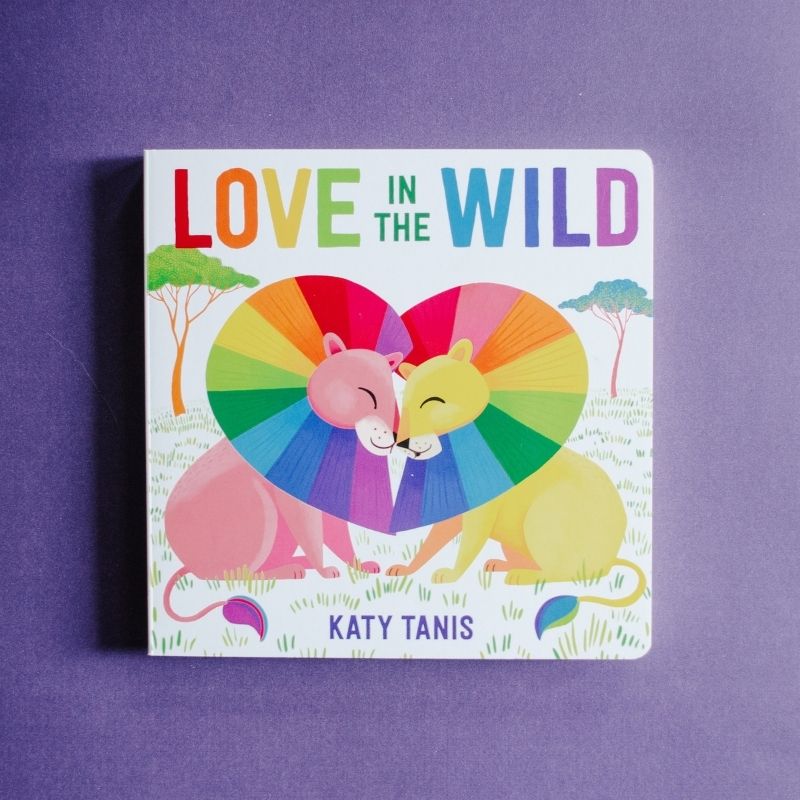 love in the wild by katy tanis
The sweet rhyming text in Mudpuppy's Love in the Wild Board Book highlights the many different types of love that can be found in the animal kingdom! This colorful celebration of love is based on scientists'' observations of same-sex couples, adoption, non-binary gender expression and more. Author-illustrator Katy Tanis is currently earning a MA in Biology from Miami University of Ohio. Her graduate work, partnering with the Wildlife Conservation Society, explores the promotion of conservation biology through art.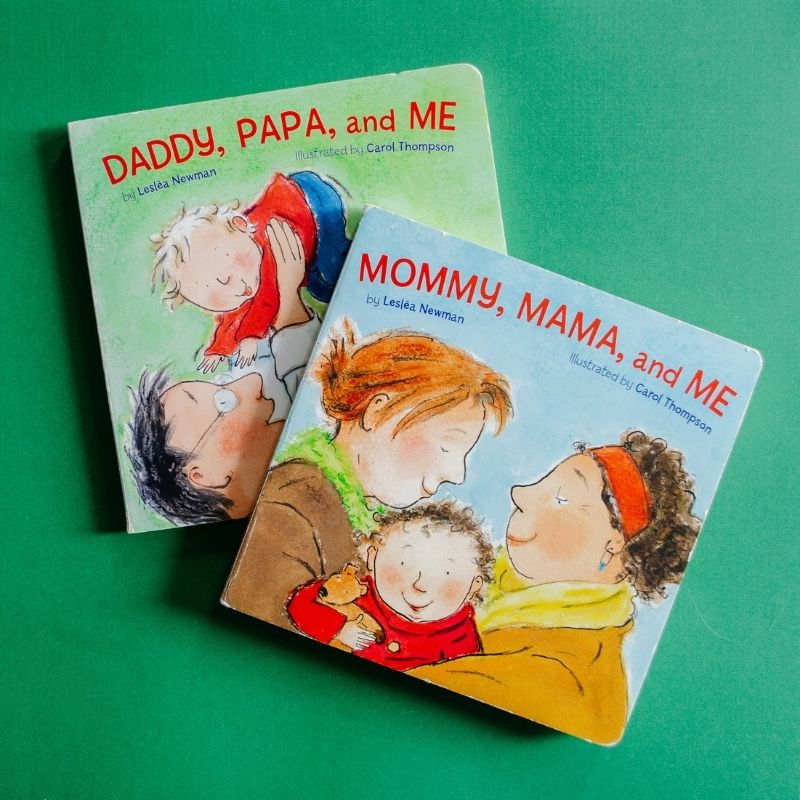 daddy, papa and me / mommy, mama and me by Lesléa Newman
Rhythmic text and illustrations with universal appeal show a toddler spending the day with its daddies. From hide-and-seek to dress-up, then bath time and a kiss goodnight, there''s no limit to what a loving family can do together. Share the loving bond between same-sex parents and their children in this heartwarming story of family.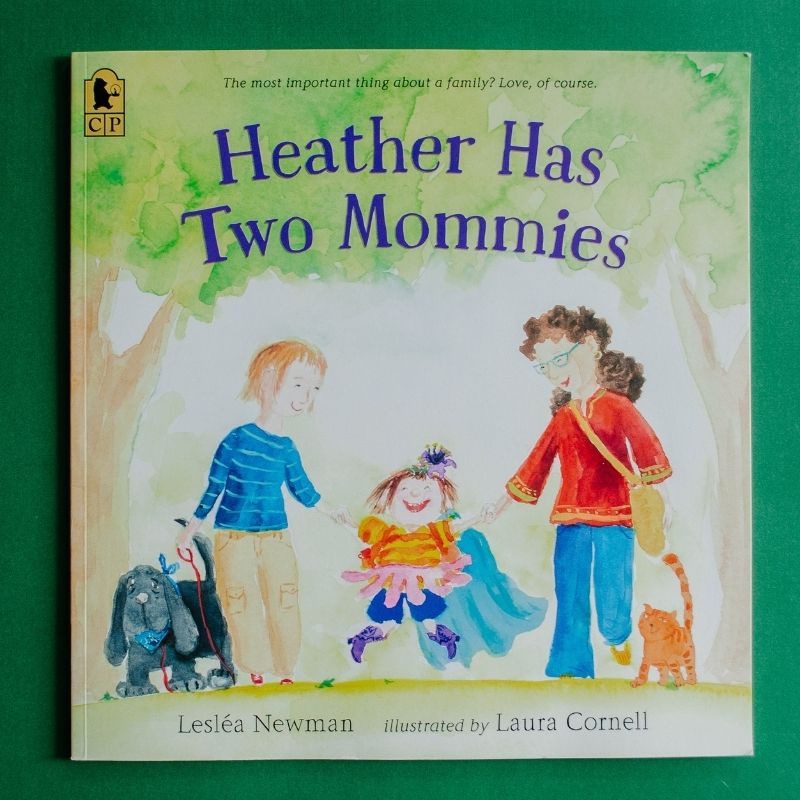 Heather Has Two Mommies by Lesléa Newman
"This is one of the first books we found for diverse families and it's been around forever! Deals with going to school and having to explain a two Mom family in that environment." Heather's favorite number is two. She has two arms, two legs, two pets—and two mommies. When Heather goes to school for the first time, someone asks her about her daddy, but Heather doesn't have a daddy. Then something interesting happens. When Heather and her classmates all draw pictures of their families, not one drawing is the same. This delightful edition for a new generation of young readers features fresh illustrations by Laura Cornell and an updated story by Lesléa Newman.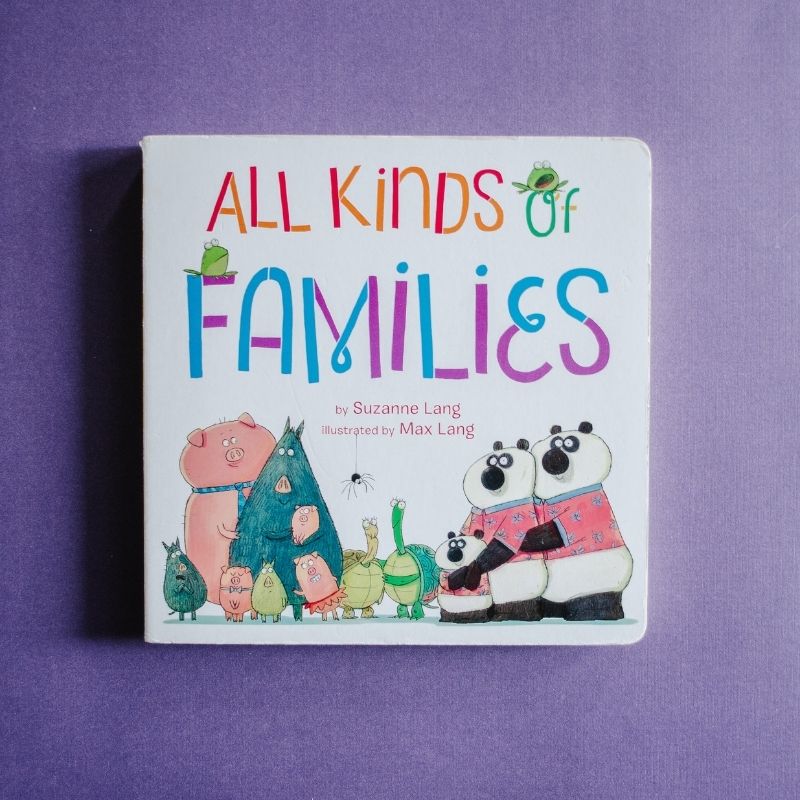 All Kinds of Families by suzanne lang
"One of our faves, showcases all different types of animal families and all of the various family members that can form a family using fun animal families." Lots of nontraditional family structures are celebrated in this super-fun and super-accessible board book! Kids will love finding their own family represented, no matter if they have two moms, one grandpa, or just a cousin named Doug. The brilliant creative team behind Grumpy Monkey wanted a simple book they could use to talk with their kids about the different kinds of families they would encounter in the world--so they made this! A silly and positive introduction to open-mindedness and all kinds of family love.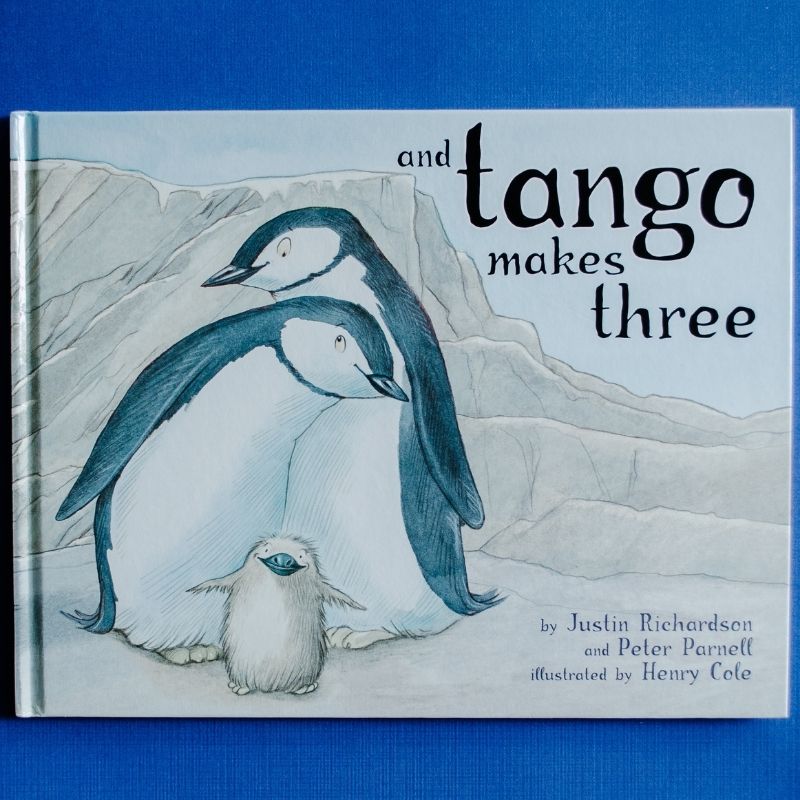 And Tango Makes Three by justin richardson
"Based on a real life love story of two male penguins at the New York City Central Park Zoo, who fell in love and were provided with an egg to hatch from a zookeeper. When we first read this book, we cried it touched us so deeply - I don't think anyone could read through without a happy tear!" At the penguin house at the Central Park Zoo, two penguins named Roy and Silo were a little bit different from the others. But their desire for a family was the same. And with the help of a kindly zookeeper, Roy and Silo got the chance to welcome a baby penguin of their very own.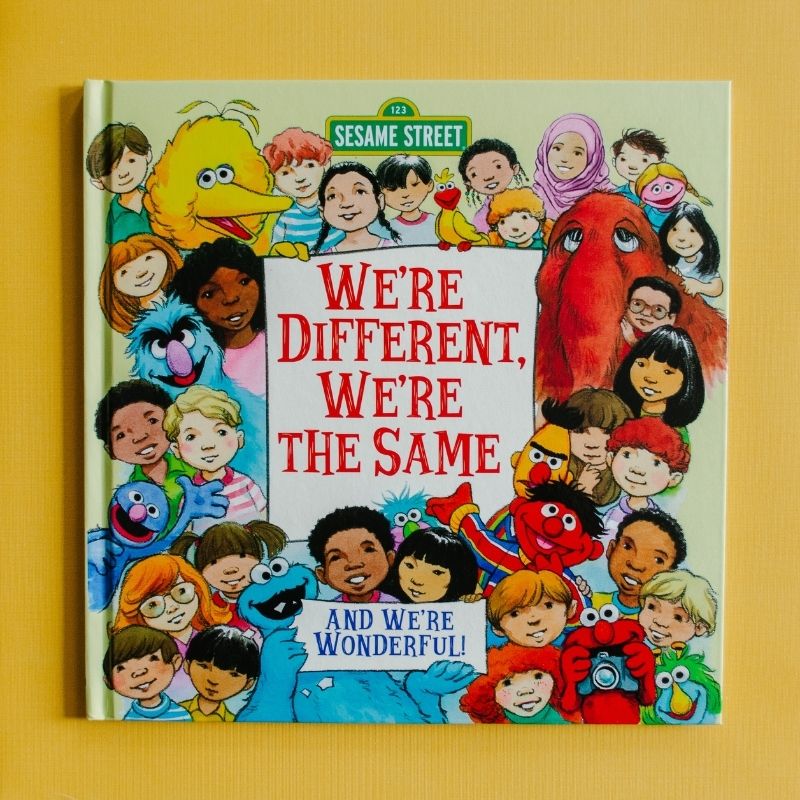 We're Different, We're The Same by bobbi kates
Elmo and his Sesame Street friends help teach toddlers and the adults in their lives that everyone is the same on the inside, and it''s our differences that make this wonderful world, which is home to us all, an interesting—and special—place. This enduring, colorful, and charmingly illustrated book offers an easy, enjoyable way to learn about differences—and what truly matters. We're Different, We're the Same is an engaging read for toddlers and adults alike that reinforces how we all have the same needs, desires, and feelings.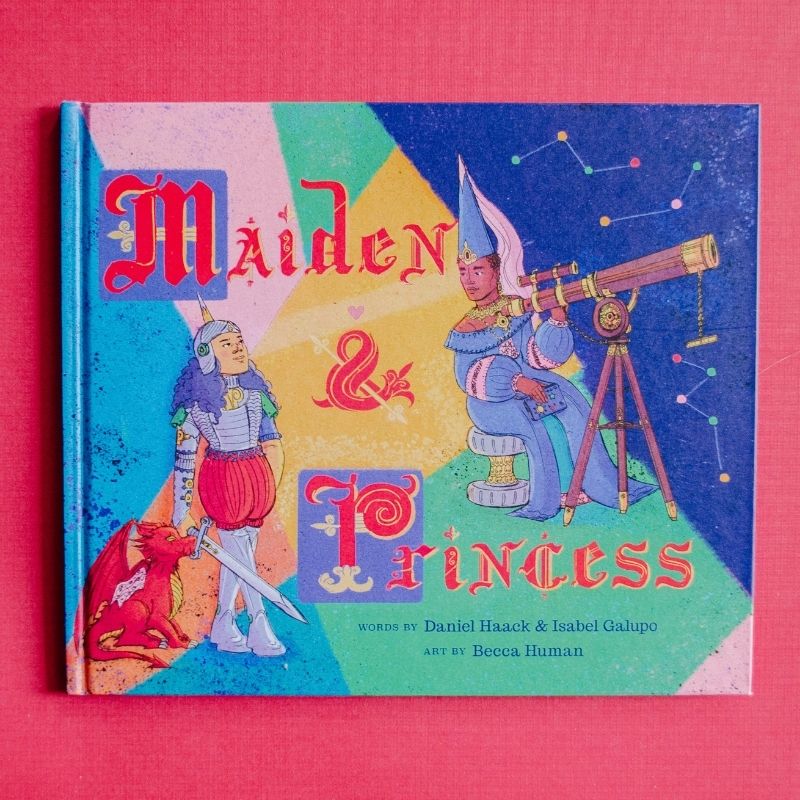 Maiden & Princess by daniel haack
Once in a faraway kingdom, a strong, brave maiden is invited to attend the prince's royal ball, but she's not as excited to go as everyone else. After her mother convinces her to make an appearance, she makes a huge impression on everyone present, from the villagers to the king and queen, but she ends up finding true love in a most surprising place. "Truly one of our most important books - a fairy-tale for 2021 where a maiden falls not for the Prince, but for his sister, the Princess and they ride off into the sunset living happily ever after. It means the world to us to have found a fairy-tale that represents our love and that we can share this with our children. It's important that the noble royal family is Black and the characters are all ethnically diverse. There's also a male love story as well, The Prince and the Knight."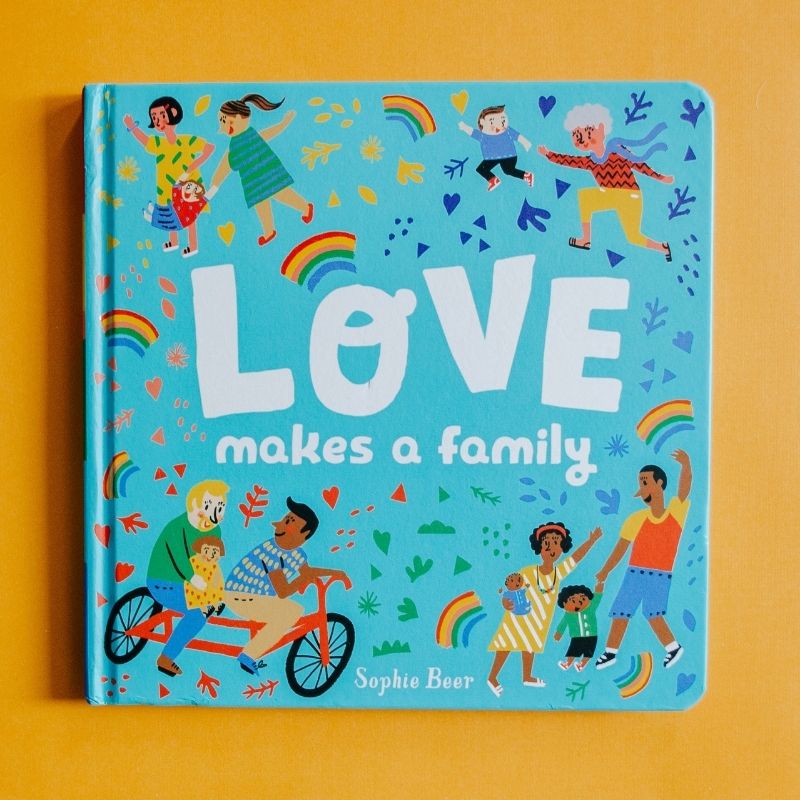 love makes a family by sophie beer
"This is from a fabulous author and illustrator who also created a similar book about acts of kindness (Kindness Makes Us Strong) and features ethnically diverse characters and families." Love is baking a special cake. Love is lending a helping hand. Love is reading one more book. In this exuberant board book, many different families are shown in happy activity, from an early-morning wake-up to a kiss before bed. Whether a child has two moms, two dads, one parent, or one of each, this simple preschool read-aloud demonstrates that what''s most important in each family''s life is the love the family members share.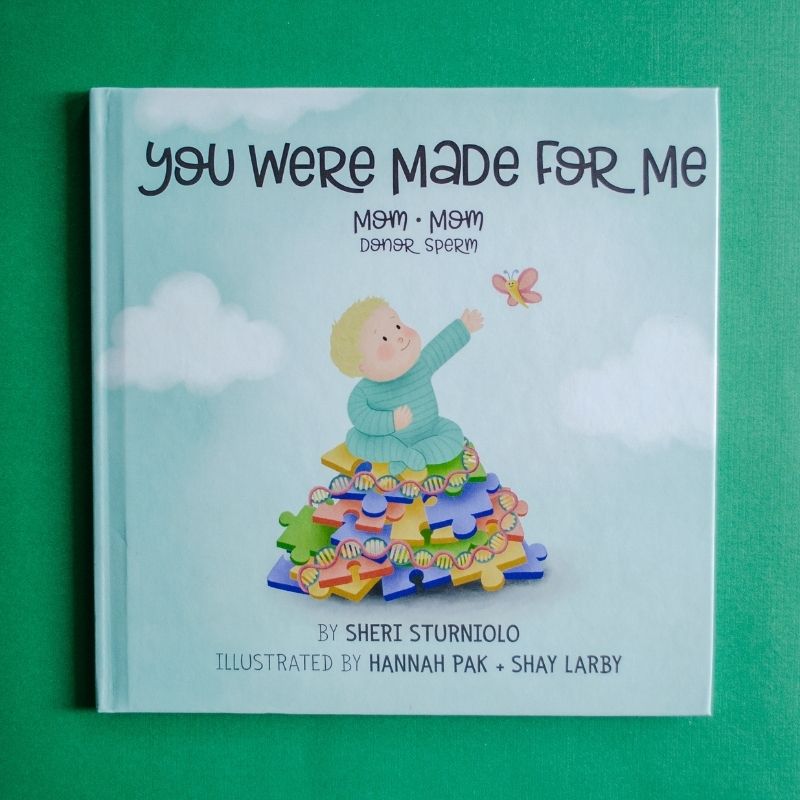 "We custom ordered this book from the UK based on how our family was conceived. It's aimed at a slightly older child and does such an excellent job at breaking down and explaining how our family was created with love and a little bit of science. We are so excited to read this to our daughter and answer all of her questions when she's a bit older! The books are customizable depending on family creation, including: Mom, Dad, Donor Donating Family Mom & Mom Dad & Dad Mom, Dad Surrogacy Single Mom By Choice Mom, Dad, IVF. youweremeantformebook.com/
shop local for your diverse library
Victoria Schwarzl is a family portrait and lifestyle photographer in Burlington. She specializes in capturing all types of families made with love especially in the 2SLGBTQIA+ community. You can find her behind the lens at After All Photography. 
keep learning and growing