We know family fun and so does Splitsville Bowling in Burlington. They top the charts on bowling, but they have so much more (hello, laser tag!). We spent an evening making the most of our family time, and we are here to share 5 reasons you should plan to play with Splitsville.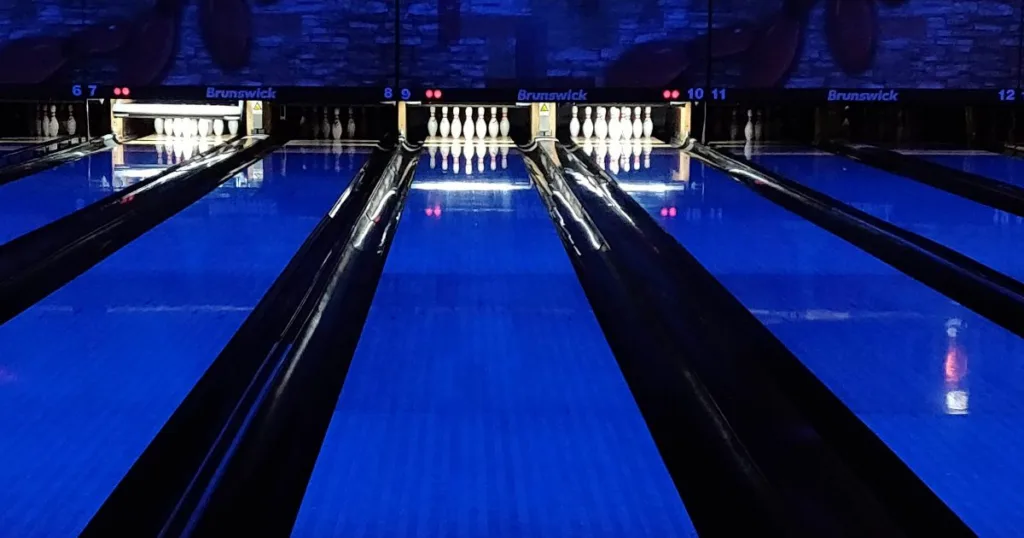 Read More:
Things to do with tweens and teens
Best birthday party venues near you
Start With A Game or Two At Splitsville Burlington
Of course, we had to kick off our family fun night with some bowling. Splitsville is home to 24 bowling lanes and they offer bumpers and glow-in-the-dark bowling in the evenings and on weekends. We love glow bowling! And I also love bumpers – ha! Nothing helps to add a few pins to my score like those bumpers.
Every lane can opt to activate its lane bumpers. Each lane also had digital scoring to make your play easier. We found lots of lighter balls for our kids to use. The little ones in the lane beside us loved using the ball ramp to help get their ball down the lane. Music plays so you can dance your way to a strike – or turkey!
Your Next Mission is… Laser Tag!
Laser tag is one of those activities – like bowling – where you don't have to be great at it to have a fantastic time. It gets your heart pumping and you're just on edge enough that it's exciting and not scary haha! My kids are much better than me, but their Dad is our family's king of laser tag. The man just doesn't miss a shot! How do we know he's so good? You get a printout of your stats at the end of your mission. It's fun to see who hit more targets and who didn't (me).
The laser tag arena at Splitsville Bowling in Burlington is called "City of Ruins "and it is 2 stories tall. It looks like a post-apocalyptic wasteland complete with toxic waste signs and rubble. The arena is lit with backlights so everything glows. Don't make the mistake I did and wear a white shirt! You can play in multiple modes and compete in teams for every person for themselves. Both ways are super fun, especially when it's grownups against the kids.
We've also done laser tag in Burlington at Splitsville as a group date night activity. We did women vs. men and couples teams. I definitely benefitted from Matt's laser tag skills! It's also perfect for birthday parties. You can choose to only do laser tag, or add it to your bowling party.
Arcade Play at Splitsville Burlington
The state-of-the-art arcade at Splitsville Burlington is a favourite for my gamers. They love the skill games and the shooting games. We always go home with a massive ball or something else from the ticket redemption centre. You can come in and play at the arcade even if you don't bowl or play a round of laser tag. The arcade cards can be purchased on their own, or you can add cards to your birthday party package. The kids always love finishing off an epic party with some arcade play.
Refuel at Splitsville's Restaurant
All that bowling and laser tag will make you hungry and Splitsville Burlington has a great restaurant to feed your entire group. They have a full menu that includes everything your kids will love, from burgers to chicken fingers to pizza. If you are dining with adults, be sure to check out their platters for sharing, delish appetisers and a full drink menu and beer on tap.
Does Splitsville have plant-based menu options? Yes, they do! You can see their entire menu here.
Splitsville Knows Bowling Birthday Parties
Chances are if you have school-age kids, they have been to a Splitsville bowling birthday party. The event planners make booking and prepping for your event super simple. They host kids, adults, corporate groups and teams thousands of times a year, so they are definitely experts. You can bowl – of course – and add on a round or two of laser tag, some playtime in the arcade and of course food! Splitsville will handle every aspect of your party for you, and who doesn't love that?
Click here to learn more about the event and birthday party options at Splitsville.
Frequently Asked Questions About Splitsville Burlington
Q: Where is Splitsville bowling in Burlington?
A: Located at Guelph Line and Harvester Road in Burlington, Splitsville's large entertainment complex is tucked away on Laurentian Ave., #830 to be exact.
Q: How much does Splitsville bowling cost?
A: On weekdays you can bowl for 1 hour for $29.99, Evenings through the week are $39.99 and weekend blowing is $49.99. Each lane holds 5 bowlers maximum. Shoe rentals are $4.99 per person. See all pricing options here.
Q: How much is laser tag?
A: Laser tag is $7.99 per person per game.
More Ideas For Family Fun
We've been to so many cool places, and we've made it our mission to share all the fabulous locations we find with you. Whether you're planning a day trip or looking for the best playgrounds, we've got your back. We are all about discovering the most amazing indoor play areas, farms and animal experiences, and a whole bunch of other visit-worthy local attractions. Check out our latest blog posts below to make sure you have an absolutely epic weekend!