Our second BP Park Hop Stop is Sherwood Park, have you been? 
This was actually our second trip to Sherwood Park. We took our city map and looked for a park on the larger side, that we'd never been to, and Sherwood Park fit the bill. We'd been once before, but a spring downpour had us run from the parking lot to the dome with no chance of park play. My kids were happy for a 2nd kick at this can!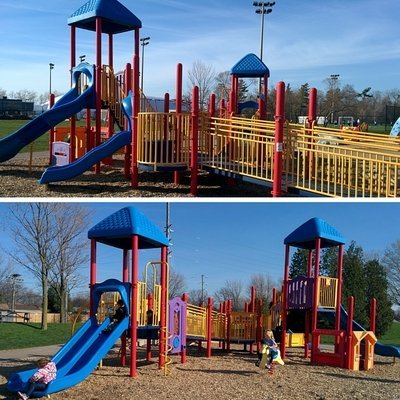 We went after school on one of the recent beautiful afternoons we've had. Packed some snacks and filled up the water bottles, and we played till dinner time. The park was full of things to climb on, swing from, slide down and explore. My girls loved every bit of it. The first stop was this unusual see-saw contraption that let the kids bounce up and down on. We've not seen one of these things before, and the kids came back to it a number of times. Even I gave it a go!
Sherwood Park is a hive of activity. My girls were thrilled when they got there and there was already 4-5 kids playing – new friends! Plus, I got to chat with a few parents as we took a load off on one of the parks many benches and seating areas.
The play structure is large and full of ways to keep kids moving and exploring. To the south-ish of the park there is the Centennial Multi-Use Path which connects Burloak to Downtown, and even farther to the waterfront. See this map as reference.  On all sides of the park are sports fields and an indoor sports complex which was hosting inline skating and skateboarding lessons while we were there. Soccer fields were also filled with athletes of all ages.
The actual playground was base camp to kids of all ages. New walkers loved that there was a ramp to get them easily to the top of the structure and the dual blue slides, and the frequent climbers were challenged by the numerous systems to scale like Spider-Man.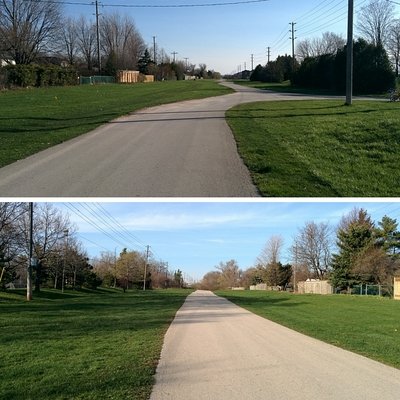 No matter the skill level or age there was something for everyone. All of the kids seemed to easily move from equipment to equipment, and everything had a role to play in their game of make-believe. My family loved our afternoon at Sherwood Park, and would only do home for dinner after the promise of returning again very soon. Maybe we'll see you there?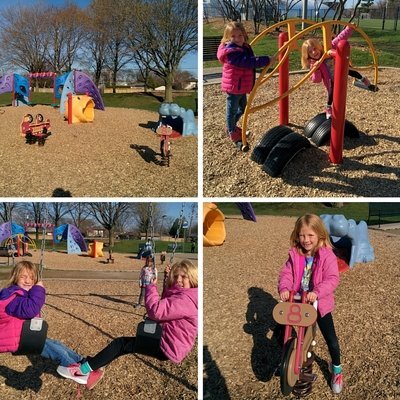 Sherwood Park Summed Up
Play structures: swings, spring-mounted firetruck and motorcycle, a never-before-seen bouncy see-saw, and slides like no tomorrow.
Amenities: washrooms in the sports bubble, ample parking, 5+ picnic benches, 3+ park benches, trees provide some shaded areas.
Bonuses: Multi-purpose bike/walking path will definitely bring us back with our wheels, and sports fields as far as the eye can see.
Did I miss anything at Sherwood Park? What park should we visit next? What is your favourite park in Burlington? Share it in the comment section below! 
Find more Park and Playground reviews here