Aerosports Trampoline Park is a huge trampoline park on the Mississauga-Oakville border and a top-rated destination for kids who love to move, jump and climb! I took my girls and they had a blast. Here's what they loved about it.
Aerosports Trampoline Park Oakville's main attraction is its 30,000-square-foot trampoline park. They have more than 20 individual trampolines that kids bounce from one to one on, plus a long trampoline run that is the perfect place to practice flips and somersaults just like an Olympian. My kids love the trampoline basketball because, for the first time, they could (almost) dunk!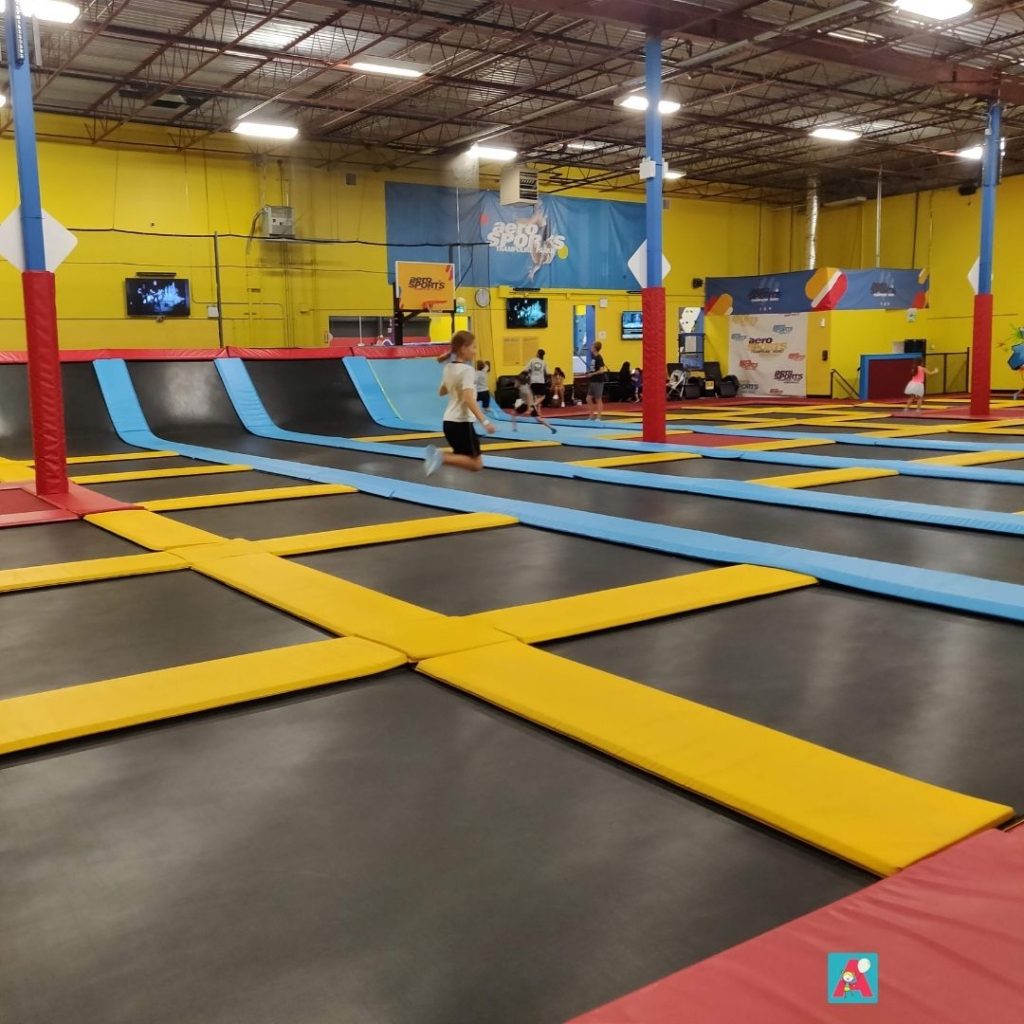 Big Fun For Kids of All Sizes
As soon as you enter the main play space, you will see this massive slide. It's impossible to miss! I saw kids of all ages sliding down and squealing with excitement. One slide is a straight descent and the other has a fun bump in the middle of your ride.
Beside the slide is a small climber which takes you to the top of the slides. In this same section is an arcade and a snack bar (both are an extra cost).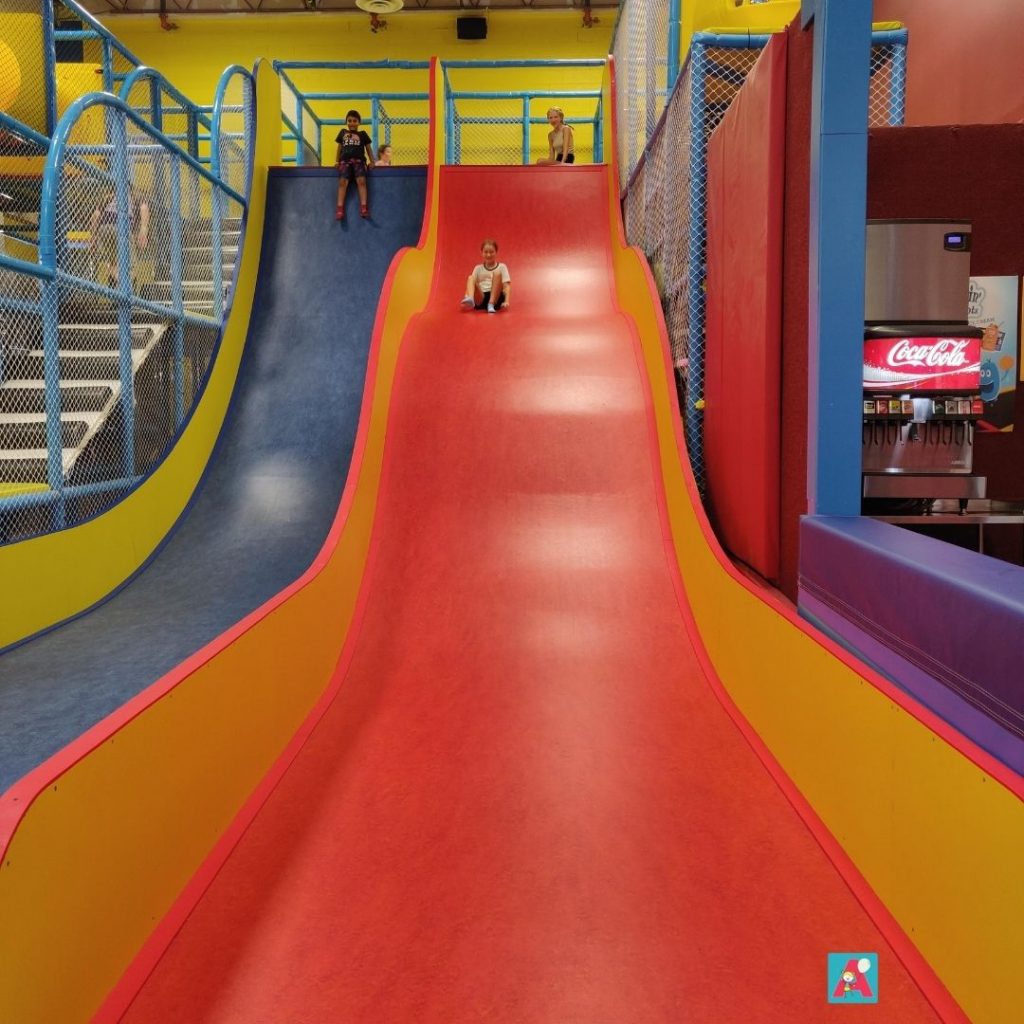 Rock Climbing Wall at Aerosports Trampoline Park
Across from the super slides pictured above, you'll find the rock climbing wall and the foam pit. The rock wall is split into two distinct sections. One section w reaches a height of about 5-6 feet and another one that is much higher at approximately 15 feet tall. The taller wall has a soft, deep landing pad as its base so climbers can drop in safely when they've reached their maximum elevation.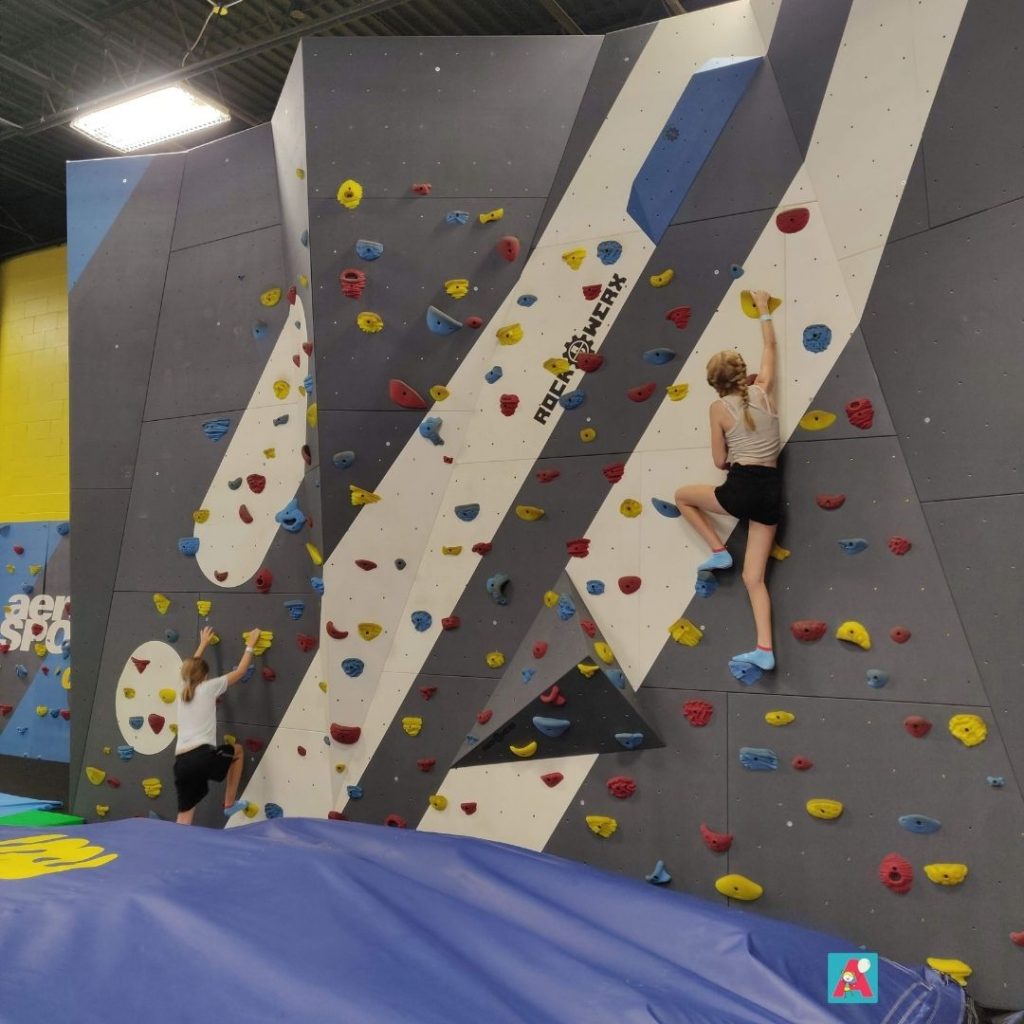 Don't Skip The Ninja Zone!
When we booked jump passes for Aerosports Oakville, we didn't know it had a ninja warrior-style area. My kids didn't know there was one so when they saw it, they were all over it! The ninja zone is pretty challenging and a ton of fun. Kids will push themselves to the limit to make their way through!
The equipment is unique and versatile – kids can use it in so many different ways. My girls quickly learned about muscles they didn't know they had.
This section is separate from the trampolines and proved to be a great escape from the busyness of the trampolines. The ninja zone is included in your admission fee.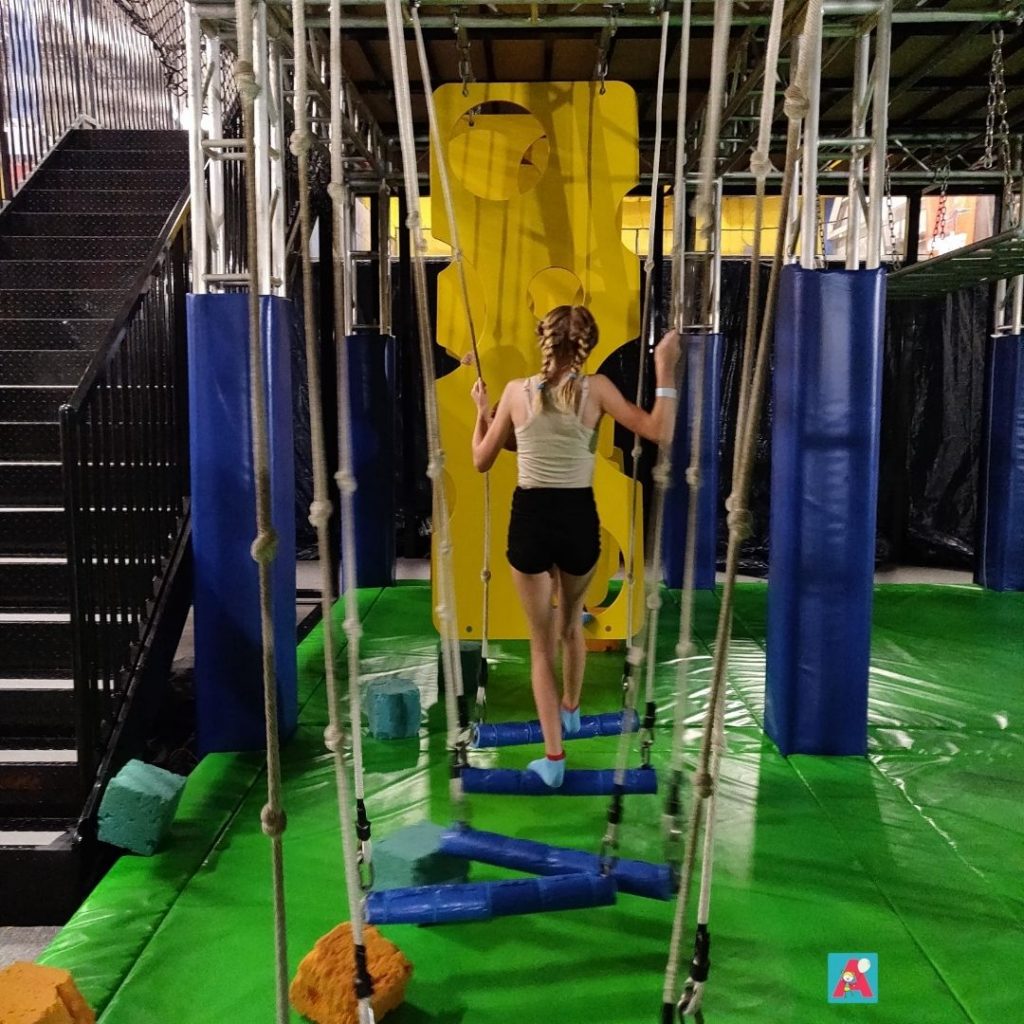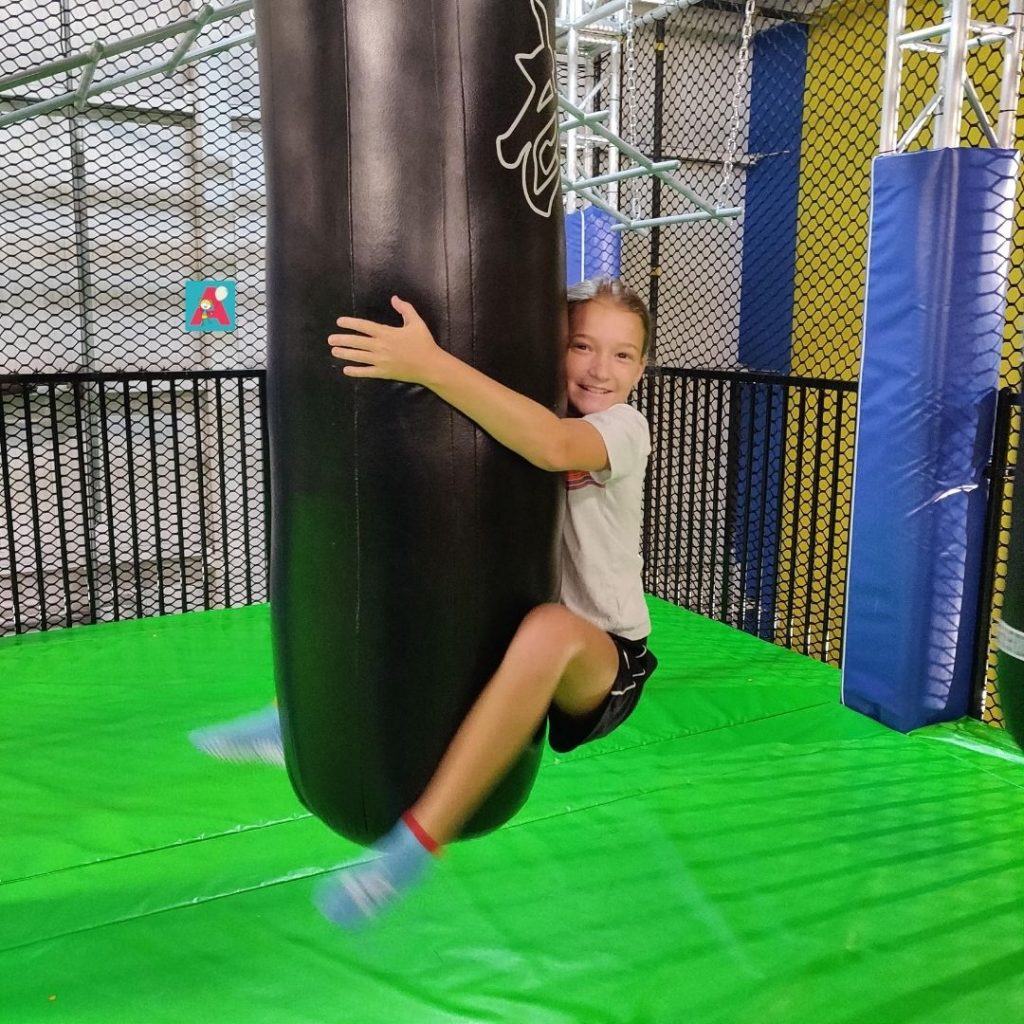 Aerosports Trampoline Park Pricing
The online booking process was quick and easy and filling out the waiver before we visited made checking in simple. You can also walk in. If you've been and have Aerosports socks, bring them with you, otherwise, they are available for purchase. Special socks are required.
| | 1 Hour | 2 Hours |
| --- | --- | --- |
| Ages 5+ | $20.99 | $30.99 |
| Ages 2-4+ | $17.99 | $27.99 |
| Under 2 | $3.00 | $6.00 |
Prices are updated at the time of publication and are plus HST. Subject to change.
Other Features of Aerosports Trampoline Park
Lockers available to rent
Snack bar and refreshments available to purchase
No outside food or drinks allowed
Lots of seating for spectators
Tips for Your Visit To Aerosports Trampoline Park in Oakville
Leave your other trampoline socks at home. Every brand of trampoline park wants you to use their socks while in their facility. If you don't have Aerosports socks, you can buy them at the counter.
Dress in light clothing because you will get hot. My especially active kids wore shorts even though it was a cold fall day so they wouldn't sweat more than necessary.
Bring water bottles to rehydrate. There are a couple of tables in the front section, away from the trampolines, where you can sit and maybe have a small snack. Aerosports also has a snack counter in case you forget refreshments at home.
Parents, you can jump, too! Or you can bring a book and catch up on your reading like I did.
The trampoline park can get busy, which can be overwhelming for littler jumpers. Try to "secure" your little ones a trampoline of their own so they don't get double-bounced and get hurt. Or, if it gets too busy, check out the slides and ninja equipment until it quiet down.
Aerosports Trampoline Park Oakville-Mississauga is located at 2679 Bristol Circle, Unit 2&3 in Oakville, ON L6H 6Z8. Visit their website here.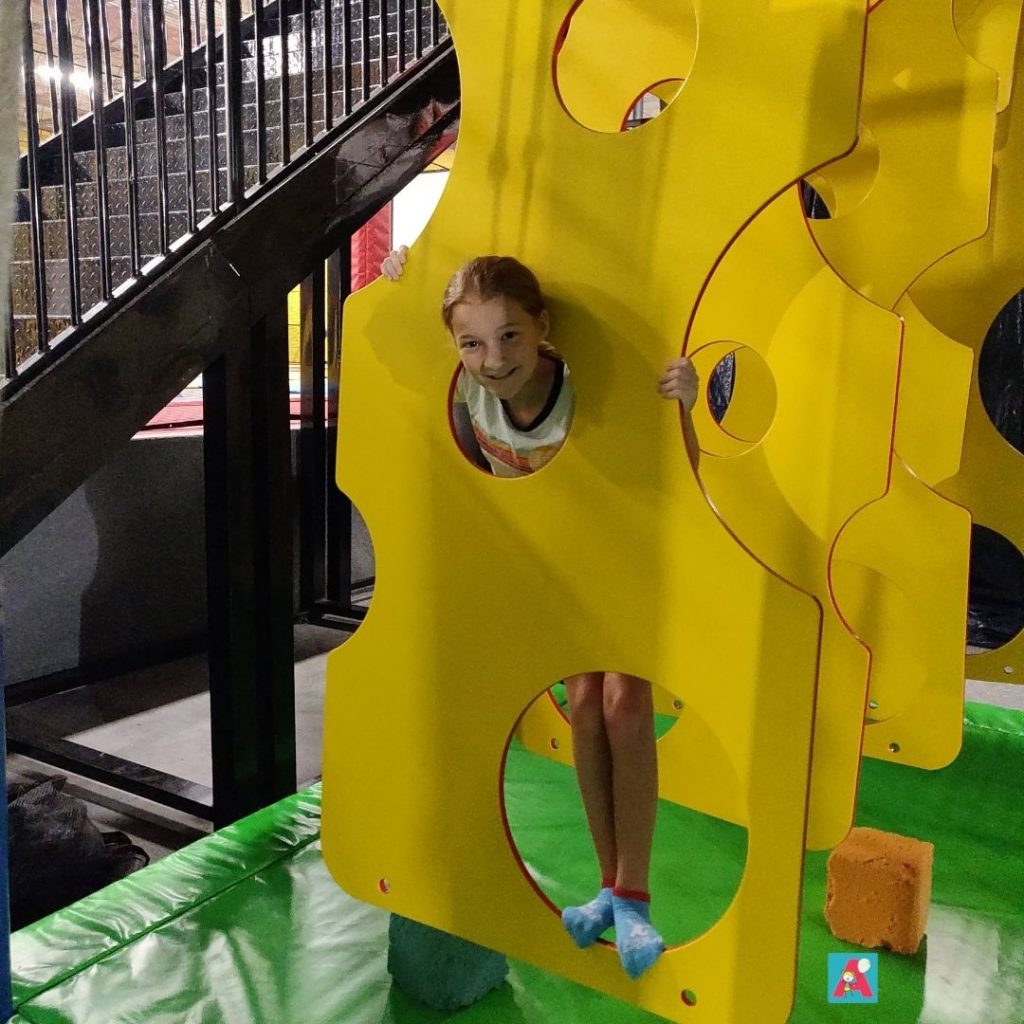 More Ideas For Family Fun
We've been to so many cool places, and we've made it our mission to share all the fabulous locations we find with you. Whether you're planning a day trip or looking for the best playgrounds, we've got your back. We are all about discovering the most amazing indoor play areas, farms and animal experiences, and a whole bunch of other visit-worthy local attractions. Check out our latest blog posts below to make sure you have an absolutely epic weekend!