We discovered another excellent indoor play centre in Oakville and we think your kids will like it here. Playcious Oakville is a large and vibrant indoor play space with tons of activities for toddlers to tweens. It's tucked behind the RioCan Centre at Burloak and the QEW.
Read more:
Find all kinds of fun in Oakville right here
Indoor place places are the cure for any weather! Find them all here.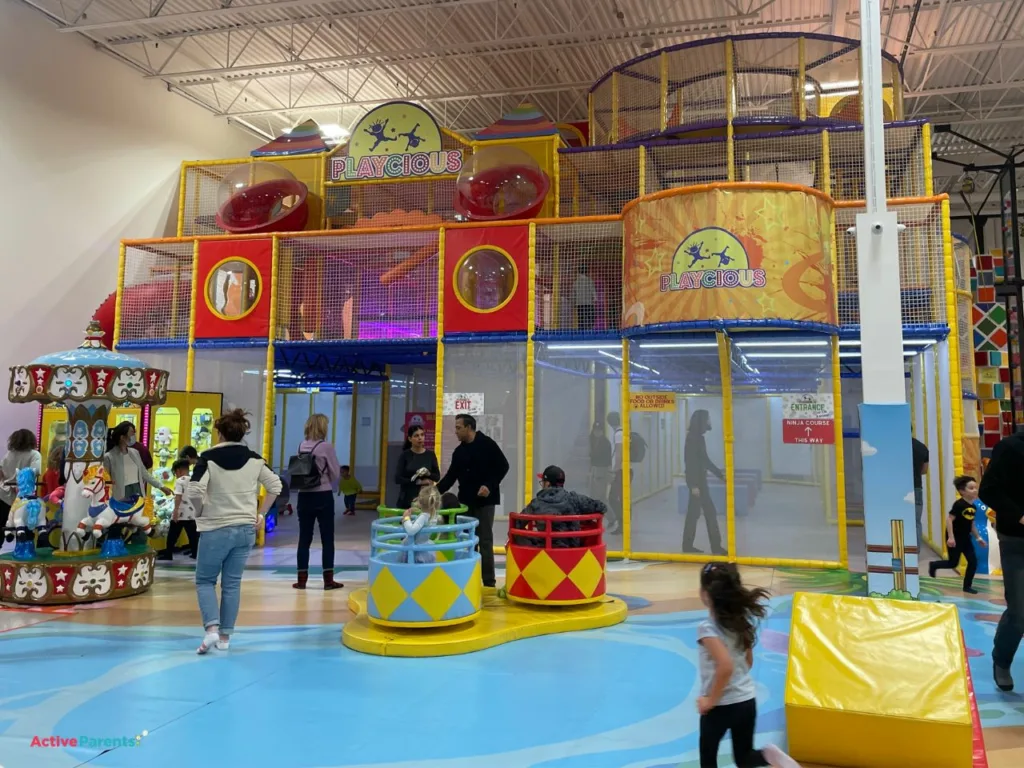 Playcious Oakville – What To Expect
We visited this new-to-us indoor play centre on a weekend and could clearly tell this is a hot spot for birthday parties. Parking is free at Playcious Oakville and there is a lot of it. The entrance is wheelchair accessible and the whole facility is on one floor. It's not stroller friendly so I suggest baby-wearing if you're bringing an infant along, but as long as you can crawl there's definitely fun to be had.
There's a full-service snack bar with a seating area. They serve hot, kid-friendly foods such as chicken nuggets, fish & chips and hotdogs. For little snackers, there are cookies, chips and everyone's favourite, a Slush Puppy machine! It is also worth mentioning there is a coffee bar to help perk up tired party parents.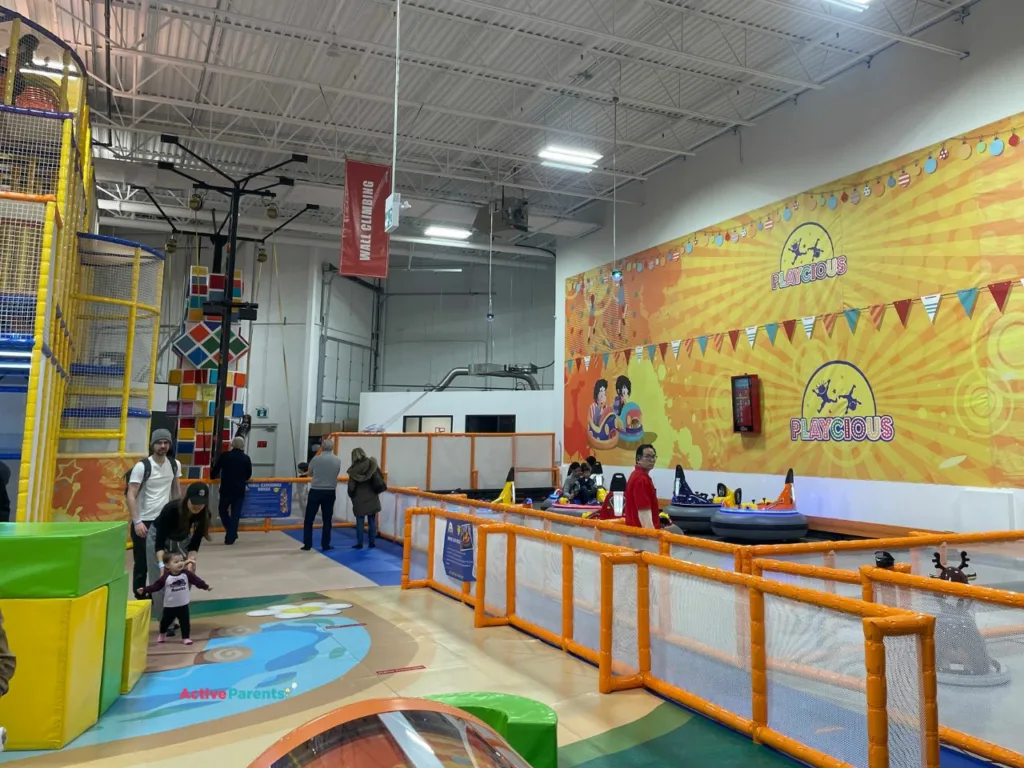 The play structure has a huge selection of interactive activities inside and is large enough to accommodate grown-ups. Toddlers can join in on the fun if they are accompanied by an adult. Between the large slides, a soft ball shooter and a mini ninja warrior obstacle course there is something for every Playcious Oakville player.
We were impressed with their cleanliness, too. It was a busy Sunday at this indoor play centre in Oakville and the facility closed every 2 hrs (between play time slots) to clean both the play structure and the entire space. There is a family washroom available in addition to diaper changing stations. Parents could also access slippers to wear in the washroom, which was a nice touch.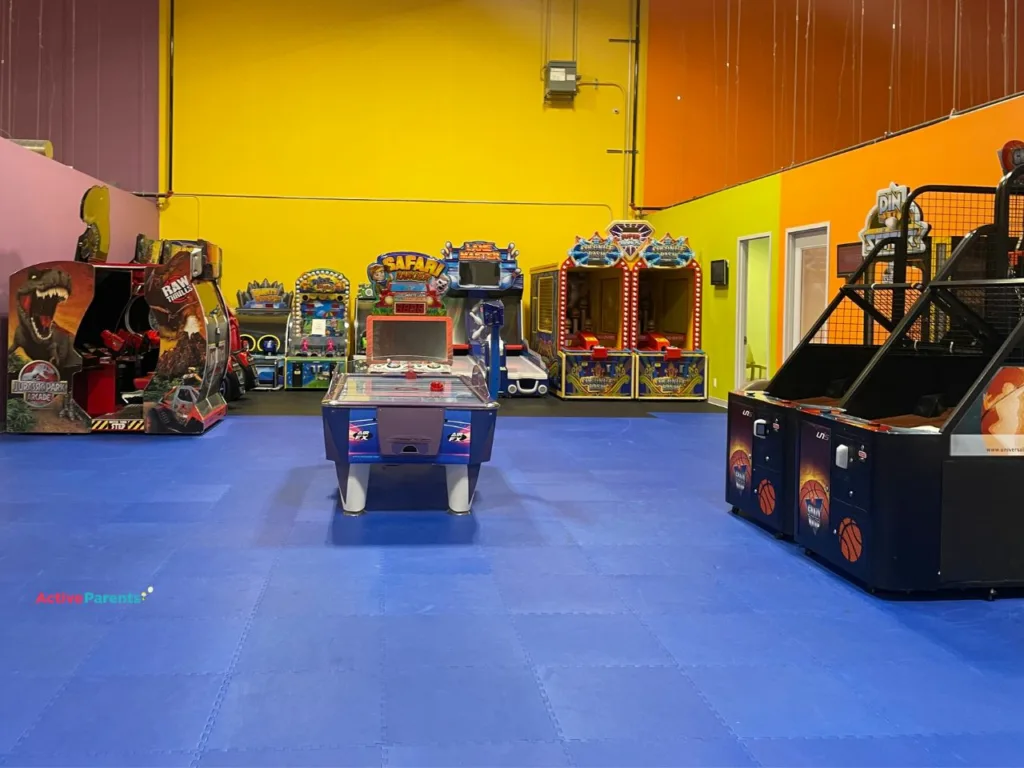 Playcious Oakville's Best Features
Large play structure that is appropriate for a wide range of ages
2 small arcades (one for younger gamers and one for older kids)
Toddler soft play area close to the entrance and blocked off so littles are safe from the big kids
Tons of seating for parents
5 party rooms
2 rock climbing structures (included in admission)
2 bumper car areas (one for toddlers and one for big kids, also included in admission)
Snack bar/seating area with hot foods and light snacks (halal available)
Cubby and coat area for belongings (no lockers)
All families are given the same colour wristband with the corresponding code that is checked upon entrance and departure (definite points for safety)
Good To Know Before You Go
Walk-ins are available at Playcious Oakville but limited, book online to avoid disappointment as they are quite busy, especially on weekends
Sign the waiver online to save time and maximize play time
Bring your socks! They are available for purchase if you forget
Playcious Oakville is located at 3280 South Service Rd West, Unit C4, in Oakville, ON L6L 0B1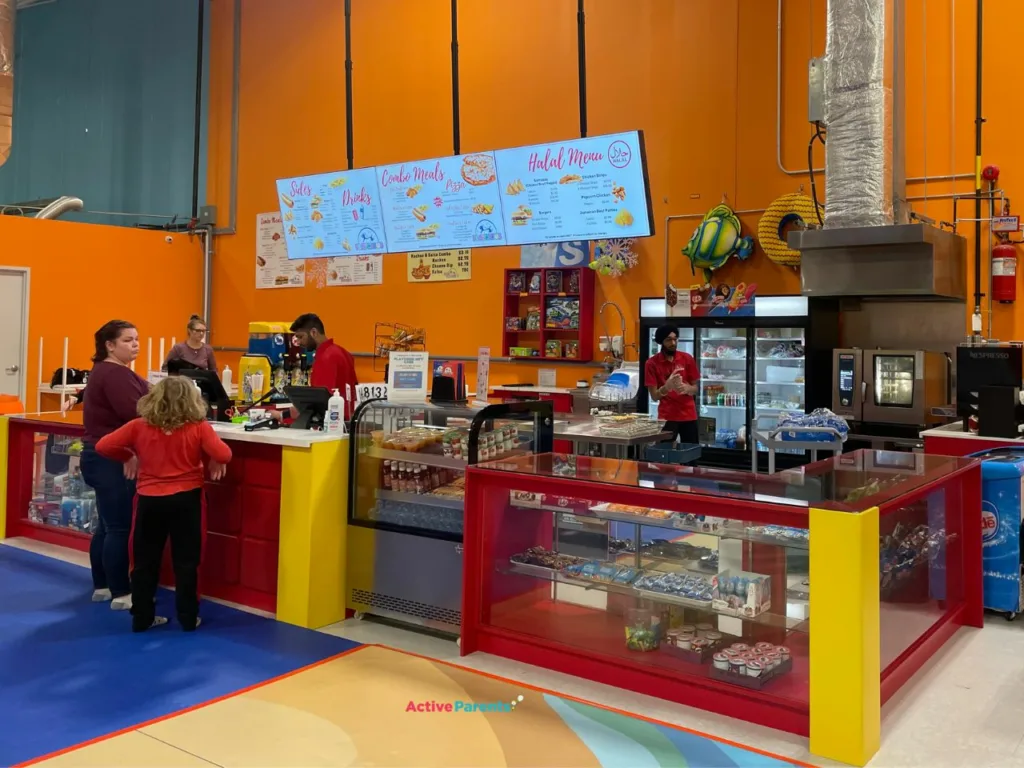 More Ideas For Family Fun
We've been to so many cool places, and we've made it our mission to share all the fabulous locations we find with you. Whether you're planning a day trip or looking for the best playgrounds, we've got your back. We are all about discovering the most amazing indoor play areas, farms and animal experiences, and a whole bunch of other visit-worthy local attractions. Check out our latest blog posts below to make sure you have an absolutely epic weekend!