Scholarships: we think of them as all-or-nothing. Either you're the star quarterback going to Penn State on a football scholarship, or you're a top-of-the-class brainiac on a full ride to Harvard. The reality is more mundane, especially when we think about scholarships in Canada. First, let's define some terms:
Scholarship: a generic catch-all standing in for "money for education." More specifically, scholarships are awarded based on grades and other achievements.
Bursary: like a scholarship, but offered on the basis of financial need.
Award: another generic term. Specifically, a one-time payment for an accomplishment, like being this year's top student in the Philosophy department.
"Renewable" scholarships: awards that continue to offer funding year-in, year-out, so long as you continue to qualify.
"Automatic consideration": an award that doesn't require a direct application. You'll be considered for the scholarship when you apply to the school that offers it.
"Entrance" scholarship: an award for new students, typically straight out of high school. Usually based on grades, and may be renewable.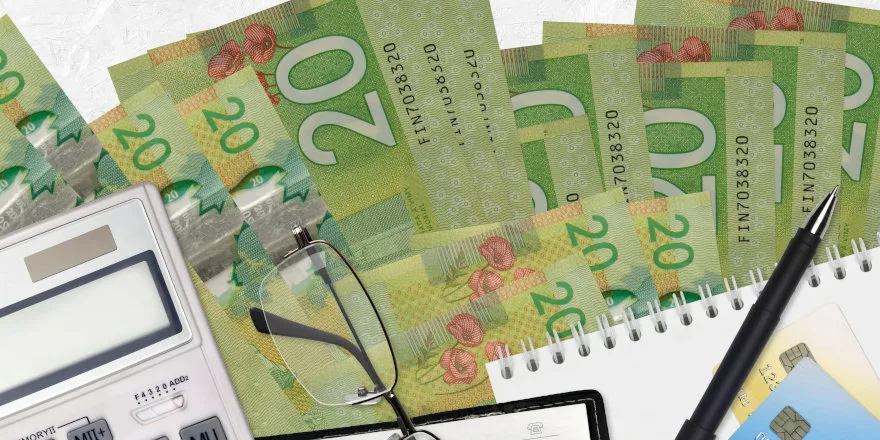 What do I need to know about scholarship programs in Canada?
Canada has relatively few "full-ride" or "fully-funded" scholarships, and even fewer athletic scholarships. Sports scholarships are far more common in the USA. Large scholarships do exist — see, for example, the Loran Scholars or the Schulich Leaders — but most programs will be in the $2,000-$5,000 range. This means students should apply to multiple scholarships throughout the year, in an effort to gather as many smaller awards as possible.
There's no real scholarship "season" either. We see spikes in deadlines around October and April, but deadlines happen year-round. More and more, we're seeing programs move into the summer months, to give students more opportunity to apply when not focused on school. So, you've got to be vigilant throughout the year in order to catch the interesting scholarships.
How do I find scholarships in Canada?
Here are a few sources to try. It never hurts to check back in once in a while to see what might be new.
The school(s) that interest you: colleges and universities are some of the best scholarship sources. Be aware that you must be a student enrolled at or attending the institution to qualify for an award.
Scholarship websites: some websites gather scholarships from all over and make them easier to find. Check out the links below and explore what they have to offer:
Google: yes, search engines can help a lot! See below for some advice on keywords to consider when looking for scholarships in Canada so you don't get overwhelmed.
What should I consider when I'm searching for scholarships in Canada?
Here's an inexhaustive list of factors to consider when you're searching. It can be good practice to adjust these different factors slightly as you explore. For example, if you're interested in biology, be sure to look for "STEM" scholarships as well.
Field of study: the program you're taking is a big factor. Of late, we're seeing more and more STEM-focused awards — so chem might be a better choice than contemporary poetry.
Activities: extra-curriculars, sports, arts, etc. The big three are: volunteering, leadership, and community involvement. Taking part in school clubs, tutoring others, friendly visits at the retirement home: all great stuff.
Heritage: lots of awards are aimed at folks from specific demographic groups. Awards for Indigenous students are most common in Canada, but there are scholarships for Black students, Muslim students, Chinese students, etc.
Affiliation: companies, religious organizations, non-profits, or unions, that your child, or you as a parent, belong to. The larger the organization, the more likely they'll offer scholarships.
Personal circumstances: foster children, single parents, members of the LGBTQ+ community, etc. Anything indelible about who you are could lead to a scholarship.
Basically, do a self-inventory to identify unique facets about you and your personal story, then look to see what might fit!
Can students apply for scholarships if they're also taking student loans?
Yes! Student loan applications will look at the financial picture of your family, and ask about your estimated level of scholarship funding as part of that picture. Still, you'll be able (even encouraged) to apply for scholarships alongside provincial/federal student loans. Receiving a large scholarship may impact your loan amount, but at least you won't have to pay that money back!
Bear in mind, Canadian citizens and permanent residents will have an easier time finding awards in Canada than those from abroad. Conversely, Canadians studying at a school overseas will face more challenges finding funding. Scholarships for international students do exist, but they're rarer and more competitive than their domestic counterparts.
Got questions about scholarships in Canada? Check out ScholarshipsCanada or drop us a line directly at [email protected].
Thanks for reading, and happy hunting!
More Ideas For Family Fun
We've been to so many cool places, and we've made it our mission to share all the fabulous locations we find with you. Whether you're planning a day trip or looking for the best playgrounds, we've got your back. We are all about discovering the most amazing indoor play areas, farms and animal experiences, and a whole bunch of other visit-worthy local attractions. Check out our latest blog posts below to make sure you have an absolutely epic weekend!