It's time to make your list, and check it twice, and hope that Santa sees you when you're being nice! Today, let's write letters to Santa. He'll write back, too!
These are some impressive statistics, directly from the North Pole!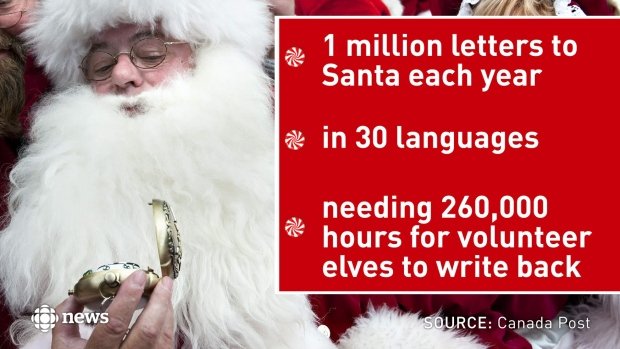 There's room for everyone on the Nice List! Santa's Canada Post volunteer elves are ready to help answer your letters to Santa in more than 30 languages, including Braille!
There are 3 things to remember when sending your letter to Santa:
Make sure to include your full return address. Santa may know where you live, but his postal elves need this information to deliver your letter!
Santa really loves to read about children's favourite sports, jokes, school activities or family fun (even if Mom and Dad help with the writing). And, of course, he loves to get pictures and drawings from even his youngest pen pals!
Send your letter soon. December 10 is the last day to mail letters to Santa (it's a long way to the North Pole and back!). Letters mailed after December 10 may not receive a reply before Christmas. Bonus: no postage required!
Santa Claus
North Pole
H0H 0H0
Canada
The Canada Post website has a variety of printable stationery pages, including some fill-in-the-blank style for early writers. And Santa's Village at Canada Post has thought of everything, including 3 emergency letters, when the North Pole mail just doesn't make it back to you in time.
And before you put pen to paper, our friend Rochelle tells us how to write a mindful letter to Santa. It's a great way to have kids be present when they ask Jolly Ol' St. Nick for presents!
Find More Festive Fun 
The Colossal Guide To Christmas Drive-Thrus, Events and Experiences in Hamilton and Burlington