Your birthday is a great reason to celebrate, so let's get you some free birthday stuff, Canada! We know the best Canadian retailers who offer you free stuff on your birthday! Scroll through and find out who gives you free stuff on your birthday!
Many of these free birthday gifts and offers come via signing up for a newsletter or downloading an app. Those emails and confirmations can take a few days to process, so we suggest joining a few days before your birthday to make sure you can treat yourself ON your birthday.
Do you know of another spot that offers you deals and freebies just for having a birthday? Tell us about it!
And make sure to keep this list of kids eat free locations so you can treat them on their birthday.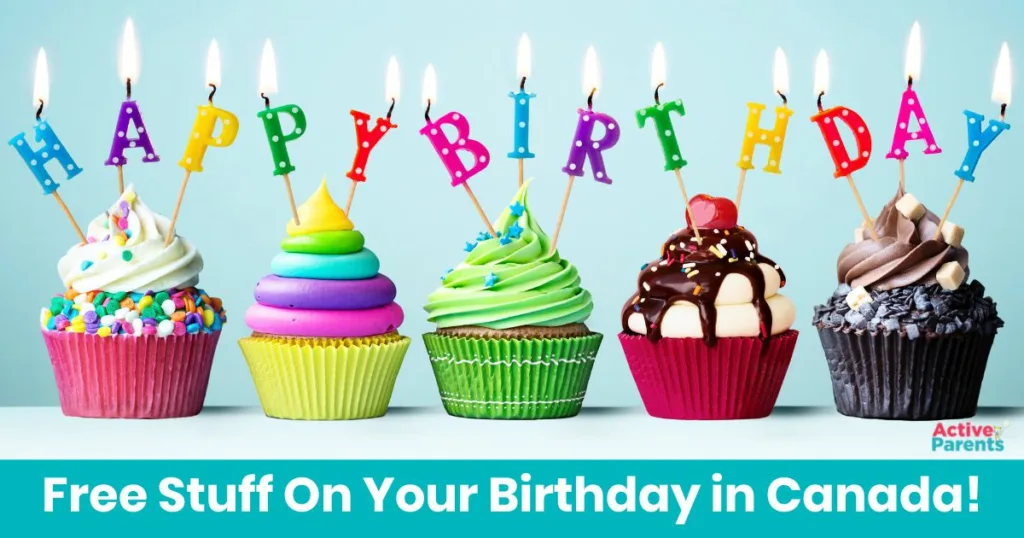 Free Birthday food From These Locations
Register for Arby's Insider for email updates and get one free roast beef when you order a medium-sized soft drink. If you provide your date of birth, Arby's will also give you a special birthday treat.
Baskin-Robbins will treat you to one free ice cream scoop at Baskin-Robbins on your birthday when you join their Club 31.
Boston Pizza rewards you a few times – including on your birthday – when you join their MyBP loyalty program.
COBS Bread has a sweet treat for you on your birthday – an insider tells me it's a cinnamon bun!
Dairy Queen treats you to a yummy frozen treat on your birthday when you join the Blizzard fan club.
David's Tea will bump up your rewards by 5 points on your birthday so you're that much closer to that free tea!
The List Continues…More Birthday Freebies, Canada!
Denny's fills you up with a Grand Slam breakfast on your birthday. Everyone loves a free meal on their birthday!
Join Edible Rewards and enjoy a free box of chocolate-dipped fruits for every 3rd purchase at Edible Arrangements. You will also receive a gift on your birthday in addition to members-only perks.
Get on Jack Astor's mailing list and you'll also get a treat on your birthday.
Mandarin Buffet picks up the tab on your buffet dinner just for joining their mailing list.
Marble Slab Creamery has a cool way to celebrate your birthday, plus coupons and more.
Join their My Smileage Club and Menchie's will make your birthday yummier!
Montana's Cookhouse gives you a free birthday dessert and 10% off orders over $30 so going out to celebrate your birthday is a little easier!
Nothing Bundt Cakes wants to treat you to a free birthday bundtlet when you sign up for their eClub.
Become a member of MyPanera Rewards to receive exclusive rewards for each purchase, including a birthday gift.
Red Lobster has a delish surprise birthday offer for you – just for being born!
Sign up for the South St. Burger Birthday Club and you and a friend can enjoy a buy-one-get-one-free deal on your special day.
Register your Starbucks Card and you'll get a free fancy beverage or food item on your birthday.
More Freebies On Your Birthday
Canada's favourite coffee shop will give their Tim Horton's rewards members a surprise on their birthday
Swiss Chalet gives adults a free appetizer on their birthday with the purchase of an entree, and kids get a free kid's meal on theirs at participating locations.
The Keg treats you to a slice of Billy Miner's pie to reward you for being born.
I happen to LOVE Harvey's fries so when I discovered they would send me a birthday reward it was a no-brainer to sign up!
Montana's will give you free chips and salsa all year round and a sweet treat on your birthday as well as a $10 coupon just for signing up to their newsletter!
Download Quizno's app to earn rewards throughout the year. Then enjoy a buy one get one free regular sub on your birthday.
Mr Sub will give you a free small sub any time in your birthday month! As part of the rewards program you'll get a free drink and chips for signing up, and every 10th sub is free.
Free spinach dip for signing up and a free dessert on your birthday? Kelsey's has you covered!
Cora's rewards program has you collect points for each $ spent – and you get 3x the points on your birthday!
Free birthday fries? It's true – when you download the New York Fries app and preload some $ a salty snack is yours on your birthday.
Join the Burgers with Benefits club at the Works. You'll get access to exclusive contests and giveaways, free food, a birthday reward and some secret stuff too!

Where To Get More Free Stuff on Your Birthday
Build-A-Bear – when you sign up for a Bonus Club membership and Register your children's birth dates in your account they can receive a free gift on their birthday.
The Body Shop's Love Your Body program gets you sneak peeks at new products. It also scores you invites to exclusive parties and other rewards – including one to indulge in on your birthday.
Mastermind Toys gives your kiddos a free birthday surprise during their birthday month, plus various offers and perks all year!
Sephora celebrates your beauty with a free product on your birthday!
The more you shop as a loyalty club member at London Drugs, the more they can personalize your offers – including a birthday reward.
Old Navy has some super-cute stuff and you can score more with the loyalty program, including a birthday gift! While you're there, join up for rewards on their sister store the Gap, too for more birthday fun!
Save even more at Value Village – as a loyalty member you can enjoy 20% off a single purchase up to $50 for your birthday.
Even More Free Stuff on Your Birthday
American Eagle offers rewards for every $ spent, invites loyalty club members to exclusive events AND gives them a birthday reward!
Join Club La Senza for 10% off every purchase, free shipping on orders over $40 and a birthday gift!
Pennington's Style Insiders earn rewards, get exclusive offers all year, as well as that birthday gift valid throughout your birthday month.
Ricki's is also ready to reward you for your birthday as a loyalty club member!
I don't know about you but I always need shoes, so 20% off at Shoe Company for my birthday is a great idea – and being a member of the loyalty program brings perks all year round.
Make your birthday stripey – sign up for their newsletters and enjoy an in-store birthday gift from the Bay
Not Free, But Still Good Deals For Your Birthday
Become an Ardene VIP and get deals and discounts just for being born!
Baskin Robbins lets you sign up for a BOGO birthday deal.
Woohoo! That is a lot of free swag for your special day. Do you know of another spot that treats you to something special on your birthday? Tell us about it! And if today is your birthday – HAPPY BIRTHDAY!