Virtual school means virtual recess – but instead of having a big schoolyard to play in with their friends, our kids need to get some fresh air on their own. Here are some ideas on how to make virtual recess better.
Screens Off
It's not easy (just as my kids who are 10 and 12) but it's a great chance to disconnect and rest your eyes. The American Optometric Association recommends the 20/20/20 rule: look away from the screen every 20 minutes, focus on an object at least 20 feet away, for at least 20 seconds.
Refuel and Rehydrate
Kids are snack monsters and we are their servants! But why not get them in the kitchen to help prep their snacks? This morning I made both of mine breakfast and while I was toasting and blending I asked them to pick out 2 things they wanted to have at each break. One kid loves making her own and one is "less motivated" so I don't mind helping a little. Package them up and put them in the fridge or on the counter so they can find them at snack times. It can cut down on interruptions and make you feel like you're ahead of the game.
Parks and Playgrounds
Depending on how your school day is set up – two breaks vs. three breaks – you may have time to hit your local playground for some climbing, running, jumping and swinging! Ues our Playgrounds Guide to help find an awesome park to play at during virtual gym, virtual recess, or even after school with the whole family. 
Get Some Fresh Air
Recess is one of your kid's most constant daily doses of fresh air and physical activity, and at-home recess should be the same. Parents and caregivers have been keeping their kids of all ages in a variety of ways during this stint of online learning. Here's what their doing:
Walk The Block – get outside and walk the block with your kids or let them go solo if their age allows. It's fresh air and exercise for all and it will help them relax and stretch their legs. Have the scooters and bikes out and they can roll around. This one doubles as your virtual gym class, too!
Walk Your Dog – or your neighbour's dog! Use your virtual recess to get outside and complete a chore in a way that doesn't make it feel like a chore. Your furry friend will love it, too. 
Play In The Yard – keep toys within eyesight to remind kids that your yard is fun, too! With no snow on the ground, bring out all of those summer toys again – balls, bubbles, trucks, Hoola hoops and more! My 10 year old loves to build with her collection of rocks, sticks, nails and woodcuts. When the snow comes, at-home recess is even better! Snow is the best free creative tool around so let the kids go wild building a fort, snowballs, a snowman, or anything else. Keep their sleds handy because kids don't need a hill to have fun with toboggans in the snow. We fill spray bottles with water and food colouring and decorate the yard. Or make these frozen orbs to leave in the yard and kids will turn them into everything from hockey pucks to fort decor to who knows what!
Rev-Up Their Right Brain
Leave out some creative things to do so kids get to use their own imagination and holistic thinking for a bit. Have blocks, playdough, paint, and other manipulatives ready for break-time. Let kids build and creative in their downtime. Turn on some music, too!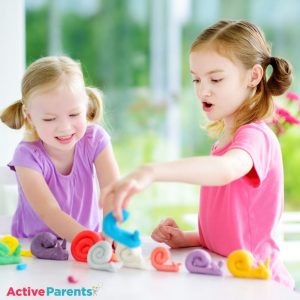 Let's Get Physical!
There are soooo many fantastic online activities that will keep your kids moving and grooving. Here's a rundown of the most popular ones:
Cosmic Kids Yoga – Yoga, mindfulness and relaxation for kids. Interactive adventures that build strength, balance and confidence – and get kids into yoga and mindfulness early!
The Body Coach has a huge playlist of kid fitness activities that will burn off the energy and shake the sillies out. Use it for virtual gym class, too! 
GoNoodle is used in schools and classrooms all over and the follow-along dance routines are fun for adults too, so join in!
Karate for Kids is going to be your child's favourite series if they want to learn karate or aspire to be a ninja! 
Simply Soccer Indoor Soccer Drills will let your kids practice their skills safely indoors. No grass or field needed, and minimal space required for this virtual recess sport. 
Kids Bop made their fame re-recording pop songs for kids with kids, and they're back to teach you the follow-along dance moves to match your favourite tunes. 
Coach Josh – If you've got toddlers or preschool-age kids and an Amazon Prime video account Coach Josh is a fun and educational action song and storytime. 
Make and Prep Meals
A screen-free activity while also accomplishing something on your daily to-do list is a double win. Have your kids prep dinner with you. Food brings us together and when kids help in meal planning and preparing, they're more likely to eat what's made for them! 
Disconnect and Reconnect
My kids are 10 and 12, and until now, they were handling virtual school like champs. But this week has been heavy for them. Technology shortfalls, connection issues, feeling unprepared and ill-equipped have led us to some big emotions. We now use virtual recess to decompress and unload if needed. We eat something together, talk about the previous periods' work, and even just watch an episode of TV if that's what they need. 
Now Trending…
More ways to make at-home time fantastic
Winter is here and there are so many safe ways to play outdoors
Keep your toddlers engaged and entertained all day with these 20 ideas